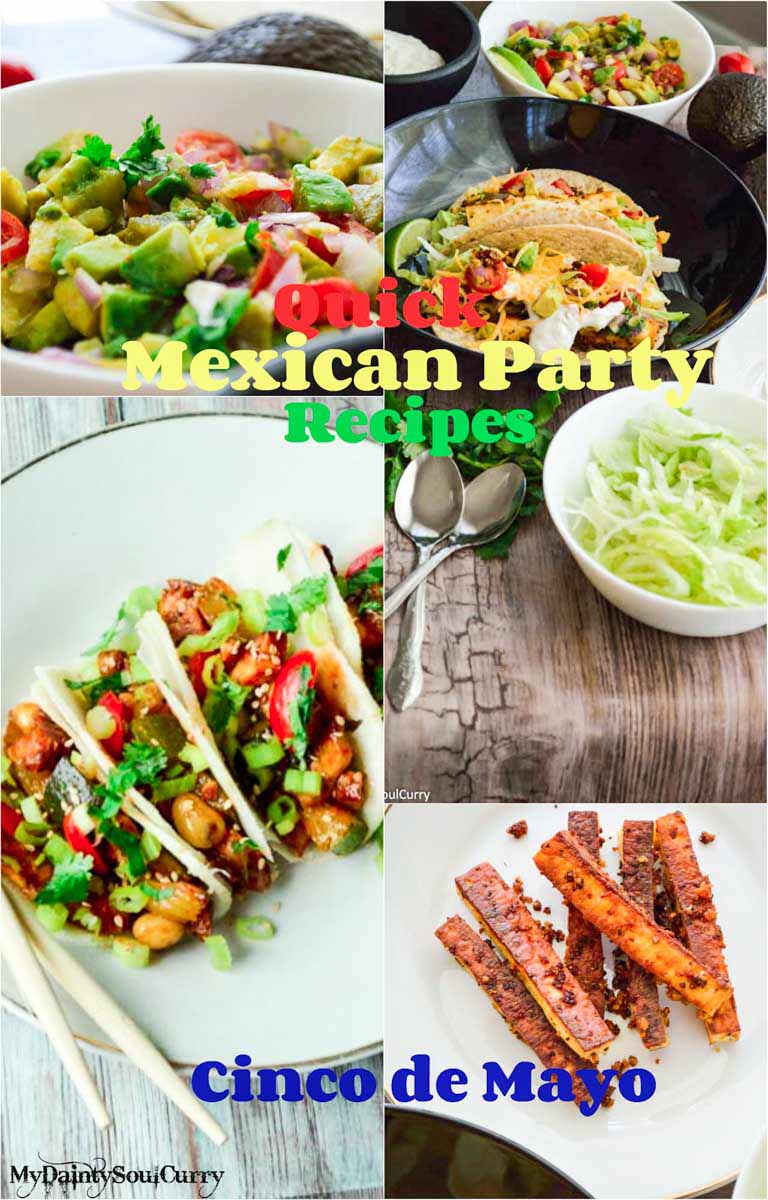 Yay, Cinco De Mayo is here and I am dreaming all yummy Mexican foods out there. Cinco De Mayo is all about celebration of victory and enjoyment with friends and family. In other words, it's the Fiesta time. While the traditional meat loaded enchiladas, carnitas, street tacos and alcoholic drinks are quite popular on the Cinco de Mayo menu, I have some vegan recipes that you can whip up in the last minute too. In this post, I have four easy and quick Mexican party recipes to share with you that you can include in your Cinco De Mayo party menu. Bonus: I also have some tips to create an extensive party menu without sweating in the kitchen too.
Mexican party recipes#1 Chunky Avocado + Pineapple Pico De Gallo: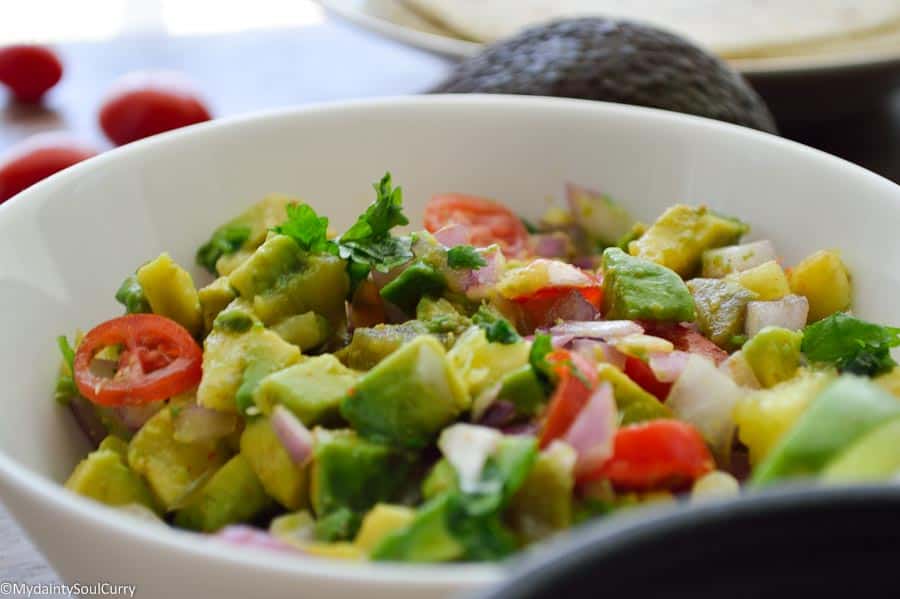 Out of my top quick Mexican party recipes, what comes first is this chunky and delicious avocado+pineapple Pico de Gallo. This is quick to make and great for party.
The best part is you just need minutes in the kitchen to make this. You can even prepare this dish a night before and refrigerate it, and mix all ingredients to create the chunky and tasty Pico before serving. Want to be creative? Add some seasonal fruits, vegetables and spice up with smoked seasonings to make your own signature Pico for your Mexican fiesta menu.
Recipe Illustration:
Take chopped avocado, pineapple, tomatoes or cherry tomatoes, and jalapenos in a bowl.
Add lime juice, salt pepper, cumin and chili powder(optional).
Toss well to mix and serve with chips.
📖 Recipe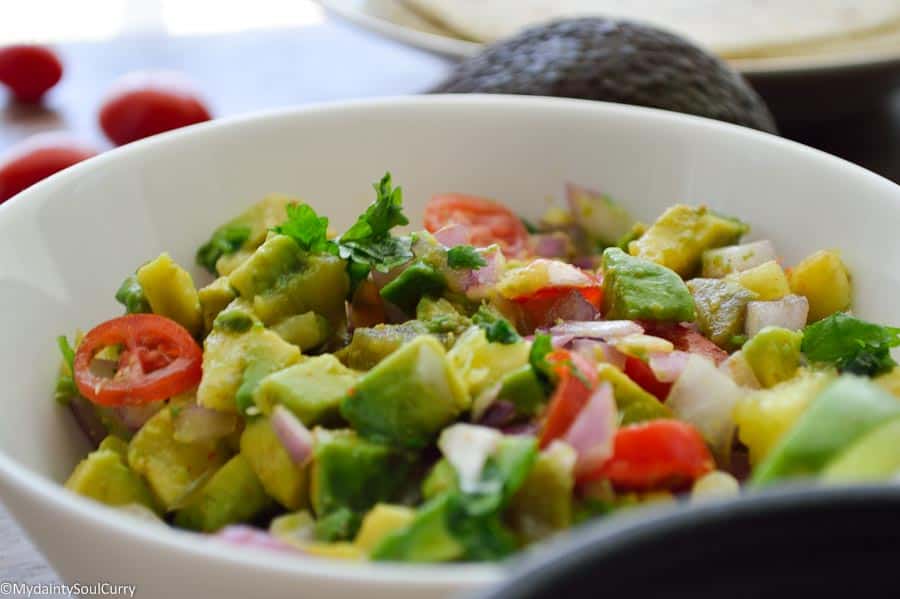 Chunky Avocado+Pineapple Pico De Gallo
This quick pico de gallo offers all the goodness of fresh fruits like avocado and pineapple, well combined with spicy and fresh flavors to leave a delicious taste on your palate.

Print
Pin
Rate
Ingredients
½

cup

chopped tomatoes

1

California hash avocado

,

(chopped)

⅓

cup

diced pineapple

¼

cup

cherry tomatoes(halves)

¼

cup

chopped red onion

,

(optional)

2

tablespoon

pickled jalapenos

1

small

green pepper

2

tablespoon

chopped cilantro

Juice of ½ lime

½

teaspoon

cumin powder

Salt and pepper to taste
Instructions
Take all the diced vegetables and fruits in a medium bowl.

Add salt, pepper, cumin powder and lime juice.

Gently fold to mix all the ingredients together and garnish with chopped cilantro.

Serve with chips or with street tacos.
Notes
Add the herbs before serving.
Use fresh pineapples for the best results.
Discard the seeds of the tomatoes.
Nutrition
Mexican party recipes#2 Vegetarian Wonton Taco Cups: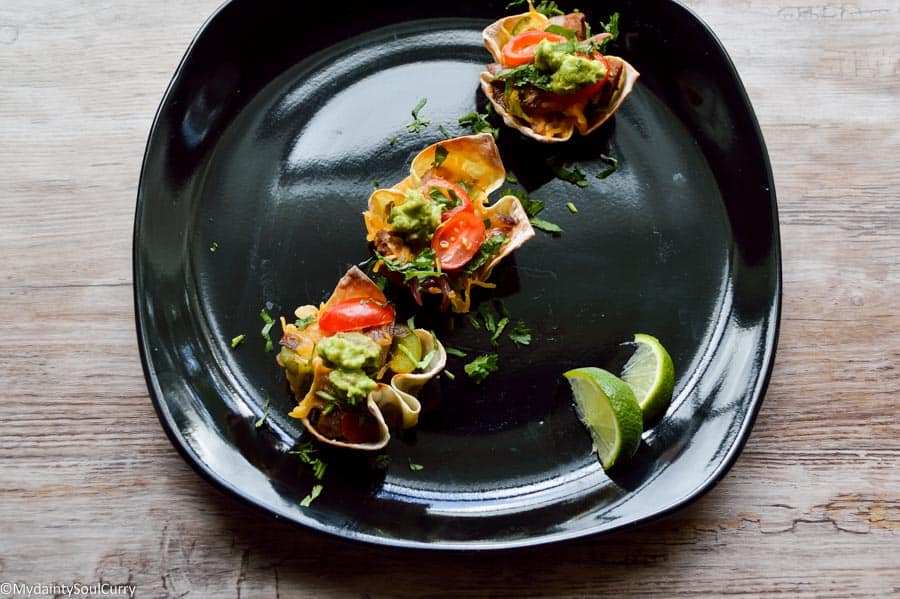 Second on my list are these cute vegetarian wonton taco cups. You really don't need much work here too. Bring some store-brought wonton sheets and bake them to create these cups. My vegan wonton taco cups are one of the best and quick Mexican party recipes that you can include in your Cinco de Mayo menu. I have added seasoned black beans, roasted corn, chopped tomatoes and some cheddar cheese before baking them. In short, these are the perfect party-size appetizers that your guests will love.
📖 Recipe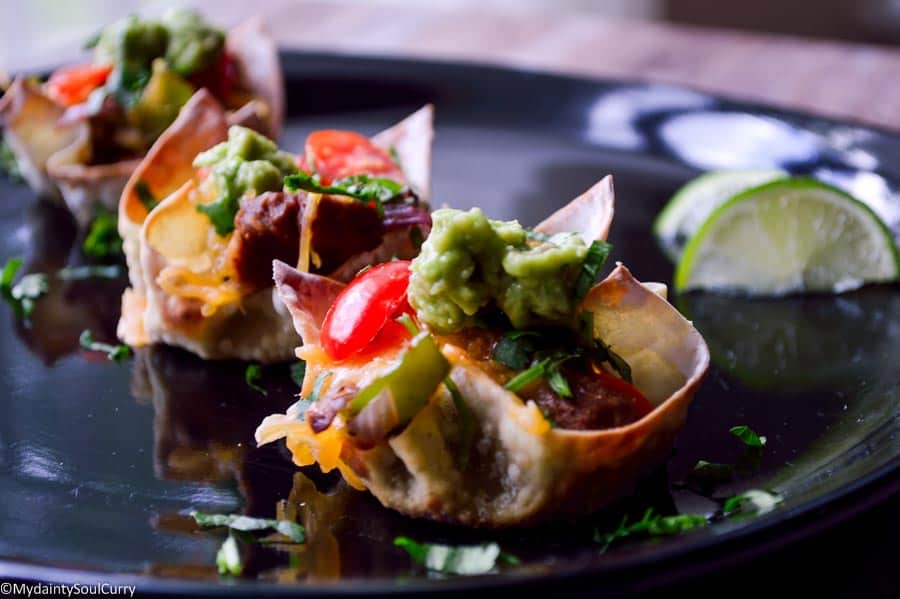 Vegetarian Wonton Taco Cups
Want to feed a hungry crowd and don't want to sweat in the kitchen. This recipe is one best option. Quick to make and delicious on the palate.

Print
Pin
Rate
Ingredients
12

small wonton wrappers

1

can

seasoned black beans

¼

cup

avo+pineapple pico

cherry tomatoes

,

(halves)

¼

cup

avo dressing

½

cup

cheddar cheese
Instructions
Preheat the oven to 375 degree F.

Fit one wonton wrapper into each muffin cup to create a taco shell. You may have to adjust and crimp as necessary to create a cup.

Cook them for ten minutes (depending on the type of oven the cooking time may vary) until crispy.

Add seasoned beans, pico, chopped cherry tomatoes and cheddar cheese.

Place in the oven for a few minutes until the cheese melts.

Serve with chunky guacamole or my 2-minute avo dressing.
Notes
If making it vegan, then use vegan cheese instead.
Adding corn and salsa is a great option too.
Nutrition
Mexican party recipes#3 Jicama Taco with Kung Pao seitan: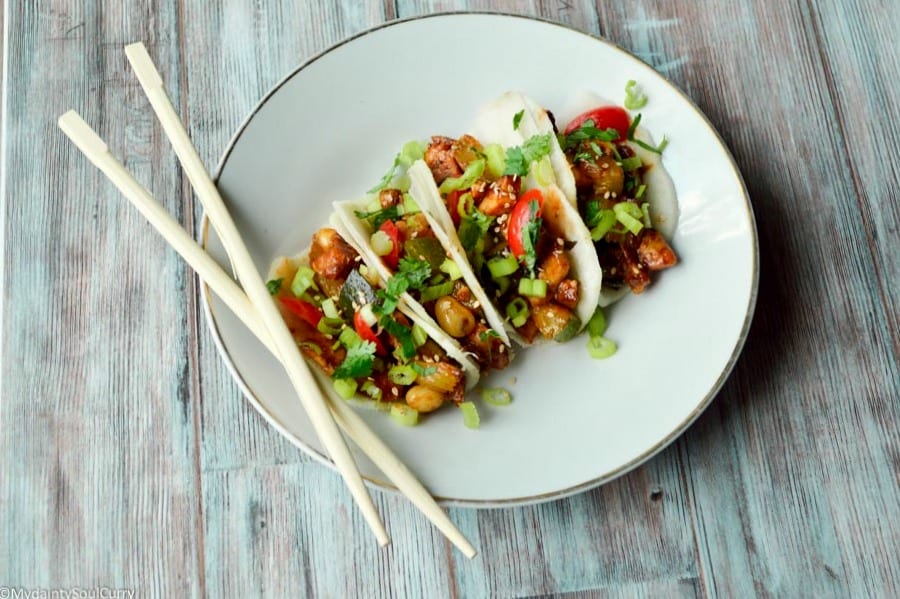 Now comes my favorite, which is the P.F Chang's menu inspired Jicama taco with kung pao seitan. This fusion dish is perfect for your quick Mexican party recipes too. Your guests will certainly love this fusion dish after enjoying tons of Mexican dishes on your Cinco De Mayo menu.
📖 Recipe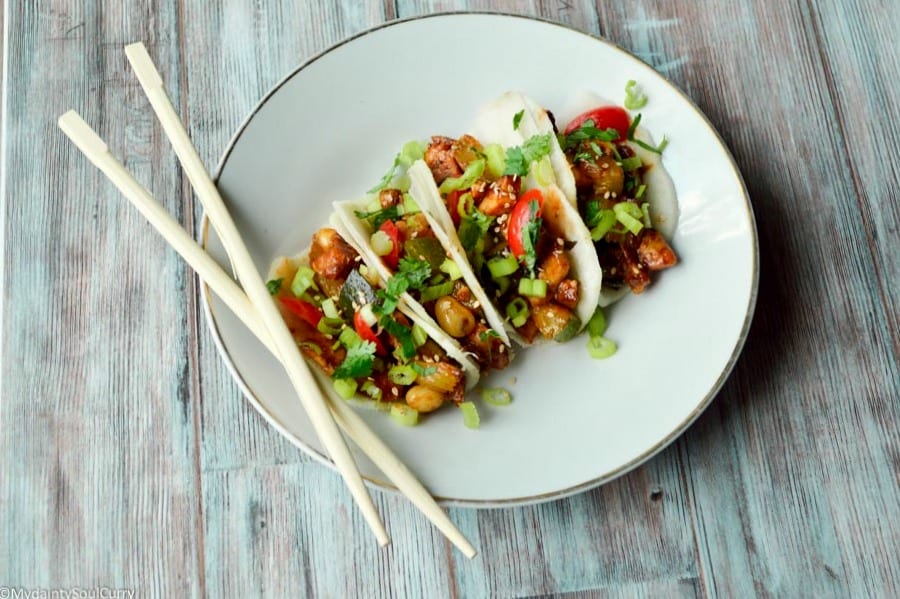 Jicama Taco with Kung Pao seitan:
These crunchy tacos are quite similar to lettuce wrap, but with a twist. You just need some jicama shells and fillings, and this dish is a perfect crowd pleaser.

Print
Pin
Rate
Ingredients
12

Jicama shells

,

(store-brought pre-sliced jicama shells)

3

cups

kung pao seitan

,

(recipe link after this recipe)

Chopped scallions to serve
Instructions
To make the jicama taco shells, clean and peel a jicama.

By using a mandolin slicers make thin disk-like shells.

If using a knife, carefully cut thin slices. Try to make uniform slices.

Add generous amount of Kung pao seitan in each taco shell and top with chopped scallions. (Click on the recipe image below to visit the recipe page)


Serve with sriracha, soy and peanut sauce.
Notes
Kung Pao seitan
Follow this recipe to prepare Kung Pao Seitan.
You can even use tofu or meat for this dish too.
Click here to visit the vegan kung pao seitan recipe page.
Mexican party recipes#4 Vegan Street Taco: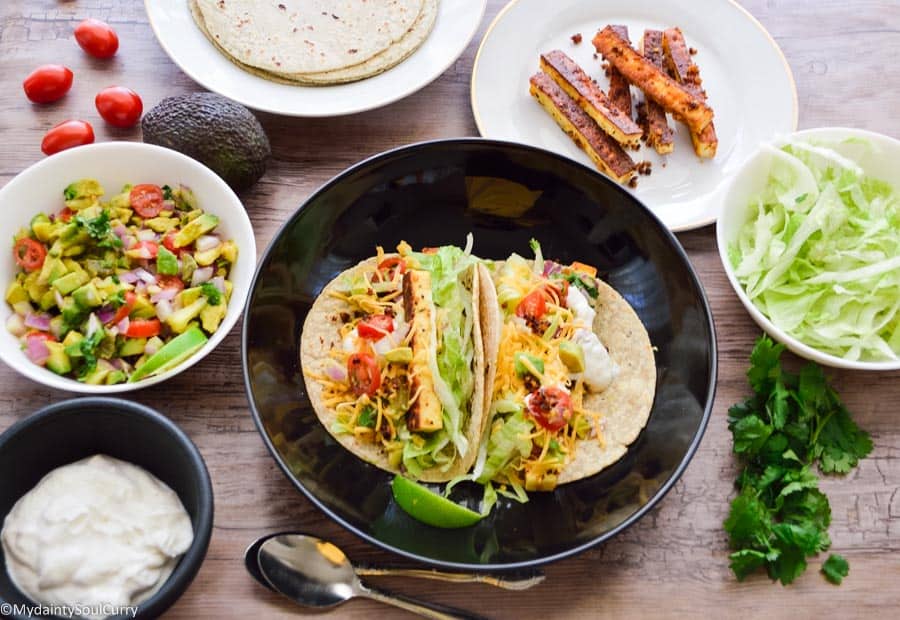 Fourth on my list are the vegan street tacos, inspired from the Baja style fish taco without the cabbage slaw. I have used tofu fingers instead of fried fish for this dish. All you need is some firm tofu, a basic marinade and a frying pan to cook them. Add my pineapple and avo pico, shredded lettuce, vegan Greek yogurt and vegan cheddar cheese, and your vegan street taco is ready.
📖 Recipe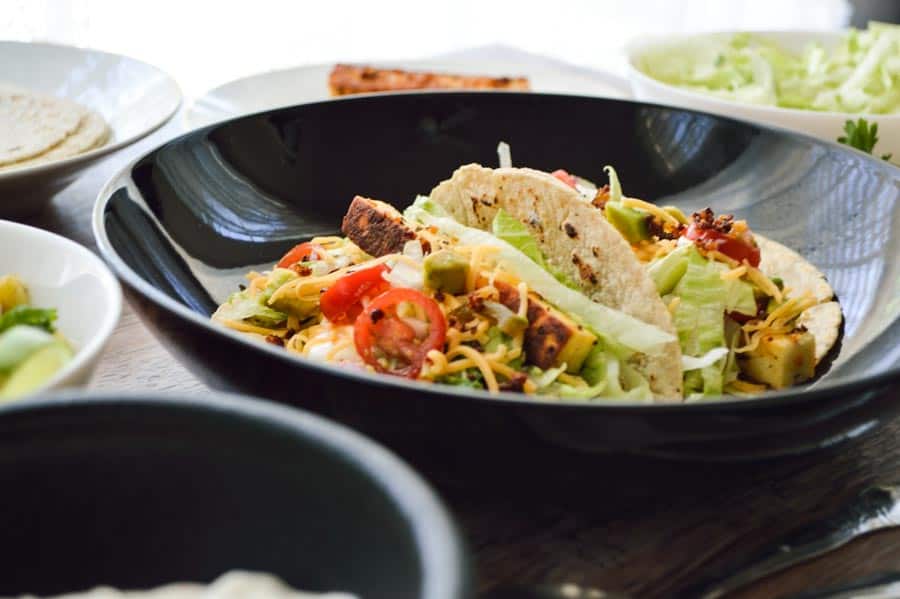 Vegan Street Taco
Give your guests a build-your-own-taco experience. They will certainly love the idea and the flavorful taco.

Print
Pin
Rate
Ingredients
Tofu and marinade
1

package

extra firm tofu

,

(cut into thin strips or fingers)

1

tablespoon

taco seasoning

1

teaspoon

chipotle chili sauce

½

teaspoon

tomato salsa

Salt and pepper

2 tablespoon panko breadcrumbs
Other ingredients
1

tablespoon

canola oil

1

cup

avo-pineapple Pico

½

cup

shredded lettuce

½

cup

cheddar cheese

½

cup

Greek coconut yogurt

,

(vegan, unsweetened)

12

Small tortillas

,

(corn or wholewheat)
Instructions
Mix the marinade ingredients.

Cut the drained tofu into long finger shapes.

Pour the marinade over tofu and mix well for uniform coating

Roll on panko breadcrumbs for a crispy coat.

Cook in a preheated oven(350degree F) for ten minutes until brown and crispy.

Or cook in a frying pan until each side is brown and crispy.

Assemble:

Take a whole wheat tortilla and add two to three tofu fingers.

Top with avo-pineapple pico, shredded lettuce and Greek yogurt.

Add vegan cheese and serve.
Notes
For vegetarians:
Use cheddar cheese
Sour cream
Other topping choices include
Nutrition
Loved the idea of my vegan street tacos? Grill some veggies and add it as a topping too.
Now the bonus tips:
Use the wonton shells to serve Pico De Gallo, salsa or even chunky guacamole.
Have some left over Spanish rice and Mexican style beans? Serve them with jicama taco shells with refried beans as a healthy burrito.
Give your guests a choice to choose between the Chinese and Mexican filling for their jicama or street taco. They will love the idea of building-their-own-taco experience too.
And some more quick recipe ideas for your party:
Now that you have so many options to choose from, you can create a wonderful party menu with these quick Mexican party recipes. So, let me know how was your party and don't forget to tag me if you recreate my recipes and sharing it on social media.
Here is Mydaintysoul's Instagram page. And my other social media pages can be reached just by clicking the icons at the end of this post. Enjoy!
Try Amazon Prime 30-Day Free Trial