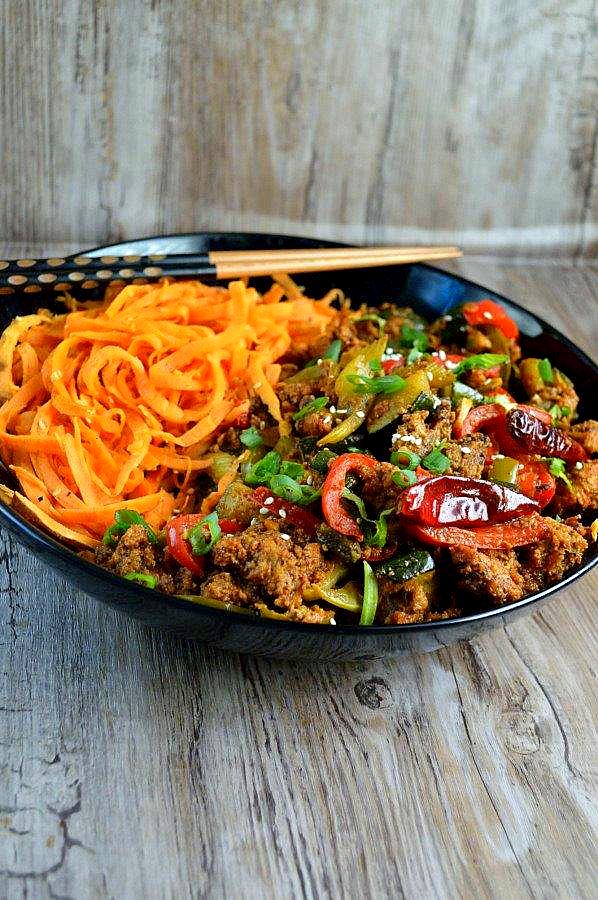 The idea of creating vegan kung pao chicken was to make something different with the homemade seitan. If you don't know what seitan is, then it is a mock meat with texture quite close to chicken. I like to make chicken style seitan. I don't have an individual recipe post for seitan yet, but if you would like to learn how I make my chicken-style seitan, then feel free to drop a message in the comment section. Now that we are doing this yum yum vegan kung pao chicken, let's discuss about the recipe.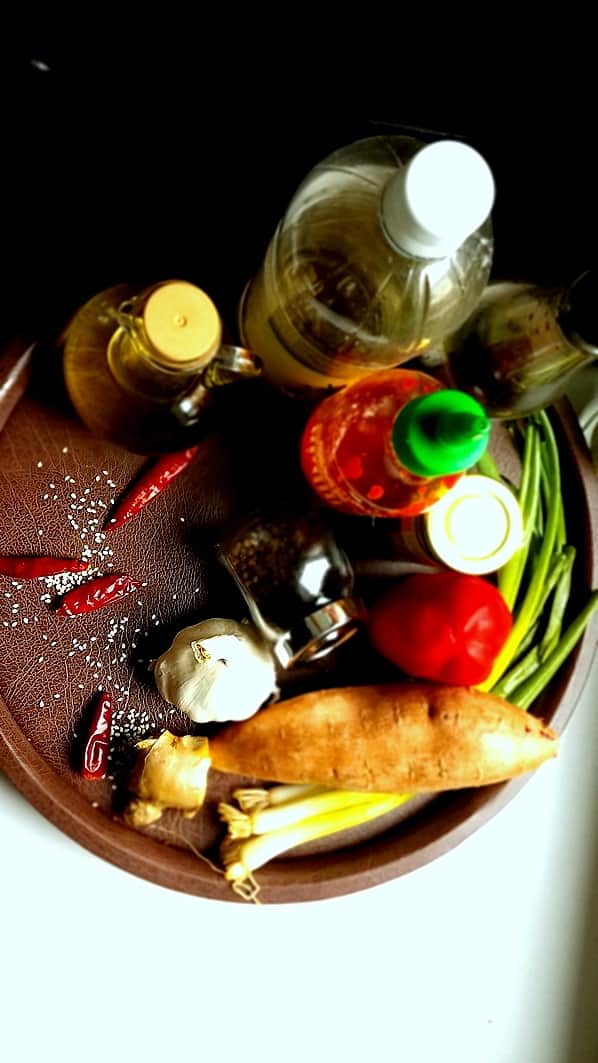 The base of the Kung Pao chicken is seitan. I prefer using seitan over soy protein and tofu. Seitan is indeed tasty and soaks the flavor of the sauce quite well. In this recipe, I have used a variety of condiments to create the marinade for the seitan. The main sauce or the Kung Pao sauce does require some work, at least while you do the grocery shopping. If you don't have any of these ingredients, I have a list of alternative options that you can use too.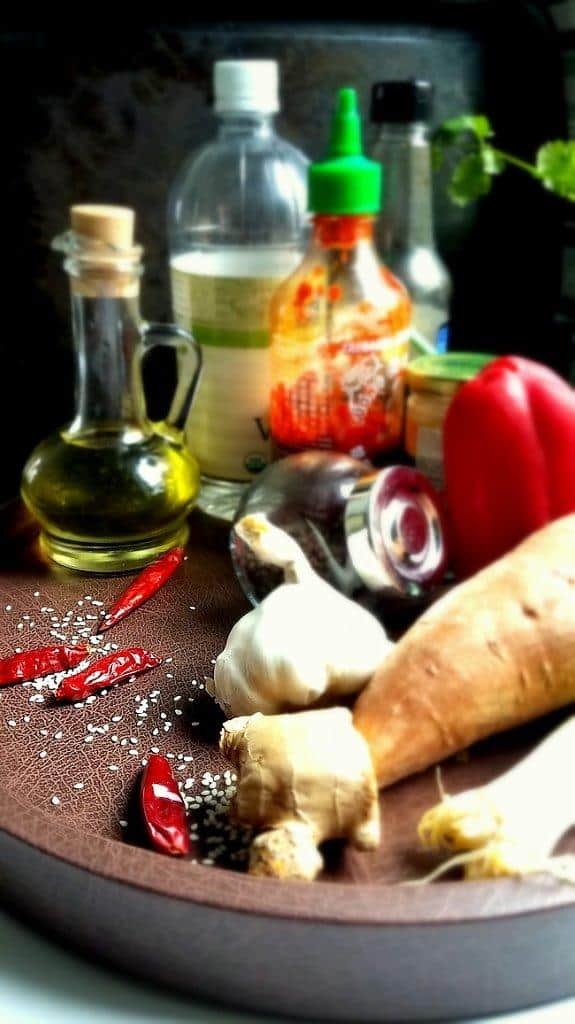 Alternative Ingreidents for Vegan Kung Pao Chicken:
You can use these substitutes too!
Chinese Black vinegar – 50/50 mix of red wine vinegar and balsamic vinegar
Brown rice vinegar – 20% rice vinegar and 80% apple cider vinegar
Dark brown sugar – Molasses + sugar or semi sweetened chocolate sauce + caramel sauce (if using this alternative, use half the quantity)
Sweet chili sauce – Sriracha + stevia
Peanut butter – almond butter + peanut oil
Sesame oil – canola or vegetable oil with infused sesame seeds( I crackle the seeds in hot oil)
Roasted peanut – any nut of your choice( I used Pistachios in this recipe)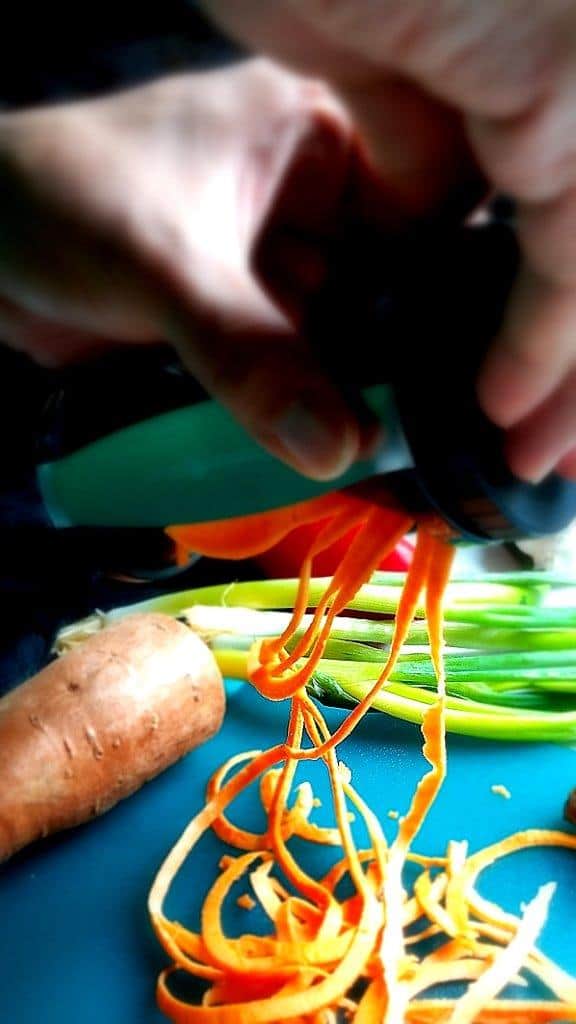 Sweet Potato Noodles for Vegan Kung Pao Chicken:
I wanted to use something different, healthier and full of nutrition than using the regular white or brown noodles for this recipe. The idea behind this is to skip noodles and add a veggie instead. That's why sweet potato noodles. The trickiest part is to create the noodle or spirals. To do so, I used a spiralizer of course. This is a latest addition in my kitchen. I use this brand and and so want to buy this one.
Check this recommended product list that has top spiralizers for this recipe.
If you don't have a spiralizer, you can cut thin and long julienne of sweet potatoes, which I find very difficult though. Or the easiest way is to substitute the sweet potato spirals with regular noodles. But I am sure you will love the recipe more with sweet potato spiral noodles. So go buy one..order it now and get it delivered to your doorstep in two days. Yes Two Days! You can sign up for the free Prime trial. Do it here.
Amazon: Try Amazon Prime 30-Day Free Trial

Health Benefits:
Noodles vs Sweet Potato noodles:
The traditional recipe uses rice noodles, which is high in carb, calories and unwanted sugar. Unlike that, the fresh sweet potato noodles are low in carb, calorie and even sugar. Due to high content of dietary fiber, these noodles will keep you satiated for longer. Read more about the healthy benefits of sweet potatoes here.
Rice Noodles: Per 100 grams: Calorie: 109 cals,Fiber: 1 gram, carb: 44g and Protein: 1 g
Sweet Potato Noodles: Per 100 grams: Calorie: Only 86 cals, carb: 22g with 4 g fiber and Protein 1.6 g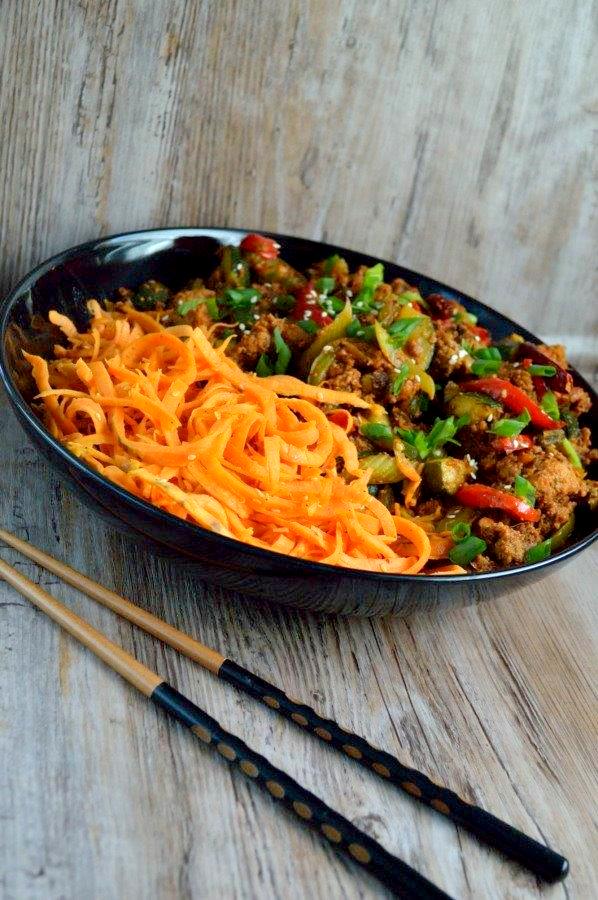 Nutrition Fact: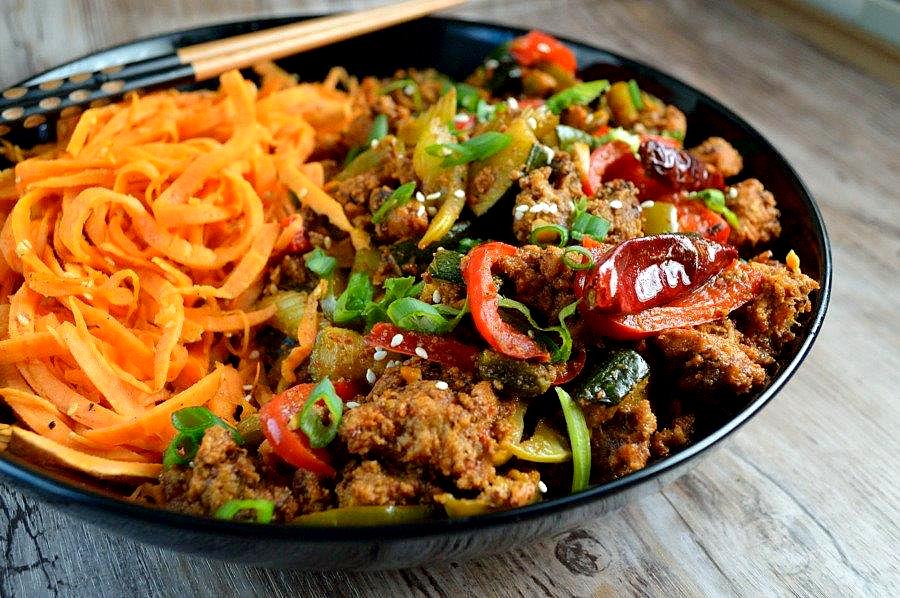 📖 Recipe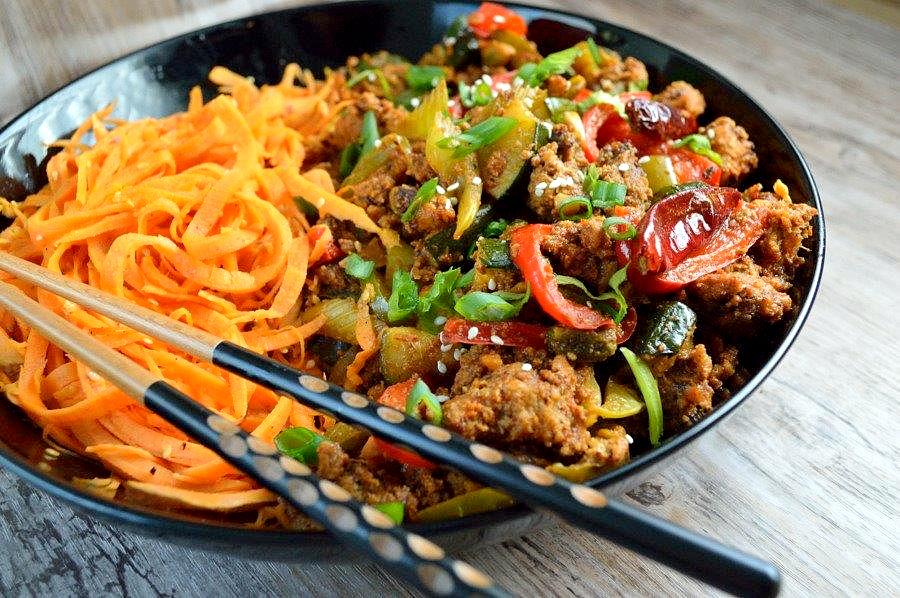 Vegan Kung Pao Chicken
This Chinese dish is a awesome vegan meal option for those who love Chinese food and for those who want to try something new. Highly nutritious and delectable!

Print
Pin
Rate
Ingredients
Kung Pao Sauce
¼

cup

Chinese Black Vinegar

1

tablespoon

almond butter

1

teaspoon

molasses

½

teaspoon

rice vinegar

2

tablespoon

soy sauce

1

tablespoon

sesame oil

1

teaspoon

dark brown sugar

,

(vegan)

2

tablespoon

sriracha+½ sachet of stevia

,

(use sweet chili sauce if you have)

2

garlic cloves

,

(minced)

3

red chilis

,

(dry)

salt and pepper to taste
Other ingredients
1

tablespoon

vegetable oil

1

celery stalk

,

(diced)

1

Red bell pepper

,

(cut into 1-inch squares)

2

tablespoon

garlic

,

(minced)

1

teaspoon

ginger

,

(minced)

½

zucchini

,

(diced)

2

tablespoon

toasted pistachios
Vegan Kung Pao Chicken Marinade
2

cups

homemade seitan

2

tablespoon

soy sauce

1

tablespoon

rice vinegar

1

tablespoon

sriracha sauce

1

teaspoon

brown sugar

½

teaspoon

Chinese five spice powder

½

tablespoon

corn starch

,

(dissolved in 1 tablespoon water)
Sweet potato noodles
1

large

sweet potato

,

(cut into spirals)

1

tablespoon

sesame or canola oil

½

teaspoon

seame seeds(slightly toasted)
Instructions
Vegan Kung Pao chicken marinade
In a large bowl, take all the ingredients listed for marinade.


Add seitan and mix all the ingredients thoroughly so that each piece coats well.


Set aside for few minutes.

Kung Pao sauce
To prepare the sauce, take all the listed ingredients in a bowl.


Prepare a slurry by mixing all the ingredients.


Set aside.

Kung Pao Chicken
Take the marinated seitan.


Heat half of the oil in a wok and add the seitan. Toss well to cook.


Once the seitan pieces are browned, take out from the wok and set aside.


Now add rest of the oil to the wok.


Add the dry chilies and cook until they are fragrant and brown.


Now add, ginger and garlic and saute for a few seconds.


Now add celery, red bell pepper and zucchini. Toss well.


Stir fry for few minutes until vegetables are half cooked.


Now add the kung pao sauce mixture and ¼ cup of water or vegetable broth.


Bring the mixture to a boil. As the sauce starts to bubble, add the seitan and mix well.


At this point, mix well to avoid the sauce sticking to the wok.


Add pistachio nuts and chopped scallions.

Sweet potato noodles.
In a wok, heat the sesame oil.


Add the sweet potatoes and allow them to cook a bit.


You don't have to cook these until tender. We want our noodles to have a bite.


Add some sesame seeds and serve with kung pao vegan chicken.

Notes
Make some variations by adding peanuts or cashew nuts.
You can add mushrooms, bamboo shoots and even water chestnuts.
To make this dish more hot, add 1 extra tablespoon of hot chili sauce.
Nutrition