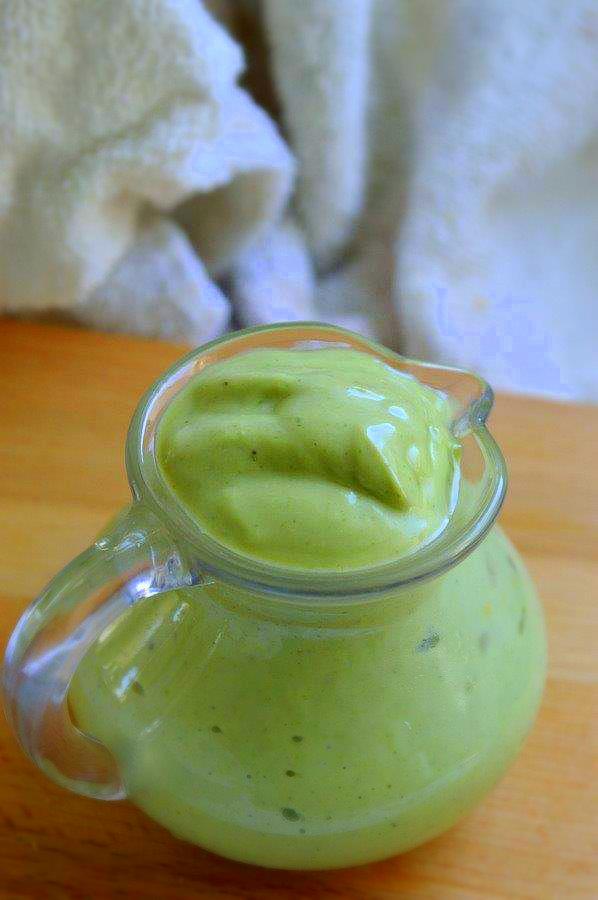 Spring represents bloom and lushness. While most parts of the country are experiencing a cool spring weather, the situation in Texas is quite a bit different. The notorious Texan heat makes the season little hotter than other parts of the country. We even experience days in higher 80s these days. That makes me crave more for salads. And, I have a recipe. Here is a minty-garlicky and creamy avocado dressing that goes really well with any salad, burgers, sandwiches and Buddha bowls, and even with my quick garden salad. And you can make this creamy avocado dressing under two minutes. How cool is that?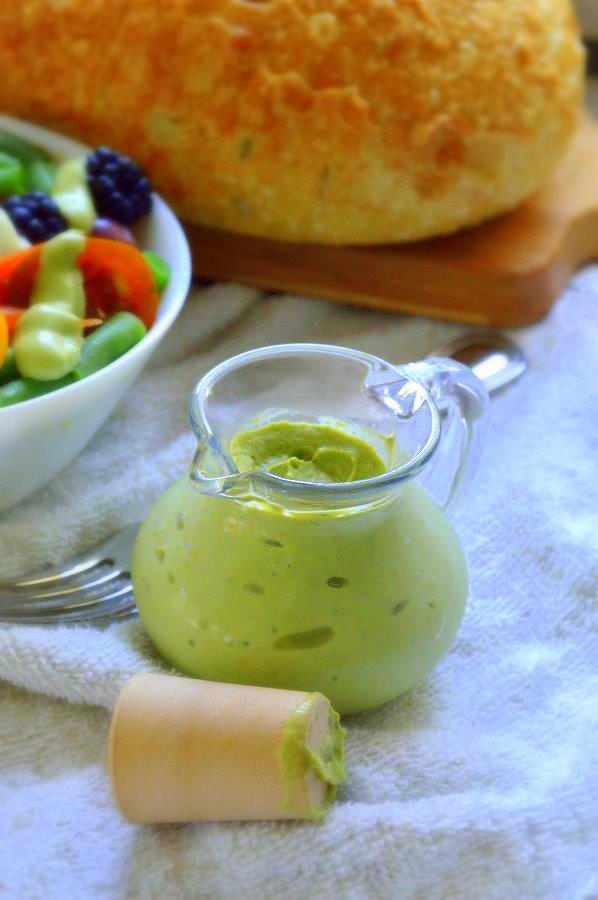 Avocado is a king of nutritious fruits, yes not a vegetable, which has a typical buttery taste. The fruit with its beautiful green hue is quite eye-catchy to look at. Although the taste is quite bland and avocady..LOL, it can be well combined with many dishes and used in recipes. Apart from the chunky guacamole and Mexican avo salads, I use this beautiful fruit in my smoothies, for vegan chocolate mousse(yes Mousse! did you get a chance to see the recipe), on my toasts and in dressing. I call avocado a healthy bomb as it is loaded with good fats and protein. Yes, 21g of fat per a cup of serving and 2.9g of protein which is quite praiseworthy considering it as a raw plant protein source.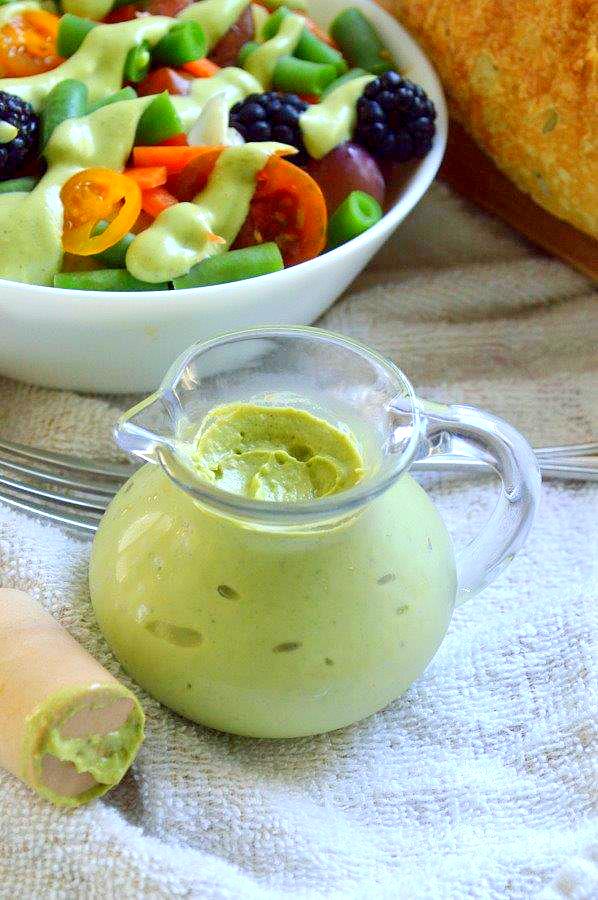 Read more about avocado and its nutrition facts here.
If you have read my other posts, then you must have read how important it is to include more veggies in your diet. Some of the best ways to enjoy more veggies is by replacing a traditional crust with veggies, bread in burgers with lettuce and fried snack with vegetable chips and similar.. (I used cucumber cups here) Include vegetables and fruits in smoothies.(here) Make vegetable and fruit dressings and eat some extra salads. Yes, this recipe has it!
And some of my most popular recipe posts featuring vegetables are here.
Click on each image to visit the relevant recipe page!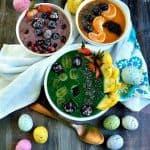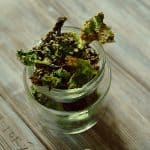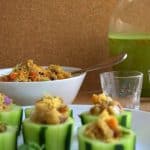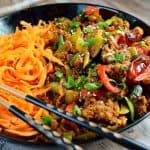 My Creamy Avocado Dressing and Quick Garden Salad:
This recipe is super delicious and super quick. I use those hash type avocados for this recipe. To add more creaminess, there is Greek Yogurt. If you are going vegan like me, then use those Greek Style plain soy yogurt. I use the store bought ones, because I still haven't made my homemade vegan yogurt yet. To add some pungency and heat, I add a green Thai pepper to this recipe.
Then comes my favorite ingredient: mint leaves, which not just adds color, but it adds some freshness too. Lastly, some garlic and lemon or lime juice. Garlic uplifts the flavor and adds a typical pungent taste too. You can skip it if the raw garlic taste bothers you. Lime juice is essential to combine those entire flavor profiles and to add that tangy taste to this dressing. I also add a tablespoon of extra virgin olive oil too. In my opinion, olive oil changes a regular salad dressing to a wow salad dressing. Don't add too much olive oil to this dressing, as the dressing already has lots of good fat.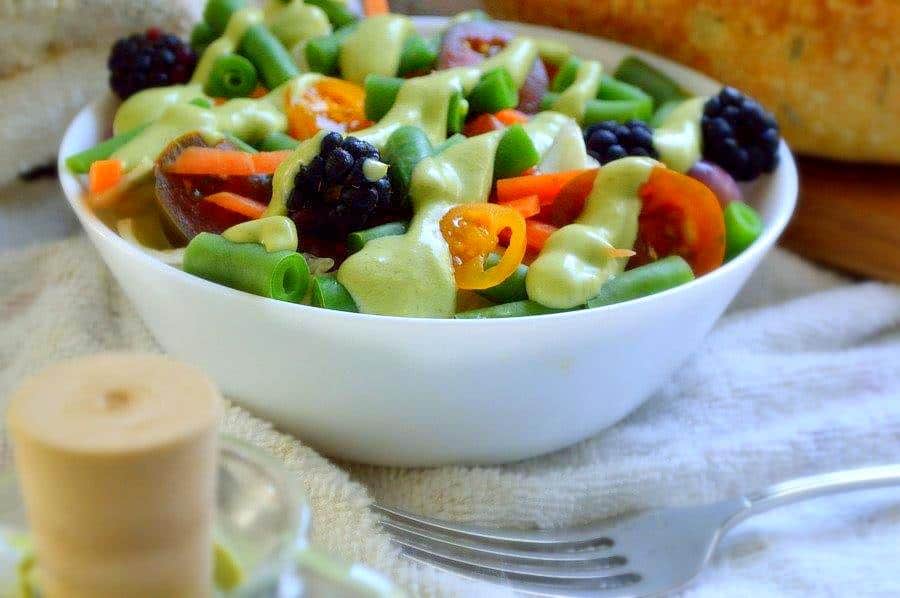 My quick garden green salad features fresh black berries, leafy and iceberg lettuce(you can use mixed greens too), some grape tomatoes and blanched green beans. I added some walnuts for that crunch in every bite. And of course, the creamy avocado dressing completes the recipe. Serve it with sour-dough bread or semolina bread.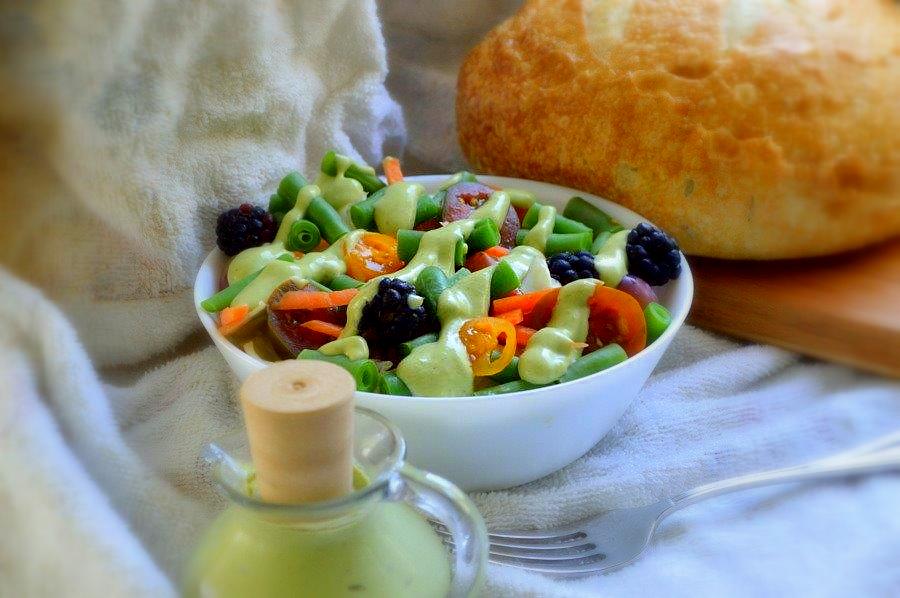 Health Benefits:
Loaded in good fats, low in calorie and carb, and full of flavors.
Nutrition Facts:

Products Recommended For This Recipe:
Amazon: Try Amazon Prime 30-Day Free Trial
📖 Recipe
2-minute Creamy Avocado Dressing with Quick Garden Salad
Enjoy this healthy and creamy avocado dressing with tacos, salads, burgers and even with chips. This is super easy and super healthy, and just takes two minutes of your time!

Print
Pin
Rate
Ingredients
Creamy Avo Dressing
1

Avocado(pulp only)

,

(hash variety)

1

garlic clove

¼

cup

fresh mint leaves

1

tablespoon

EVOO(extra virgin olive oil)

1

green chili pepper

1-2

tablespoon

lime juice

½

cup

Full-fat Greek style yogurt

,

(or Unflavored vegan yogurt such as coconut or soy yogurt)

salt and pepper to taste
Garden Green Salad
½

cup

Mixed greens

1

cup

iceberg lettuce

,

(chopped)

¼

cup

carrot

,

(julienne)

¼

cup

tomatoes

,

(diced or sliced)

2

tablespoon

walnuts

,

(unsalted and toasted)

4

tablespoon

Avo dressing

¼

cup

green beans

,

(steamed or blanched)
Instructions
In a blender, add all the ingredients for the dressing.


Blend well to make it smooth and creamy.


Taste and adjust salt and pepper if needed.


Take all the salad ingredients in a bowl and add the dressing.


Toss well and top with toasted walnuts before serving. (This recipe serves two to four)

Notes
This dressing can be stored for three days in refrigerator without turning dark.
You can replace mint with cilantro for a different flavor, and it works wonderfully too.
Add more veggies such as snap peas, edamame, red onion, and baby spinach to this salad.
Enjoy some grilled veggies with this dressing or create a grilled veggie salad.
Grill zucchini, red bell pepper and broccoli or cauliflower for the salad.
You can also add a cooked grain and protein of your choice to create your own salad bowl.
Nutrition