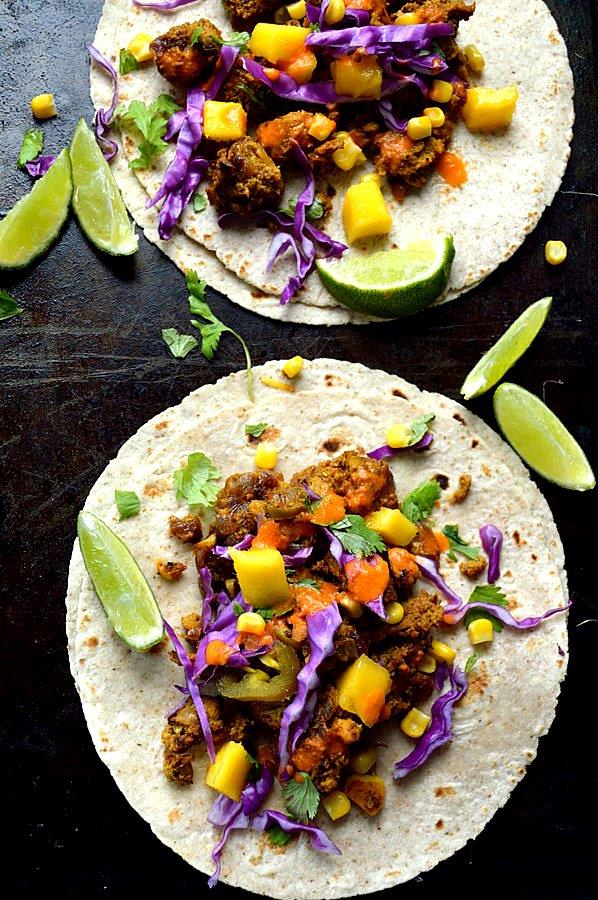 I was introduced to the Caribbean cuisine by a colleague at Infy. The interesting flavors of Caribbean cuisine caught my attention. What I like about the cuisine is the usage of a medley of spices to create a heat, which is then perfectly mellowed by adding some tropical fruit salsa. Torchy's Taco in Vintage Park has an extensive menu that offers a variety of flavorful tacos. The Jamaican Brushfire Taco is one of those tacos that feature a beautiful combination of Jamaican flavors. My vegan Jamaican Brushfire chicken Taco is inspired by Torchy's very own Jamaican Brushfire Chicken taco featuring Jamaican Jerk chicken, roasted corn, mangoes and the fiery hot Diablo sauce.

Vegan Jamaican Brushfire Taco:
To make the recipe vegan, I chose chicken style seitan. I use homemade seitan, which I make in a large batch and store for days in the refrigerator. The texture is the key. Adding the chickpea flour helps to minimize the chewy texture of the seitan and makes it soft yet quite similar to a meaty texture. And the broth gives these chicken style seitan a mellow flavor. In this recipe, I added a pinch of curry powder too to give it an Indian touch. Other vegan protein choices for this recipe can be tofu, soy-chunks and even tempeh.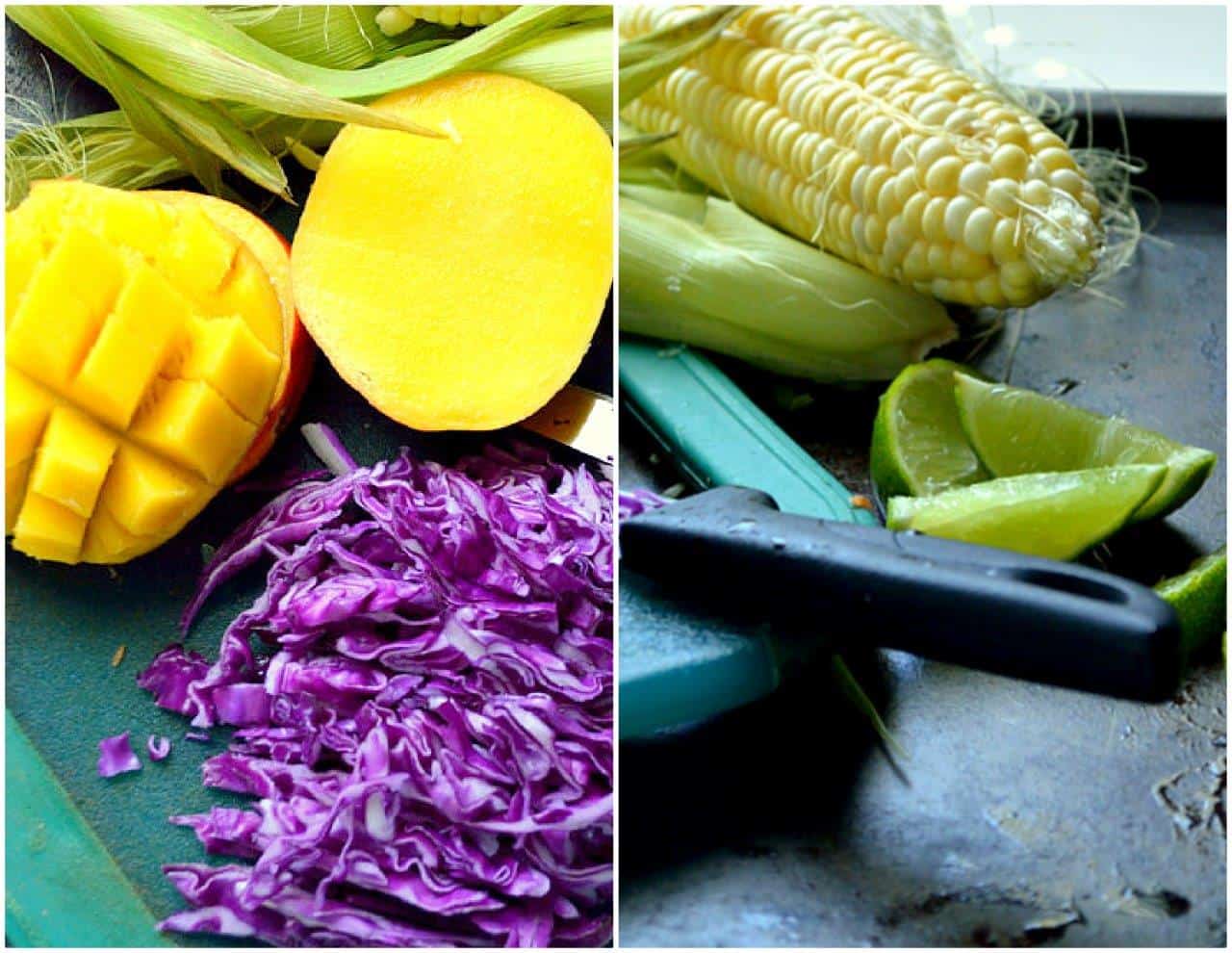 Typically, the Jamaican jerk meat is left in the marinade for two days before grilling them to perfection. You don't need to do that with seitan. All you need is just leave the seitan a few minutes in the marinade and cook them in a skillet until brown. The marinade is the heart and soul of the dish. If you are not using store bought Jamaican Jerk Seasoning, then make your own. I made my own and quite satisfied with it. This dish is definitely hot, thanks to the Serrano peppers, pickled jalapenos and chili powder. Even the crushed ginger and garlic add up the heat. I used the Torchy's Diablo sauce, which is way too hot for my palate. While Mr. Husband thoroughly enjoyed the vegan Jamaican brushfire taco, I had to add some more mangoes and my creamy avocado dressing to reduce the heat.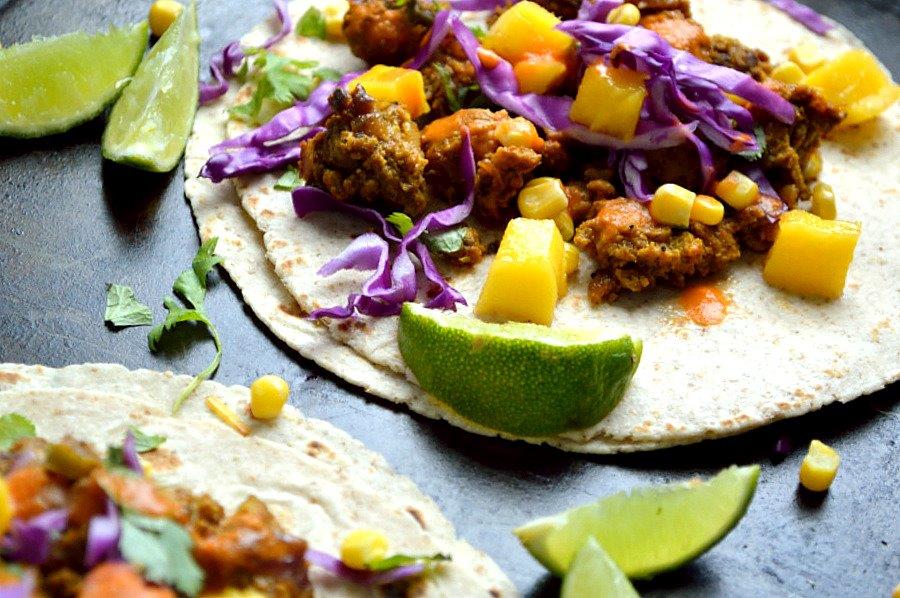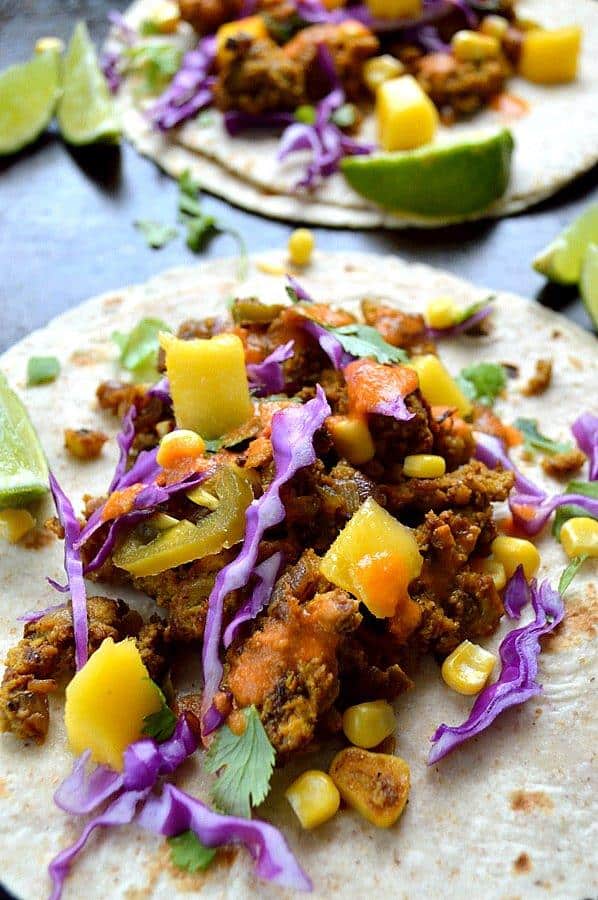 Recommended Products:
Try Amazon Prime 30-Day Free Trial
Nutrition Facts:
This is definitely a healthier alternative to the traditional Jamaican jerk taco if you consider the calories. For vegans, this is a great source of proteins. Thanks to the profuse use of seitan. If you want to make it low-carb, go with a lettuce wrap instead of a traditional corn or whole wheat tortilla. This vegan Jamaican brushfire chicken can be mixed with some greens and enjoyed as a salad. My avocado dressing complements this salad very well. Click on the image bellow to visit the recipe page. And some of my other vegan meatless recipes are here!
And enjoy these Mexican style pickled jalapenos on these tacos. Learn how to make pickled jalapenos in instant pot.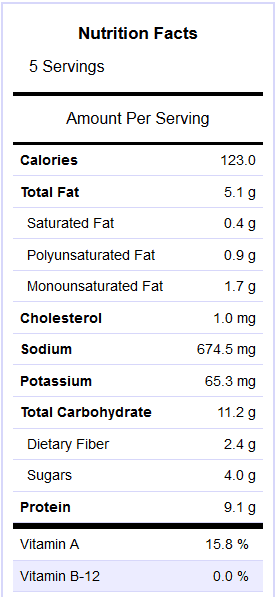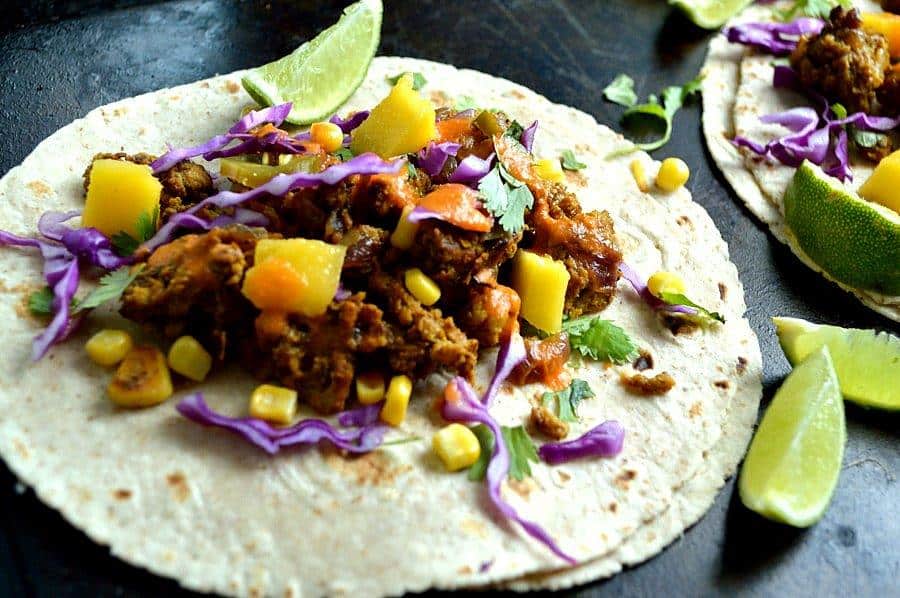 Vegan Jamaican Brushfire Taco
These flavorful tacos are perfect for Cinco De Mayo or any weeknight meals. Loaded with spicy Jamaican jerk seitans, roasted corns and sweet mango, these tacos are explosive on palate and nutritious for body.

Print
Pin
Rate
Ingredients
2

cups

seitan

,

(homemade chicken style)

1

Serrano pepper

2

tbsp

pickled jalapenos

1/4

cup

roasted corn

1/2

cup

mango chunks

1/4

cup

shredded purple cabbage

,

(only for garnish)

1

tbsp

cilantro

,

(finely chopped)

1

tbsp

canola oil
Jerk Marinade
1

tbsp

garlic powder

1

tbsp

onion powder

1

tsp

chili powder

1

tsp

dried parsley

1/2

tsp

smoked paprika

1

tsp

five spice powder

2

tsp

sugar-free coconut agave syrup

,

(Jordan's Skinny)

1/2

tsp

crushed red pepper

1/4

tsp

cinnamon

1/2

tsp

ground nutmeg

1/4

tsp

lemon herb grilled seasoning

1/4

tsp

hot curry powder

1

tbsp

ginger-garlic crushed

1

tbsp

soy sauce

1/2

tsp

cider vinegar

,

(optional)

1/2

tbsp

Diablo sauce

,

(I used Torchy's)

Salt and pepper to taste

2-3

tbsp

water

,

(to make the marinade)
Instructions
Mix all the marinade ingredients and set aside.

Add seitans in to the bowl and toss well so that the marinade coats each piece evenly. Let it stand for a few minutes.

Heat the canola oil in a skillet or frying pan, and add the marinated seitan pieces and sliced serrano pepper.


Cover and cook for a few minutes.

Add the pickled jalapeno slices and roasted corn.

Taste and adjust the salt and pepper. Turn off the heat.

Heat some tortillas and add a generous amount of Jamaican brushfire seitan on each.


Top with some mangoes, cilantro and shredded purple cabbage.

Serve with Diablo sauce, avocado dressing and lime wedges.
Notes
If not using cider vinegar, you can use some lime juice.
You can grill the seitan instead of cooking in a pan.
Because seitan is precooked, it takes only few minutes to cook them.
You can add some mango salsa instead of mango chunks too. Pineapple salsa even works well with this recipe.
Nutrition
Want to Pin the Recipe? Click Pinit!