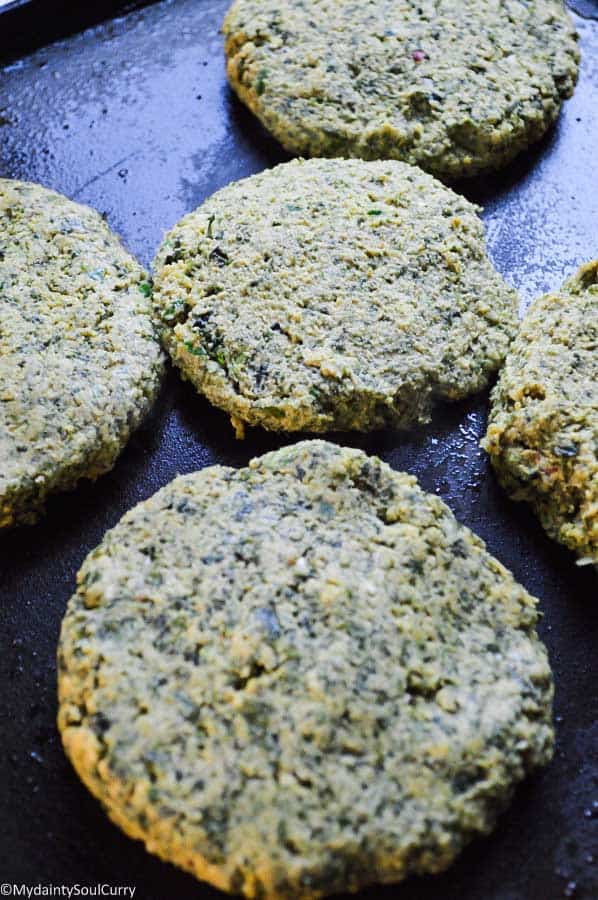 If you ask me whether I am a vegan, then my answer is not yet. Well, I am somehow quite fascinated about the idea of veganism. The truth is as I am trying and creating a new recipe in its best vegan version, I am getting more and more intrigued by this lifestyle change. When I made these vegan fish cakes (there is no fish in it), I felt a sense of achievement. How can these taste so similar like a Thai fish cake without even having any fish and minus that fishy smell? Well, this is the art of veganism. As you try more, you are going to fall in love with it. Here comes my recipe of Thai-style vegan fish cake.
Did you check my other vegan recipes? Click here to visit the recipe page.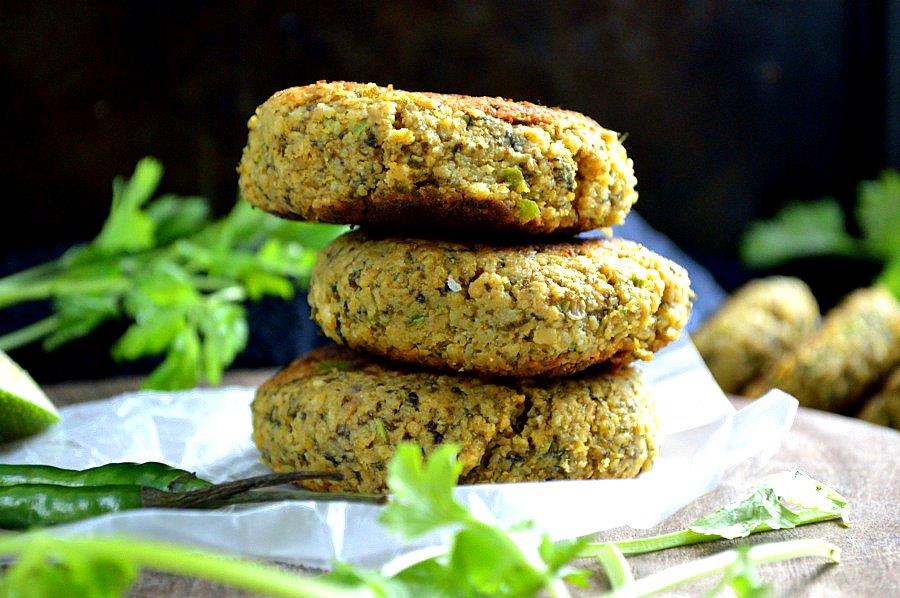 The idea of creating these was just random. I tried this once when SG and I were on a weight-loss diet in 2015. However, the result was not so praiseworthy. This time, I made some changes to the recipe and the result was 'bang on.' It was crispy on the out, flaky and soft inside and has that typical Thai spiced taste that we usually get with each bite of a Thai fish cake. My suggestion is to go easy on those Birds' eye red chili and be generous with other herbs, if you are not a big fan of blazing hot food. Well, these Thai spiced vegan fish cakes are a bomb on your palate as they explode the flavors of fresh galangal, ginger, chili, cilantro, Thai basil and a subtle hint of lemon grass. I added a quarter teaspoon of basic curry powder to the recipe to give it an Indian touch. We Indians are curry lovers, aren't we?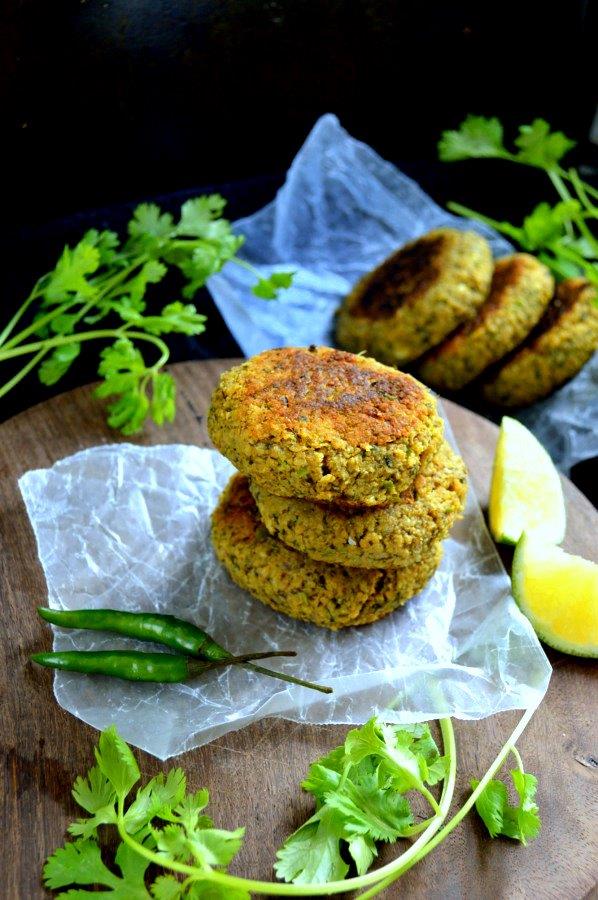 Thai style Vegan fish cake:
I love Thai food, smorgasbord of flavors that give you a hint of herbs, robust spices and that typical sweetness from brown sugar. In this recipe, I have added tofu, organic of course. It's my choice to choose organic tofu. You can choose the non-organic ones too. There is a lot of misconception about including soy protein in diet. Here is a fantastic article on that. Read it here.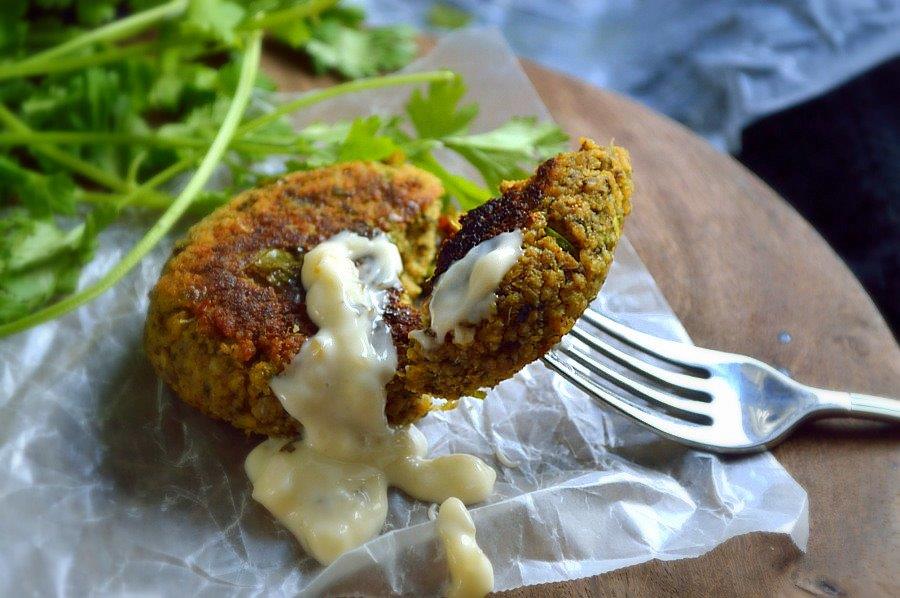 How to Make This Vegan Fish Cake?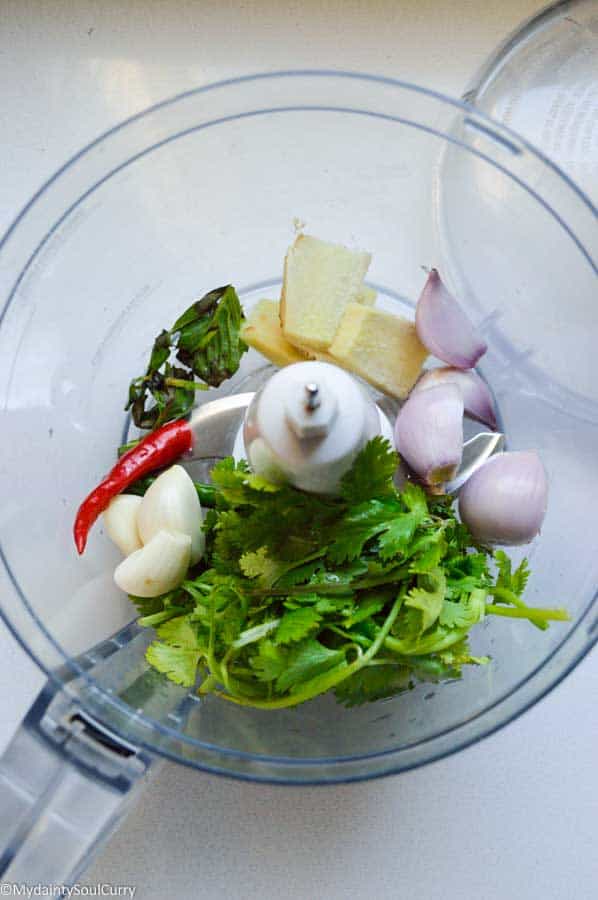 Step-1: Prep Your Herbs and Veggies:
Keep all your veggies and herbs ready.
The Thai blend of herbs, which is a mélange of some herbs such as ginger, galangal, Thai basil and of course lemon grass, is the heart and soul of this dish.
I just added one bird's eye chili and one Thai green pepper.
Take everything in a food processor and process to mince the herbs to incorporate the flavors well.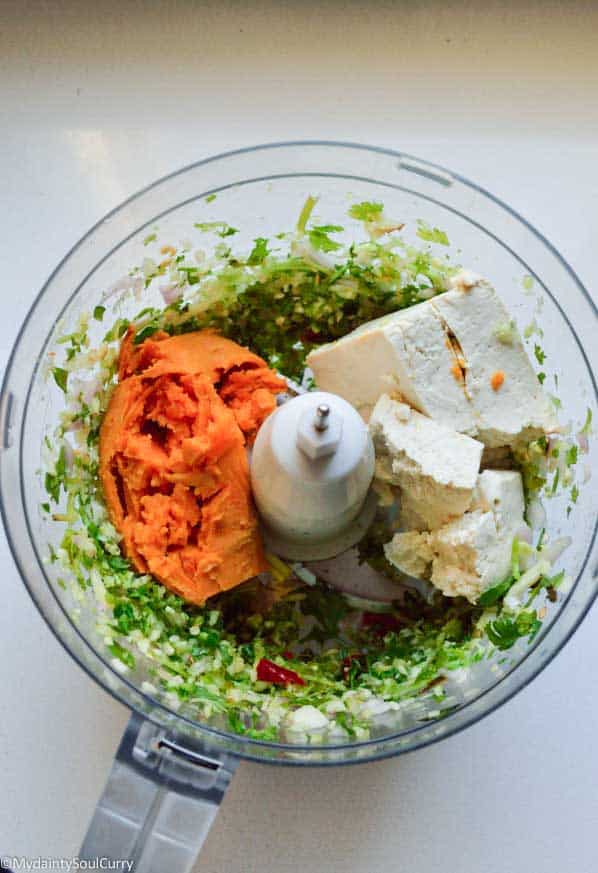 Step-2: Add Tofu and Sweet Potato
Now add tofu(drained) and sweet potato.
(Cook the sweet potato in high in microwave and use the cooked pulp for this recipe.)
Process for a minutes.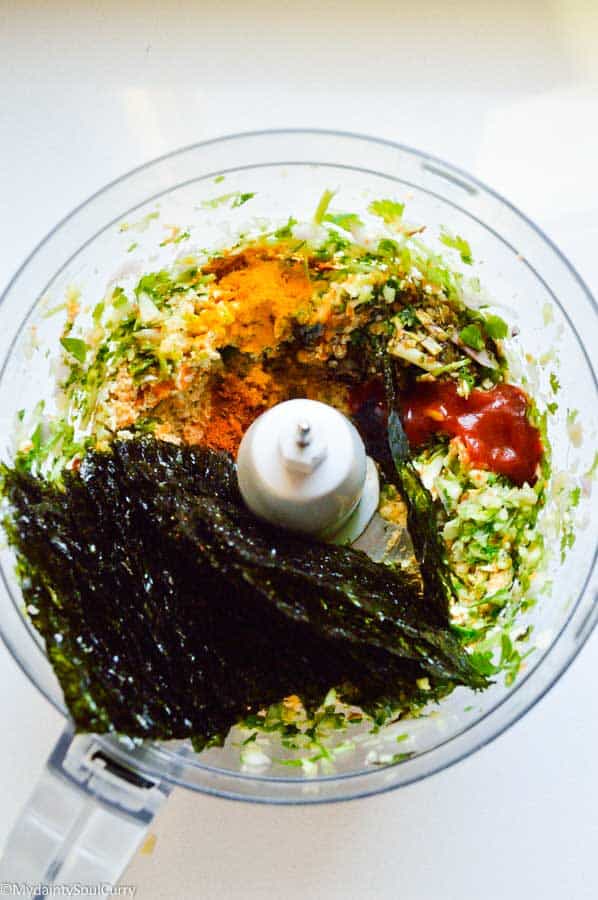 Step-3: Add Seaweed, spices and condiments:
To give the vegan fish cake a typical fish-like flavor, I added some roasted seaweeds.
Soy sauce, garlic chili sauce, yellow curry powder and red chili powder are some of the other ingredients in this recipe.
To add some sweet and sourness, I sometimes add ½ teaspoon of tamarind pulp, which is commonly used in Thai cooking.
Adding cilantro was my choice. You can totally skip it if that flavor doesn't entice you.
Lastly, the Panko breadcrumbs to add the crispiness to this dish.
I don't suggest using the regular breadcrumb in this recipe, because it will not give that crispiness that we are looking for.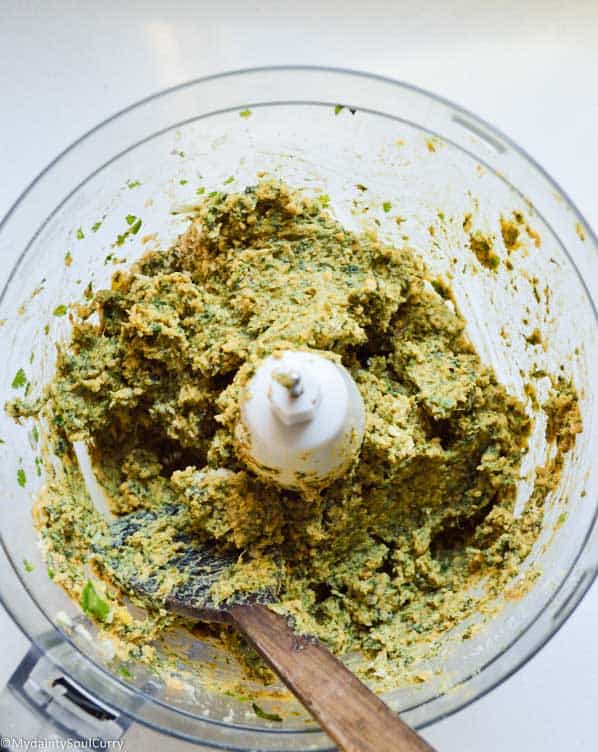 However, if you don't find Panko, use the regular ones without any added herbs or flavors.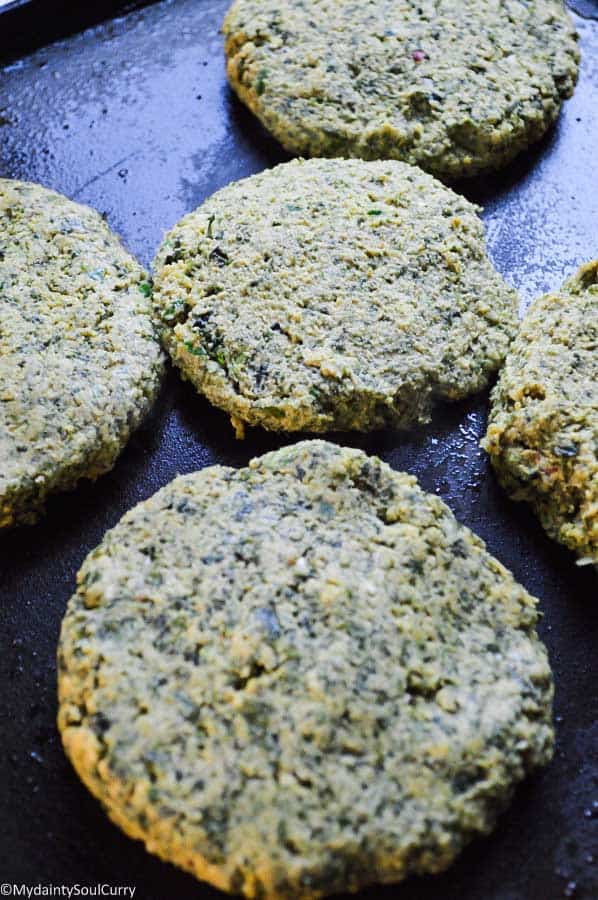 Step-4: Make Patties or Cakes: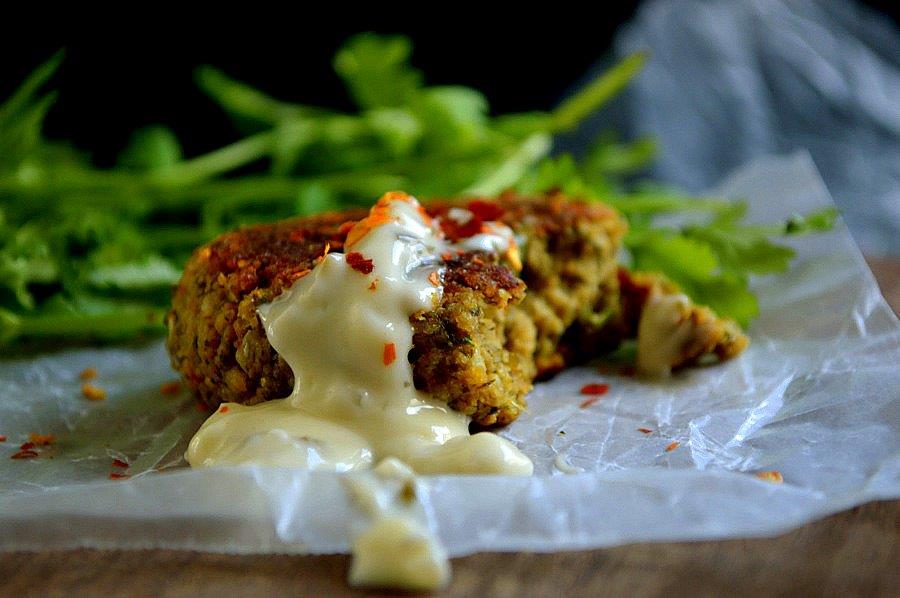 I strongly suggest using a food processor for this recipe. If you don't have one, dear you don't know what you are missing in your kitchen. I use this brand of food processor. This is quite affordable and serves my purpose. I have a list of top-rated food processors available on Amazon. You can go for any of these top-rated food processors if you want to. Take a look.
Products I used in this recipe:
Try Amazon Prime 30-Day Free Trial
Please note that this section of the article contains affiliate links. If you click on these links, you will be directed to the merchant's page. For any purchase from these links, I will earn some commission which will be used towards the website maintenance. Thank you!
Nutritional Information: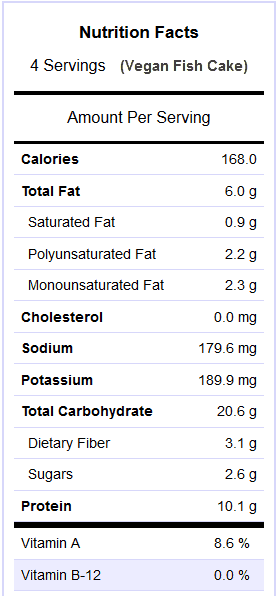 Allergens: contains soy
This is certainly a protein packed recipe. Thanks to tofu as it is the main protein provider ingredient in this recipe. Because, this recipe doesn't use any flour, it has very less simple carbs. All the carbs in this recipe comes from the sweet potato, fresh herbs, and Panko of course. Check the nutrition label for more info.
📖 Recipe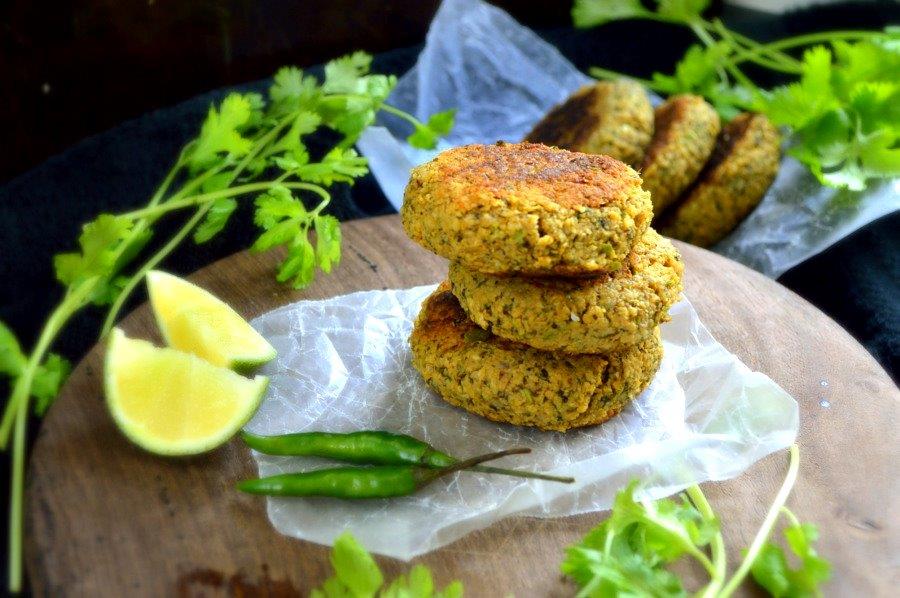 Thai Spicy Vegan Fish Cake
This simple yet delicious recipe is full of flavors and nutrition. Whether or not you are a vegan, you are going to love it. Seafood lovers can just use the recipe with their favorite fish and skip adding tofu to make the fish cake.

Print
Pin
Rate
Ingredients
1

pack

organic extra firm tofu

,

(16 ounce)(drained)

½

cup

sweet potato

,

boiled

⅔

pack

roasted seaweed snacks

,

(around 10 small sheets)

1

inch

ginger

½

inch

galangal

4

pods

garlic

1-4

bird eye chili

1

Thai green pepper

1

small

shallot

,

(roughly chopped)

1

tablespoon

soy sauce

1

tablespoon

chili garlic paste

1

teaspoon

tamarind paste

,

(optional)

1

lemongrass stalk

,

(soft part only)

1

tablespoon

Thai basil

,

(fresh or dried)

½

cup

cilantro

1

teaspoon

curry powder

,

(extra hot Madras Curry Powder)

½

teaspoon

red chili powder

1

teaspoon

lime juice

1

cup

Panko

,

(add as you process the mixture)

Salt to taste

2

tablespoon

canola oil
Instructions
Drain the tofu thoroughly by placing some weight on it. I usually drain the tofu a night before and keep it in the refrigerator so that any extra liquid drains easily.

In a food processor, add all herbs and spices. Pulse for a few minutes until the herbs are finely minced.

Add the tofu, smashed sweet potato and roasted seaweed snacks to this mixture. Process until the mixture is smooth and herbs are well incorporated. At this point, the mixture may look soft in consistency.

Add the spices and sauces, pulse for a few minutes until well mixed.

Check the seasoning and add salt if needed.

Lastly, add the panko breadcrumbs and pulse for a few minutes. After processing the mixture with panko, it should look doughy and firm.

Now grease your palm and take a scoop-full of dough. Gently make a flat patty by pressing in between your greased palms.

Repeat with the rest of the mixture and try to make even size vegan fish cake patties.

Heat a non-stick skillet on medium.

Add half tablespoon oil and spread evenly.

Cook the vegan fish cake patties until both the sides are slightly brown and crispy.

Serve with vegan tartar sauce or two minute avo dressing.

Notes
Add extra spices to this recipe as per your preference.
Other herbs that work very well with this recipe include basil and kefir lime.
You can add some extra panko as a coating to make the cake more crispier.
If you don't want to add sweet potato, increase the amount of Panko.
Potatoes and cauliflowers are a good substitute of sweet potatoes too.
Nutrition
And some more tofu recipes from the blog are here. Click on the images to visit the recipe pages.