Curry Marinade Pastes from Indian Curry Paste: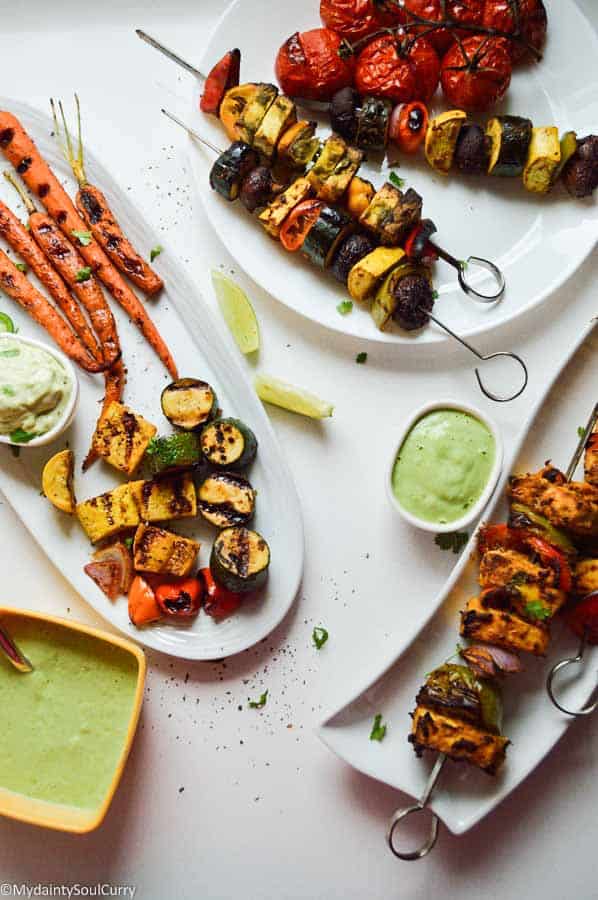 Yes, you can make some flavorful curry marinade pastes with my Indian basic curry paste. It's quick, easy and rich. And guess what, I came up with three easy and very basic marinades that can be quickly made from this awesome homemade curry paste. How cool is that!

It's very unusual to use curry paste as a marinade in my house. Every time while making some tandoori or tikka marinade, I make everything from the scratch. Now that I learned the quick trick to use the Indian basic curry paste for marinades, I quickly whip up my family's top favorite tandoori tofu and paneer in minutes.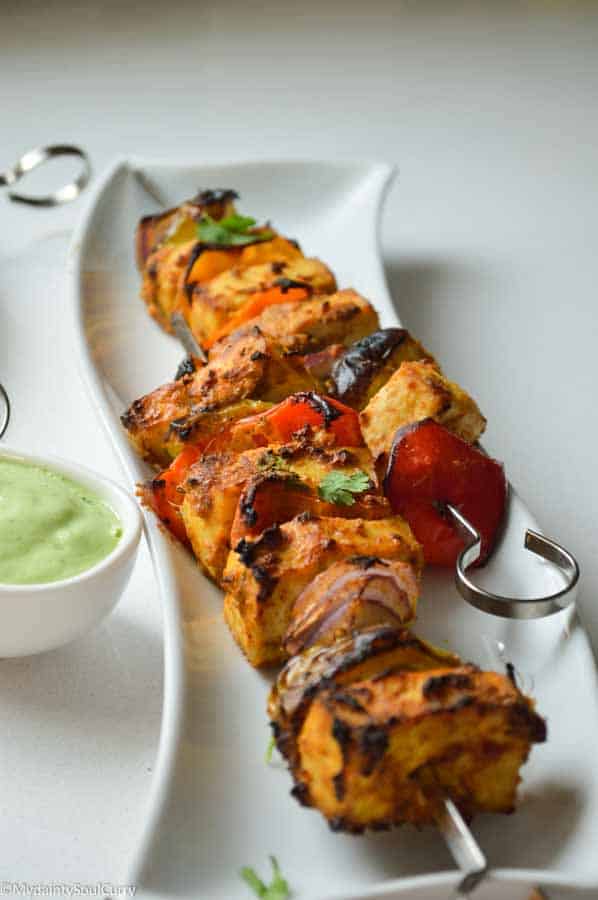 Now you can make this curry paste not only for making tasty curries, but also for some quick and delicious curry marinades too.
If you haven't read my curry paste recipe post yet, visit here! You certainly are going to love making this curry paste and create marinades from it.
It was Memorial Day weekend and I wanted to grill something for my family. I used this basic curry paste to make these three marinades: Tandoori marinade, nutty green or Hariyali marinade and basic curry balsamic marinade.
Three Quick, Easy Curry Marinades from Curry Paste: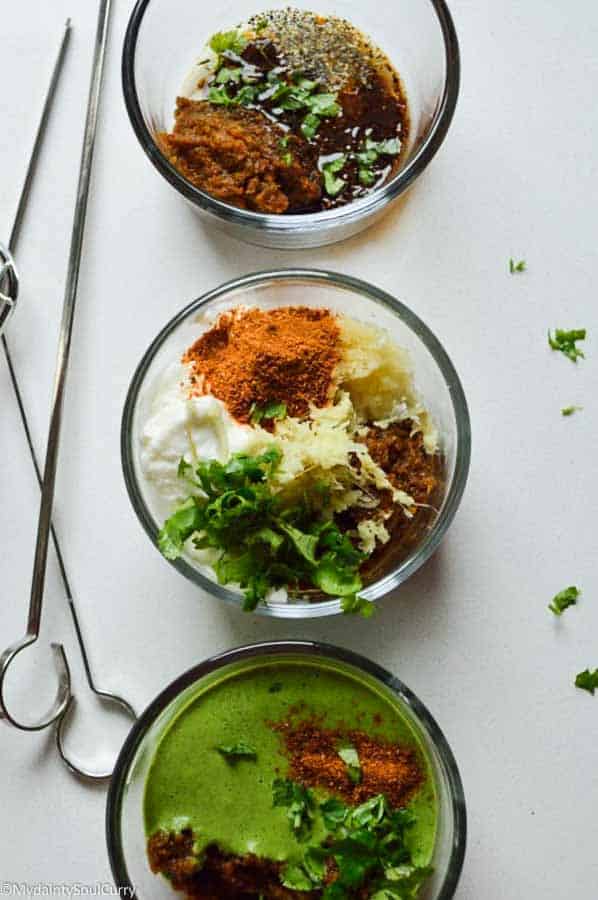 Tandoori Curry Marinade:
The tandoori marinade is super easy if you have the curry paste handy.
Two tablespoon to half cup curry paste, half cup vegan yogurt, tandoori masala, chili powder and fresh ginger garlic paste.
I sometimes prefer to add chopped cilantro too to give a fresh herb flavor.
Some lime juice and extra salt are other ingredients that goes in the marinade too.

Hariyali Marinade:
Now comes the green marinade.
You need some soaked cashew, lime juice, yogurt and cilantro-mint.
Blend all together, add curry paste and garam masala.
Adjust the salt and blend again with some green chilies.
Curry Balsamic Marinade:
Lastly, the basic curry balsamic marinade.
You need a table spoon of curry paste, balsamic vinegar, garlic herb seasoning, olive oil and vinegar.
Lemon juice and fresh lemon zest add a zing to this home style marinade.
I used the tandoori marinade on tofu and veggies skewer and curry balsamic on vegetable skewers. The hariyali or nutty green marinade was for paneer and mushroom tikka kababs with some bell peppers and onion. And the balsamic one is for veggies only!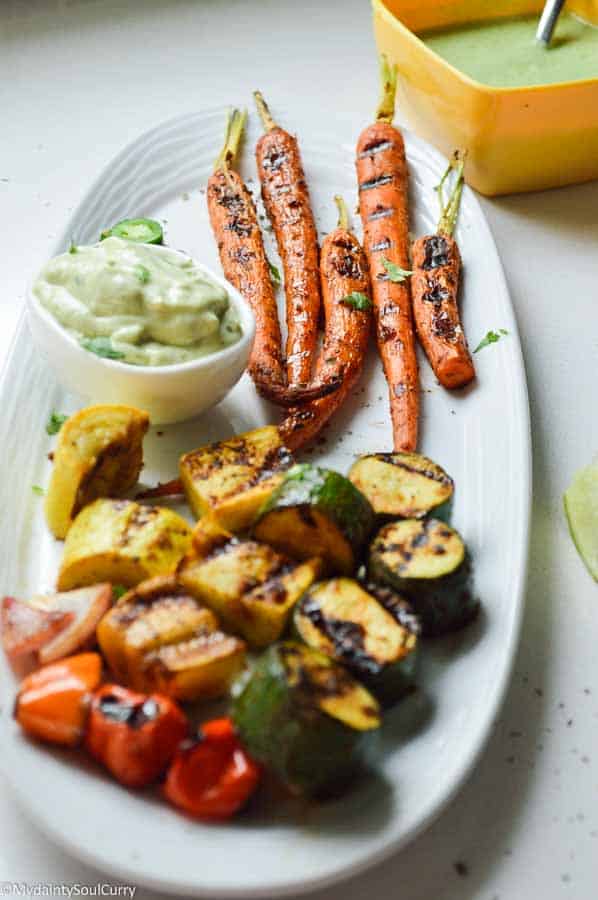 Just pour the marinade in a zip lock bag and add the veggies or tofu. Allow the veggies and tofu in the marinade for at least an hour in the refrigerator. The more time in marinade, the better the taste will be.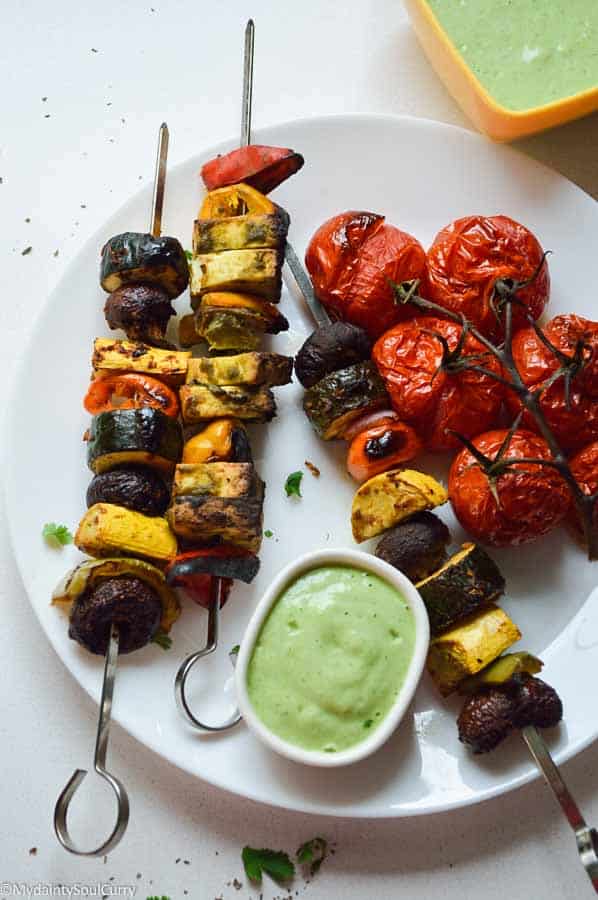 Then comes the fun part, that is grilling. Go grill and enjoy! I served the grilled veggies and tandoori tofu with a simple tzatziki sauce and avocado lime ranch with some cilantro. Both of these are homemade sauces and taste heavenly with grilled veggies and proteins.
Nutrition Info of Each Curry Marinade:
2 tablespoon Tandoori Paste: 35kcal, carb 6.0g
2 tablespoon Green marinade: 25cal, carb 3.0g
2 tablespoon curry balsamic marinade: 30 cal, carb 6g
Some sauce and salad recipes that goes really well these grilled veggies are here. Just click on the image to visit the recipe page.
📖 Recipe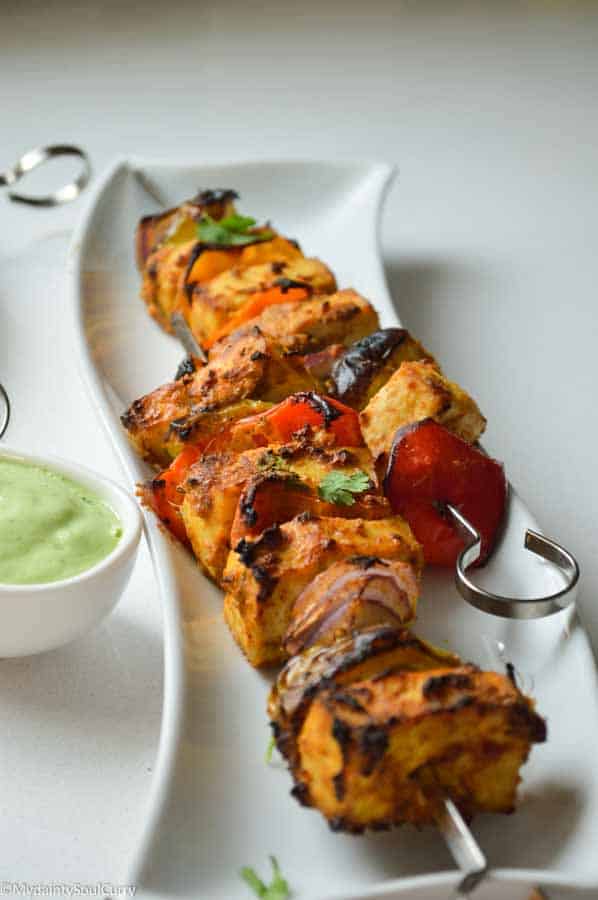 Tandoori Marinade
Just few ingredients, and your tandoori curry marinade is ready. Awesome for veggies, tofu and other proteins.

Print
Pin
Rate
Ingredients
Tandoori marinade
½

cup

curry paste

1-2

tablespoon

tandoori masala powder

1

teaspoon

Lime juice

½

cup

Vegan yogurt plain

,

(Soy yogurt)

½

teaspoon

Red chili powder

2

tablespoon

ginger garlic paste

1

tablespoon

chopped cilantro

Salt to taste

A dash of oil
For Tandoori tofu skewers
½

package drained tofu

,

(extra firm)

½

cup

tandoori marinade

Bell peppers and onion

,

(cut into cubes)
Instructions
Mix all the marinade ingredients to make the tandoori paste.

Adjust salt and chili as per taste.

Keep the tofu and veggies in the marinade for half an hour to few hours in refrigerator.

Preheat the oven at 550F and choose the broiler setting.

Or prep your grill as per the instructions.

Insert the veggies and tofu in a skewer or lay them on a greased baking sheet if using oven.

Cook then till the edges are brown and slightly charred.

Serve with cilantro chutney, tzatziki sauce or cilantro lime avo ranch.
Nutrition
📖 Recipe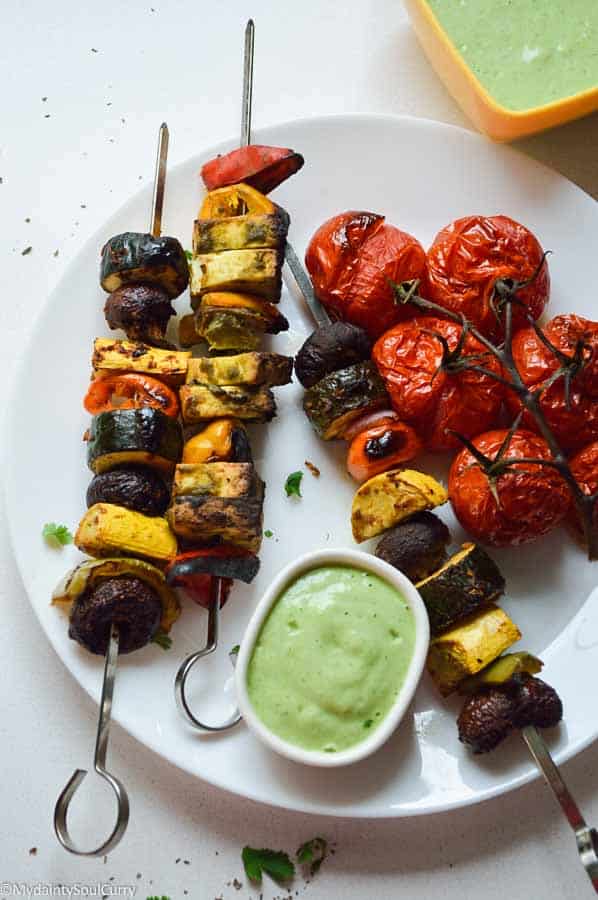 Hariyali or nutty green marinade
Green, nutty, spicy and full of flavors. This marinade is super easy if you have curry paste and a few herbs handy. Use it on tofu, veggies or any protein of your choice.

Print
Pin
Rate
Ingredients
1

cup

packed cilantro+mint

¼

cup

curry paste

¼

cup

vegan yogurt

Juice of half lime

3

green chilies

½

tablespoon

tikka or kabab masala

⅓

cup

cup soaked raw cashews

Salt to taste

⅓

cup

soaked raw cashews

A dash of oil
For hariyali paneer/tofu and mushrooms:
1

cup

cubed paneer

1

cup

cubed tofu

1

cup

baby bella mushrooms

1

cup

Hariyali marinade
Instructions
Blend all the ingredients until a smooth paste is formed.

Adjust salt, pepper and lime juice as per your taste.

In a zip lock bag, add the marinade ingredients. Now add all the veggies and paneer or tofu.

Shake well so that the veggies and paneer are coated well.

Keep these in the marinade for half an hour to few hours in refrigerator.

Broil or grill as mentioned.

Serve with chutney and avo-lime ranch.
📖 Recipe
Balsamic curry marinade
Salty, garlicky, tangy and with a hint of robust curry flavor. This is my balsamic curry marinade, which is perfect for adding some flavor to grilled veggies.

Print
Pin
Rate
Ingredients
2

tablespoon

curry paste

2

tablespoon

balsamic vinegar

1

tablespoon

white or apple cider vinegar

1

teaspoon

garlic herb seasoning

½

teaspoon

oregano + thyme

2

tablespoon

olive oil

½

lemon

Lemon juice and zest

½

teaspoon

paprika

1

tablespoon

hot sauce or sriracha
Veggies for grilling
½

bunch

carrots

1

cup

mixed squash

½

cup

mushrooms
Instructions
In a bowl, mix all the marinade ingredients well to make a smooth balsamic curry marinade.

Adjust the salt, pepper as per your taste.

Take a cup of two veggies and wash them well. Pat dry with a paper towel.

In a zip lock bag, take the marinade and add all the veggies.

Shake well for uniform coating.

Refrigerate for 30 minutes.
Notes
Veggies tend to lose water in the marinade.
Don't keep them in marinade for a long time.
Nutrition
Try Amazon Prime 30-Day Free Trial