Instant Tofu Dosa: A healthy, and vegan recipe:
Instant tofu dosa, yes you heard it right! If you are wondering why tofu in my dosa, that's because I wanted to make the notorious rice and carb rich dosa a healthier and protein packed one.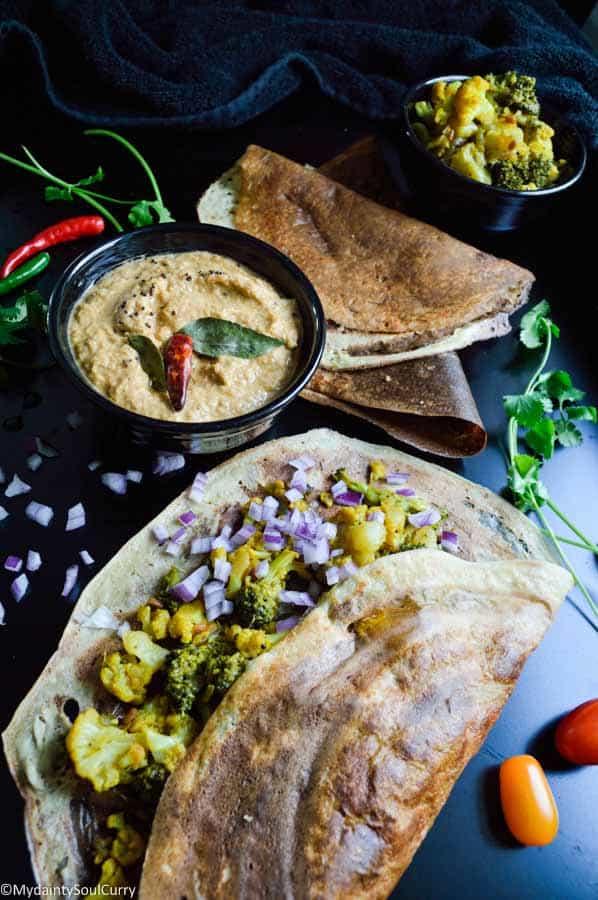 After my gestational diabetes phase, I stick to a low-carb eating diet plan most of the time. Sometimes, I do indulge in binge eating though.

And Advanced Happy Father's Day to My Dad and all Daddies:
My love for masala dosa is hereditary. My dad who is an avid dosa lover, enjoys dosa more than anything. While his appetite calls for many masala dosas, he couldn't eat even one because he watches his carb too. After all, he is diabetic for more than a decade now. By the way, Happy Father's Day dad in advance!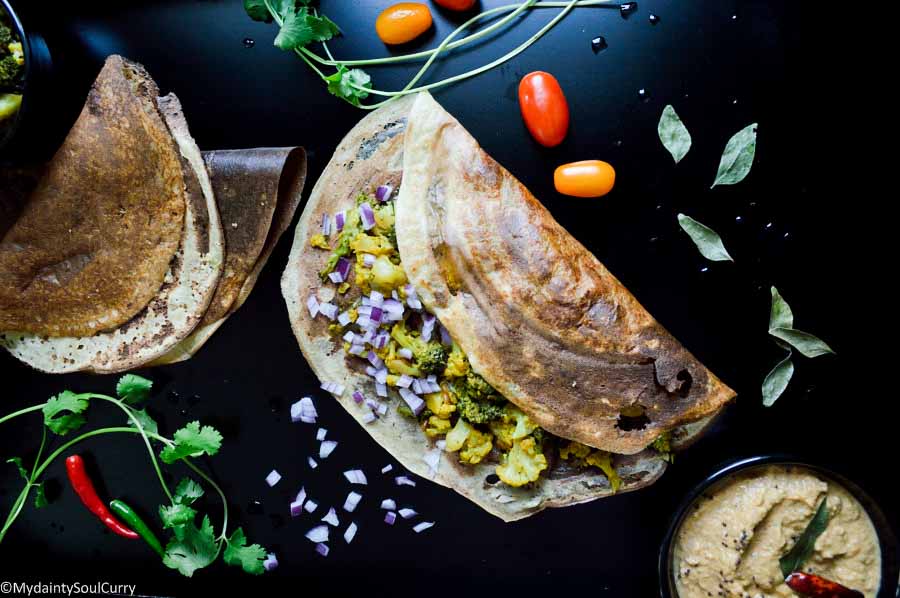 My Instant Tofu Dosa:
So, the idea of protein-rich instant tofu dosa fits his and my diet plan wonderfully. Tofu, garbanzo bean flour or chickpea flour, fresh herbs, and a slice of low-carb bread, that's all you will need for this scrumptious treat. Instant tofu dosa can be made anytime you crave for a healthy and no rice dosa. Plus, I serve this with my no potato masala and quick chutney!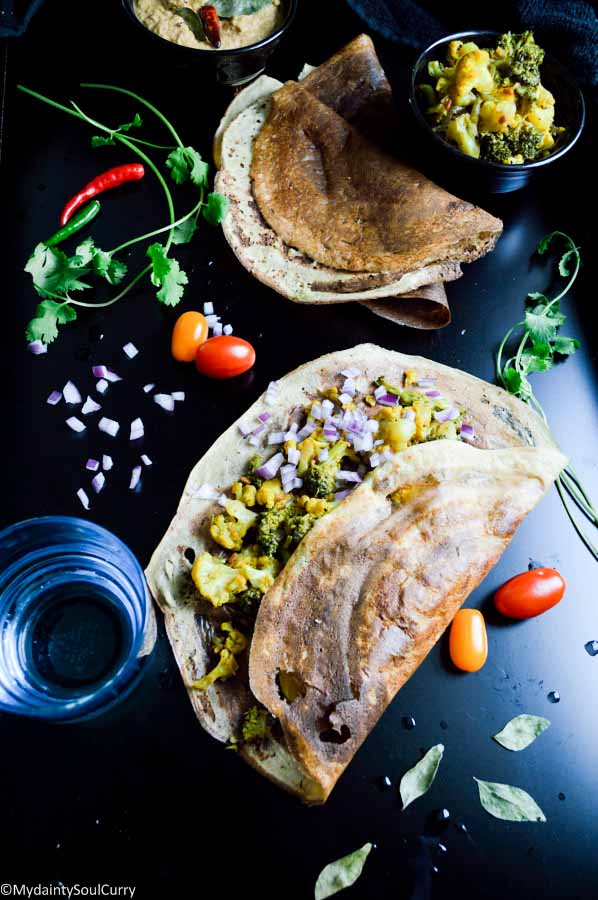 No Potato Cauliflower+Broccoli Masala:
The no potato masala for my instant tofu dosa is made from broccoli and cauliflower. These two healthy vegetables work wonderfully in replacing potato in the masala. Just sauté them with all essential South Indian seasoning, adjust salt and spice, your masala is ready!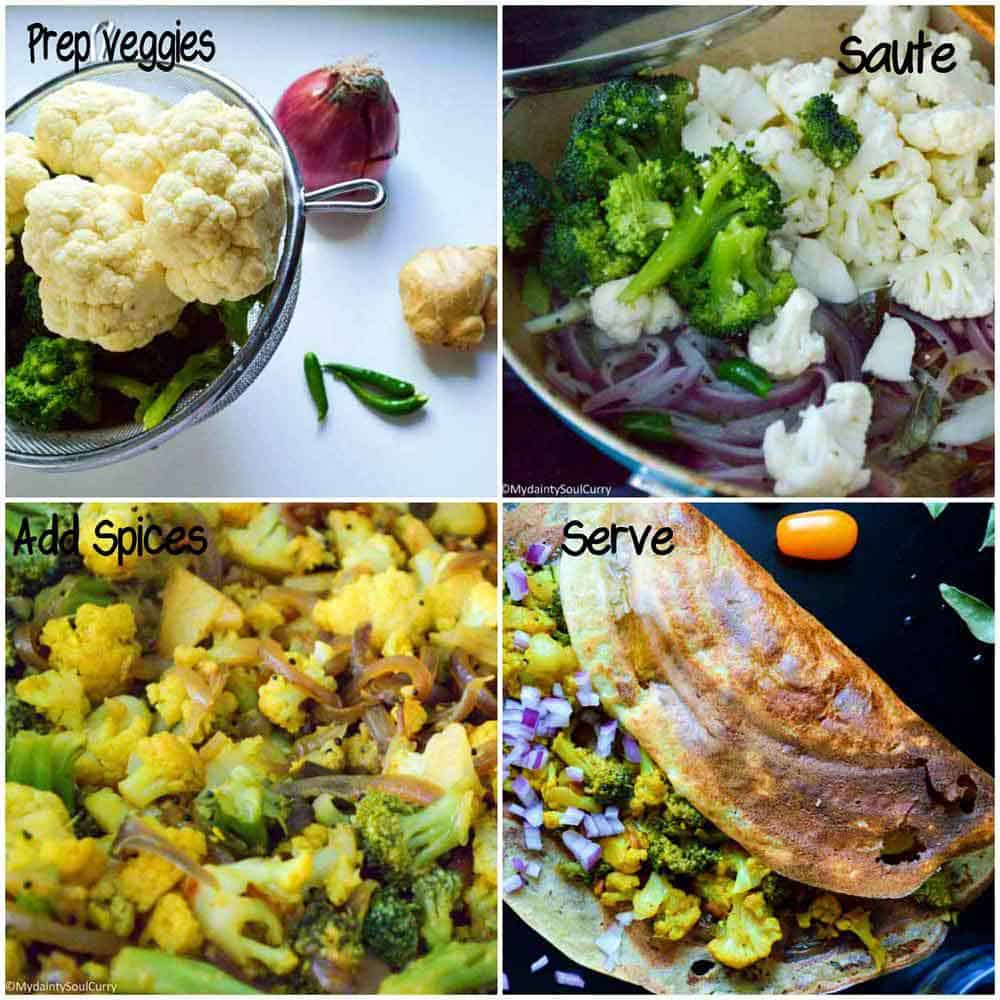 Quick Chutney:
Then comes the quick chutney, which is made from Chana daal or bengal gram dal. Sautéed and fragrant bengal gram daal with tomatoes, green chilies and garlic, curry leaves and dried red chilies are puréed to a pasty mass for this chutney. A spoonful of lightly tempered oil with some mustard seeds and curry leaves complete this dish beautifully.

Then comes the fun part, how to make a perfect instant tofu dosa? There are certain things to remember while making a perfect dosa.
Tips for Perfect Instant Tofu Dosa:

Smear oil on a cold griddle or tawa and your dosas will never stick to the pan.
Temperature of the griddle should be medium hot when you pour a ladle of batter to make a dosa.
To maintain the temperature, sprinkle some cold water every time before making a dosa.
Onions work wonderfully in making the griddle non-sticky for dosa too.
Lastly, adding a spoonful of fine semolina or tapioca flour helps to make the dosas super crispy.(I didn't use either of these)
Facts about instant Tofu Dosa:
It doesn't taste like tofu only or even like besan cheela. Instead, it tastes more like a gingery crispy crepe which is quite close to the flavor of gingery rava dosa.
It cooks and browns very fast. Tofu might be the reason. Spread the batter evenly as soon as you pour it on the griddle.
These dosas become super crispy and very thin. Thus, add little more batter every time if you don't want a very thin dosa.
Adding oil is absolutely not necessary if you are using a non-stick griddle. If you have to add, use a neutral oil like vegetable oil or canola oil.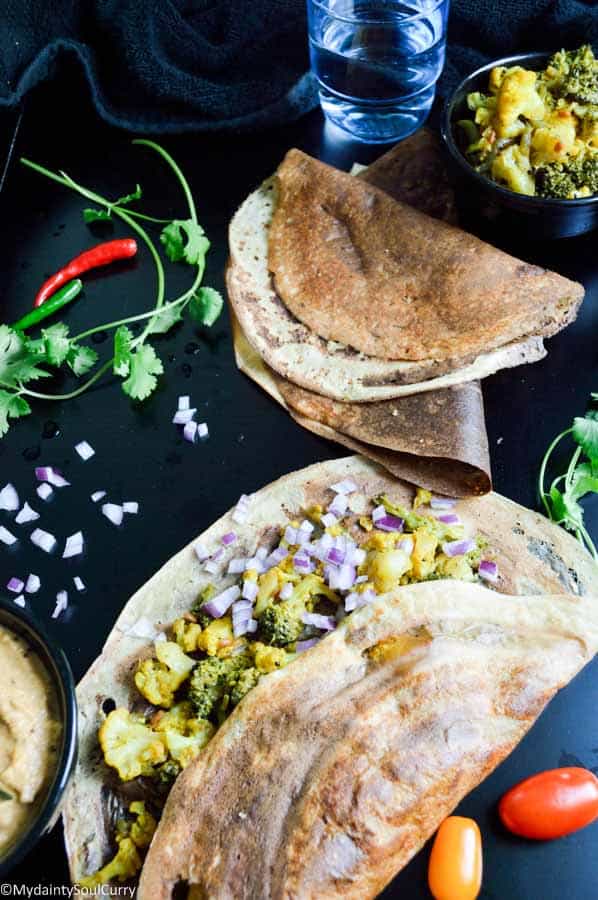 Few Recommendations for Instant Tofu Dosa:
I haven't added onions, grated carrots or chopped cilantro while making this dosa yet.
Give it a try if you want to, and I am sure it will add another layer of flavor and texture.
The bread used in the batter gives a thickness to the batter.
If you want to go gluten-free, skip the bread and increase the garbanzo bean flour. An extra table spoon or two is enough if you are skipping the bread.
Nutrition Fact:
The batter yields 12-16 dosas.
I suggest serving 1-3 dosas depending on the size you make.
Per serving, dosa cal: 82k cal, carb 7.7g and protein 7g.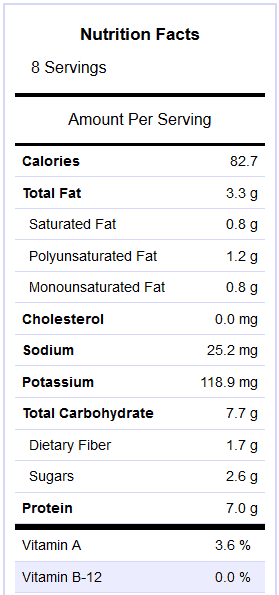 And some other tofu recipes that you may like are here. Just click on the image to visit the page.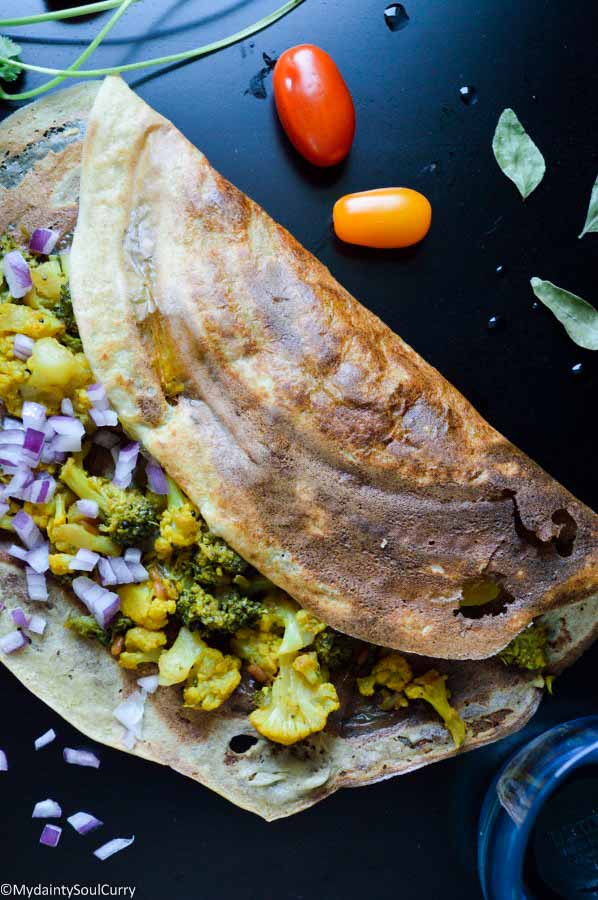 Instant Tofu Dosa
Now making an instant masala dosa without rice is possible. Try this quick and healthy instant tofu dosa and you will surely fall in love.

Print
Pin
Rate
Ingredients
Instant Tofu Dosa
1/2

cup

chickpea flour

1

slice

low-carb bread

2

inch

ginger

,

(washed and peeled)

1

hot chili pepper green

1/2

tsp

cumin powder

1

tbsp

cilantro leaves fresh

2

cups

drained tofu

1/2

cup

soy yogurt

1/2

cup

water

,

(more to make a batter)

salt to taste

1

tbsp

oil to smear and more for making dosa

,

(Skip adding oil for a healthier version)
Cauliflower Broccoli Masala
2

cups

cauliflower and broccoli florets

1/2

cup

sliced onions

2

green chilies

1/2

tsp

mustard seeds

1/2

tsp

urad daal

few curry leaves

1

tsp

canola oil

1/2

tsp

turmeric powder

1/2

tsp

chili powder

salt to taste
Quick chutney
1/2

cup

bengal gram lentils

1

tsp

coriander seeds

1/2

tsp

cumin seeds

2-3

green chilies

2-3

garlic pods

few curry leaves

1

cup

rough chopped tomatoes

slat to taste

1/2

tsp

oil
Instructions
Instant tofu dosa
In a blender, take drained tofu, bread, garbanzo or chickpea flour, cilantro, ginger and green chili.

Add yogurt and ½ cup of water and let it stand for 5 minutes until the bread soaks the water.

Blend well to make a smooth paste.

Now add cumin powder, salt and little more water.

Blend to make a smooth batter.

Heat a griddle and smear with oil.

Pour a ladle or batter and prepare dosas by moving the ladle or spoon in circular motion.

Spray some oil on the dosa. Allow it to cook until it browns at the bottom and around the edges.

There is no need to flip and cook. However, you can flip and cook to make both the sides brown.

Serve hot.
Cauliflower broccoli masala:
Temper urad dal, mustard seeds and curry leaves.

Allow the mustard seeds to splutter.

Add sliced onions and allow it to soften under low heat.

Add cauliflower, broccoli and salt.

Cover and cook for a few minutes.

Now add slit green chilies, chili powder and turmeric. Stir well.

Cover and cook until the veggies are soft and well combined.

Serve with dosa.

Chutney:
Heat a skillet or sauce pan and add a teaspoon of oil.

Add chana dal or Bengal gram daal, dry coriander seeds, cumin seeds and curry leaves.

Cook until the mixture turns slightly brown.

Add tomatoes, green chili and garlic.

Cover and cook until the veggies are soft and start to lose water.

Let the mixture cool down completely.

Blend well to make a smooth paste.

Adjust salt and the tang. If required add some tamarind paste and blend again. It is totally optional to add tamarind paste.


Season with toasted mustard seeds and curry leaves.

Or splutter some mustard seeds and curry leaves in oil and add it to the chutney.


Serve at room temperature and refrigerate leftover for not more than three days.

Notes
Adding oil is absolutely not necessary if you are using a non-stick griddle.
If you have to add, use a neutral oil like vegetable oil or canola oil.
These dosas are very thin, so use more batter per dosa to make it thicker.
Nutrition
Want to pin this recipe? Click Pinit!
Try Amazon Prime 30-Day Free Trial