Vegan Seitan Tikka Masala: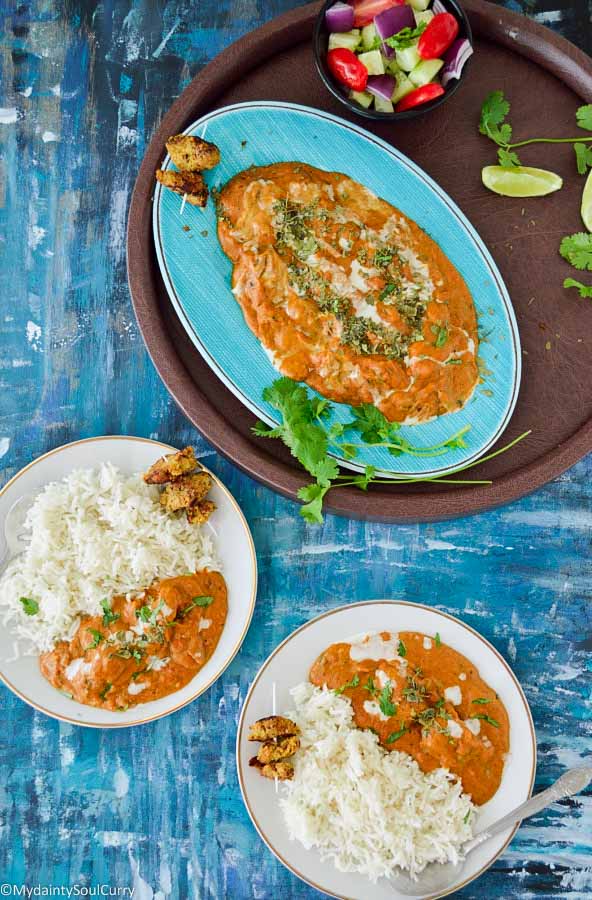 I am not sure if the tikka masala is Indian or Indo-British. But, I love this dish despite of its origin. Now that I am trying many new vegan dishes, I tried to recreate this dish in its vegan form. Hence, I have the vegan seitan tikka masala for you.

Tandoori Spiced Vegan Seitan Tikka Masala: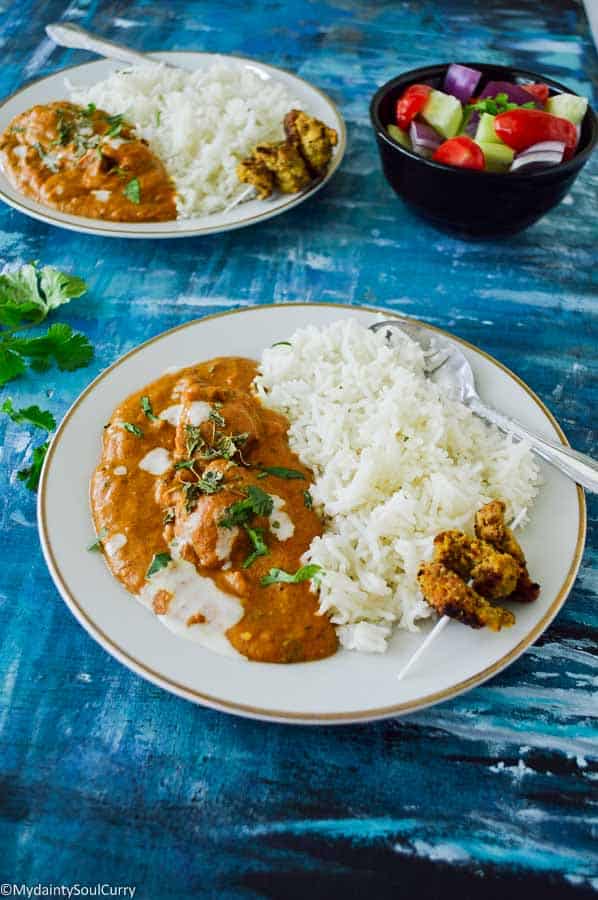 Creamy and spicy gravy with soft, semi-chewy and succulent tandoori seitan or seitan tikka, for me it's a roadway to heaven. I love this creamy curry more than anything. What makes this dish so delicious is its unique combination of flavors, which includes many layers of flavor profiles. Talk spice, the seitan tikka has it. Looking for a rich curry without adding fat-rich dairy cream, it's my vegan seitan tikka masala.
My Vegan Seitan Tikka Masala:
Making this vegan seitan tikka masala is so so easy that you will want to make it every other weekend or whenever you wish to enjoy some comfort food. Don't want to eat this with rice or watching your carb intake? Eat this with cauliflower rice. It tastes heavenly with those chewy, semi-cooked cauli rice.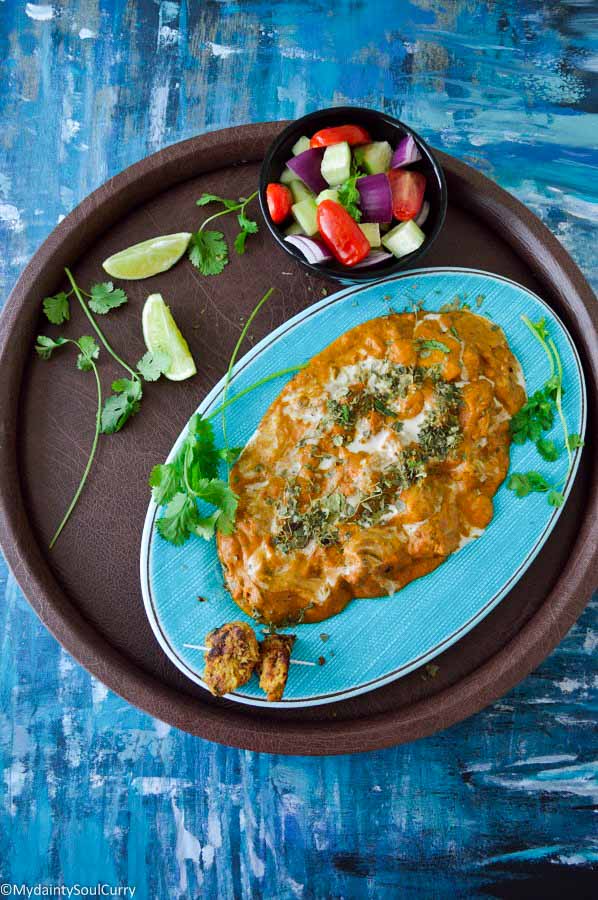 Seitan is definitely a distant cousin of chicken. I mean how can it taste and feel so similar to chicken? I have no idea. I make a huge batch of seitan and refrigerate it for a week or two. It's a good source of protein that you can use in stir fry, curries, meatless patties and in many more meat-less cooking.
The tikka marinade:
Vegan yogurt, curry paste (click here for curry paste recipe), lime juice, red chili powder and tandoori spices, and freshly made ginger garlic paste. Yes, that's all you need.
The marinade is so easy and quick, you can even keep it refrigerated for days and add the ginger garlic paste just before using.
I prefer keeping the seitan in the marinade for a few hours, or sometimes overnight in the refrigerator. But, I have also used seitan that are in the marinade for just 10 minutes, and it works perfectly fine.
How to make Tandoori Sietan Tikka in a pan?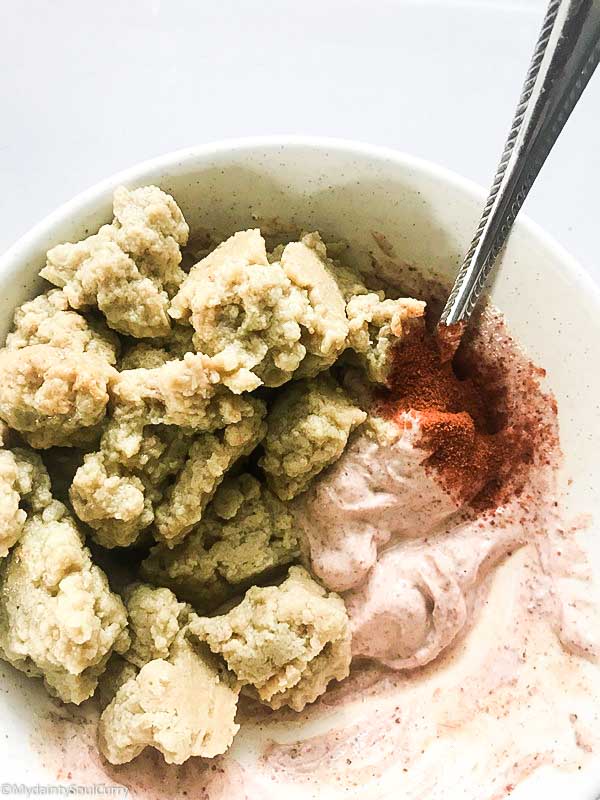 In a frying pan(preferably non-stick), add a teaspoon of oil.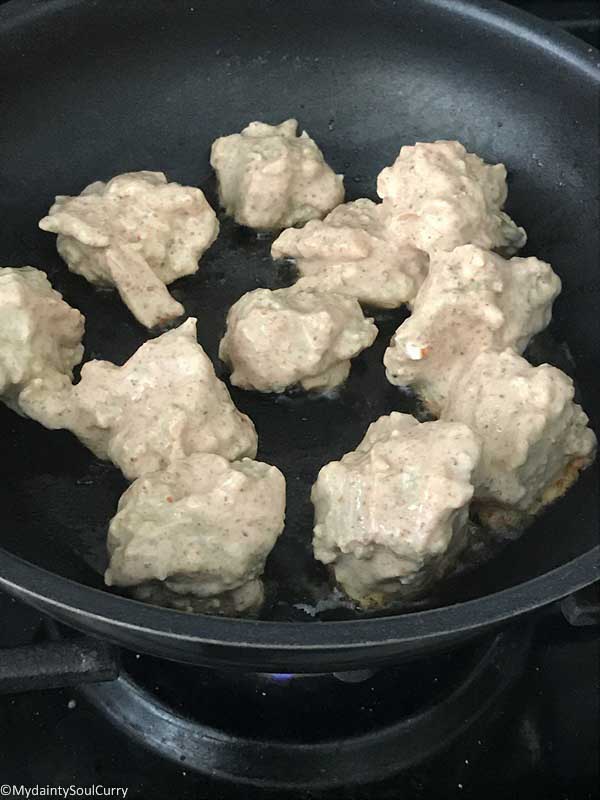 Add each pieces of seitan carefully and cook without covering the pan.
Turn the seitans after few minutes to cook from all the sides.
Upon cooking, the seitans will change their color and look yellowish or reddish. (adding some Kashmiri chili powder or paprika gives a vibrant reddish hue to the seitan tikka.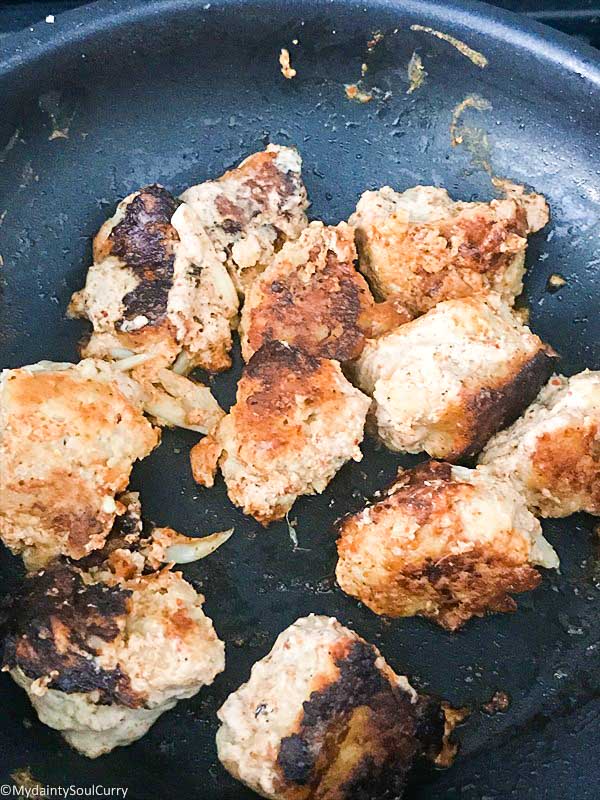 If you choose to grill, then add seitans to a skewer and grill them until well cooked and slightly charred.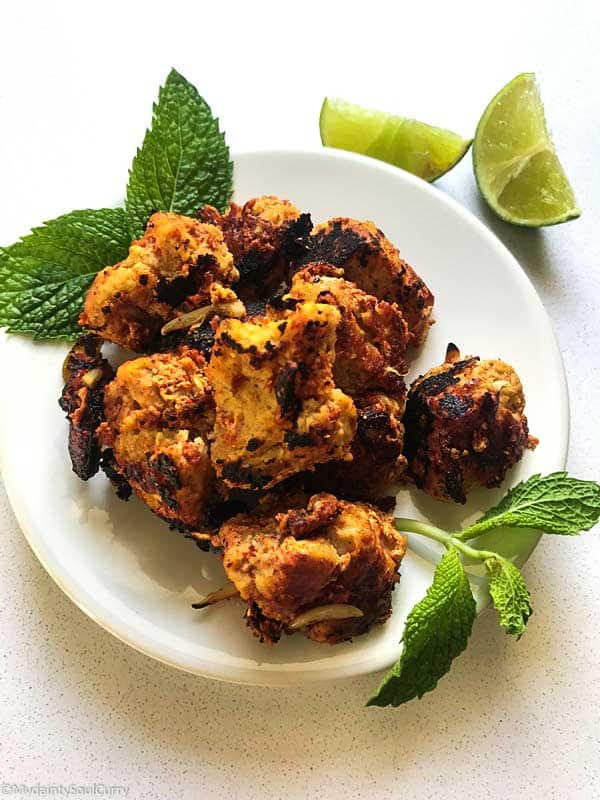 Enjoy tandoori seitan tikka as it is, or proceed to the next step to make a seitan tikka masala gravy.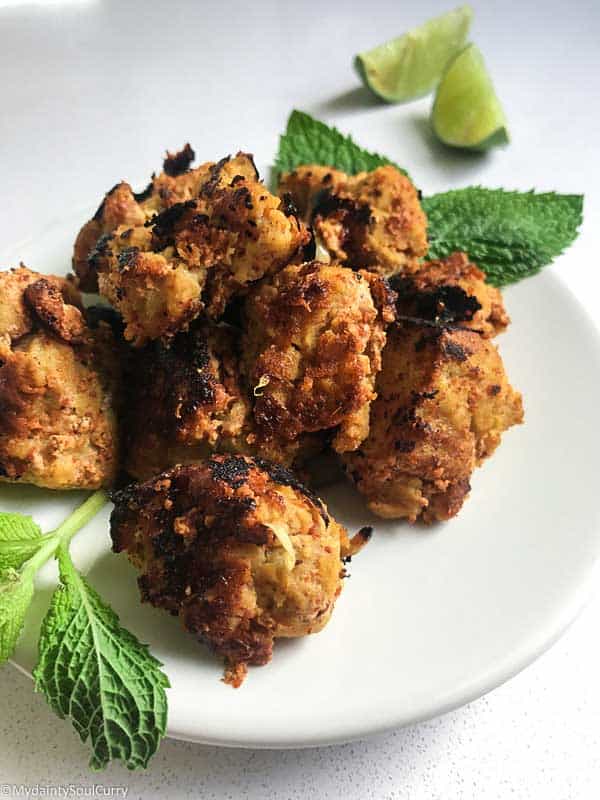 Grilling the seitan is the quickest step. Unfortunately, I don't have pictures of that. But, I will ensure to update this post with the grilling step pictures soon.
I use a grill pan or sometimes, I even bake the seitans at 350F for five minutes and broil for five minutes.
I don't like to char them a lot. Just a little brown edges, crispy outer texture and that's it.
Now the gravy.
The tikka masala gravy:
It's easier than you think.
All you need are some tomatoes, onions, garlic, ginger, and curry powder, coriander powder and cumin powder.
The tikka masala gravy has a tang and sweet taste, because of the tomatoes used in it.
The main base and the heart and soul of the dish are tomatoes.
This dish does need some onion and ginger-garlic mixture too.
Because I use my make-ahead curry paste, I can quickly whip up this dish in less than 15 minutes.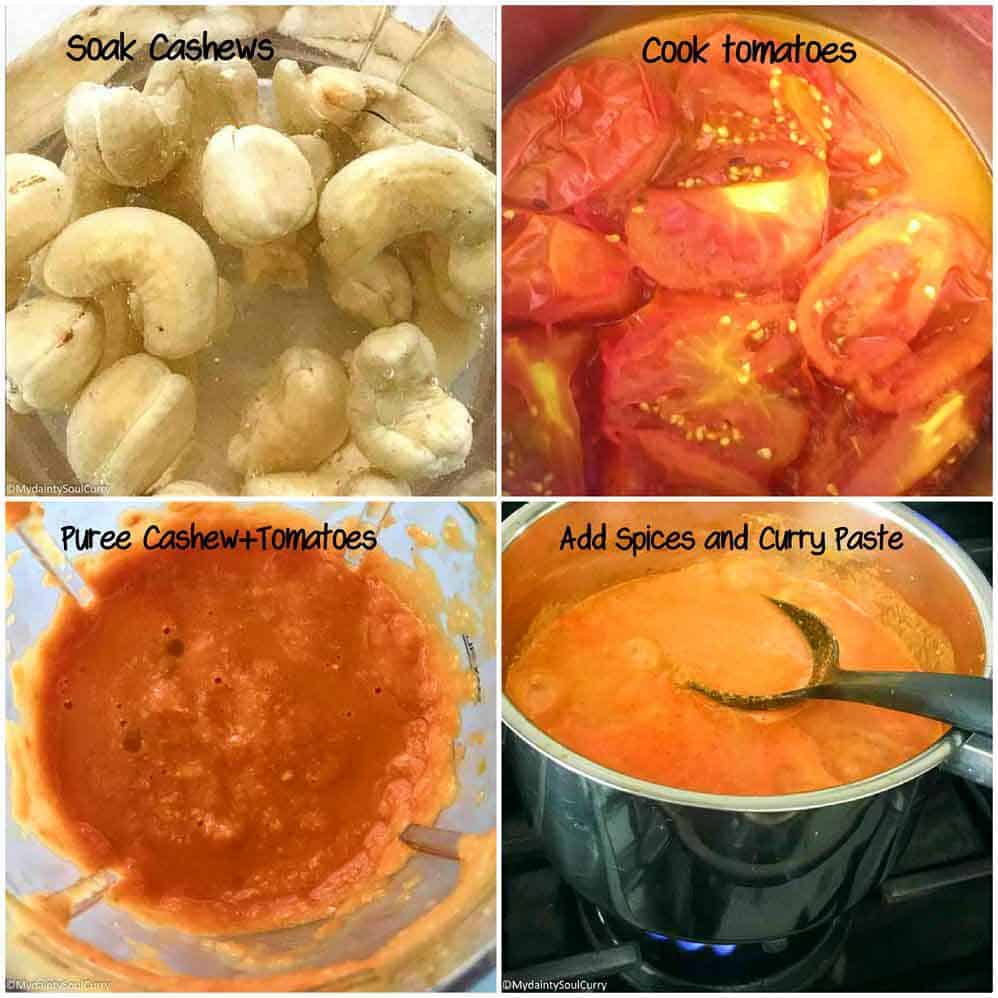 If you are doing it from scratch, I would suggest sweating some red onions, green chili and ginger garlic paste with the tomatoes.
And puree this mixture once it cools down. This will be the base of your gravy.
Don't forget to strain the mixture before bringing it to a boil and adding spices. This is the key to get a smooth gravy.
To make it creamy, we have the cashew cream.
Blend them well and add them to the gravy.
Now the best part, adding the 'Kasuri Methi' to the gravy.
Don't let the name scare you, it's just dried fenugreek leaves that you can easily find at any Indian store or online.
And making the curry:
Add cashew cream to the gravy and stir well to combine.
Your vegan seitan tikka masala is ready.
Enjoy this creamy and spicy curry with naan, rice or cauliflower rice. I even keep some grilled seitan tikka to enjoy with salads. And sometimes, I use the left-over tikka masala gravy as a pizza sauce and add veggies and seitan to make an Indian inspired pizza.
Nutrition Facts: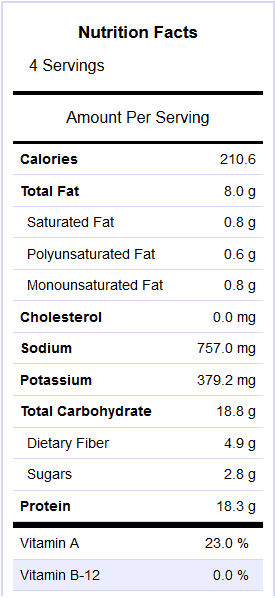 📖 Recipe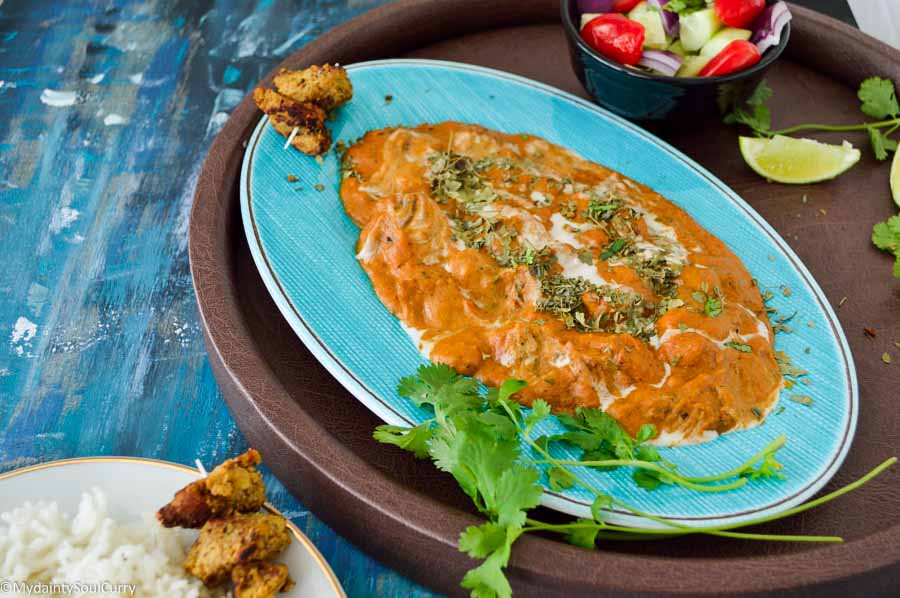 Vegan Seitan Tikka Masala: Tandoori Spiced, Dairy-free, Vegan
This vegan seitan tikka masala will make you crave for more. With an umpteen mélange of spices and nuts, the rich and creamy gravy with a distinctive spicy and tangy taste leaves a delicious feel on your palate.

Print
Pin
Rate
Ingredients
Seitan Tikka Marinade
½

cup

vegan yogurt

1

teaspoon

curry paste(optional)

1

tablespoon

tandoori tikka masala powder

1

tablespoon

ginger-garlic paste or crushed

1

teaspoon

lime juice

1

teaspoon

oil( preferably canola)

½

teaspoon

red chili powder(more if you want a more hot curry)

1

cup

chicken style seitan

salt to taste
Tikka masala gravy base
1

teaspoon

oil

3

cups

tomato halves

½

cup

red onion

5-6

garlic cloves

1

inch

ginger

1

serrano pepper or two green chilies
Spices
1

teaspoon

curry powder

1

teaspoon

red chili powder

½

teaspoon

cumin

1

teaspoon

coriander

¼

teaspoon

turmeric

¼

teaspoon

garam masala

½

teaspoon

roasted kasuri methi

,

(just roast the kasuri methi in a heated pan for few minutes till they are warm)

Salt to taste
Cashew cream
½

cup

raw cashews(soaked in 1 cup water)
Instructions
Make Seitan Tikka:
In a bowl, add all the marinade ingredients and add seitan.

Keep aside for few minutes to few hours.

Cook in a grill pan for few minutes, until the yogurt tikka marinade is infused well and the seitans look dry.

This process approximately takes 5-10 minutes.

Allow the seitans to brown and blacken a bit before turning the heat off.
Make the cashew cream:
Take the cashew with half cup of water to make a smooth puree.

Use a high-speed blender for this process.

There shouldn't be any broken nut pieces in the mixture.
Make tikka gravy:
In a saucepan, add a teaspoon of oil.

Now add all the ingredients listed under the tikka gravy and allow the vegetables to lose water.

You don't need to brown the mixture. As they start losing water and become mushy, turn the heat off and allow the mixture to cool.

Take this mixture in a blender jar and a smooth puree.

Strain and use the liquid only.

Now bring the sieved liquid to a boil. Add all the spices listed under the spice list.

Stir well. At this point, the gravy will be very thick and start to splutter as you cook.

Keep the heat in medium-low and stir well while combining. (Add ½ cup water if you want a little runny gravy)

Now add the grilled seitan tikka and mix well.

Cook for a few minutes and add the cashew cream.

Now add a spoon-full of roasted kasuri methi and turn the heat off.

Garnish with cilantro leaves and serve.
Instant Pot Method:
Set the instant pot into a saute mode and add oil.

Add all the ingredients listed under the tikka gravy and saute till veggies are sweaty.

Add ½ cup of water, half of the cashew cream, all the spices except kasuri methi, and close the lid. Seal the vent and set for one-minute of pressure cooking.

After the beep, weight for 5 minutes and open the lid. Transfer the mixture to a blender jar and blend them to a smooth puree. Alternatively, use a hand blender to blend the mixture well.

Set the instant pot to a saute mode, and add the strained blended puree. Now add the seitan tikkas. Bring the mixture to a boil.

Garnish with cashew cream, cilantro leaves and serve warm.
Notes
You can swap seitan for tofu, paneer or chicken.
The cooking time for tofu and paneer tikka will be little less than seitan.
Add more cashew cream if you want the tikka gravy creamier.
I sometimes take half the cashew and puree it with the gravy base, and use the other half to make the cashew cream that I add to the tikka masala gravy in the end.
Nutrition
Serving:
230
g
|
Calories:
210
kcal
Here are Some more vegan recipes that you may love. Click on the images to go to each recipe!
Try Amazon Prime 30-Day Free Trial