Oh yes! It's vegan too. This spicy lentil veggie burger is so easy to make that you will fall in love with it.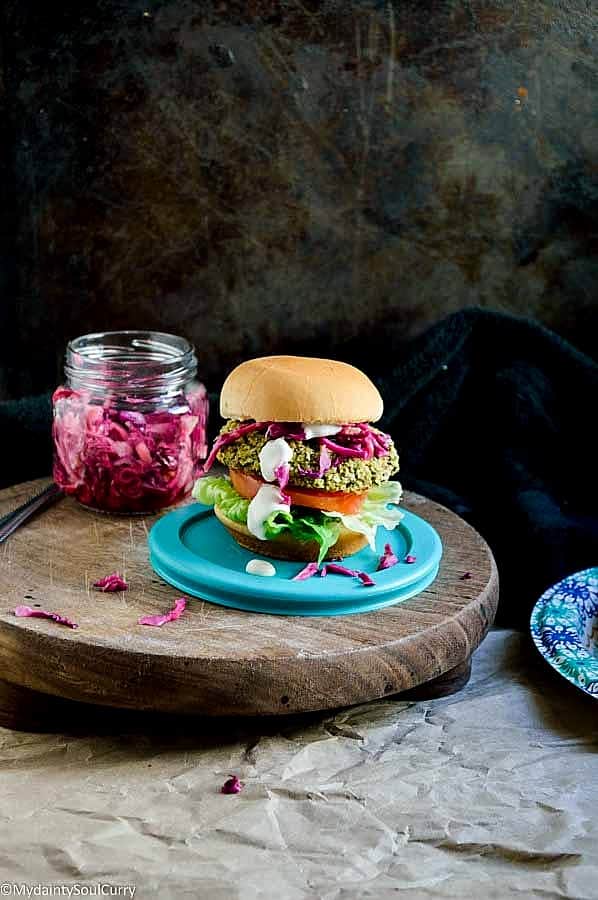 Just ensure to pre-soak your lentils a few hours before or even a night before. Throw everything in food processor, process, add spices and veggies and make patties. Your spicy lentil veggie patties are ready for baking. And use the healthy, low-carb burger buns to create these amazing spicy lentil veggie burgers.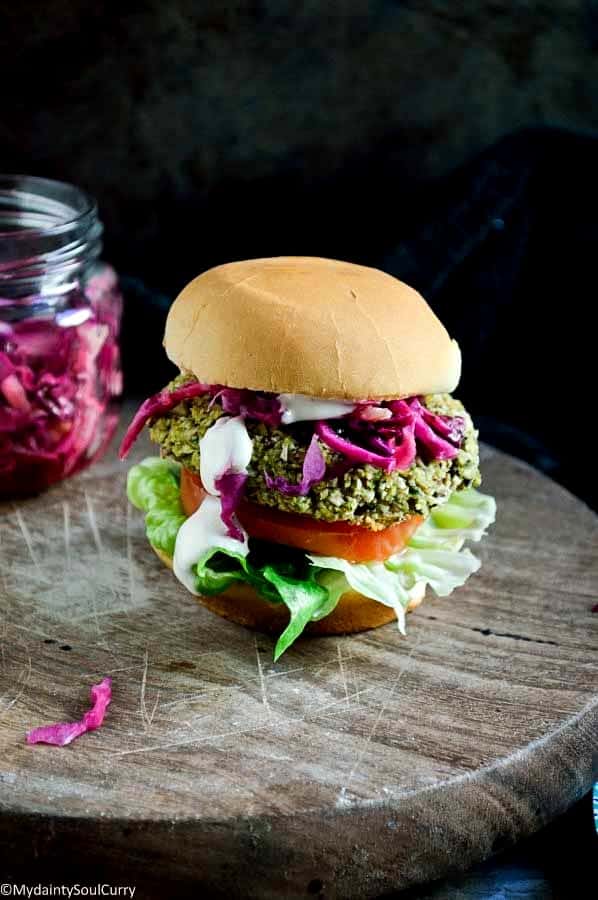 My Spicy Lentil Veggie Burgers:
Most lentil veggie burger recipes ask for cooked lentils. But, my spicy lentil veggie burger doesn't require cooked lentils. Just the presoaked ones, and you are good to go. For veggies, I used a variety of mixed veggies. Sometimes, I toss my leftover stir fried veggies, tofu, and even cooked dry sabzis or spiced vegetables in this burger.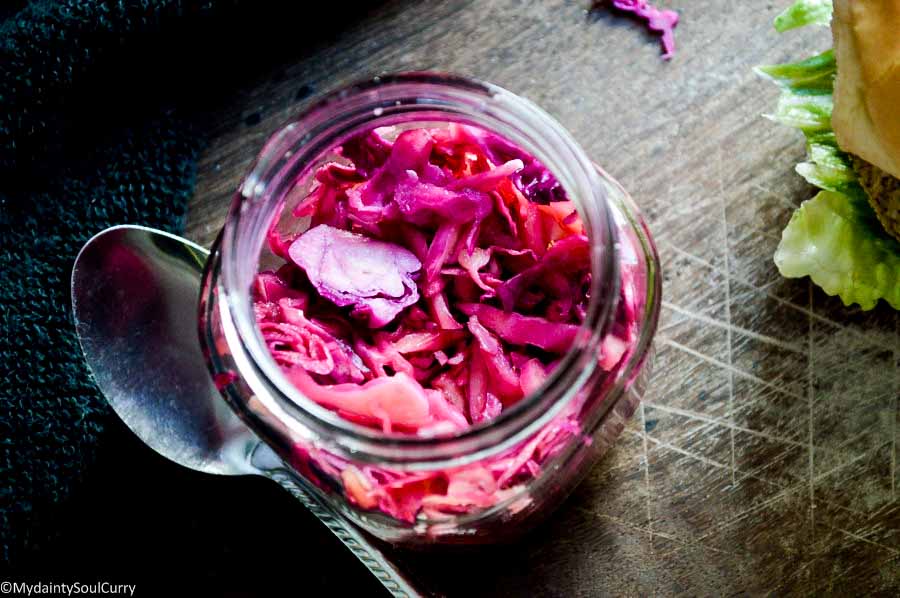 In this version of spicy lentil veggie burgers, I sautéed some veggies with salt and spices and pulsed it with the lentil mixture. In that way, I can add a good amount of fiber to each serving of the spicy lentil veggie burger too.
Pickled cabbage:
It's super easy to make. All you need is vinegar, pickled jalapenos, water and salt. That's it! I don't usually make pickled cabbage and store it in the refrigerator. But if you want, you can actually store it for a month in the refrigerator.
How to Make Spicy Lentil Veggie Patty:
Step-1: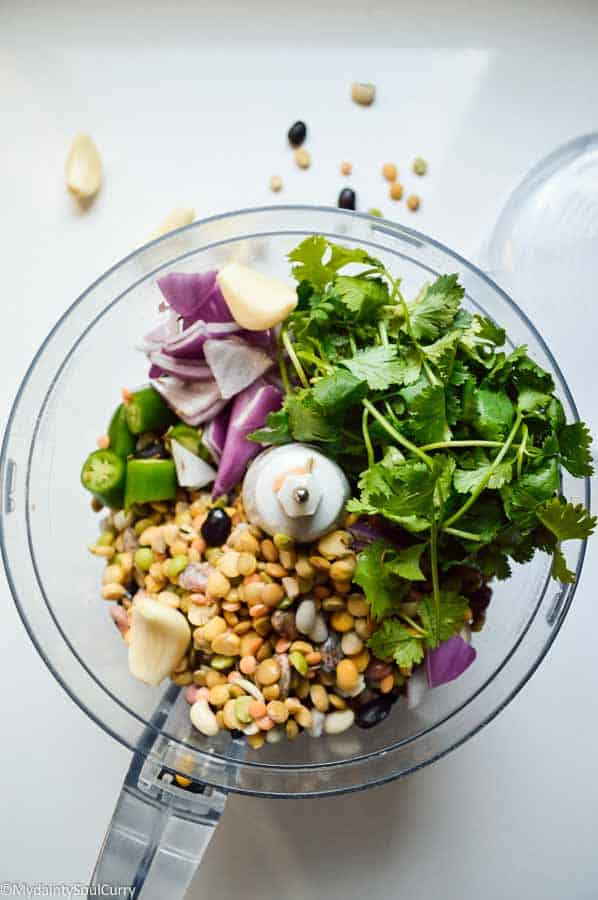 Pre-soak the lentils. I pre-soaked them overnight to make them super soft. The ground rule to know if the lentil is soaked well is by pressing each lentil grain between your nails and it should break with little pressure.
Step-2: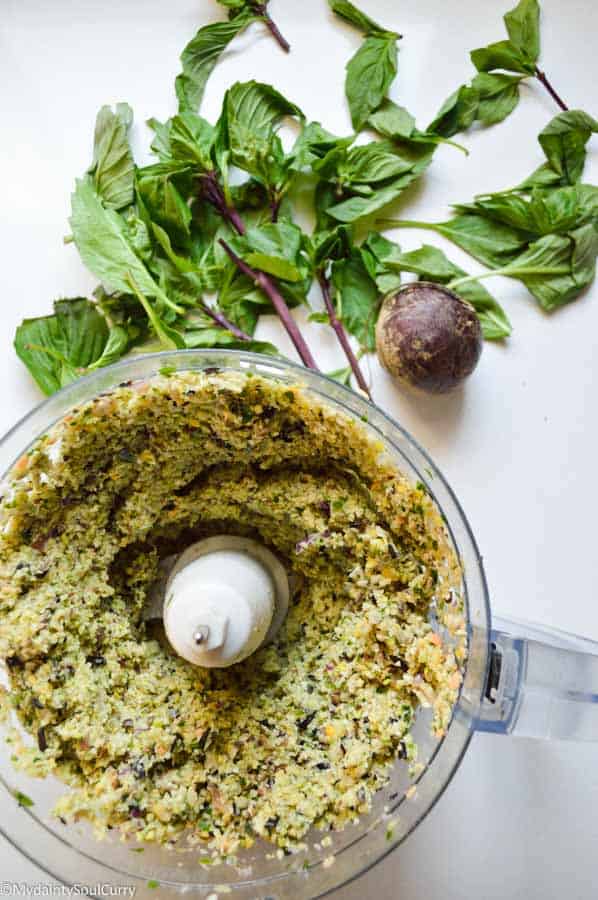 In a food processor(yes, you will need one), take the lentils, herbs, and spices. Pulse it for a few minutes to have a grainy mixture. Check this picture to see the consistency.
Step-3:
In a frying pan, add a teaspoon of oil and cook the veggies until tender but not mushy. Add salt and spices as they cook. I always add a teaspoon of cumin powder, half teaspoon coriander powder or more, chili powder based on my preference and salt. Sometimes, I also add a pinch of dried garlic powder, oregano and grilled seasoning too. But that's totally optional.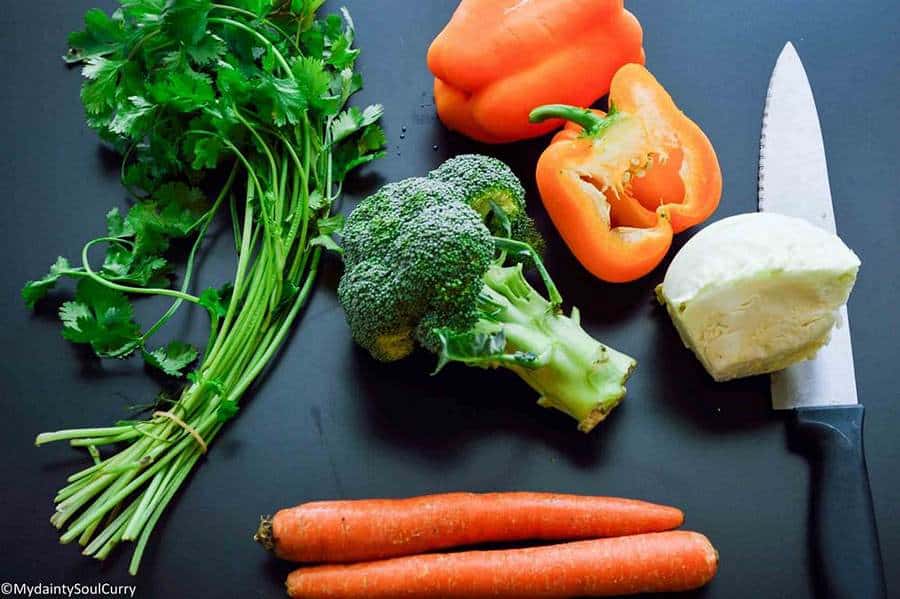 Variations: You can even add curry paste, dried herbs only and even dry ranch seasoning too.
Allow the veggies to cool a bit.
Then process them separately and mix with the lentil mixture or process everything together until a grainy and well-combined mixture is formed.
Step-4:
Keep your grill, griddle or baking tray ready. If baking, preheat the oven to 350 F.
Step-5:
Make the lentil veggie patties by pressing a ball of the dough between your greased palms.
Now bake the patties until both the sides are brown. It takes approximately 10-15 minutes for the patties to cook thoroughly. Don't forget to flip them between the suggested baking time for uniform cooking.
Just check if they are brown and start to look crispy on the out, and they are ready.
NB: Don't overcook the patties. These lentil patties have a tendency to become very dry.

Or
If grilling, cook on a greased counter-top grill or on a grill pan. I have never cooked these patties on a gas or charcoal grill yet.(So, no comments on that)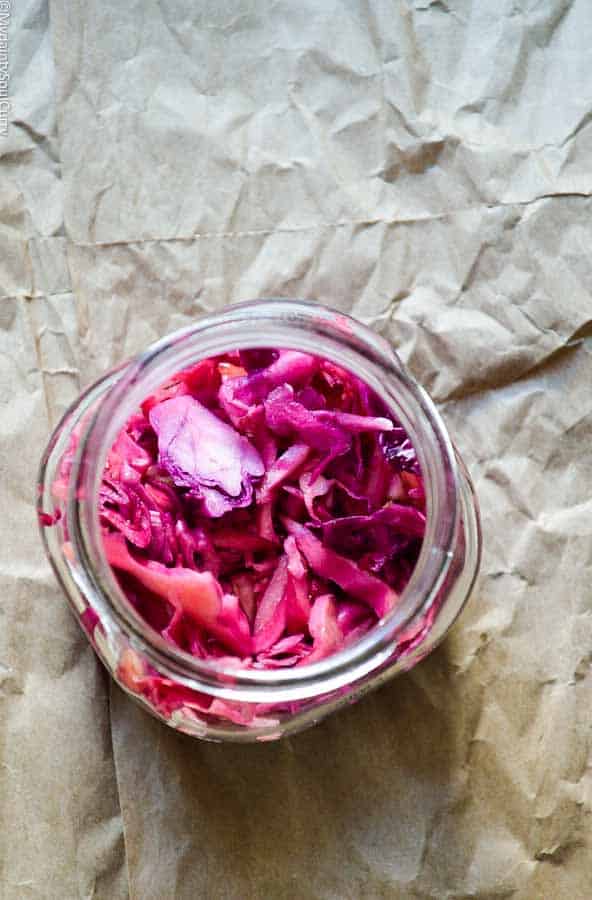 For the pickled cabbage:
Take 2 cups of shredded cabbage in a bowl. Add salt and allow the cabbage to stand for ten minutes.
Boil 2 cups of water with a bay leaf, a sachet of stevia, few black peppercorns, and pickled jalapenos (fresh if you want more heat), salt and white or cider vinegar or both.
Once the water reduces to half, turn the heat off. Strain and cool the liquid.
Now rinse the cabbage to drain the salt.
Pour this pickling liquid on cabbage and store it in an airtight container.
Nutrition Facts Spicy Lentil Veggie Burger:
Nutrition for Spicy lentil veggie burgers: I used low-carb dinner rolls, 40 cal per roll and 11g total carb
Per Patty: 101cal, 16.3g carb, 5.8g protein (The recipe makes 6-8 patties)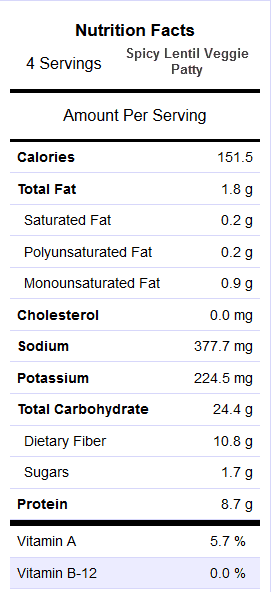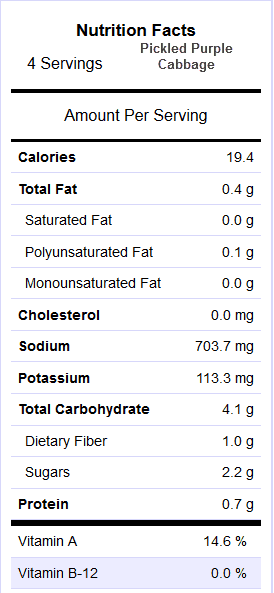 Pickled cabbage: 19.4cal, 4.1 g carb. 0.7g protein
📖 Recipe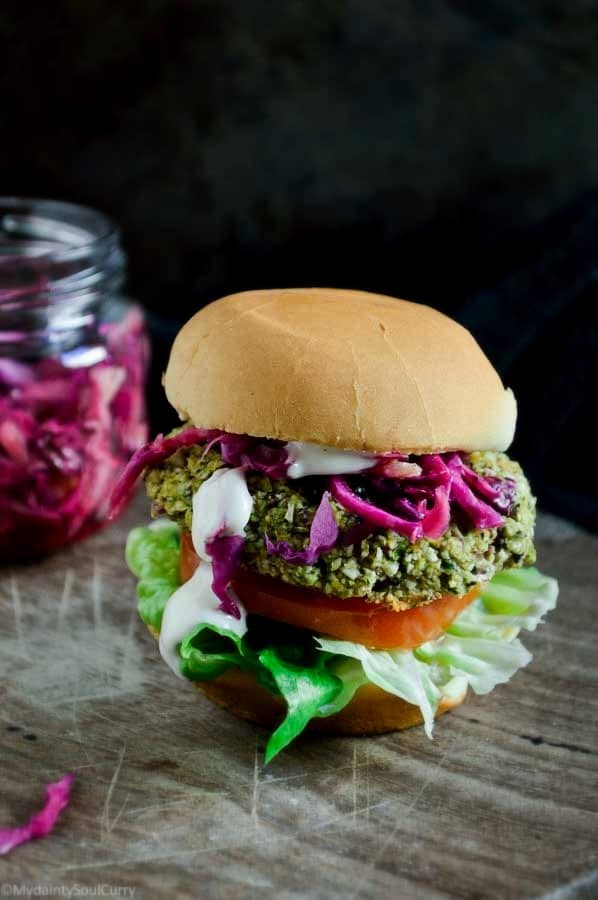 Spicy Lentil Veggie Burger with Pickled Cabbage
Easy, healthy and power-packed: these lentil veggie burgers are spicy, delicious and full of nutrition. And they taste even better with pickled cabbage!

Print
Pin
Rate
Ingredients
Spicy lentil veggie patty
1

cup

pre-soaked mixed lentil

3

cloves

garlic

½

cup

cilantro

¼

cup

red onions

1

cup

cooked or sauted veggies

,

(broccoli, carrot, etc)

1

teaspoon

canola or olive oil

2

serrano peppers

1

teaspoon

coriander powder

1

teaspoon

cumin powder

1

teaspoon

hot chili powder

salt to taste
Quick Pickled cabbage
2

cups

water

2

cup

shredded cabbage

1

tablespoon

apple cider vinegar

1

tablespoon

white vinegar

2

tablespoon

pickled jalapenos

1

bay leaf

1

teaspoon

black peppercorns

,

(whole)

1

teaspoon

salt

,

(divided)

1

sachet

stevia

,

(I used half)
Instructions
Spicy lentil veggie patty
Process all the ingredients in a food processor until grainy and well combined.


Preheat oven to 350 F.


Grease your palm and make patties out of the lentil veggie mixture.


Once all the patties are ready, place them on a baking sheet.


Spray or brush with oil.


Bake for 10-15 minutes until the patties are uniformly cooked.(flip them after 5 minutes of cooking)


Allow these to cool on a cooling rack.

Quick Pickled Cabbage
In a bowl, take the shredded cabbage and add half of the salt.


Let this stand for five to ten minutes.


In a sauce pan, take all other ingredients and bring to a boil.


Simmer and cook until the liquid is reduced to half.


Strain and discard the whole spices.


Take the pickling liquid in a jar.


Rinse the cabbage and squeeze the water out of them.


Add them to the pickling liquid.


Keep in the refrigerator for a few hours to allow the cabbage to soak up all the flavors.


Serve with the spicy lentil veggie burger.

Assemble
Take a low-carb dinner roll and place a patty between the halves.


Add tomato, picked cabbage and romaine lettuce.


Serve with ranch or any dressing of your choice, mustard and ketchup.

Nutrition
And some more healthy meal ideas for you.
Try Amazon Prime 30-Day Free Trial