And it's Indian Style with Curried Chickpeas:

Barley is healthy and nutritious. But who loves those? Well, I don't. Unless you make it super super tasty and delicious, I find these grains very unappetizing. But after my endeavor to make it really palate-friendly, I am slowly falling in love with barley. So, here comes my vegan barley salad!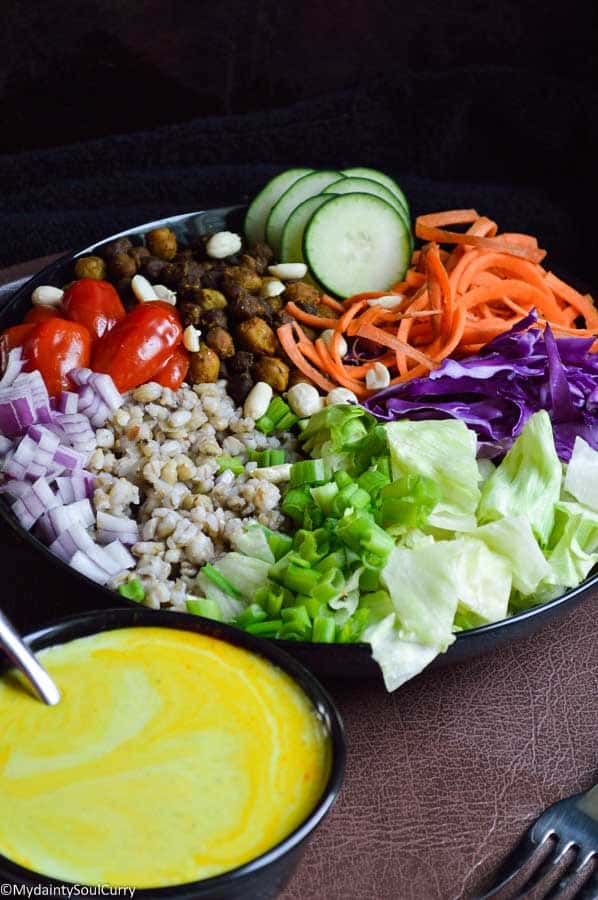 There is a lot of discussion about barley and its GI or glycemic index. It is low in GI and high in soluble fibers, which is great for people with diabetics and for those who are controlling carbs to avoid diabetes in future(people like me). Barley is rich in minerals, especially magnesium, which is why it has tremendous positive effects on insulin. Yay! Great news right!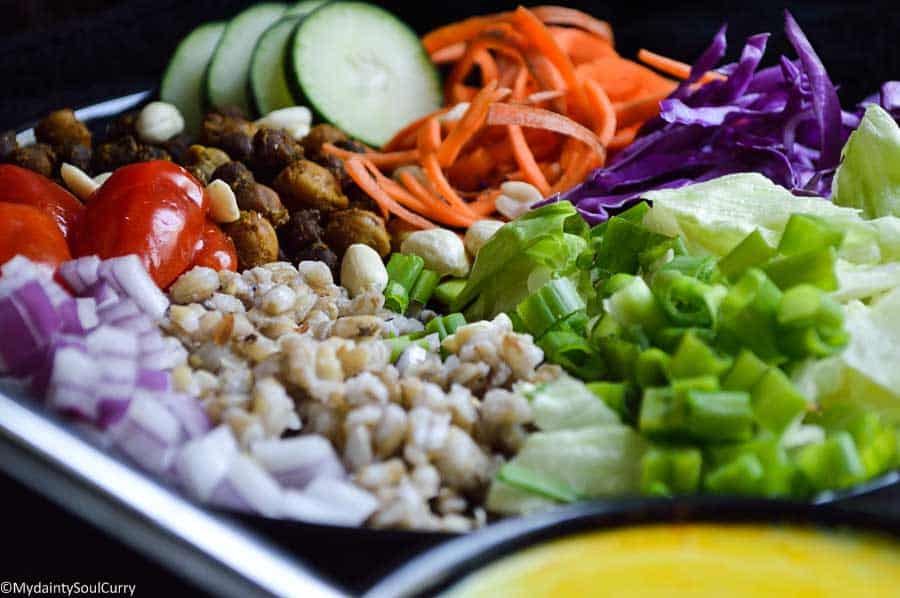 And is it low-calorie? I know that must be your next question. I had that question too. Well, a cup of cooked pearl barley with husk is just 193 cal. Yay again! That's incredible right. Now, I have a good reason to lure you to read my recipe.
My Vegan Barley Salad:
It's not bland, I swear. This is spicy, soft, chewy, full of flavors, and what not! You should try it to know what I am saying. I have used pearl barley for this recipe, which I cooked in my pressure cooker with little salt. Then comes the second element, the protein. I used curried chickpeas, which is oil-free. I used both black and white chickpeas, soaked overnight and pressure-cooked to perfection. Well, you are most welcome to use those canned chickpeas if you want to whip up this recipe in a jiffy. I know how busy you are! And other vegan protein choices that goes great with this salad is grilled seitan, tofu and even tempeh.
Then there are all sorts of colors in this salad. Spiral carrots, shredded purple cabbage, sliced cucumbers, iceberg lettuce, chopped grape tomatoes and red onions. And lastly, some crunch! Thanks to those crunchy peanuts that add another layer of texture to this dish.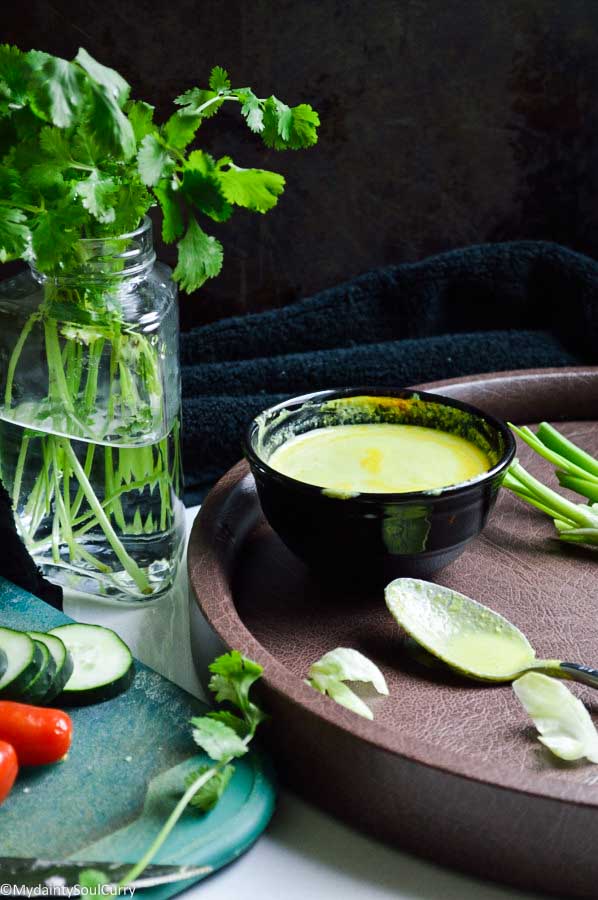 Am I missing something here? Oh yeah! The dressing, of course. A salad without a dressing is a body without its soul, at least in my opinion. I didn't want to add any store-brought dressing to this dish. I made my own. Being a food blogger, you have to be creative or not! It's just your own preference.
The Spicy Turmeric Dressing: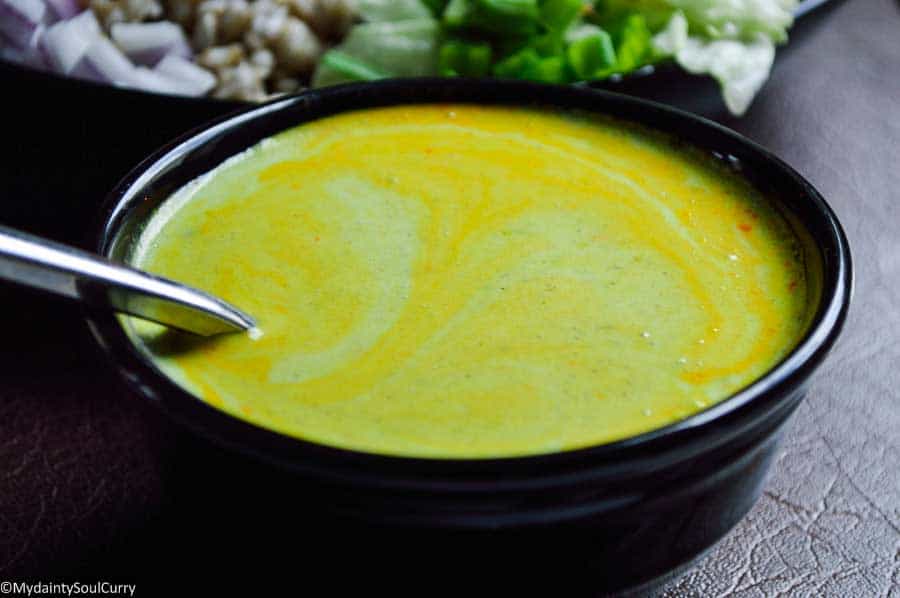 Great great great stuff it is. You can make this in minutes, use this as a dressing or as a marinade too. Store this dressing in refrigerator for days in an air-tight container. This dressing has vegan yogurt, fresh turmeric, ginger, green chili, and honey, roasted cumin and fresh cilantro, all blended to perfection to make this spicy, yellow and vibrant dressing that allows the bland pearl barley to soak up the flavors and become super super tasty for your palate. Fresh herbs and spices complement and balance the earthy flavor of turmeric really well. So what do you say? Want to try this recipe?
Nutrition Facts:
My vegan barley salad is healthy and great for your body. Check out the nutrition facts. By the way, this salad is not a side dish. It is actually a main dish in my honest opinion. I prepared this with a whole bunch of other dishes, thinking it to be eaten as a side. However, we were so full after eating this, we couldn't eat anything. High fiber, you see!
Dressing: 234 cal, recipe yields more than a cup, Serving size: 2 tablespoon (29 cal)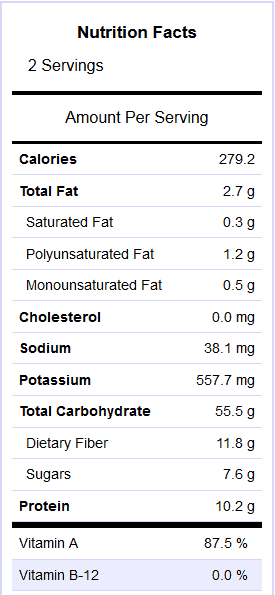 If taking as a meal, serve the half of the salad with 2 tablespoon of dressing or more.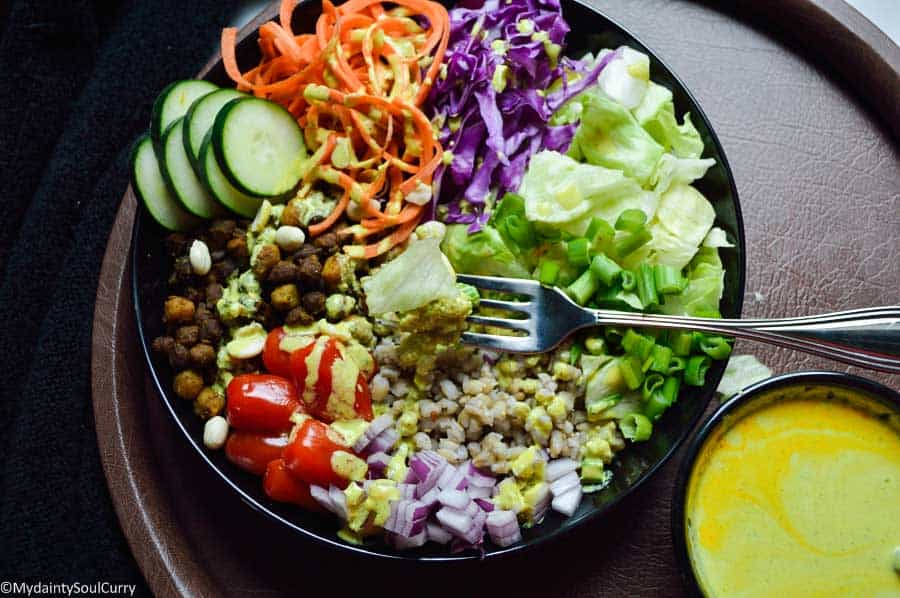 Don't get alarmed by the total carb of 55g per one serving of this vegan barley salad. This is great if you taking as a meal, and out of those 55g, 11.8g is dietary fiber and only 7.6g is sugar. And 10.2g protein, yes! Happy Dance!If you are a meat eater, go add some grilled meat to this dressing, and your protein intake will bump up. In that instance, you may have to reduce the vegan barley salad serving size too. That's because, it is really heavy as a meal.
📖 Recipe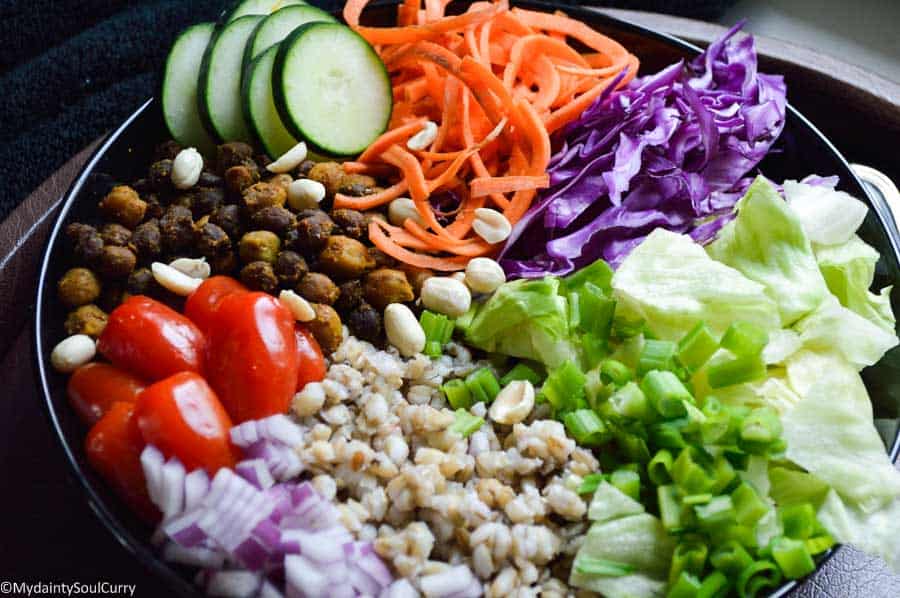 Vegan Barley Salad with Spicy Turmeric Dressing
Cooked pearl barley with curried chickpeas, fresh veggies and the spicy turmeric dressing. A perfect meal for lunch and even dinner. And those toasted peanuts certainly add more flavor and another layer of texture.

Print
Pin
Rate
Ingredients
1

cup

Barley, pearled, cooked

1

cup

Chickpeas (garbanzo beans)

,

(Black and white)

½

cup

Carrots, raw

,

(spiral)

½

cup

Purple Cabbage

,

(Shredded)

½

cup

Cucumber (with peel)

,

(Sliced)

¼

cup

Tomato, grape

,

(Sliced)

¼

cup

Red onions

,

(chopped)

½

cup

Romaine Lettuce

,

(chopped)

¼

cup

green onion (spring onion)

,

(chopped)

4

tablespoon

toasted peanuts
Spicy Turmeric Dressing
1

cup

Vegan Greek style yogurt

,

(or regular yogurt)

1

fresh turmeric root

,

(½ inch)

1

tablespoon

fresh ginger

,

(ground)

½

teaspoon

roasted cumin powder

1

pod

garlic

,

(optional)

salt to taste

⅓

cup

cilantro leaves

1

teaspoon

lime juice

1

green chili pepper

½

teaspoon

honey

,

(optional)
Curried chickpeas
1

cup

cooked chickpeas

4

tablespoon

water

1

teaspoon

curry powder

½

teaspoon

red chili powder

salt to taste
Instructions
Pressure cook pre-soaked barley with a pinch of salt.


I cook it for ten minutes until each grain is tender and fluffy.


If using pre-soaked chickpeas, cook them with a pinch of salt in two cups of water.


You can pressure cook the beans too until soft and tender.


Prepare your veggies while beans and barley are cooking.


By using a spiralizer, make carrot spirals. Slice cucumbers and chop other veggies as listed under the ingredient list.


Take all the ingredients listed under the salad dressing in a blender.


Blend well until smooth. If you want, you can add a tablespoon of olive oil while blending too.


In a pan take cooked chickpeas and add a teaspoon of curry powder, salt, red chili powder.


Add some cooked chickpea water and stir well to allow the spices to coat the beans well.


Take the veggies, barley and chickpea in a bowl.


Add the salad dressing and serve.

Notes
Other grains that work well with this recipe is quinoa, brown rice and wild rice.
The dressing can be stored for three days in refrigerator.
Enjoy the salad immediately after adding the dressing.
If you want to store the salad, don't add the dressing.
Nutrition
And some other salad apart from this vegan barley salad from my blog are here!
Try Amazon Prime 30-Day Free Trial