Wave and say hello to Hello Fresh,
And guess what, I have a coupon that could save you $40 off of your first box. That means you can get three full-size ready-to-cook fresh meals for two persons under $20. How cool is that? If you want the exclusive offer, here it is.
www.hellofresh.com/?c=MYDAIN ~>> use this link to sign up or use the Coupon Code - MYDAIN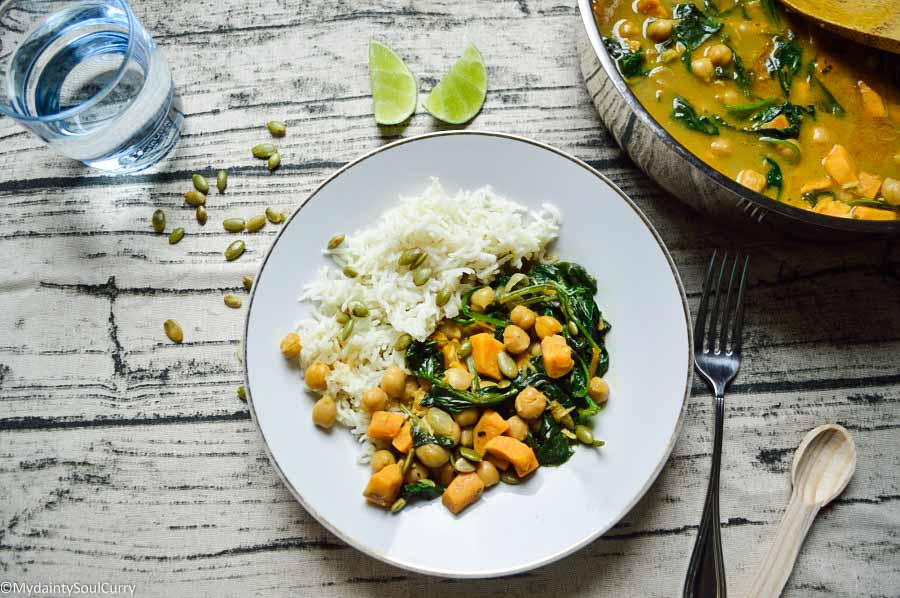 I am not a big fan of food subscription boxes, because I feel these are very pricey. I prefer picking my own groceries, choosing vegetables and planning a menu that is low-carb and nutritious for my family and me.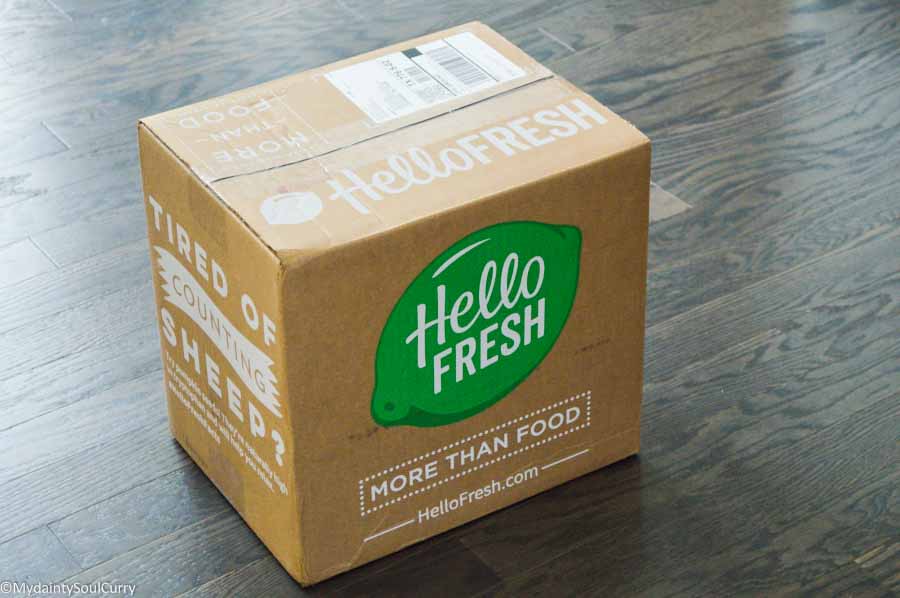 Then comes my busy life as a mom, which revolves around two hyper active kids: one toddler and one baby. Then sleepless nights(late night nursing), handling tantrums of a toddler who is in her terrible two phase, and lastly my food blogging. Yes, blogging requires a lot of energy too. That sometimes makes me totally lethargic, when I am unable for a meal planning.
This is when Hello Fresh comes to the picture. You just choose the type of subscription you want, order a box for you and your family, and then they deliver it to your doorstep. The box contains everything from hand-picked grocery to a meal planning card with recipe details. All you need to do is follow the instructions and make a meal.
My Experience and Hello Fresh Review:
I chose a vegetarian Hello Fresh Box for my family. They have three meal plans.
The classic
The Veggie and
The Family Plan
Classic plan is a combination of meat and vegetables. It is the most popular one too. Every week, they send new recipes with all required ingredients. Because it is the most loved plan, it offers a huge option of recipes. If you are omnivorous, this plan is for you.
Then comes the veggie plan, which I took. The veggie plan has an assorted range of vegetarian meals, which include a fare share of protein too. (All veggie protein) What I received is a veggie plan subscription box, which included three meals for two individuals. You can, however, change the three meal option to four or five meals too.
The family meal plan is designed for a family of four.
Price:
The veggie box I received included three meals for two persons and it was $59. That means I got six individual meals in $59, which is equal to $10 per meal. I personally feel, this is a good price considering the quality and freshness of the ingredients and grocery included in the box. If you change the meal option to five, the price too changes to $99.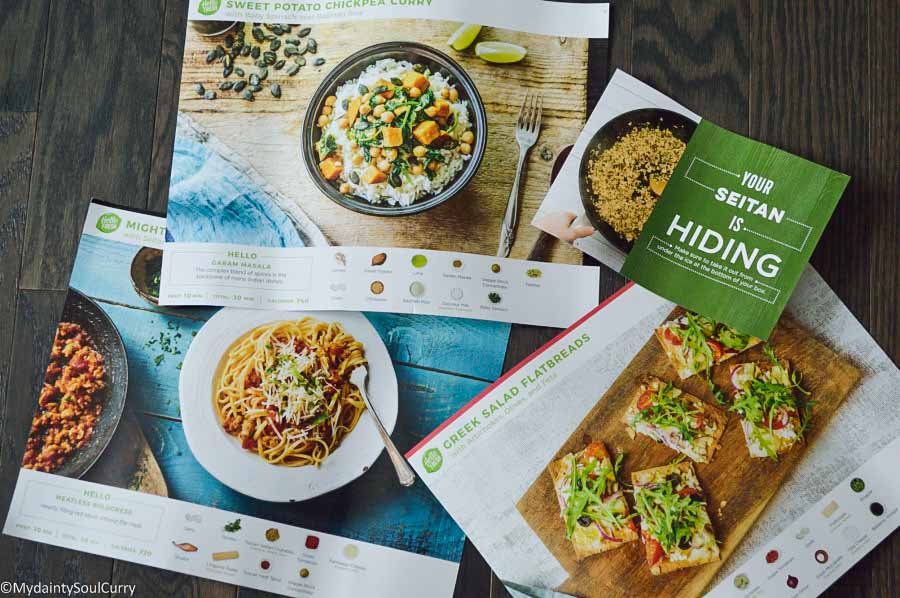 My Hello Fresh subscription box veggie plan came with three recipes.
Basmati rice + Sweet potato chickpea curry
Greek Salad Flatbread Pizza
Classic no-meat Bolognese with spaghetti
As an Indian and absolute curry lover(my site name has a curry too), I was eager to try the curry recipe. So, here comes my experience.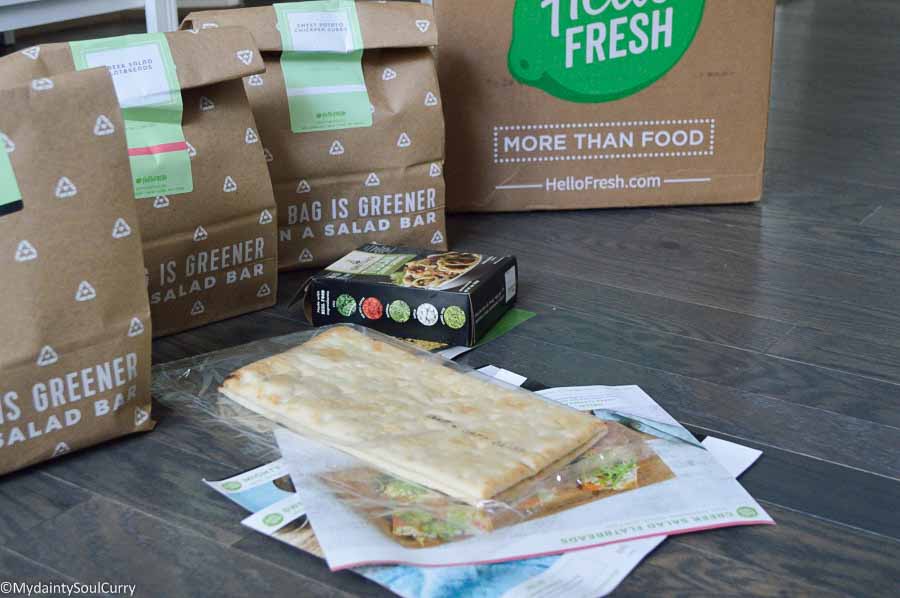 The packaging:
I just loved the way it was packed. The whole things came in individual packs, what they claim to be green packaging. Each item is sealed and packed in vacuum sealed packs. While the rice and other grains came in sealed bags, herbs and vegetables were packed in zip bags with re-sealable closure. The canned goods were all organic and of high-quality.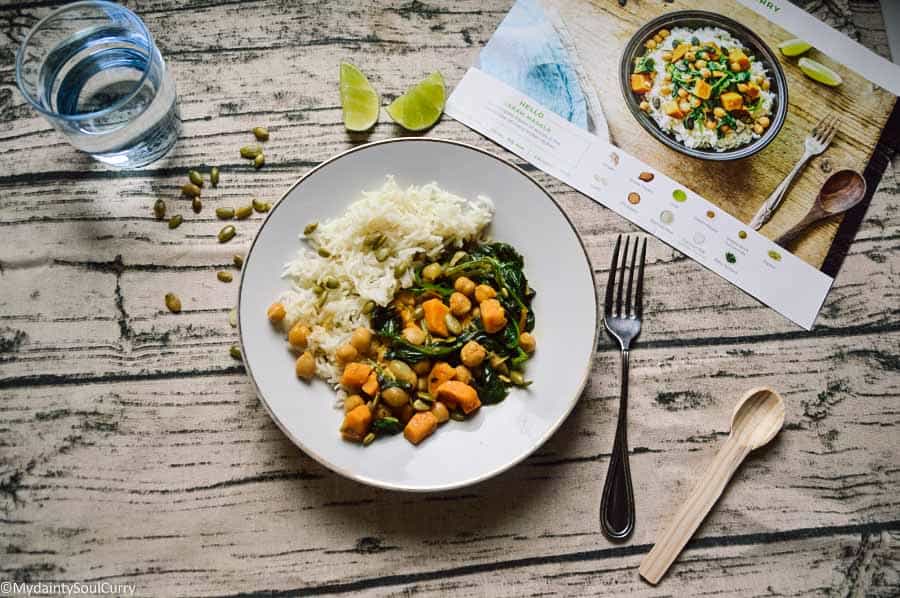 The vegetarian meat and cheese were carefully packed too. There was a huge chunk of ice on the bottom of the box, where the wrapped veggie meat was carefully placed. They also had a note saying, "your seitan is hiding here." That was really cute!
The food:
Each pack has an individual recipe card with pictorial and written instruction. In case, you feel lost, you can any time go back and read the instruction and get cooking. It's that easy.
The recipe cards have a list of ingredients required for the recipe. (NOTE: Hello Fresh sends more ingredients) Then the preparation and cooking time are on the recipe card too. The other side of the card has instruction for the recipe preparation with images.
Following the instruction was easy and quick. Even my cooking-hater husband loved the recipe card. (By the way, he prepared the flatbread pizza for us) All in all, the recipe instruction and following was way easier than I imagined.
Recipe:
Being a curry lover and Indian, I wasn't expecting a lot from the sweet potato and chickpeas curry. However, I loved the curry. The fresh garam masala, coconut milk, herbs and mild spices gave the curry a light heat and a robust flavor. Chickpeas and sweet potato, I never thought of cooking them together. Then those fresh baby spinach, lightly wilted while simmering the curry, were the highlights of this dish. Not only it doubles the nutrition, but also adds a punch of flavor.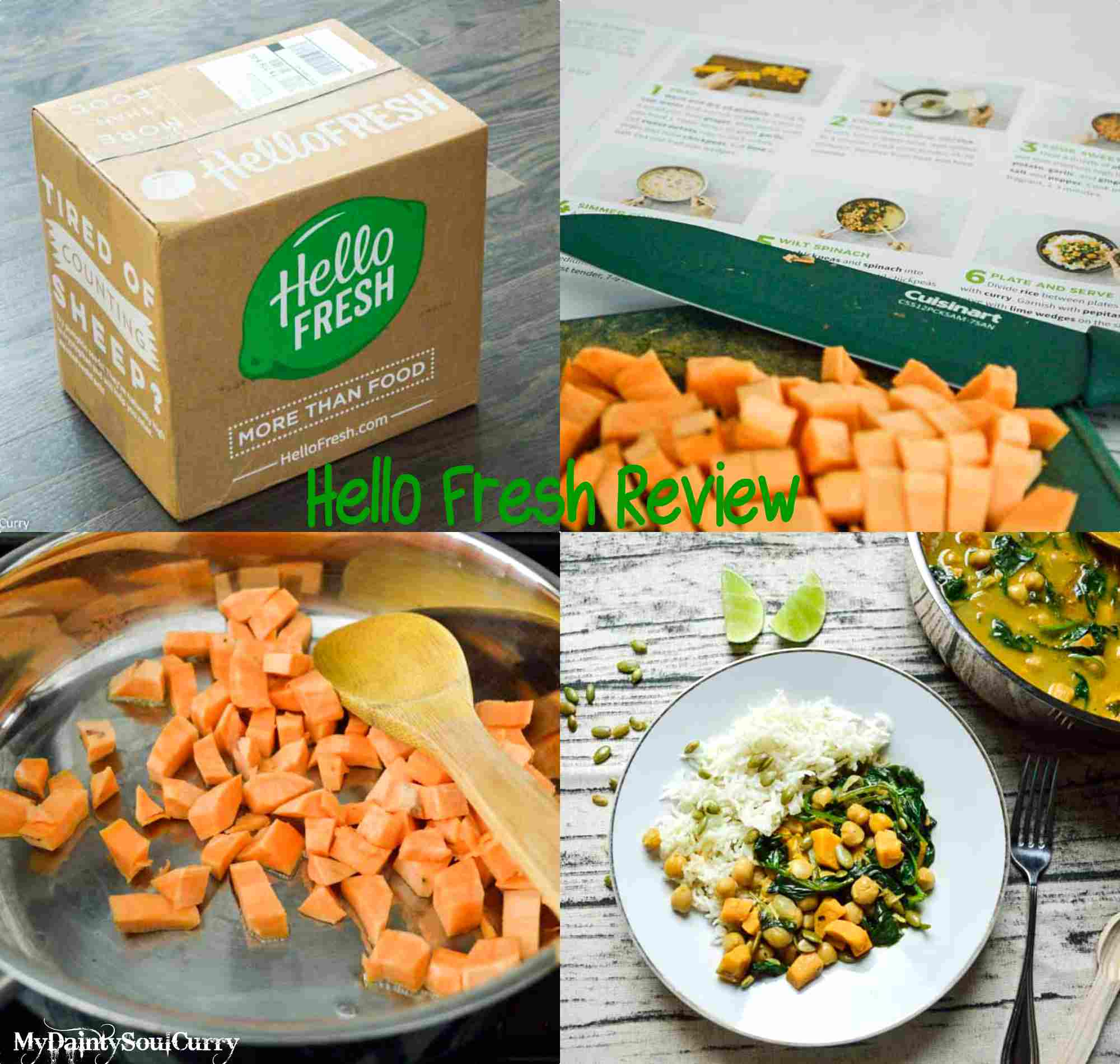 For a calorie watcher like me:
Each recipe card of Hello Fresh has calorie and nutrition details. In that way, customers can know whether what's going into their tummy and how much they should eat.
Overall Experience:
All in all, it was a great experience. I tried the other two dishes too. While the flat bread pizza tasted great, the Bolognese in my opinion was little more tomatoey.
Pros:
Packing was great.
All ingredients were fresh.
Delivery was on time.
Recipe cards and instructions included.
Easy-to-follow
Tasty and nutritious food.
I used left-over ingredients for other recipes
Cons:
They don't have a vegan box.(you got to skip adding those cheese)
I find their boxes a bit pricey if you don't have a coupon code. (I am a thrifty mom)
Verdict:
Will I order Hello Fresh again?
I will, whenever I feel the need of inspirations, ready-to-make food in a box, and not in a mood to eat boxed or frozen meals.
What's the best thing I liked about Hello Fresh?
Recipes, fresh and quality ingredients and easy-to-follow instruction manual
What I didn't like?
No vegan options.
What can be better?
I think they should introduce vegan options. Also, they should have a separate box for single eaters too. Most of their meals are designed for two or a family of four.
Shall I recommend Hello Fresh?
I do recommend Hello Fresh for my readers. And guess what, I have a good news to share.
Who should order from Hello Fresh?
Busy moms and working moms who need some recipe inspirations and healthy food for their family
Single moms who are ready to pay a little more for food
People who love to cook and want to try new recipes
Those with a strict schedule and no time for grocery shopping and menu planning
And those who want to cook healthy for their family during a busy week
Hello Fresh is not for:
Vegans, if you don't like the sight of cheese
People who are on a stringent grocery shopping budget
Those with dietary and lifestyle regulations
People who don't like to try new recipes
And if you decide to order, use my referral link and get $40 off of your first subscription box:
Hello Fresh team is kind enough to provide me a unique code that I can offer to my readers. Once you apply the coupon code MYDAIN, you will receive $40 off of your first box. That means you can get three full-size ready-to-cook fresh meals for two persons under $20. How cool is that?
Just go to hellofresh.com and use the coupon code before ordering your food box.
Or use this link to apply the coupon code directly.
I hope this review post is helpful enough for you. It is totally a personal choice and yes, it's not for everyone as I mentioned earlier. So, what's your experience and opinion with Hello Fresh! And would you like to use a food subscription box from Hello Fresh to feed your family.
Thank you for reading the post. Don't forget to share it on social media.
Enjoyed reading this post? Then you will love reading this review post on top popular meal delivery services and a brief comparison of their services.
And some of MyDaintySoulCurry's top recipe posts!
Disclaimer: I have received a Hello Fresh Box to try and review. All the opinions in this review post are my own.