This Radish raita dip is a close dish to my heart.
This recipe is not like any other raita dip out there. It's a unique recipe from the menu of our Puri Jagannath temple. Every year this radish raita dip, which is popularly known as "Madhuruchi," is made only during the New Year. This is a tradition to serve new varieties of dishes to the deities during the New Year. Only for a month or so, we get Madhuruchi or the radish raita dip in Puri temple. And we love it so so much, that all year my family and I keep talking about it. To make us happy and to satisfy our cravings, my mom makes this recipe whenever she finds red radish in the farmer's market. In my opinion, this is the best radish raita dip that I ever had.


And I made it vegan!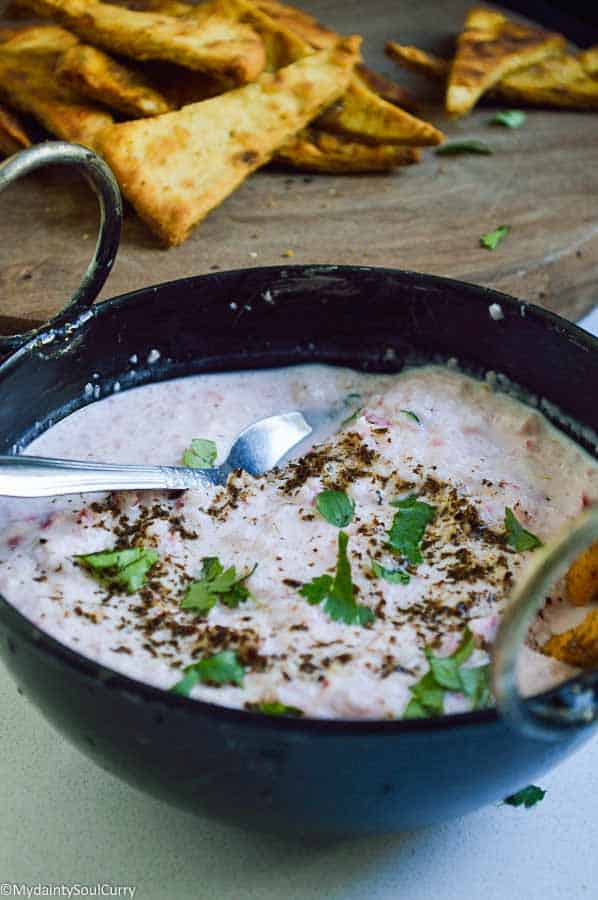 The vegan yogurt saves my life. I am yet to try making my own vegan yogurt at home. I will and I should do it very soon. Combined with vegan yogurt, blanched radish, lime juice, roasted cumin, fresh green chili, and sweet taste of stevia, fresh cilantro, and the pomegranate kernels, this radish raita dip is a flavorful dip.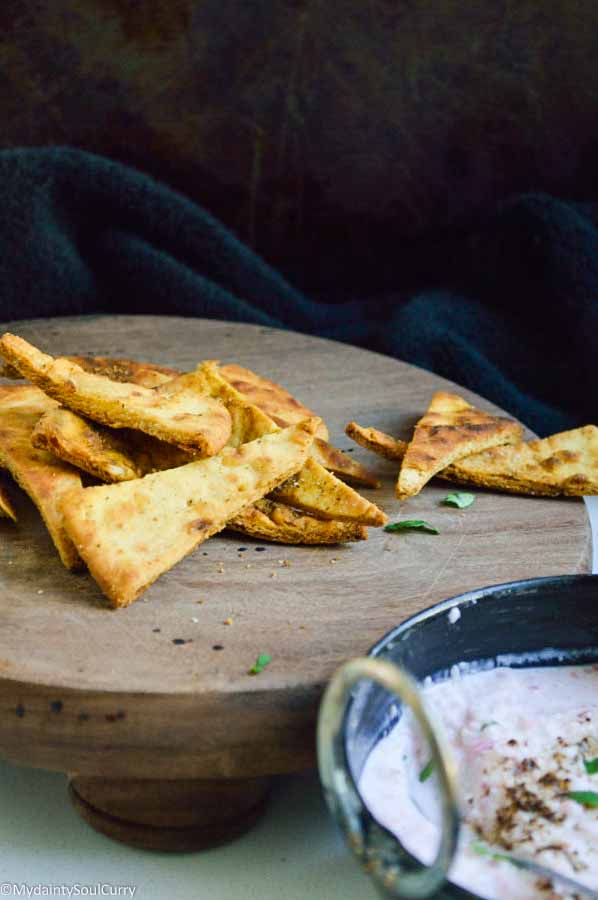 NOTE: I didn't add pomegranate to this dish, because I didn't find one at any local grocer's in that week. There was a storm and most stores didn't have pomegranate in their fruit aisle.
Curry Spiced Naan Chips:
To combine it with the best flavorful chips, I came up with this idea of curry flavored naan chips. This naan chips is quick to make and so good. All you need are some left-over homemade or store bought naan. I used the whole wheat naan for this recipe.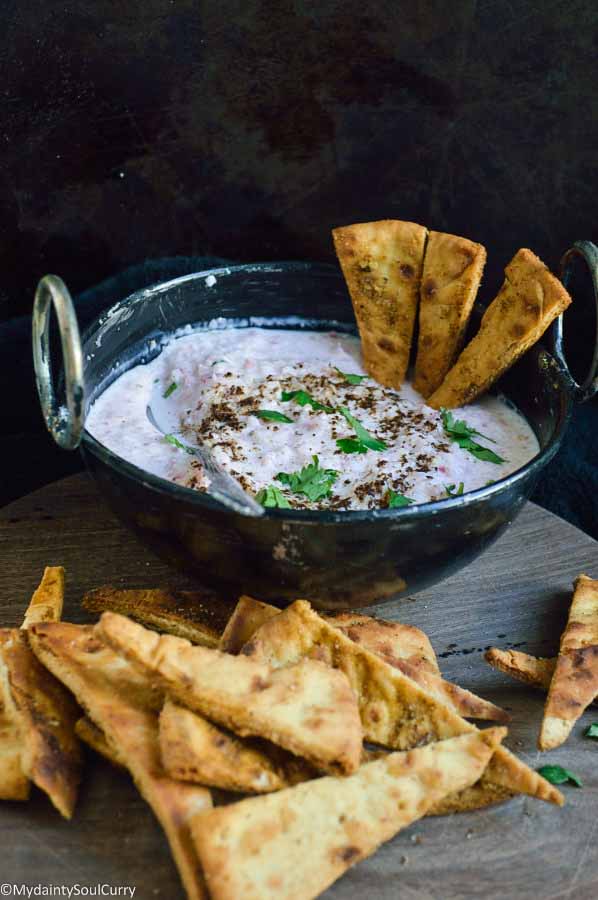 The name curry relates to a distinctive Indian flavor. I want to keep the dish fully Indian. So, the idea of curry flavor snugly fits here. Naan chips is super duper easy to make. Just cut the naan into thin strips or triangles and toss them in the spice and oil mixture. And that's it! These are ready for baking. Don't forget to preheat the oven while you prepare the radish raita dip and the naan chips.
Radish Raita Dip:Healthy or not!
With 51 cal, only 9.7g carb and 0.4g protein, this raita dip is one healthiest dip for you. Have a party in mind, and looking for some healthy dip menu? Make this raita dip. And naan chips, they are so easy to make. If you want, you can also serve warm chips with this cool and zesty dip too. Just bake them in the oven and serve warm in the last minute.
Radish has a number of health benefits. People with diabetes can enjoy this root vegetable in copious amount without worrying about blood sugar. It is a low GI vegetable, full of vitamins and minerals. You can read more about it here.
Nutrition Facts of Radish Raita Dip: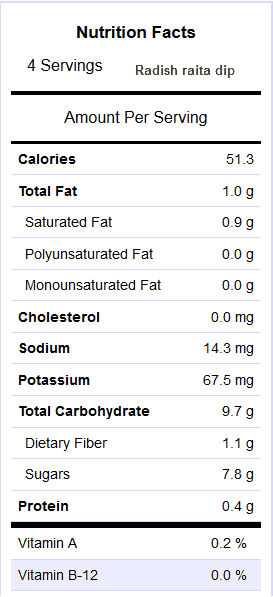 📖 Recipe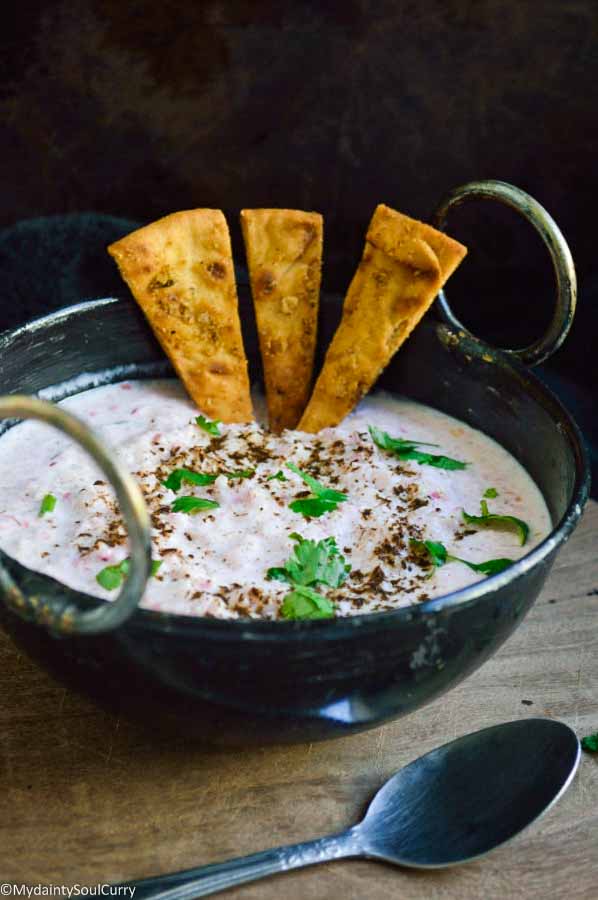 Radish Raita Dip with Curry Flavored Naan Chips: Vegan Recipe
Red radish, mixed with creamy vegan yogurt, spices, herbs and fruits served with curry flavored naan chips. A perfect chips 'N' dip!

Print
Pin
Rate
Ingredients
Radish Raita Dip
1

cup

red radish (finely grated or minced)

1 ½

cup

hot water

1

cup

vegan yogurt

2

green chili pepper(finely minced)

½

tablespoon

grated ginger

½

tablespoon

grated mango ginger(white turmeric root)

,

(available in most Indian stores)

1

teaspoon

roasted cumin

½

sachet

stevia

salt to taste

cilantro to garnish

½

cup

pomagranate+chopped grapes

,

(you can also add apple and pineapple)
Curry flavored Naan chips
2

whole wheat naan

1

tablespoon

canola or olive oil

1

teaspoon

hot curry powder

1

teaspoon

lime juice

,

(optional)

½

teaspoon

salt
Instructions
Blanch the grated radish in hot water for five minutes. Strain the water and drain off the excess liquid using a muslin cloth.


Take all the ingredients mentioned under the radish raita dip ingredient list and the blanched radish, except yogurt and fruit toppings, in a bowl.


Mix all the ingredients thoroughly.


Add yogurt and mix well.


Add fruits and give a stir, and garnish with cilantro. The radish raita dip is ready.

Curry flavor naan chips
Preheat oven to 350F.


In a small bowl, take oil, curry powder, lime juice and salt.


Mix vigorously to combine all ingredients well.


Brush both the sides of the naans with this marinade.


Now cut the naan into triangular pieces.


Bake them for 10 minutes on a greased baking sheet.


Allow them to cool. You can serve these when warm or at room temperature.

Notes
Don't leave the naan chips in the oven after 10 minutes. They may turn very brown and hard.
Oven cooking time may vary depending on the oven.
Radish leaves a lot of water. So, strain the water well after blanching.
Nutrition
And some other popular chips and snacks recipes are here! Just click on the image to visit the recipe pages.
Try Amazon Prime 30-Day Free Trial