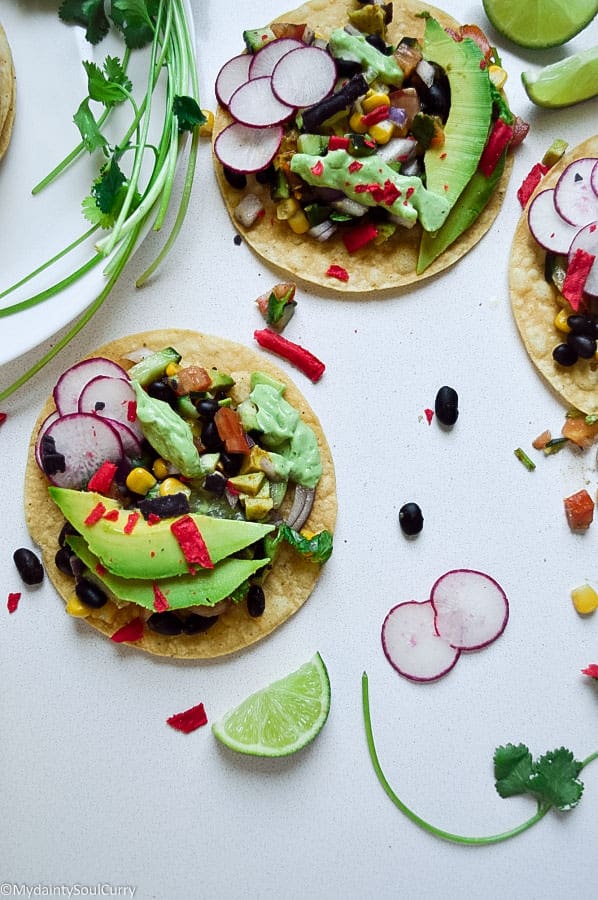 This beautiful Indian style vegan toastada recipe is inspired from our very own Indian masala papad. The crispy, savory and spicy papads layered with freshly made salad and toasted coconut, crispy sev and refreshing cilantro. My mom absolutely loves masala papads and there is no better recipe to please her tastebud than this. This Mexican recipe is a perfect option for your Cinco De Mayo too.
And to make this Mother's Day/Cinco De Mayo recipe, I preferred a salad instead of the traditional refried beans and other toppings that toastada recipes often calls for. The verdict is AWESOME! Oh, I am not flattering my own recipe here. It is indeed a great vegan recipe and a perfect crowd pleaser. Make ahead, store in the refrigerator and add the spices and lime juice just before serving. I know that you are going to love it!

My Indian Style Vegan Toastada!
I used store-bought toastadas here. You can make your own toastadas at home. The toastadas I used is the corn toastadas, which I picked from a local Mexican retailer. If you don't have toastadas, then go ahead and use our very own papads. The salad is the key. To make it low-carb and low-calorie, use fresh and crunchy lettuce wraps. They taste even better with lettuce. Don't want to eat it as a vegan toastada, no problemo! Just eat the salad and you still will be happy.
The salad has a good balance with Mexican style black beans, fresh vegetables and my favorite 2-minute avo dressing. Here is the recipe. That recipe is doing really well on Pinterest. In fact, that's one of my top pins as of now. Want to pin it too? Just click on those tiny PinIt buttons. And click on this image to go to the recipe.
And one of my most popular vegan Mexican recipes is here.
And here is my guide to how to make pickled jalapenos, which is a great topping on these tostadas.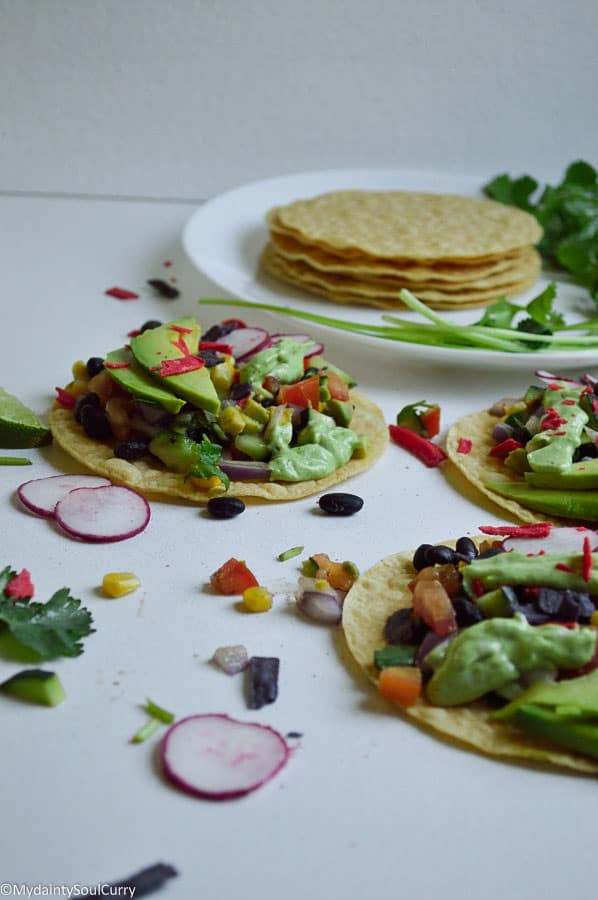 The Spice Blend is the Key: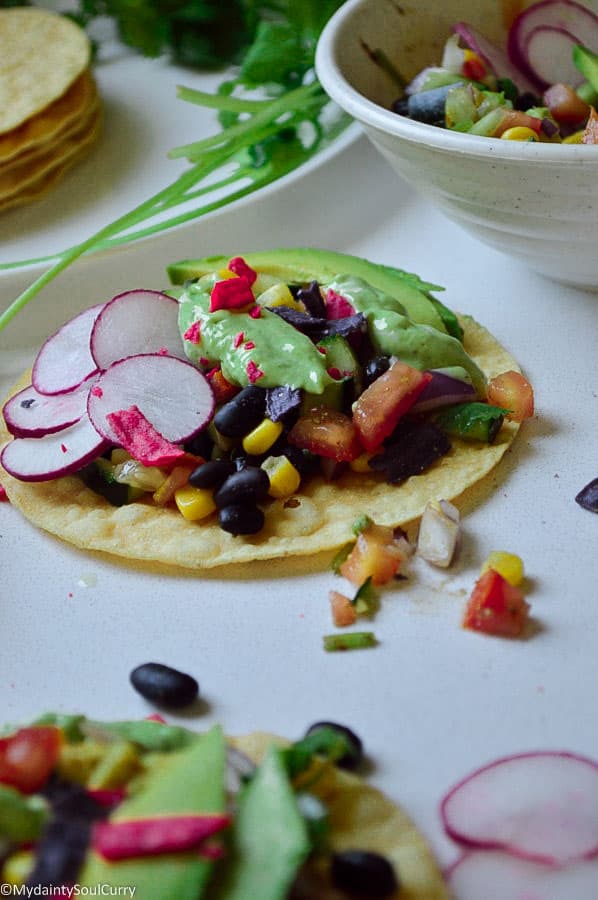 The black beans are pressure cooked with a dash of curry powder and Taco seasoning. You can just add salt and pepper, and a bit of curry powder if you don't want to use the taco seasoning. I, however, feel that the seasoning uplifts the flavors of the beans and gives it a nice Mexican touch. So, what makes this toastada an Indian one? The salad of course! The salad recipe uses the notorious Indian spice blend of chaat masala. If you want to make the recipe full Indian, go ahead and add a tablespoon of curry paste to the beans while cooking. Remember that, the main idea is to keep the recipe light and healthy. We don't want to use onion, ginger, garlic and other spices to make a mushy black beans curry. Just some flavored black beans to use with our fresh chopped salad.
So, the salad! Yes, it has chopped red onions, tomatoes, green chili, and cucumber, cilantro, chopped avocado and black beans. Just add lime juice, chaat masala, salt and pepper. It's ready! Yes, our salad is ready to go on the crispy toastadas. That's it. No time to make the dressing? No worries. Eat it as it is or with your favorite ranch dressing. You will still love it. Okay, let's discuss about its nutritional benefits and facts.
Health benefits of Vegan Toastada: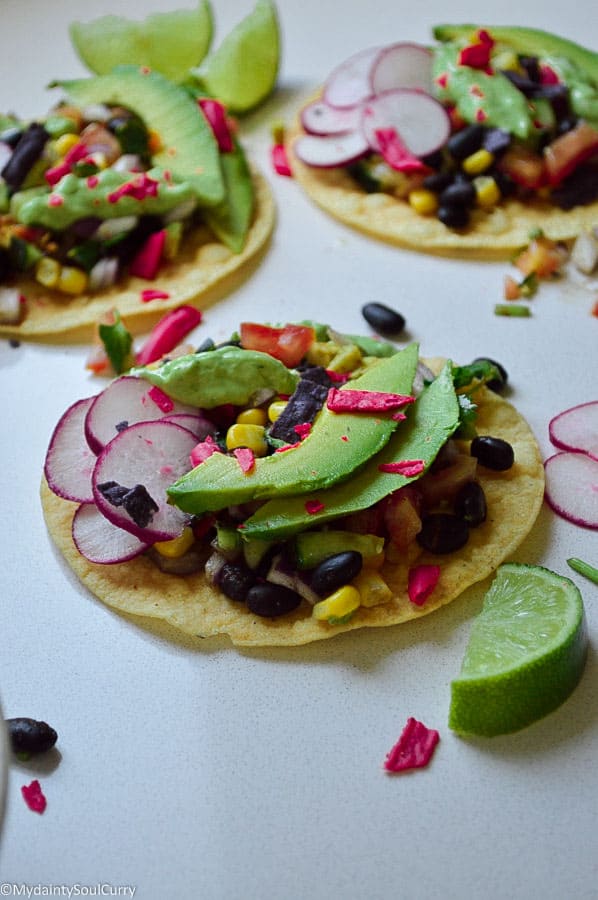 This is definitely a healthier alternative to traditional toastadas with cheese, refried beans and meat toppings. Not only this dish is healthier, but a yummier one too. Black beans are a good source of protein. Plus, these tiny beans are fiber rich. To add some more veggies to this dish, I chose some thin radish slices and sliced avocados. You can add, shredded lettuce and chopped nuts, and even chopped fruits if you want. By the way, you don't have to be a vegan to enjoy this!
Products Recommended:


Try Amazon Prime 30-Day Free Trial
Nutrition Facts:
This recipe yields five to six fully loaded toastadas. I suggest serving one toastada, if you are eating this as a snack or appetizer. With a total calorie of 127, this is definitely a satisfying dish to try. And, carb is under 16g. You can cut back on the carb if you skip using the toastadas and replace it with a lettuce leaf.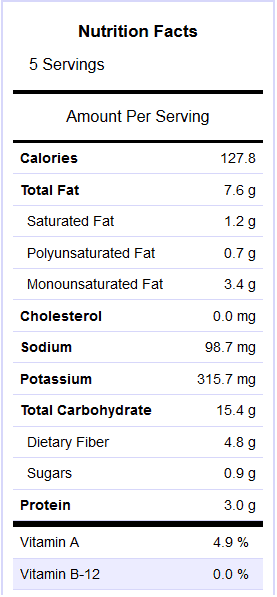 Want to pin this recipe? Click PinIt
📖 Recipe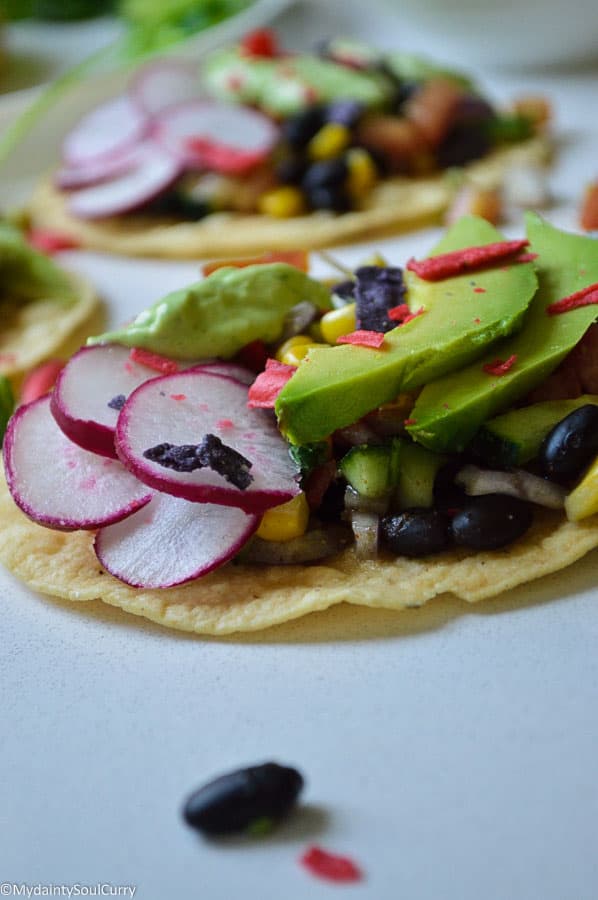 Vegan Toastada
This Vegan Indian style toastada is a perfect crowd pleaser. Make this low-calorie snack for your mom on this Mother's Day or include this delicious dish for your Cinco De Mayo celebration. Quick to make and delicious to resist!

Print
Pin
Rate
Ingredients
½

cup

black beans

,

(pressure cooked with salt, curry powder and taco seasoning)

0.5

teaspoon

taco seasoning

0.5

teaspoon

curry powder

½

cup

cucumber

,

(finely chopped)

1

avocado(divided)

,

(slice half and chop half)

2

tablespoon

chopped red onion

2

tablespoon

chopped cilantro

1

small tomato

,

(finely chopped)

2

tablespoon

roasted sweet corn

1

green chili pepper

3

small radish

,

(sliced)

½

teaspoon

chaat masala

1

teaspoon

lime juice

salt and pepper to taste

½

teaspoon

crushed red pepper

,

(optional)

4

tablespoon

2-minute avocado dressing

1

tablespoon

tortilla strips

,

(to garnish)

5

toastadas

,

(low-calorie corn or gluten-free variety)
Instructions
Take pre-soaked black beans in an instant pot or pressure cooker and add curry powder and taco seasoning to it.


Cook black beans in a pressure cooker or instant pot until tender.


Open the lid and allow the beans to cool.


In a bowl, mix chopped veggies and avocado.


Add salt, pepper, lime juice and chaat masala. Season with red pepper and mix well.


Add ¼ cup drained black beans to this mixture and mix well. Taste and adjust the salt and seasoning as per your taste.


Take a toastada and add a generous amount of this salad mixture.


Top with sliced avocados, radish and crushed tortilla strips.


Serve with 2-minute avocado dressing.

Notes
You can use canned black beans for this recipe too.
For another Indian touch, sprinkle some fine sev on the toastadas before serving.
You can add some vegan cheese too.
Add some queso fresco if you are not vegan.
Nutrition