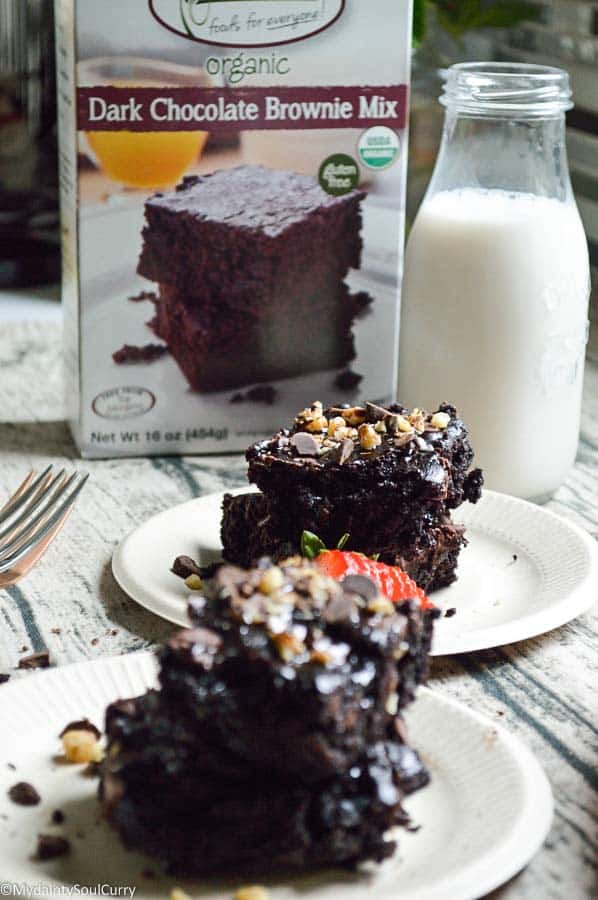 This is a sponsored post in collaboration with Namaste Foods. So, how are you all? I had a fantastic April from the work point of view. It's Monday(when I wrote this post) and I am having some serious Monday morning blue. To cheer those who are in the same boat as me, I have a decadent vegan gluten-free chocolate brownie recipe. It's really an indulgent dessert to enjoy in order beating the Monday morning blue. Believe it or not, I have eaten two large pieces of brownies since morning and still craving for more. I am that chocoholic type, you see!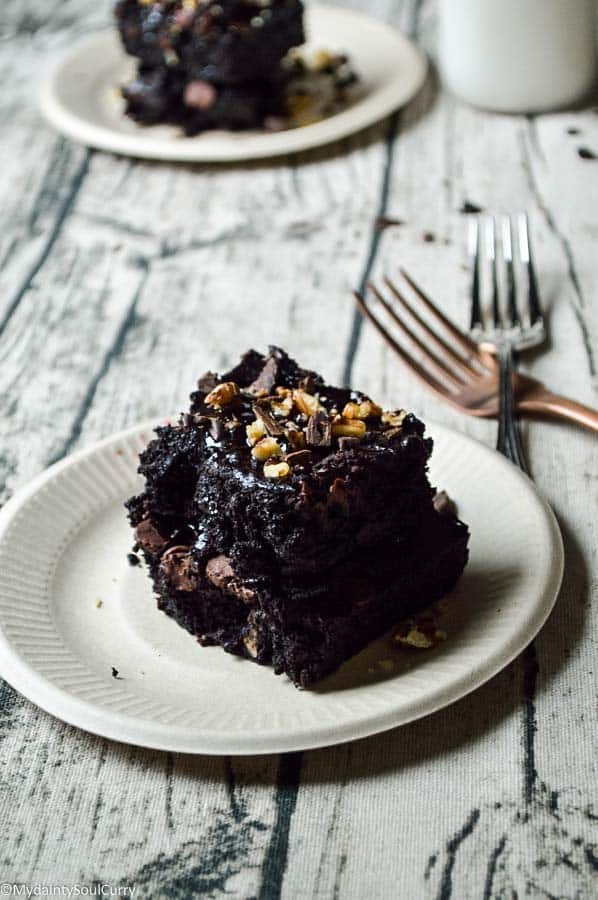 I know, my diet and low-carb eating plan seems jeopardized or maybe not. Because, this is a healthy brownie recipe free of top allergens and it is so simple to make. I am glad to share with you all that I collaborated with Namaste Foods and received some of their awesome products. Their vegan, gluten-free, low-carb and ready-mix products are all organic, made with the finest ingredients to make it healthy and yummy at the same time. If you want to know more about their product range, here is a link.
And their social page and website links are here and here!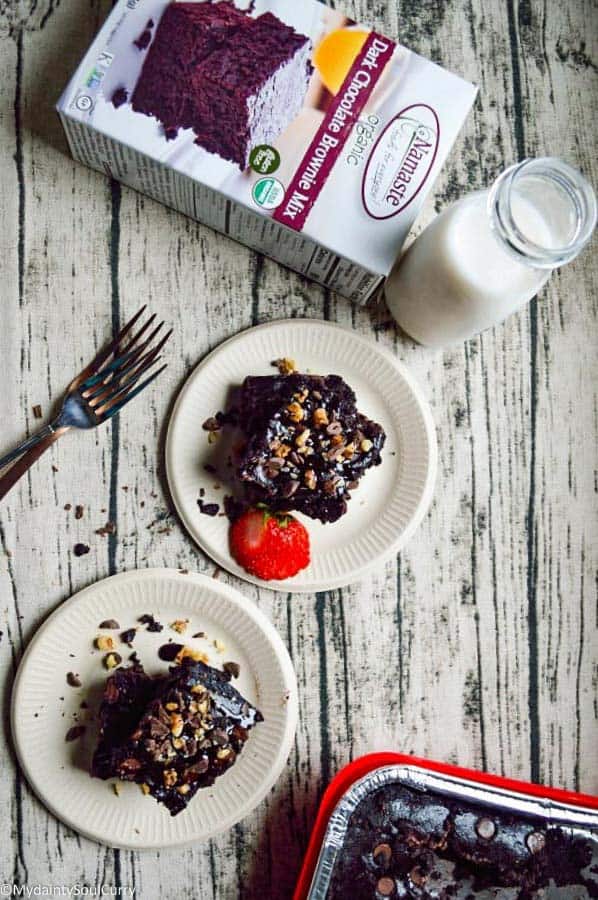 Namaste Foods is a family-owned and operated company. The best part is it's a facility run and operated by all women. Since 17 years and under the guidance of Daphne Taylor(the CEO, chief cook and bottle washer), they are making these wonderful products for consumers of all types while keeping each of their basic and special eating needs in mind. Their products are free of all top eight allergens notorious for causing various food allergies in humans. To keep the facility safe, they have always ensured to monitor the environment and keep it free from top eight food allergens.
My Experience:
When I received my products, I couldn't be happier. Each product is beautifully packed and has a clear nutrition and allergen information so that consumers can decide whether it is suitable for them or not. I received an organic garbanzo bean flour packed in a re-sealable bag, a gluten-free chocolate brownie mix and a yummy pizza crust mix. The recipe shared in this article is made from their gluten-free chocolate brownie mix. I have created some incredible recipes from their other products too, and I will share those recipes with you all in my future posts.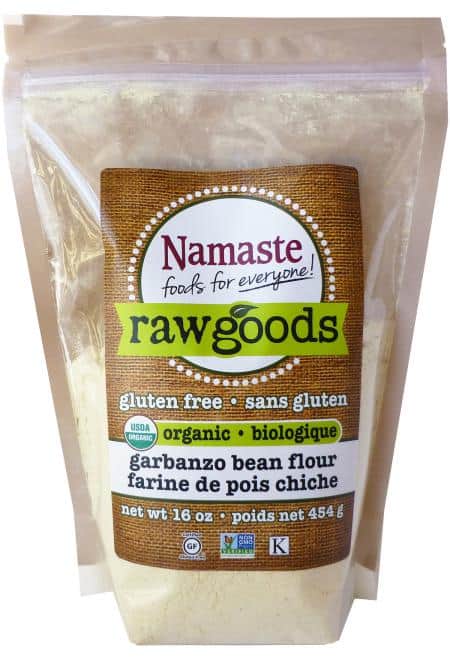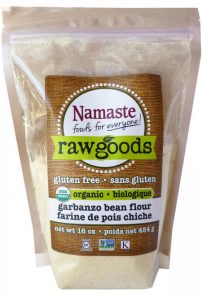 Vegan Gluten-free Chocolate Brownie:
The Namaste Brownie mix is gluten-free and it's huge. I have made a big batch of my vegan gluten-free chocolate brownie just from half of the mix. The recipe calls for adding egg. However, I have made some tweaks and changes and used my very own egg replacer. The result is AWESOME! The brownies are fudgy, decadent, and so so chocolaty to resist. To make it extra delicious, I have added some semi-sweetened vegan chocolates, walnuts for that crunch and some more chocolate drizzle before serving. Gooey, chocolaty, and so yum! Well, you need to make and try this to believe what I am saying.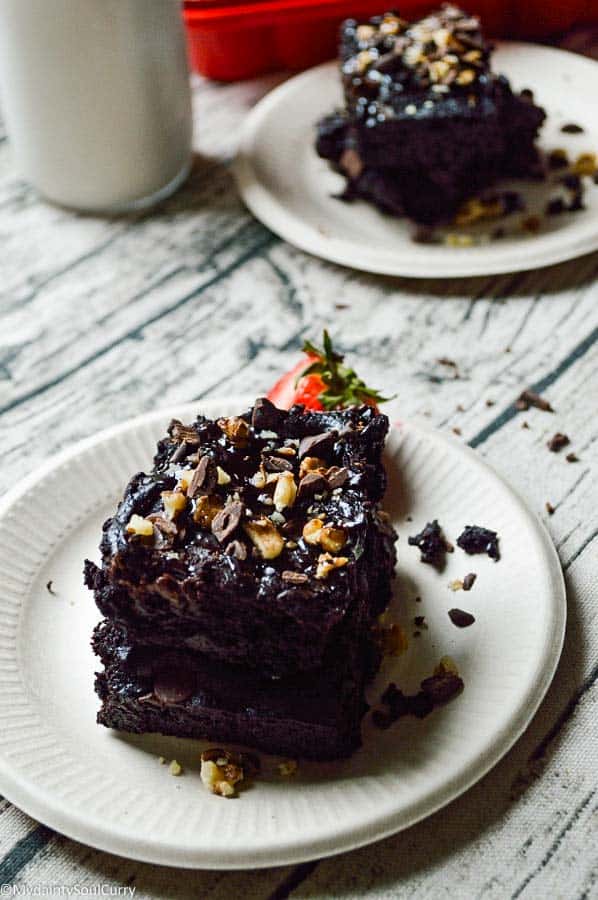 Namaste Giveaway: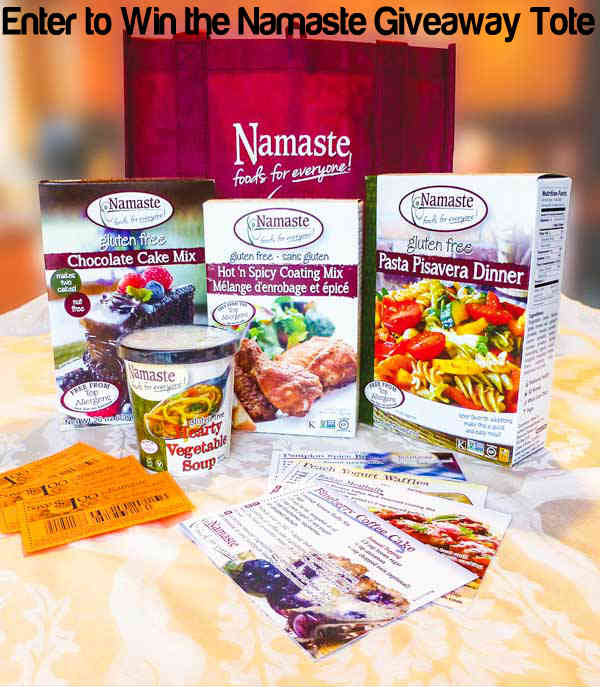 Now the best part: a Namaste Giveaway! Yay, finally I am hosting a giveaway in collaboration with Namaste Foods. The winner will receive a beautiful Namaste Tote with all yummy goodies from their product line. Let me make it more specific. The prize includes a wonderful Namaste reusable grocery tote bag full of one Namaste pasta meal, their gluten-free baking mix, their yummiest coating mix, and a soup cup(yes, the quick-to-make ones) and some coupons too. Oh and they are generous enough to include some of their secret and most-loved recipe cards in this prize tote too. How cool is that?
Rules:
All you need to do is enter the giveaway in Rafflecopter here.
It's simple and quick. Just click on the Rafflecopter Widget above and,
Also, leave your comment in this post letting us know about the best chocolate dessert that you ever had.

That's it! I can't wait to read all your comments and see who is going to win this Namaste giveaway prize. You will be excitingly happy to use Namaste products if you win.
Terms and Conditions:
For the nature of the giveaway, this is only valid for participants in the USA and Canada only. Well, that doesn't mean readers from other countries shouldn't comment here. I really value your precious comments!
Now the recipe:
In this post, I am not going to include a nutrition fact. That's because I have used Namaste brownie mix, which already has a nutrition info on the package. I Just added some walnuts, vegan chocolate and chocolate syrup before serving.
And some of my other vegan healthy dessert recipes are here.
📖 Recipe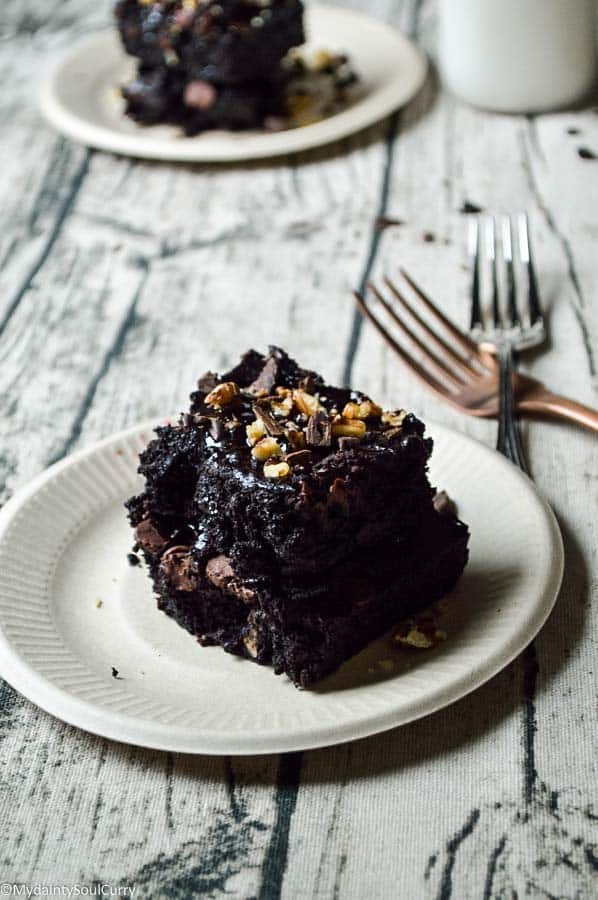 Vegan Gluten-free Chocolate Brownie
Quick, easy and super indulgent! Make this vegan and organic chocolate brownie with Namaste brownie mix, walnuts and my tested-and-tried no-fail egg replacer. You will love the fudgey and gooey dessert.

Print
Pin
Rate
Ingredients
½

package

Namaste Brownie Mix

¼

cup

walnuts

¼

cup

vegan chocolate chips

,

(semi-sweet)

¼

cup

canola oil

1

egg replacer

,

(2 tablespoon water+1tsp canola oil+⅓ teaspoon baking soda)

½

cup

hot water

,

(take 2-3 tablespoon more if needed while mixing batter)

1

teaspoon

Aquafaba
Instructions
Preheat the oven to 350 degree F.


Add all the ingredients in a bowl, except the vegan chocolate chips and nuts.


Use your hand mixer to blend all ingredients well.


Add nuts and chocolate chips and mix well.


Pour in a square brownie pan and cook till done.(approximately 20 minutes)


Allow the brownie to cool completely. Slice and serve.

Notes
Topping choices include nuts, chocolate syrup, choco chips and ice cream.
If using egg, then add one egg to this above recipe.
You can also use a chia egg too.
Nutrition
I have received these Namaste food products to try and review. All the opinions in this review post are my own.
Try Amazon Prime 30-Day Free Trial