Just Two Ingredient Nice Cream:
If you have read my other blog posts, you must know by now that how I alter recipes to make them healthier. Healthy in my opinion is not just low-calorie, but it should be nutritious and loaded with flavors too. When I had diabetes,(have you read my story yet? If not read it here) I craved for all sweet things in the world. Those decadent frozen custards are my all-time favorites, which I could never eat during my diabetes phase. So, the alternative was Nice cream.
It is an ice cream in its nicer version. If that intrigues you, then jump straight to the recipe by clicking the recipe jump button. If you want to read more about it and its health benefits, enjoy reading and don't forget to check the step-by-step guide.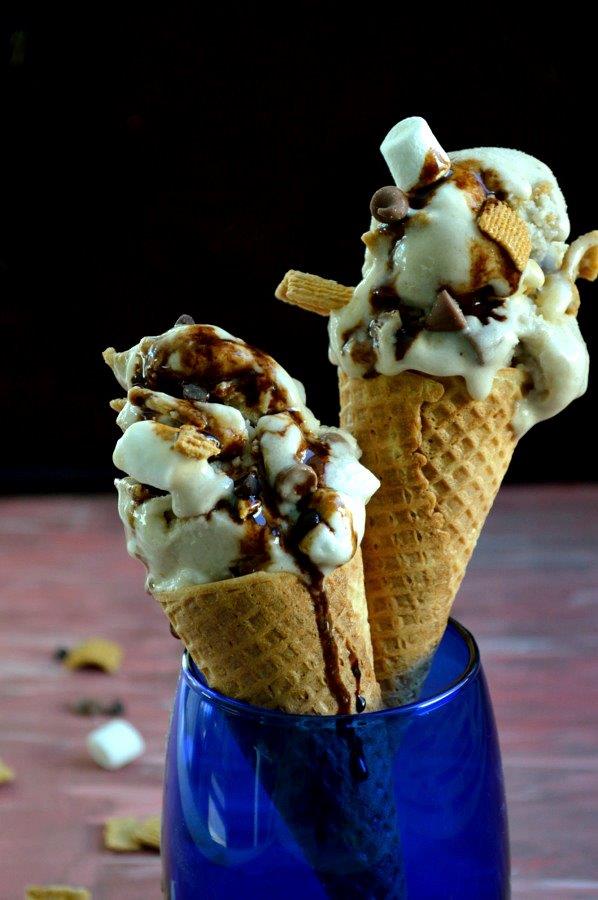 Nice Cream:
As I already told you that it is an ice cream but in its nicer version, you can have it for breakfast, lunch or dinner..mmm even during snacking. Did I mention breakfast? This ice cream just contains frozen banana and some natural ingredients for that extra flavor. Banana..ughh! I felt so when I thought to try to recipe.
But trust me, this is so good that you will never regret. When the frozen bananas are slowly blended in a high-speed blender, they become creamy, smooth and decadent just like the real ice cream. Add some peanut or almond butter, mix in some toppings such as fresh fruits, s'mores as in this case and chocolate, and you have a best tasting ice cream or Nice cream ready to be enjoyed.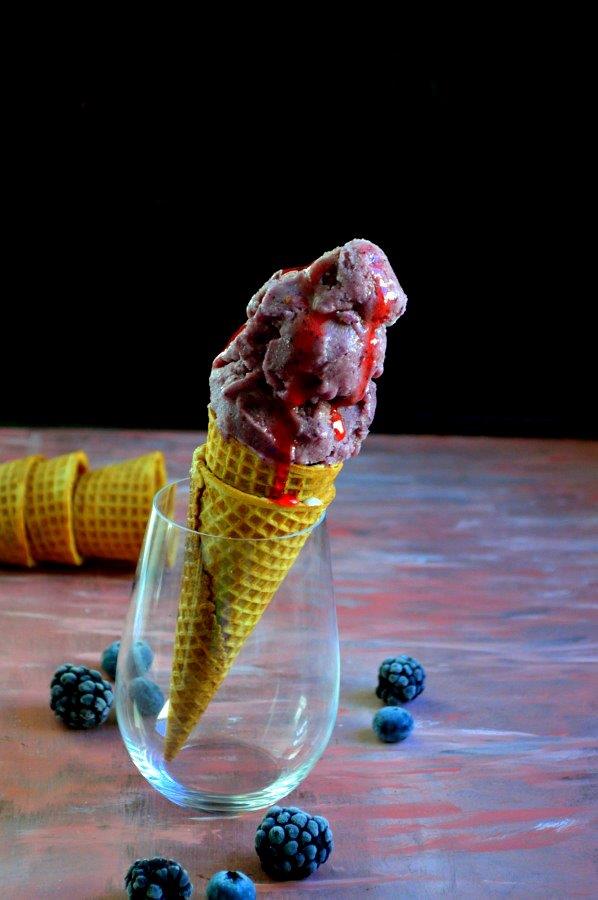 Takes just five minutes:
Have your frozen bananas and toppings ready. All you need is a high-speed blender. You don't even need an ice cream machine for these sweet things. Blend them well and enjoy right away if you want a soft serve one. Or freeze it for few hours to scoop on a ice cream cone and enjoy!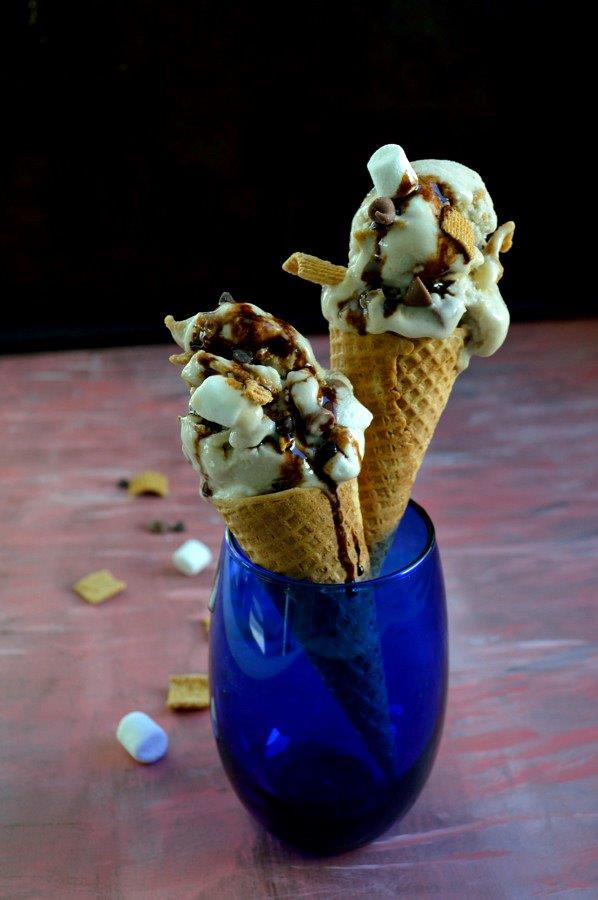 Variations:
Make it chocolate flavored: add a scoop of chocolate protein powder and 1tsp of almond butter
Coffee and cream: 1 teaspoon to 1 tablespoon of instant coffee, 1 tablespoon almond milk and 2 tablespoon coconut cream
S'mores: Vanilla extract, toasted marshmallow and chocolate chips with mini graham cracker toppings
Berry blast: frozen berries, sugar-free strawberry syrup and fresh berries for toppings
Chocolate & Peanut butter: Well, just some Reese's PB cups and chocolate syrup for topping
You can build your own flavors too by adding supergreen powders, superfood powders and even those vibrant colored açaí berry, spirulina and matcha powders. In my berry blast version, I have added some açaí berry powder to get my daily dose of superfood. The Smores nicecream doesn't have any extra ingredients.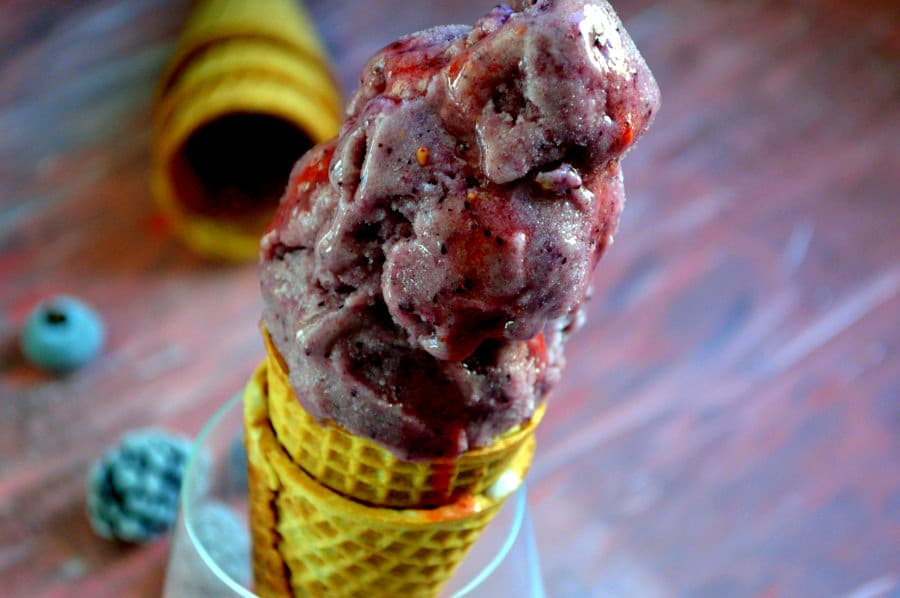 Health Benefits:
You are ditching cream, extra calories and refined sugar. That is certainly a happy news. If you ask me about the taste, it does taste little banana-like unless you add other flavors in it. However, I love to enjoy this creamier version of banana than a sugar-loaded ice cream. More details on its nutrition are in the nutritional benefit section.
Step by Step Guide:
I only have the step-by-step pictures of the berry blast nice cream.
Step-1: Freeze:
Cut banana and wash berries. Freeze it for at least two hours.
Step-2: Process:
Take the frozen fruits in your food processor and process until smooth.
The mixture will start look grainy as the berries will break.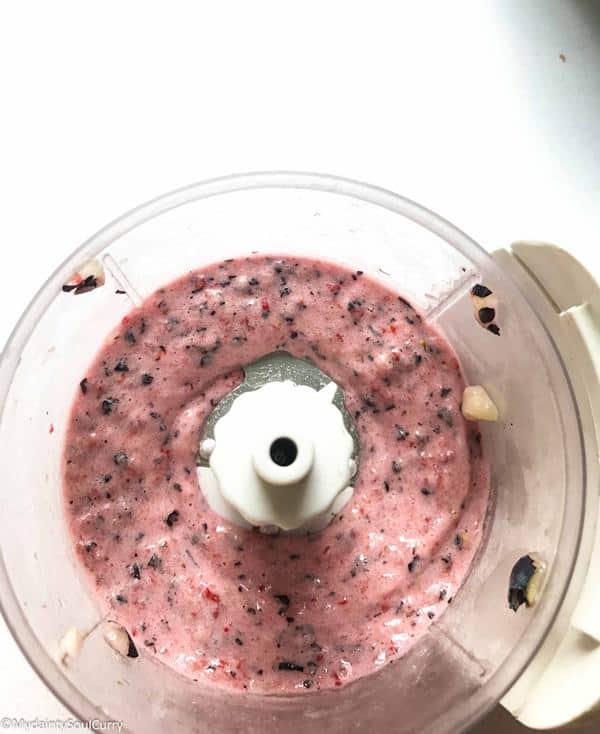 Then process again until the mixture looks smooth and creamy.
If adding coconut cream, add at this point.
Process again, and your soft serve berry blast nice cream is ready.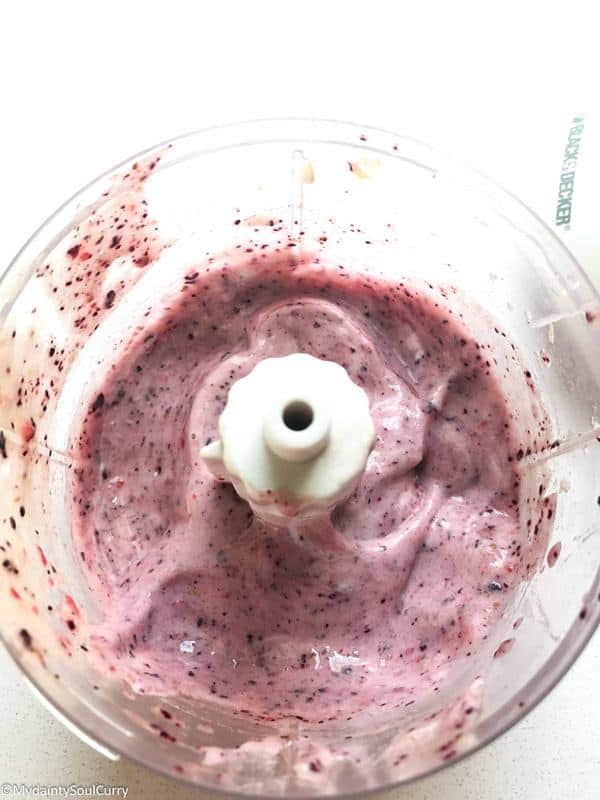 Step-3: Freeze again:
If you want to scoop the nice cream, then freeze the mixture again for at least two hours.
Scoop and enjoy.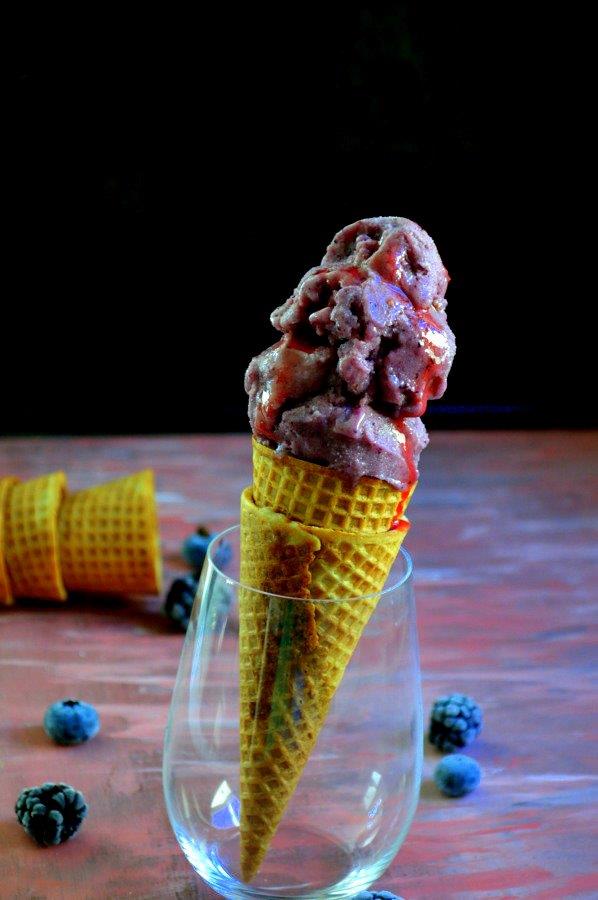 📖 Recipe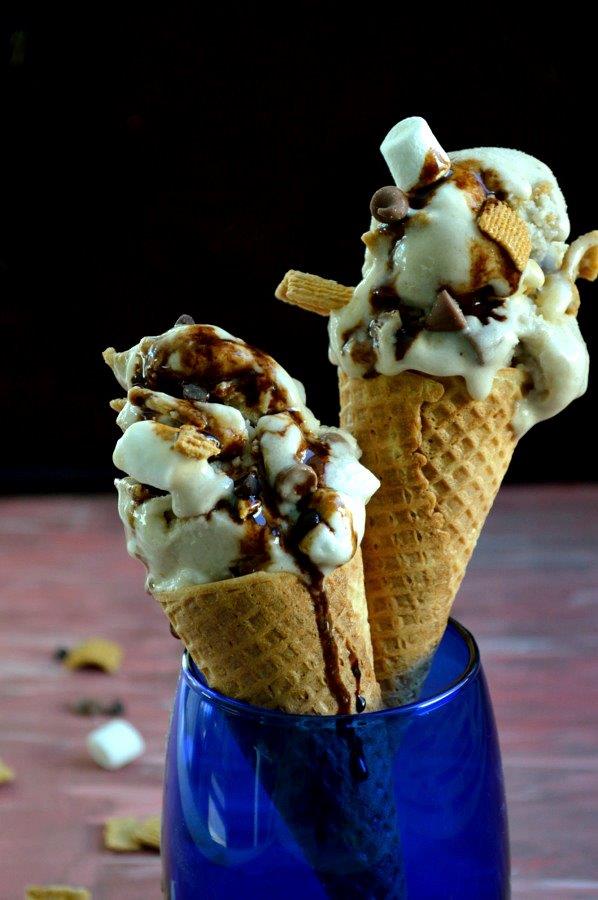 S'mores Nice cream
These super easy and super quick nice cream will fulfill your sweet cravings without adding extra calories and fat into your diet. Try these today and you will love it!

Print
Pin
Rate
Ingredients
1

frozen banana

,

(medium size)

2

tablespoon

almond milk

,

(you can use any milk)
Extra ingredients
1

cup

sugar-free marshmallow

,

(vegan)

⅓

cup

Vegan S'more topping

,

(graham cracker and chocolate chips)
Instructions
In the high-speed blender, add the frozen banana, toasted marshmallow and 1 tablespoon of almond milk.

Add in the toasted marshmallows and half of the s'mores topping(mini graham crackers, chocolate chips and mini marshmallows)

Blend well until the mixture is creamy.

Enjoy your soft-serve ice cream right away.

Pour the mixture in a bread pan or a freezer safe box.

Freeze for four hours.

Scoop and enjoy.
Notes
You can add some sweeteners if you wish.
Add some toppings of your choice and make variations.
Nutrition
📖 Recipe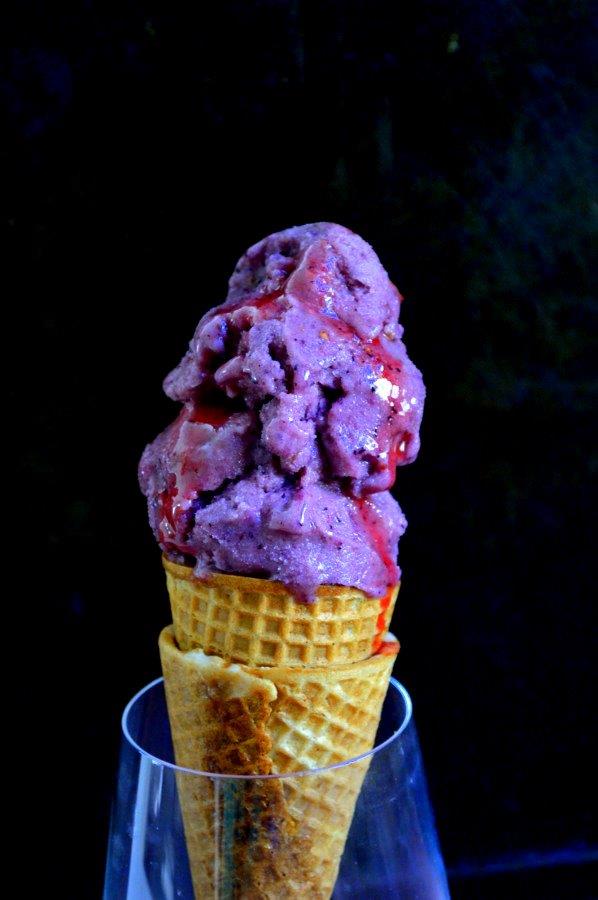 Berry Blast Nice Cream
Another yummy and indulgent sweet treat in its very best healthiest form. Few cups of frozen berries, and a high-speed blender are all you need. Enjoy as a soft serve or in a cone.

Print
Pin
Rate
Ingredients
2

Cups

frozen berries

,

(strawberry, blueberry, raspberry and blackberry)

1

frozen banana

2

tablespoon

almond milk

½

teaspoon

acai powder

,

(optional)

¼

cup

coconut cream

,

(optional)

1

teaspoon

Berry syrup

,

(topping)
Instructions
In the high-speed blender, add the frozen banana, berries and 1 tablespoon of almond milk.

Add the acai powder if using and a sachet of stevia if you want to make it sweeter.

(The berries I used were sweet enough for the recipe; so decide if you need extra sweetening agent)

Blend well until the mixture is creamy. Add coconut cream at this stage and blend or process again.


Pour the mixture in a bread pan or a freezer safe box.

Freeze it for two to four hours.

Scoop in a cone and enjoy.
Notes
Add some frozen berries as toppings too.
If the berries are sour, consider adding some honey or sugar-free.
Nutrition
Nutritional Information:


Products I recommend for this recipe:
In this post, I am including products that I used for this recipe. Please note that this section of the article contains affiliate links. If you click on these links, you will be directed to the merchant's page. For any purchase from these links, I will earn some commission which will be used towards the website maintenance. Thank you!
Acai Berry powder: I love this product. I add it to my smoothies and cooking these days. Very good and organic, perfect for getting your daily dose of superfood. Click on the image to buy.
I am a dairy-free person, so I always drink almond milk. I like the unsweetened versions only. Blue Diamond is my favorite choice. Click on the image to buy.
Please note that this an Amazon Pantry item. You can order and get it delivered to your door step in two days just by ordering through Prime free trial. If you are not a prime member, try their free trial version for 30 days. Did I mention it's free?
Sign up here. Try Amazon Prime 30-Day Free Trial
These sugar-free marshmallows are perfect choice for the s'mores nice cream. However, I used some mini mallows as toppings. Click on the image to visit the website and buy.
Since the time I own this machine, I am in love with it. Apart from its high-speed blending features, what I love about this blender is its Auto-IQ feature. That means no residue when you are blending something in it. Remember those grassy residue you see after every smoothie blend, that's not going to happen with Auto-IQ. The machine uses its sensor to blend the food really well to extract the nutrients for better absorption after consumption. Click on the image to buy.