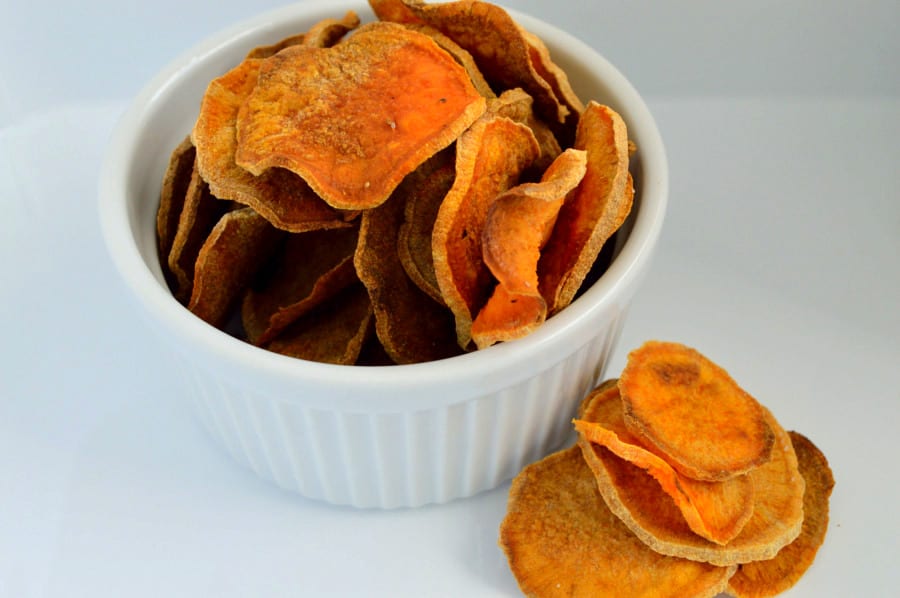 If you have read my post on zucchini chips/crisps, then you must be aware of the veggie chips series I was talking about. Find my other veggie chips recipes here. These crispy sweet potato chips are good just the way they are. Enjoy modifying this recipe as per your taste and you will love this crispy sweet potato chips. Here is a glance of the veggie chip series. I am repeating the importance of eating more veggies in this post too.
Should you eat more vegetables?
If you have ever been to a nutritionist, then you must know how important it is to include two third of our plate with fruits and veggies. Vegetables are low in calorie, less in fat and high in fiber, which certainly make them perfect for including in a weight loss diet.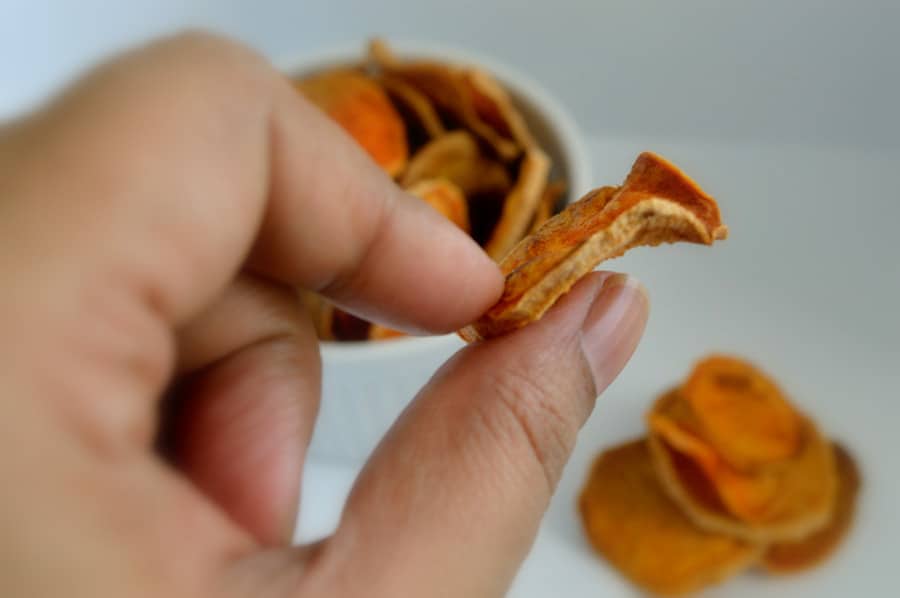 Apart from offering the best nutritional benefits, there are many other reasons to include more veggies in your diet. Including rainbow colored vegetables provides tremendous health benefits too. Eating more vegetables will lower the risk of cancer, heart disease, and diabetes. These fiber rich foods have tremendous effect on lowering the risk of type-2 diabetes. Although vegetables have carbs, they seem lowering blood sugar even after consumption. (if you don't munch on more starchy vegetables such as potatoes). People with high blood pressure will be benefited with the high potassium content of vegetables. High potassium also reduces the risk of kidney diseases too. Read more here.
Sweet potato and its health benefits: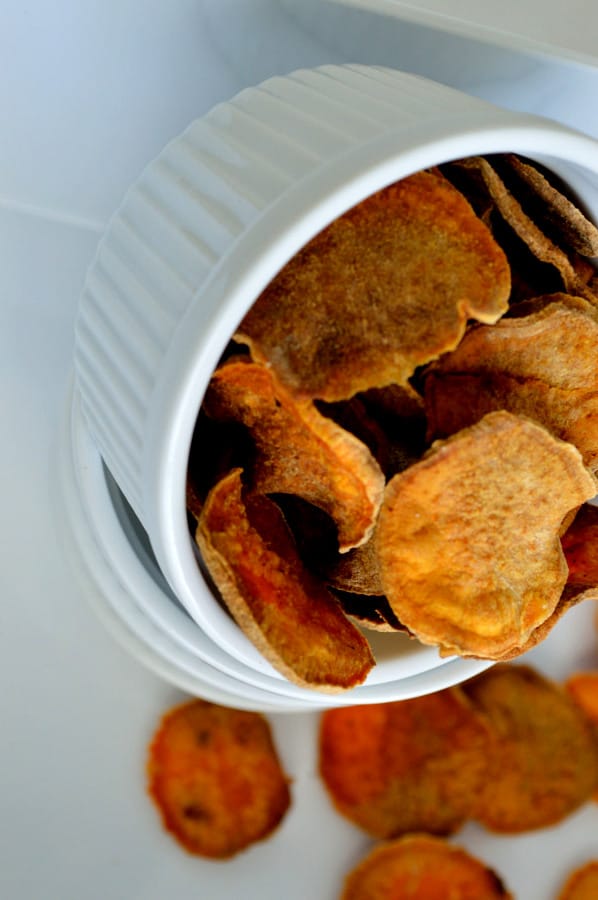 Unlike potatoes, sweet potatoes are sweet. 🙂 Well, that doesn't make them unhealthy. In fact, sweet potatoes are healthier than potatoes because of a number of reasons. WHFoods name sweet potatoes among the top healthiest veggies in the world. Read more about it here.
What I like about sweet potatoes is that it's a versatile vegetable. You can bake these, create salads, incorporate in your soup and dessert recipe, eat boiled or just make these yummy chips to enjoy during snack time. Because this orange vegetable is full of fibers, it keeps you full for a long time. And I love 'em.
Nutritional Information: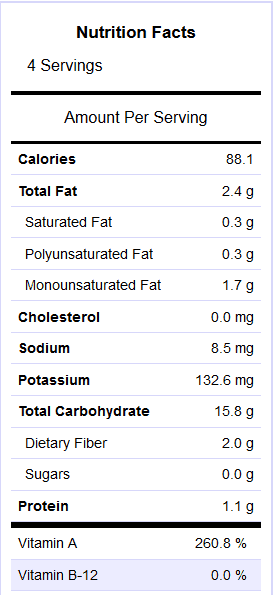 📖 Recipe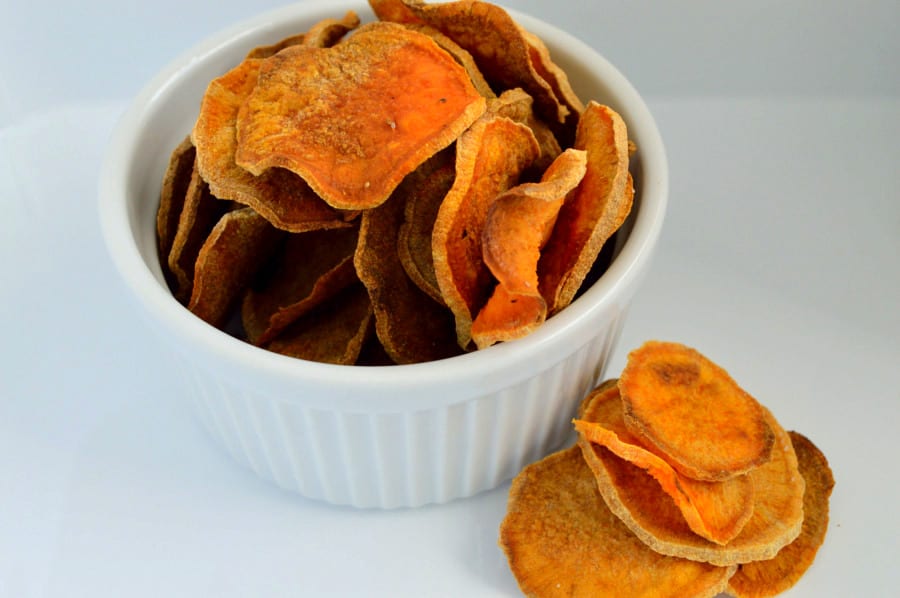 Baked sweet potato chips
These crispy and healthy sweet potato chips are too good to resist. I often make these without any seasoning. You can add salt, pepper and other spices to create the desirable flavor of your choice. Enjoy these with homemade dips or just as it is.

Print
Pin
Rate
Ingredients
2

Organic Sweet potatoes

1

tablespoon

olive oil

,

Extra virgin preferrable
Instructions
Preheat oven to 250 degrees F.

Prepare the sweet potatoes by washing and peeling them. You can skip peeling their skin if you wish to. It's my preference to peel the skins.

Remember to pat dry your sweet potatoes thoroughly with a paper towel before starting to slice them.

By using a mandolin slicer create thin chips for uniform cooking. If you don't have a mandolin, use a very sharp knife and cut slowly to get these uniformly thins.

Cutting them uniformly is the key. Otherwise, the thick parts of the slices won't crisp up all the way.

Toss slices with olive oil so that each thin slice is lightly coated.

I don't prefer to add salt in this recipe. You can, however, add salt, pepper and any other spices of your choice to add flavors to these chips.

Lay the chips on the baking sheet lined with parchment paper.

Bake for approximately 90 to 120 minutes till the sweet potato thins are crisp and lightly brown.

After baking, allow the chips to rest for ten minutes. During this time, the tender parts of the chips will continue to crisp up too.

Serve with your favorite dip.
Notes
Cutting them uniformly is the key. Otherwise, the thick parts of the slices won't crisp up all the way.
You can skip peeling the skin of the sweet potatoes.
For baked potato chips, use russet potatoes instead of sweet potatoes.
I strongly suggest eating these chips with sriracha yogurt dip. Find the recipe here.
Nutrition