Almost Raw, Loaded and Spicy Raw Vegan Gyro: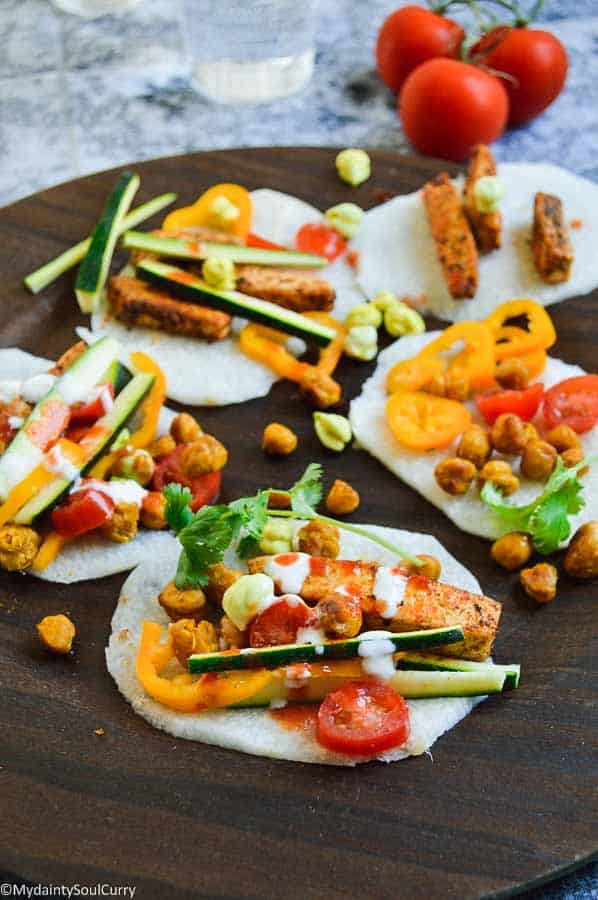 This is my almost raw vegan gyro. Yes, almost raw because there are some cooked elements it it. And these are the raw vegan gyros without the high-carb naan breads or pitas. And with yummy gyro spiced tofu, crispy spicy chickpeas and veggies, these raw vegan gyros will surely entice your palate.

These raw vegan gyros are wrapped in jicama shells. While I have made jicama tacos before, making gyros with this vegetable is the first time. And I fell in love. These yummy gyros are certainly a must try. If you are looking for a low-carb and vegan alternative to the traditional gyros, then my low-carb and almost raw vegan gyro is for you.
If you haven't tried jicama taco yet, here is a quick recipe of Jicama taco with Kung Pao Seitan.
How to make the Gyro Seasoning for Raw Vegan Gyro?
Gyro seasoning is a blend of spices, which includes paprika, garlic powder, oregano, thyme and red chili powder etc.

All you need is this spice rub, some oil and tofus or any type of protein that you want to use.
You can always use the store bought gyro seasoning. However, I always like to make my own spice blend just before making gyros.
The spice blend is so simple and easy that you will skip buying from next time onward.
All you need is the ingredients listed on the picture. Don't freak out seeing the list of ingredients in the picture.
These are everyday ingredients like paprika, cumin, garlic powder etc.
You can just add all the ingredients, and make your own seasoning and use it for your gyro.
Tofu in My Raw Vegan Gyro:
Tofu is a versatile ingredient. And in this gyro recipe, tofu works really well.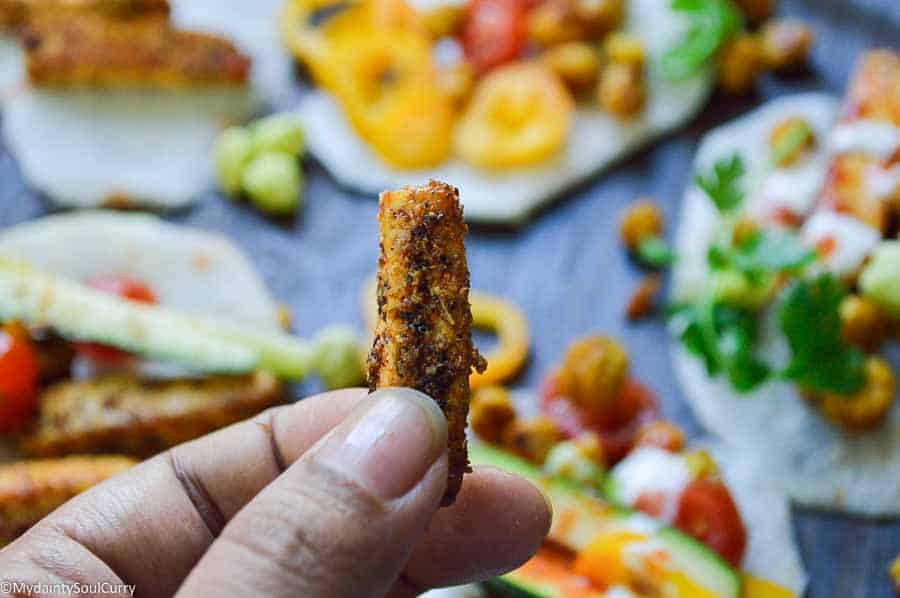 Cooking tofu for the raw vegan gyro:
For this recipe, I didn't prepare a gyro marinade.
I just add this seasoning mix to the oil followed by tofu, and sauté tofus slowly so that the spices coat the tofu really well.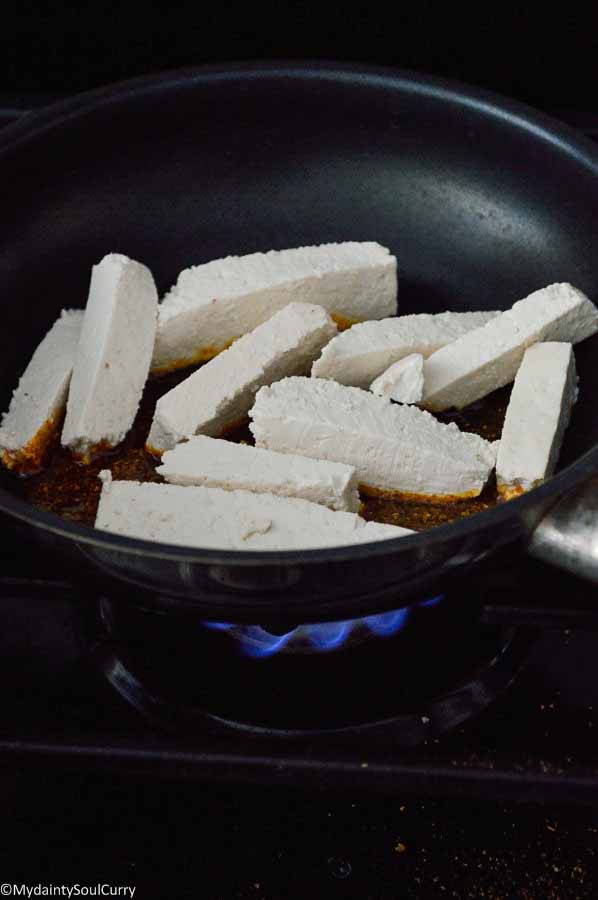 Add salt and finish.
Spiced chickpeas:
The other essential topping in this dish is a must-add topping for this raw vegan gyro. These crispy chickpeas add another layer of texture to this dish.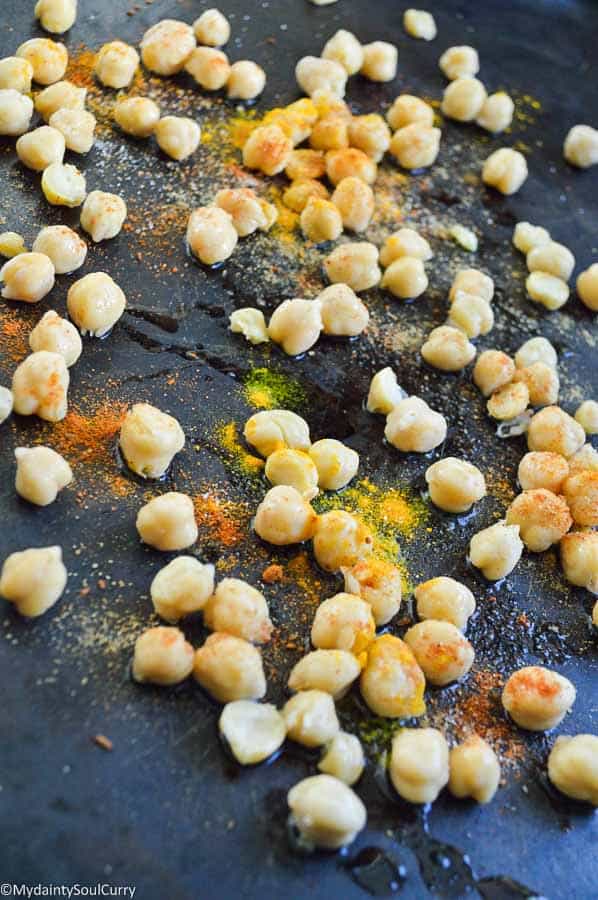 How to make the crispy chickpeas for raw vegan gyro?
I bake the cooked chickpeas or canned chickpeas with little oil, spices and salt until they are crispy.
To make it fully crispy, bake for 20 minutes or more.
I just bake for 10 minutes so that the chickpeas are crispy on the out and slightly crunchy inside.
6/14-6/17: Get (4) $25 Restaurant.com eGift Cards for $17!
Other toppings in Raw Vegan Gyro: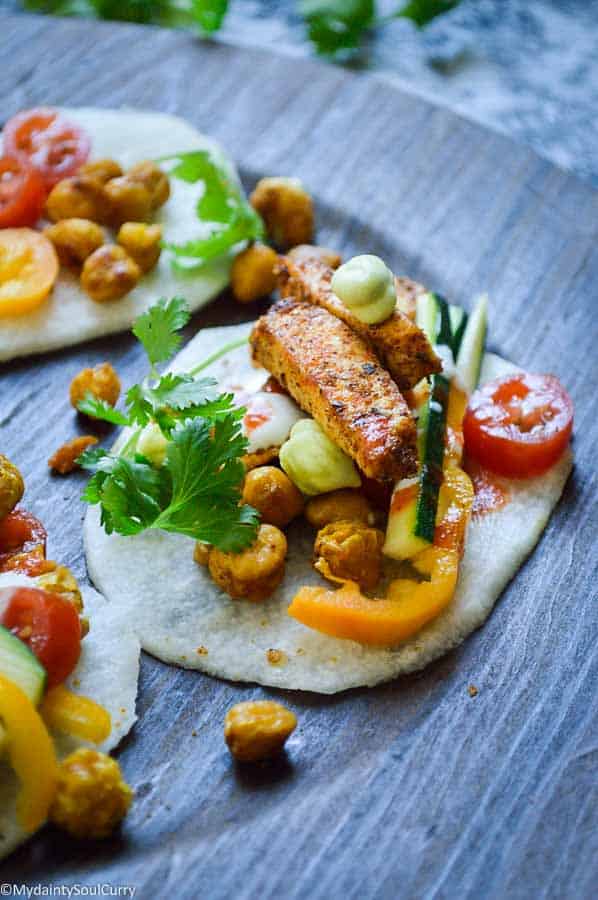 I also added some raw garbanzo beans, grape tomatoes and sweet peppers to this dish. Cucumber or zucchini julienne are other toppings to this dish. And to finish, I have some tzatziki and sriracha sauce too.
Cutting Jicama Shells:
Jicama is a beautiful vegetable to work with unless you find it hard to cut it.
To make jicama shells:
Peel the jicama, cut thin discs(as thin as you can) and you are done.
I find it really difficult to cut jicama discs for tacos or gyros.
I, hence, prefer using pre-cut jicama taco shells for tacos and gyros.
If you find jicama shells, it's good and you will save yourself a lot of time. But, if you choose to cut jicama, then go for it. It's a fun experience too.
Use a sharp knife to make thin discs of jicama.
Store in refrigerator.
Soak the jicama in cold water for about 15-30 minutes before serving.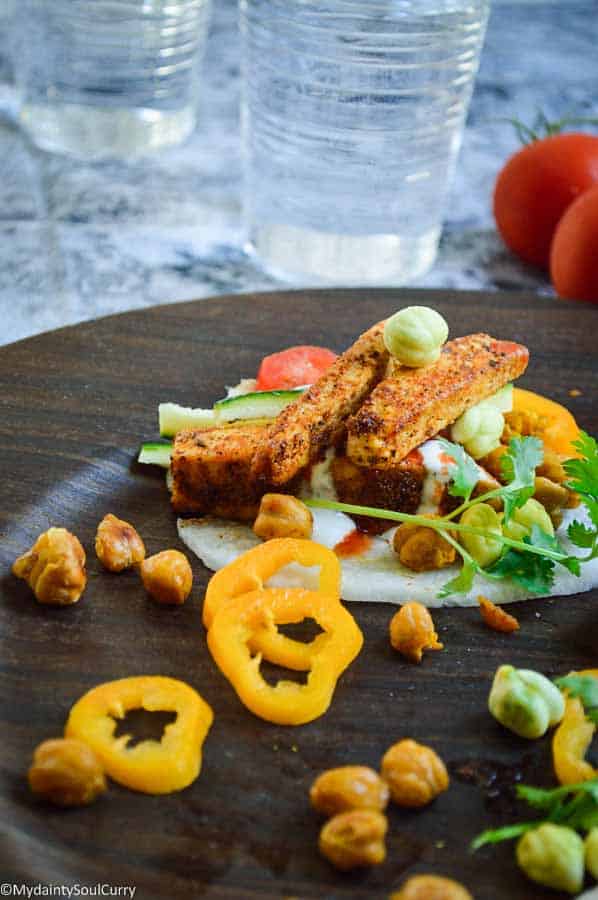 Nutritional Info:
This tiny raw vegan gyro bites are only 85 calories with 7.8g total carb and 6.2g protein. I use one jicama for this recipe and it gives more than 10 shells for the recipe. Considering my jicama cutting skills(which is really bad), I get around 8 to 10 not-so-thin shells per jicama. But, a good-size jicama yields more than 15 shells. I suggest serving 2-4 gyros per person. This recipe serves four.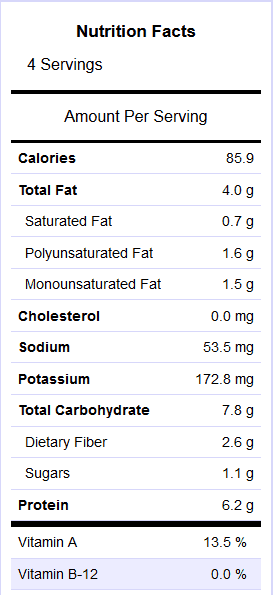 Here is the nutritional chart for this recipe.
And some of my most popular recipes using tofu are here! Click on the images to visit the recipe pages!
📖 Recipe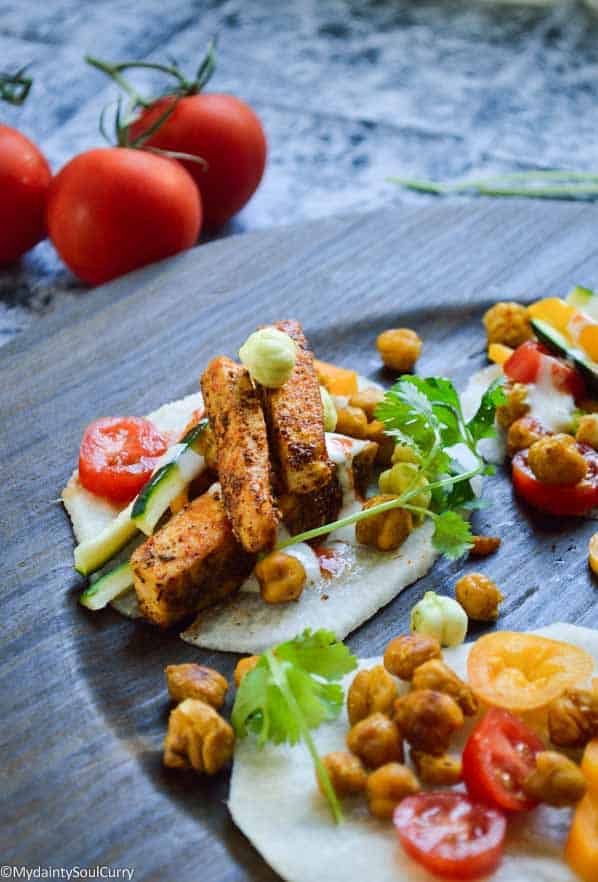 Raw Vegan Gyro With Tofu
Gyro spiced tofu, topped with raw and cooked chickpeas, fresh veggies and tzatziki sauce and all wrapped in cool and crisp jicama shells are match made in heaven. This is my version of low-carb almost raw vegan gyros.

Print
Pin
Rate
Ingredients
Gyro Seasoning
2

tablespoon

chili powder

1

tablespoon

ground coriander

1

tablespoon

ground cumin

0.5

tablespoon

paprika, hot

0.5

tablespoon

garlic powder

1

tablespoon

dried parsley

2

teaspoon

dried thyme

2

teaspoon

dried oregano

salt and pepper to taste
Tofu
1

cup

drained extra firm tofu

,

(cut into finger sizes)

1

tablespoon

gyro seasoning

1

teaspoon

oil

salt and pepper to taste
Gyro toppings
¼

cup

raw garbanzo beans

½

cup

crispy garbazo beans or chickpeas

¼

cup

grape tomatoes

,

(sliced)

¼

cup

sliced sweet peppers

½

cup

zucchini julienne

½

cup

tzatziki sauce

,

(more if you need)
Crispy chickpeas
½

cup

chickpeas(cooked)

½

teaspoon

oil

¼

teaspoon

red chili powder

¼

teaspoon

turmeric powder

salt and pepper to taste
Instructions
Crispy Chickpeas
Layer chickpeas on a baking sheet and sprinkle with salt and pepper.

Add spices and drizzle with oil.


Give a quick mix so that the spices and salt coats the chickpeas well.


Bake for 15-20 minutes until the desired crispiness is achieved.

Gyro spiced Tofu
Cut tofu into thick fingers.

Heat a tablespoon of oil in a frying pan.

Add 1 tablespoon gyro seasoning and add tofu.

Cook until tofu are crispy on the out.
Assemble raw vegan gyro
Add tofu and spicy chickpeas on each jicama shell.

Top with zucchini, sweet peppers and tomato and raw garbanzo beans.

Serve with tzatziki sauce.
Notes
Soaking jicama shells in water retains their crispiness.
Increase the heat by adding more chili powder.
Sriracha sauce goes well this dish too.
Store the remaining gyro seasoning in a clean glass bottle.
Nutrition
Try Amazon Prime 30-Day Free Trial