The Best and Easy Vegan Flaxseed Milk Walnut Milk Recipe: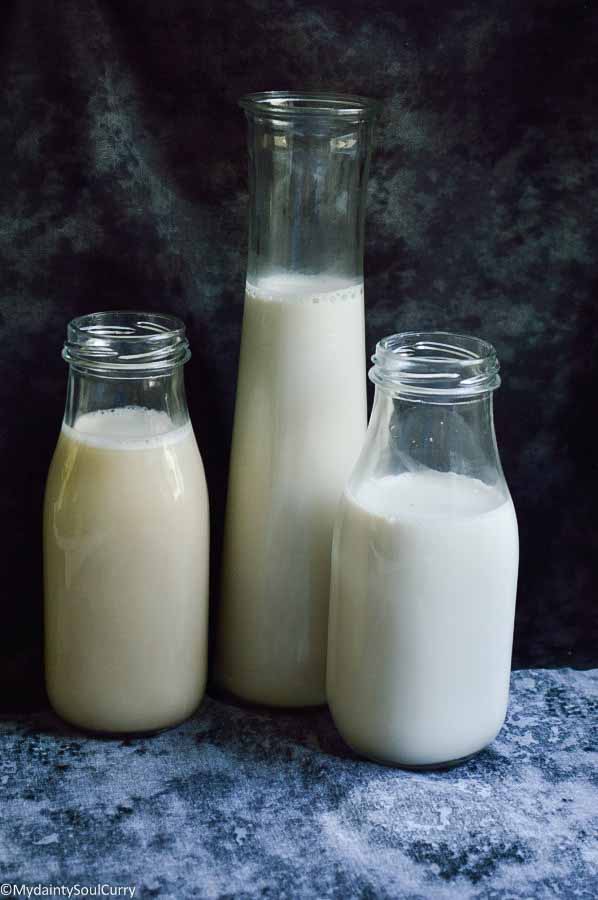 Nut and seeds milk or flaxseed milk walnut milk: rich in calcium, good fats and even omegas, and some protein.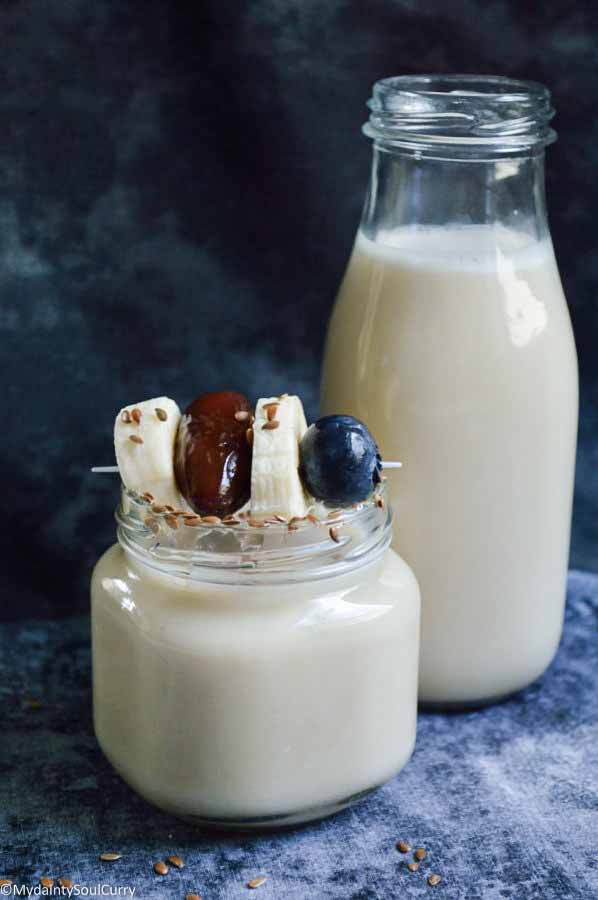 When it comes to flaxseed milk, it's another nutrient dense milk that is low in calorie. Just 25 cal per serving(if you add no sweetener or flavors) and a good source of omega 3. What else would you want? If you don't want a nut milk and avoiding dairy, then flax milk is the best alternative milk. And I have the quickest and easiest flaxseed milk recipe for you.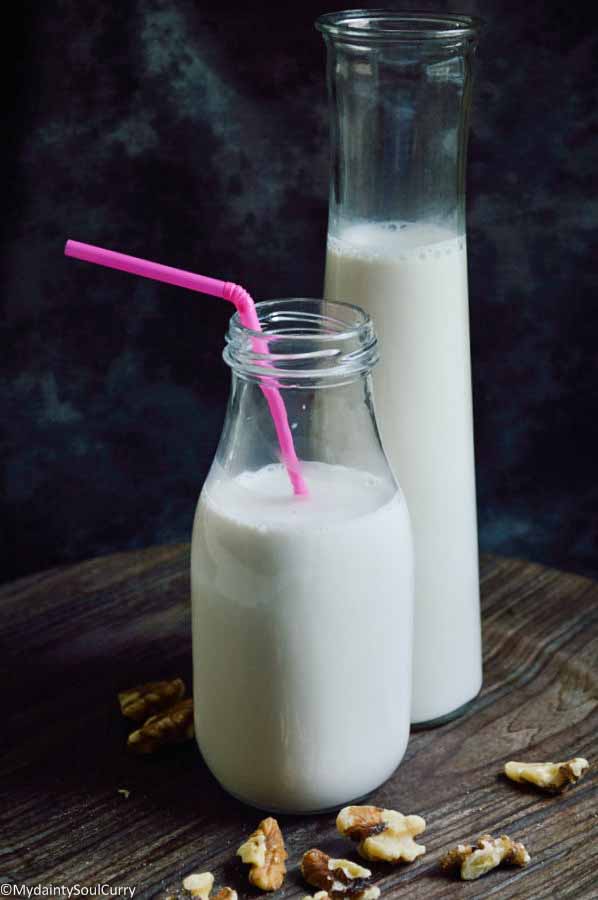 Walnut is the king of all nuts if you calculate the amount of healthy fats and omega fatty acids it provides. While almond milk is the most common nut milk found in the market, walnut and cashew milks are quite hard to find. I would say why spending time in finding the flaxseed milk or walnut milk. Make your own! Best part is making both flaxseed milk walnut milk is really easy.

Health Benefits of Flaxseed Milk Walnut Milk:
Flaxseed has a number of health benefits. Some of the most significant health benefits are:
Rich in omega 3 fatty acids, which improves heart health.
Reduces the risk of heart disease, diabetes, cancer and stroke.
Rich in fiber.
A significant source of antioxidant and lignans.
Protective effect against cancerous cell growth.
Walnuts have some tremendous health benefits too. Some of them are:
Rich source of Omega-3 fatty acid and good fats.
High level of vitamin E per serving.
A significant source of calcium and other minerals.
Low in GI.
Positive effects on cardiovascular health and blood pressure.
Beneficial for people with type-2 diabetes due to better fat composition.
Helps reducing problems associated with metabolic syndrome.
While walnut milk is rich in protein and good fats, flax milk doesn't provide any protein. This low-carb milk is thus a good low-calorie milk for calorie watchers.
And here is a list of best Keto Breakfast No eggs recipe for you. Click here.
Flaxseed Milk Walnut Milk Recipe:
Making these flaxseed milk walnut milk is really simple. All you need is some good quality nuts and seeds and some water, and a good blender. If you have a high-speed blender, then your nut and seed milks are going to be smooth and rich. Cheese or muslin cloth or nut milk bag is the only other thing you will need here. Straining is after all one important step in nut milk and seed milk recipe.
I was recently introduced to flax milk. After trying some flax kefir, I started thinking to try flax milk. However, I didn't find the plain flax milk very appetizing for my palate. On the other hand, the vanilla flavored flax milk is surprisingly good.
Walnut milk, in contrast, is really my kind of thing. Rich nutty taste and it's a good thick and creamy milk perfect for any nut milk lover. That's why I never add any flavors to walnut milk. Just plain simple walnut milk is perfect for me. If you choose to add some flavor to it, consider adding vanilla extract, medjool dates, rose extract and even cinnamon.
How to Make Walnut milk?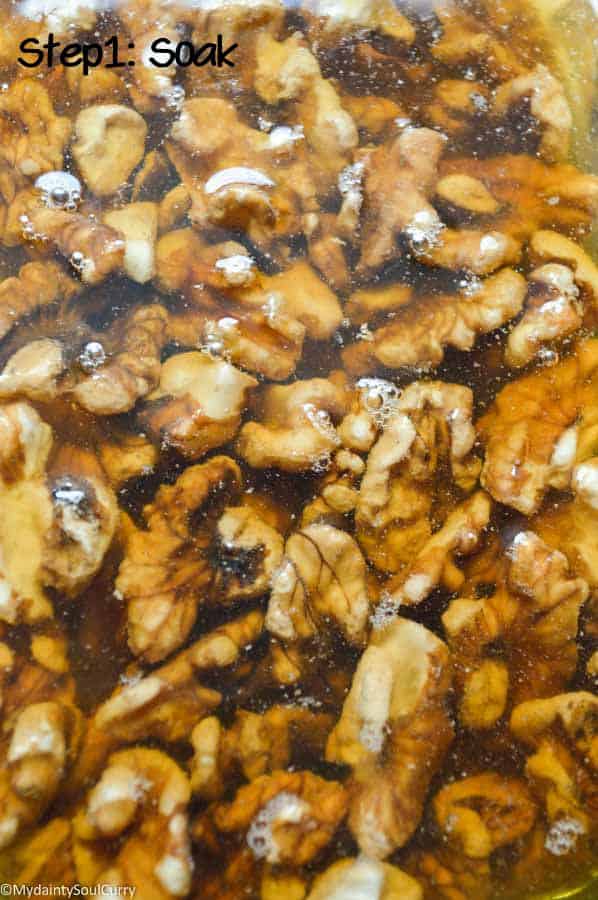 Step-1: Soak walnuts:
In a bowl take a cup of walnuts.
Soak it in two cups of water at least for two hours and up to twelve hours.
I leave these overnight in water before making milk from them.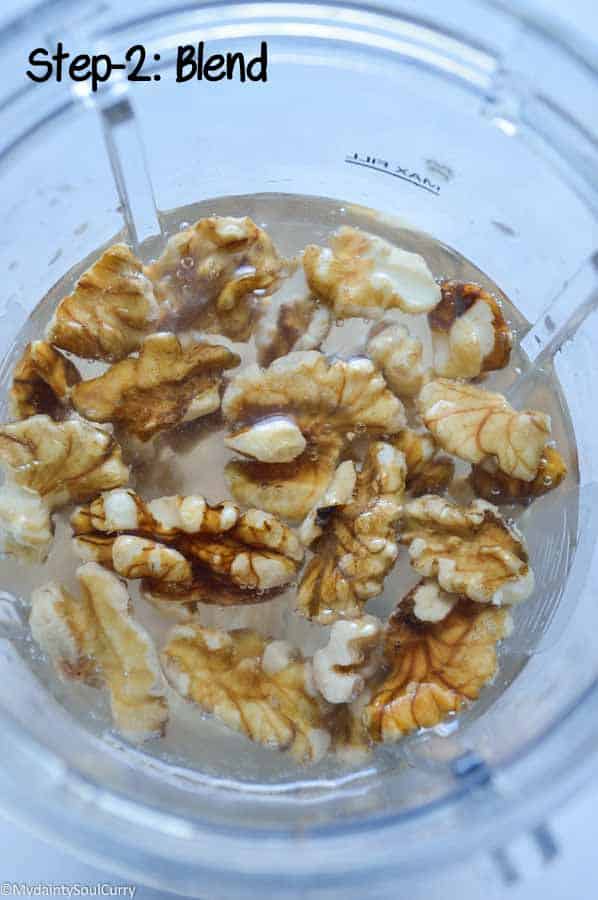 Step-2: Blend:
In a high-speed blender, take strained walnuts.
Discard the soaked water.If you see the picture, the soaked water is yellow in color. After draining them, ensure to rinse the walnuts too.
Add three cups of filtered water to one cup of soaked walnuts.
Blend to make a smooth puree and until there are no chunky nut residues.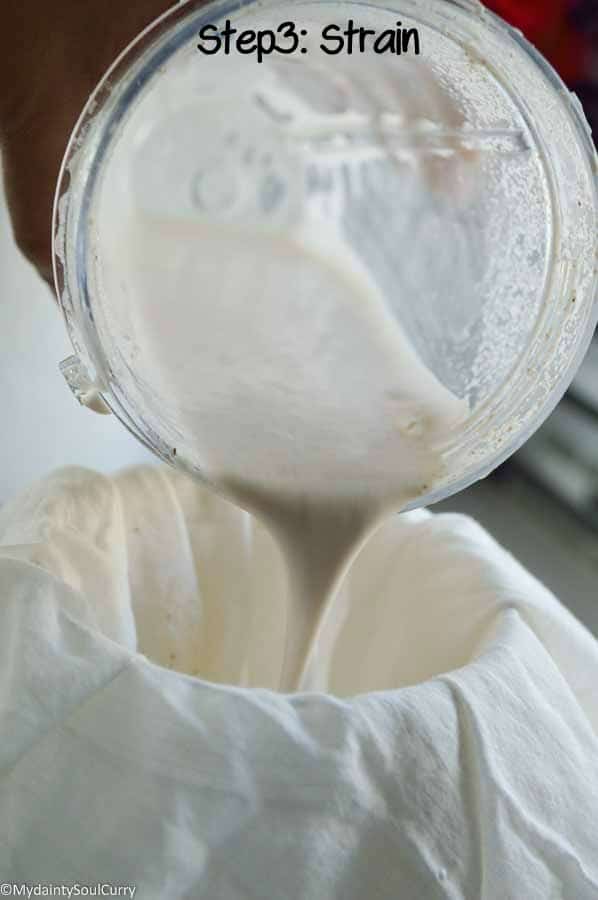 Step-3: Strain:
If using a muslin cloth, Cover the mouth of the collection jar using the cloth.
Pour the nut milk mixture and strain.
Squeeze the excess milk from the nut residue.
Step-4: Dilute and Add Flavor:
Now add more water if you want thinner milk( I add extra three cups of water) and add any flavor if you want flavored walnut milk. (Vanilla or cinnamon)
Refrigerate and serve chilled.
How to Make Flax milk?
Step-1:
Take ¼ cup of dry flaxseed in a blender.
Add two cups of water. Blend to make a fine purée.
Step-2:
Strain through the muslin cloth as instructed above and squeeze out the excess milk.
Step-3:
Add Medjool dates and extra water.
Blend to make a fine purée.
Add vanilla extract and mix well.
Step-4:
Refrigerate and serve chilled.
Flavor Combination Choices for Flaxseed and Walnut Milk:
Vanilla + cinnamon
Chocolate + brown sugar
Cardamom + saffron
Turmeric + chai spice
Maple syrup + vanilla
Pumpkin spice + coconut sugar
Rose extract + cardamom
Try some new flavor combination choices and don't forget to let me know. I would love to know what flavor combination works best for you.
Nutrition Facts:
The calorie and carb of flaxseed milk is higher here, which is because of the medjool dates.

Walnut milk is, however, free from any extra dates or flavors.

📖 Recipe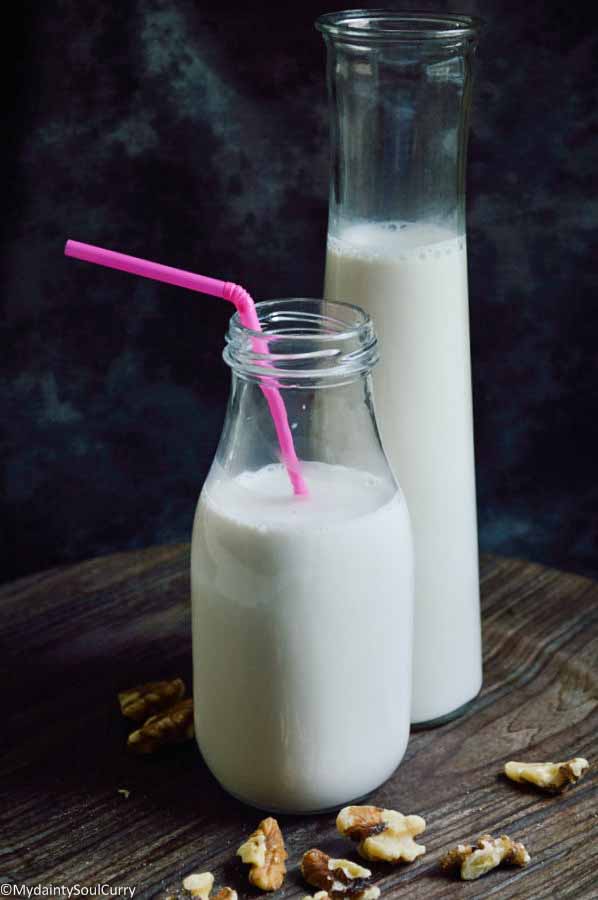 Walnut Milk
With this quick and easy recipe with step-by-step guide, now you can make your own walnut milk at home. This rich, nutritious and creamy milk is a health bomb.

Print
Pin
Rate
Ingredients
1

cup

raw walnuts

,

(4 ounce)

3

cup

water (filtered)

,

And extra 3 cups of water to dilute
Instructions
Soak walnuts in 2 cups of water overnight.


Take soaked walnuts and water in a blender.

Blend to make a fine purée.

Strain and collect milk.

Add more water and blend again.

Refrigerate and serve chilled.
Notes
Add less water if you want a thicker milk.
Add flavors of your choice when you add extra water to blend.
If you find your milk frothy, remove the froth with the help of a spoon.
Nutrition
And the flaxseed milk recipe!
📖 Recipe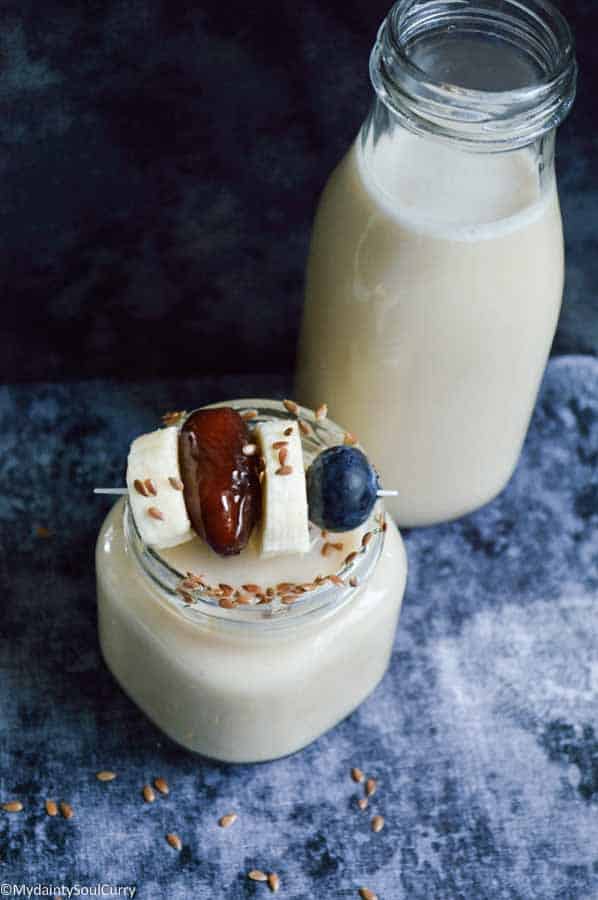 Flaxseed Milk
Flaxseed milk is the best low-calorie vegan milk alternative that you can add to your diet. Now with my step-by-step guide, you can make your own flax milk at home.

Print
Pin
Rate
Ingredients
¼

cup

flaxseed

3

cups

water

,

And extra 3 cups of water to dilute

4-5

medjool dates

,

(pitted and stone removed)

1

teaspoon

pure vanilla extract
Instructions
Blend the seeds and three cups of water to make a purée.

Add medjool dates and blend again.

Now add vanilla to the collected milk and mix well.

Refrigerate and serve chilled.
Notes
Don't soak the flaxseeds. It becomes slimy after soaking.
Don't press the nut milk bag or musolin cloth very hard while straining.
You don't want to have those tiny fibers of flaxseed in your milk.
Nutrition
And some of my other recipes with nuts! Click on this image to visit the almond butter recipe page.