Vegan Cloud Bread Using Aquafaba:
Cloud bread, which is famous for being so low-carb, can be made vegan too. Yes, I have the best savory and my favorite vegan cloud bread recipe for you. If you are a vegetarian or vegan and looking for a cloud bread recipe, then you are at the right place. Here I have the vegan cloud bread, which can be made sweet, savory or just in the basic way.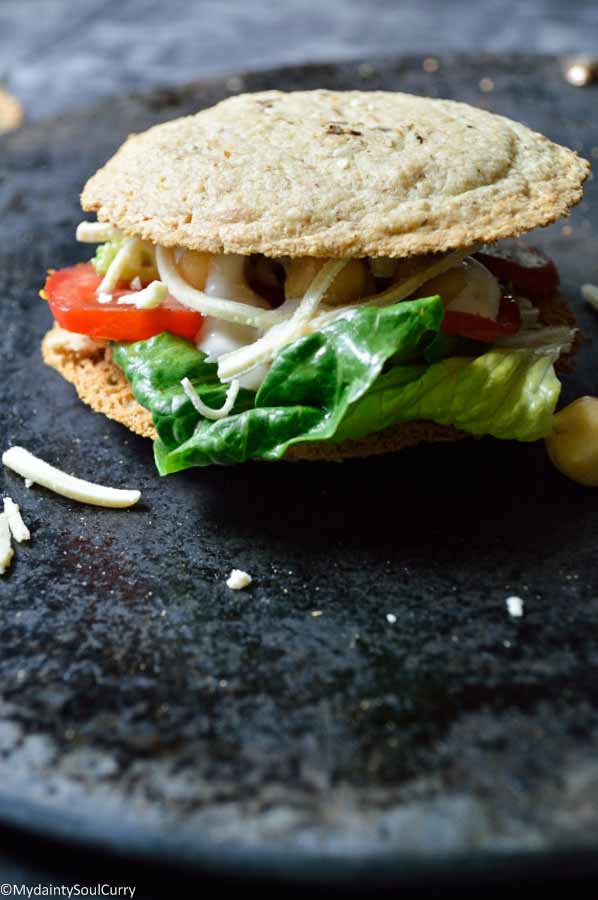 And here is a list of best Keto Breakfast No eggs recipe for you. Click here.
Want to know how many ounces, spoons and grams in a cup? Here is a detailed cups to oz calculator and downloadable chart. And, a liquid conversion chart with ounce to gallon calculator.
Vegan cloud bread: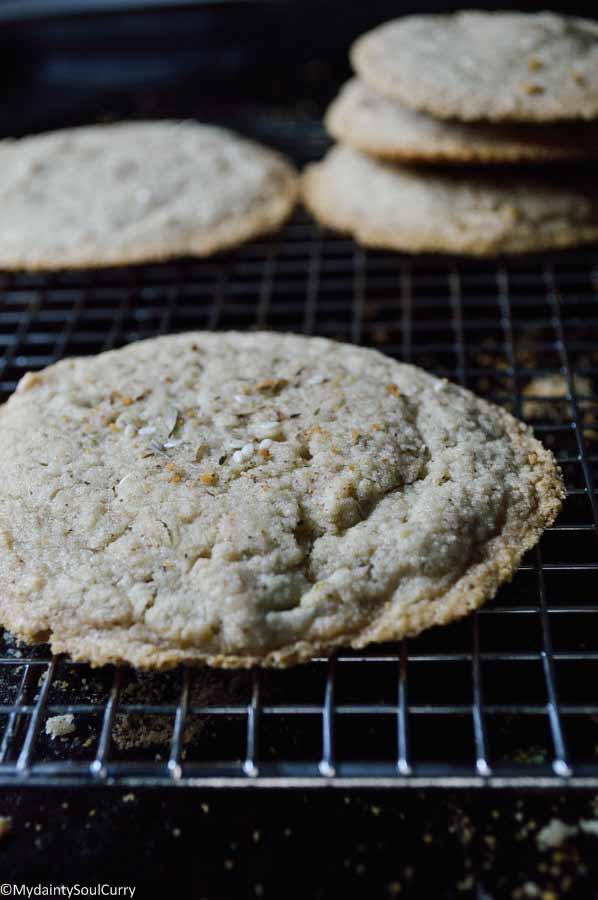 Yes, it doesn't have egg but it has the vegan egg white or aquafaba. Chickpea can water or brine marvelously transforms to something similar as fancy egg whites whipped until stiff peaks are formed. I am yet to try aquafaba for making meringues and in dessert baking, but I am a fan already.
Use your electric mixer or stand mixer to whip the chickpea can water for making your aquafaba. Beat for almost ten minutes to get the stiff peaks. The water will first be foamy, then white and eventually it will start to turn soft, airy and stiffer. Once you start to see the peaks, stop it right there.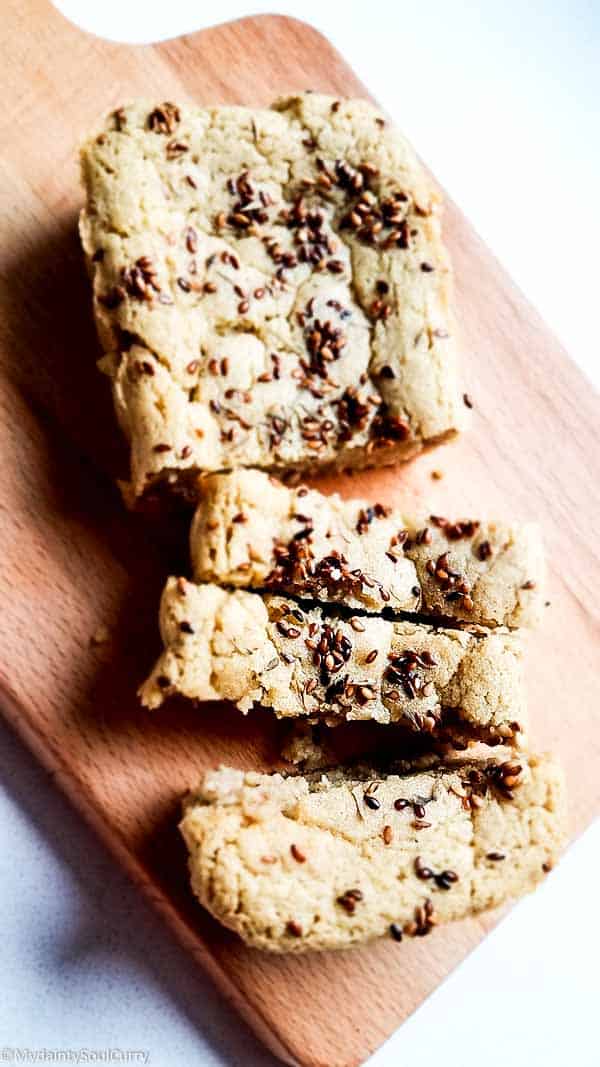 The vegan cloud breads are not pillowy soft or dense. These have however a softer inside texture with a slightly crumbly outer texture. If the cloud breads are under-cooked, you will find a denser texture. So, use a toothpick to check if these are cooked in the center. The breads have an airy body because of the magic liquid of aquafaba. However, cooking these breads for longer will make them hard and crispy(I still love them as chips or crisps). So stop as soon as you see them browning around the edges.
The recipe doesn't use any bread or all-purpose flour. Instead, I used almond flour, just a cup of flour with two cups of beaten aquafaba and ⅓ cup of almond milk seasoned with jalapeños, spices and dry herbs. Hence, gluten-free+vegan!
What I liked about the vegan cloud bread is that they taste great in both savory and sweet version and can be beautifully used as an alternative to burger buns. It's really heavy, I don't know why. What I loved about the vegan cloud bread is these are super easy to make. And what I loved the most about vegan cloud bread is they are low-carb.
Few Facts About Vegan Cloud Bread:
Its vegan.
It's low in calorie.
It tastes great.
It's airy, but not soft.
It has a slight crumbly outer texture.
It slices.
Tastes great as a toast or as burger buns.
Now the Recipe of Vegan Cloud Bread:
Before we start with the vegan cloud bread recipe, let's discuss about aquafaba a bit. After all, it's one of the most important elements in this dish.
That's why you should get it right.
How to Whip Aquafaba?
Drain the liquid from a chickpea can and pour the liquid in a mixing bowl.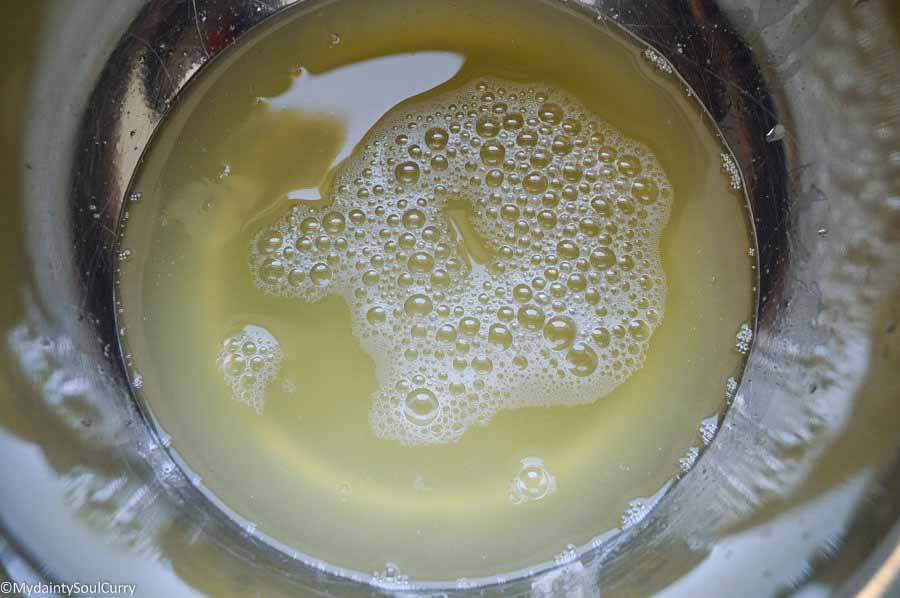 Whip at medium speed with your hand or stand mixture.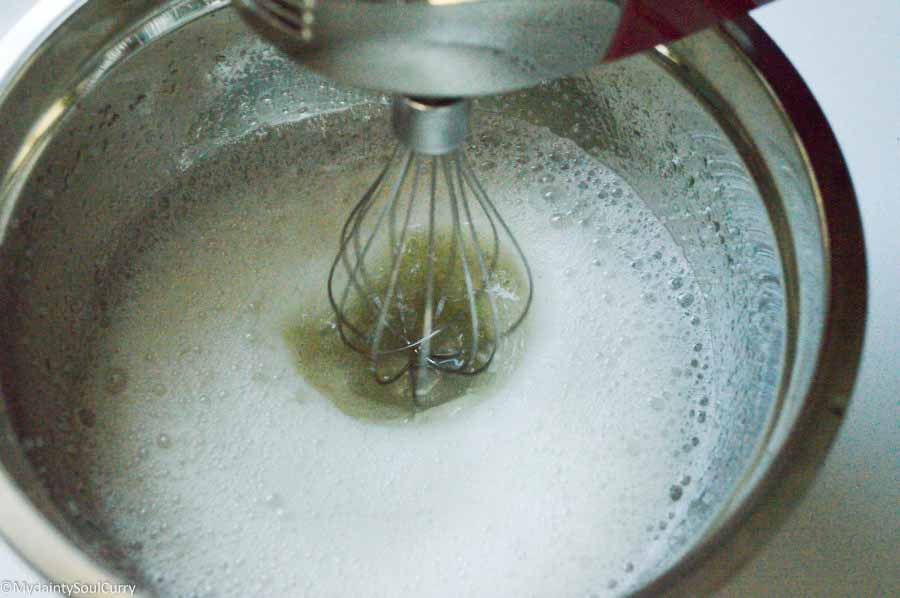 First the liquid will turn foamy, then it will become cloudy.
Whip until soft peaks are formed.(this works too for this recipe)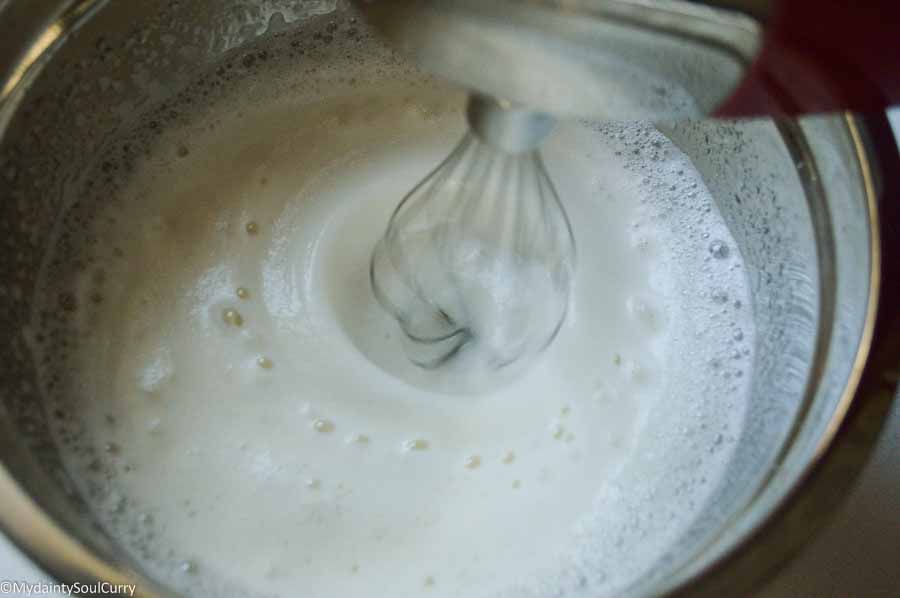 Beat for a few more minutes until the peaks are stiff.(this works even better for this bread)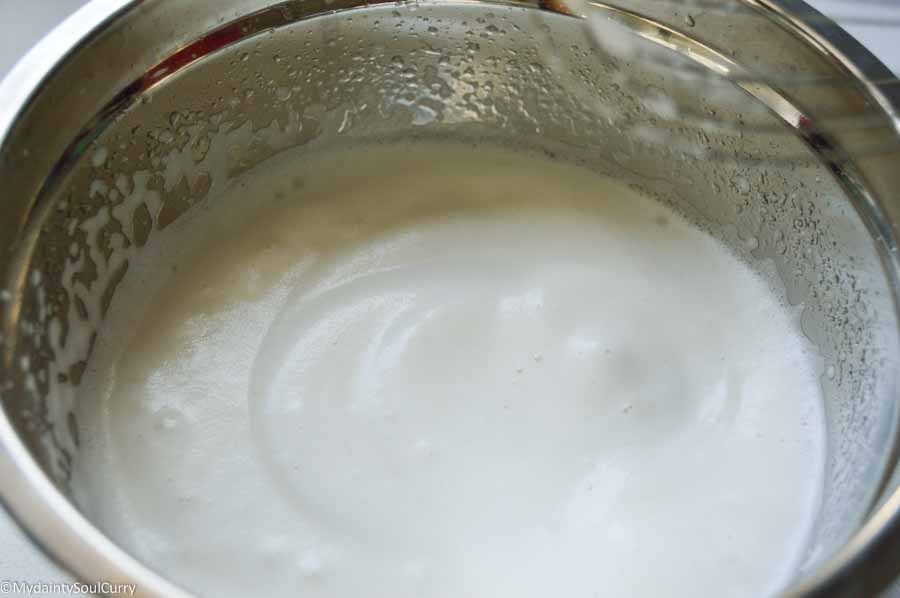 The process takes about 10-15 minutes.
You can store this whipped aquafaba in refrigerator or even freeze it.
Vegan Cloud Bread:
Step-1:
Keep the dry ingredients ready.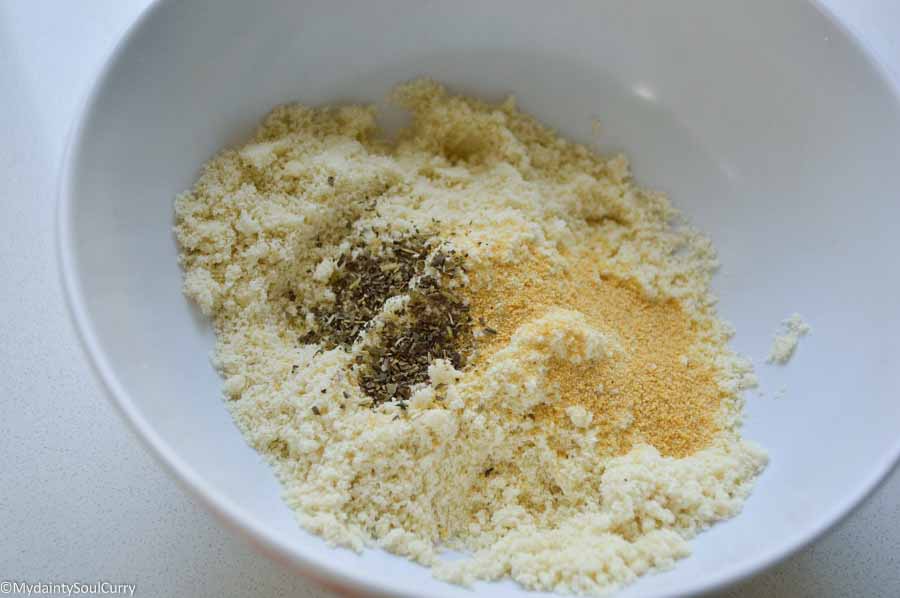 In a mixing bowl, take a cup of almond flour.
Add garlic powder, nutritional yeast(I add most of the times and skip sometimes), dried thyme and a pinch of salt.
Add a pinch of baking soda and ¼ teaspoon baking powder.
Mix well to combine.
Step-2:
Take ⅓ cup of almond milk in a small blender jar.
Add 4 pickled jalapeno slices, 1 tablespoon almond butter and more garlic powder and blend well.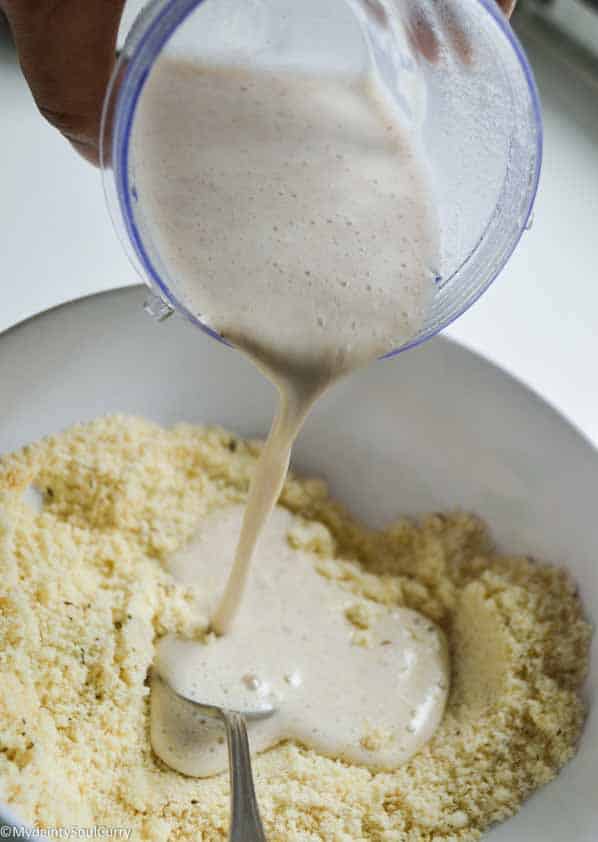 Pour the liquid over the dry ingredients.
Mix well to combine.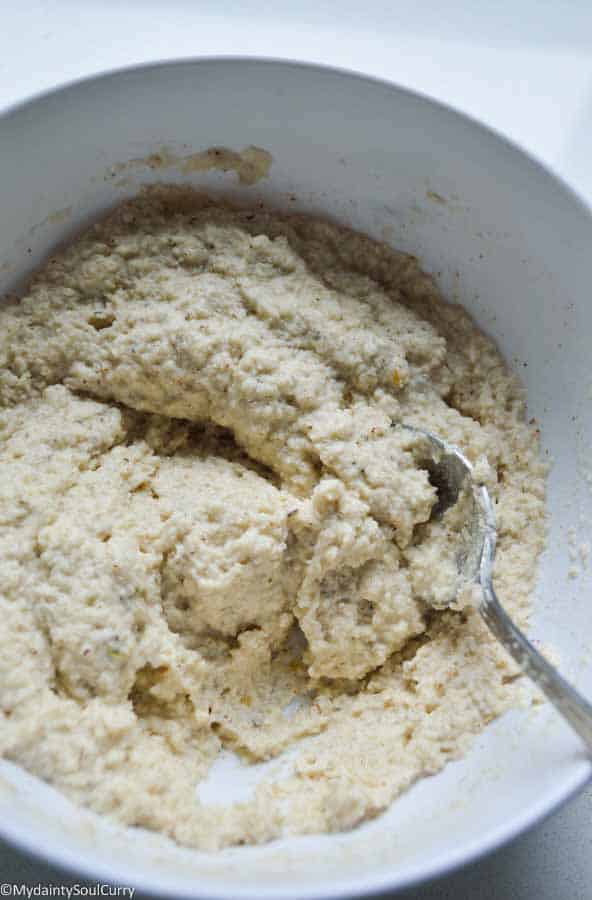 Step-3:
Now fold in two cups of whipped aquafaba.
Take time to fold the foamy aquafaba really well.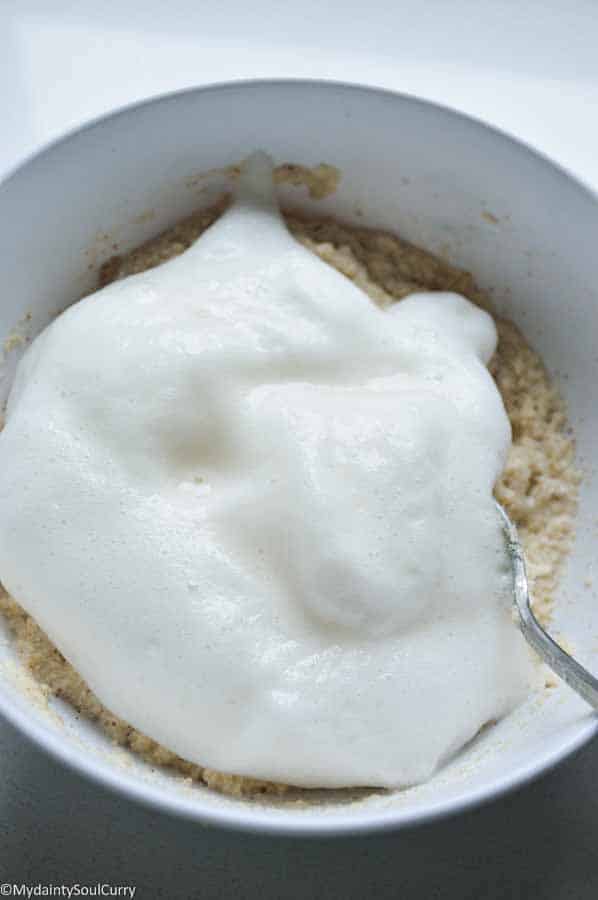 You should never mix here vigorously.
The idea is to incorporate air into our cloud bread mixture to form a smooth and airy batter.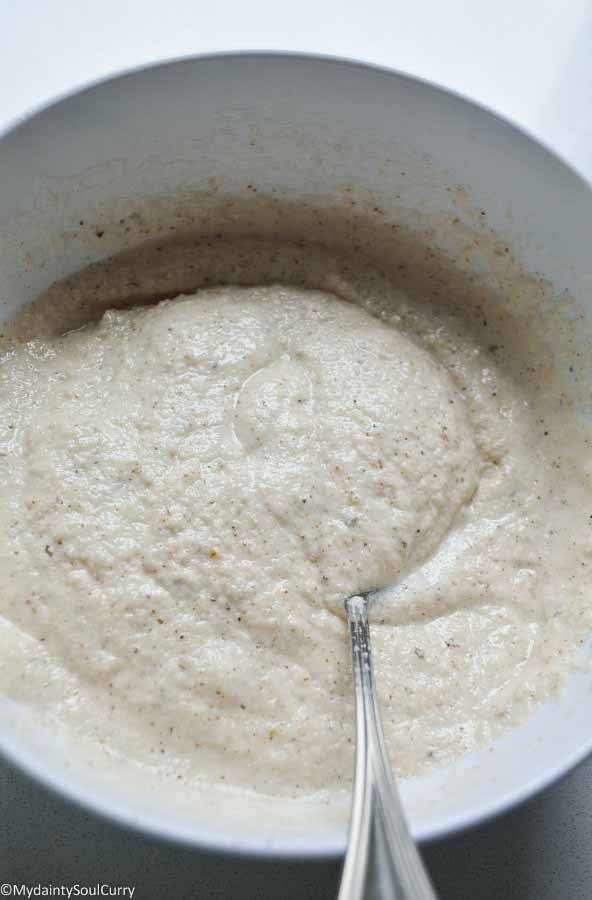 NOTE: Use a cup of whipped aquafaba first and then fold in another cup. The consistency of the batter should feel airy and foamy, not liquidy. Add a few extra spoons of almond flour if required.
Stpe-4:
By using a spoon or scoop, add a spoon-full of mixture onto a greased baking sheet.(okay, I know that over-greased my baking sheet.)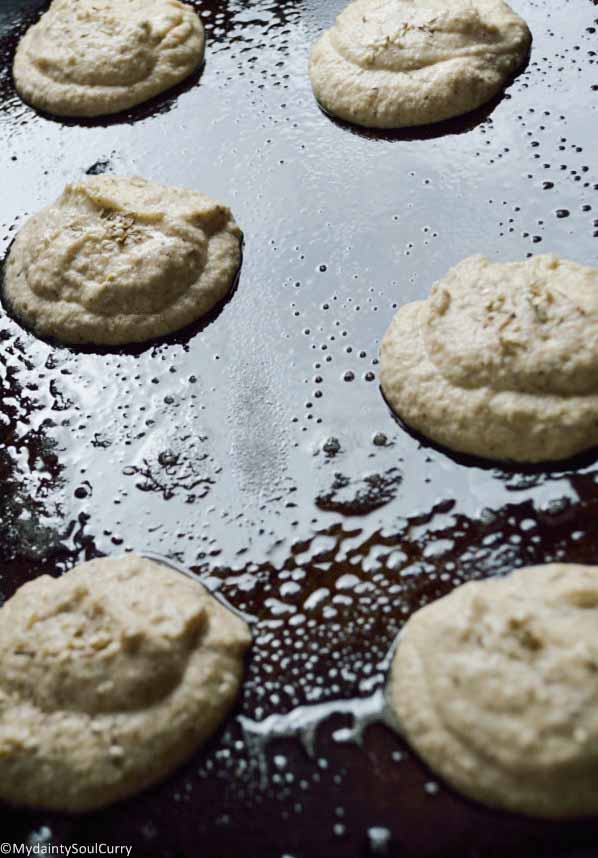 Bake in a preheated oven (at350F) until the edges turn brown.(exactly 10 minutes in my oven)
Now turn off the oven and let it stand in the oven for five more minutes.
Take the cloud breads out and allow them to cool down on a cooling rack.(cooked breads will show cracks on them)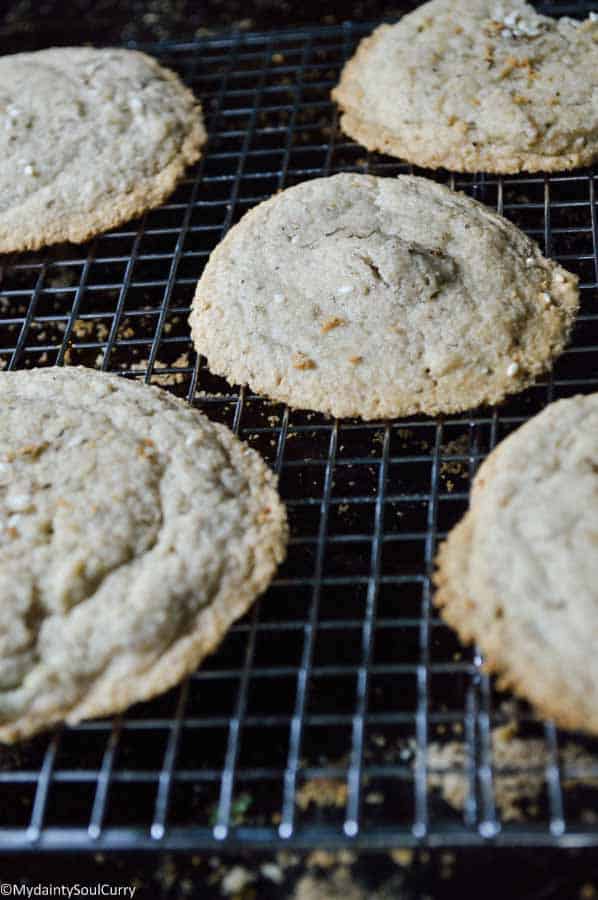 Serve immediately or store in a sealed bag in refrigerator.
Don't forget to reheat in the microwave before serving.
Making a Loaf:
If making a vegan cloud bread loaf, add 2 teaspoon of extra almond flour or chickpea flour.(I cooked with the same batter used for vegan cloud breads, and didn't quite liked the texture. Adding some extra almond flour helped to achieve the texture I wanted)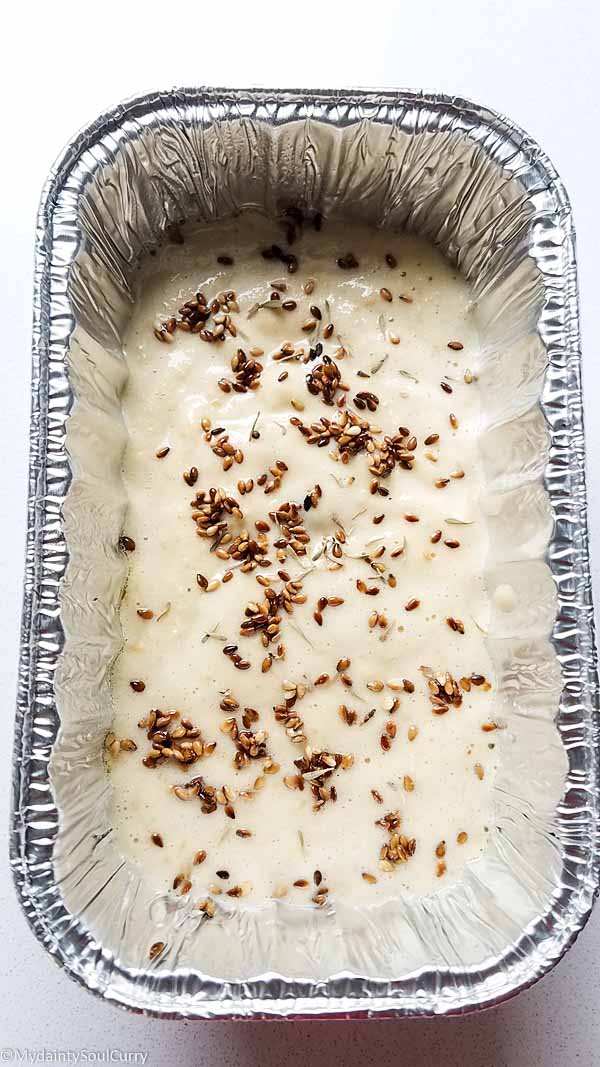 Cook for twenty minutes. (Loaf took more minutes to cook thoroughly)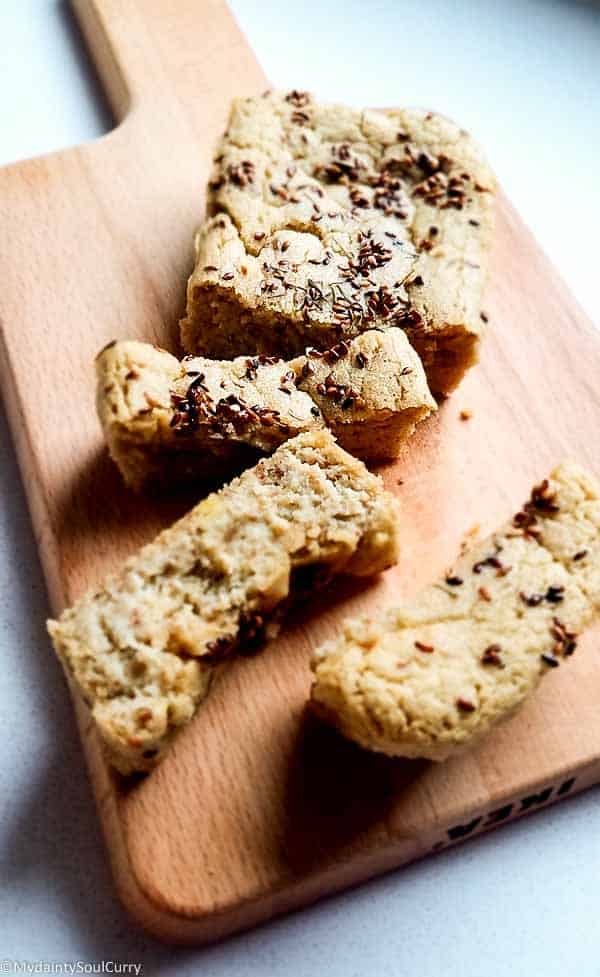 Allow it to cool down completely.
Then slice and serve.
NOTE: I sliced the warm loaf and it sank in the middle.
Thus, wait till the loaf cools down completely.
Insert a toothpick to see if it is cooked in the center.
The baking time may totally go up or down depending on the type of oven you have. So, keep checking your bread while in the oven.
Nutrition Facts:
The recipe yield 14 cloud breads and one medium size loaf. (serve two cloud breads per person) The nutrition fact mentioned here is per two cloud breads.
Almond flour is a high-calorie flour. I will try to substitute almond flour in this recipe and make this bread again with some low-calorie and low-carb flour. And if I do, I will update the post.
Aquafaba is very low in calorie and is not a significant source of carbs or proteins. It's 3 calories per one tablespoon when un-whipped.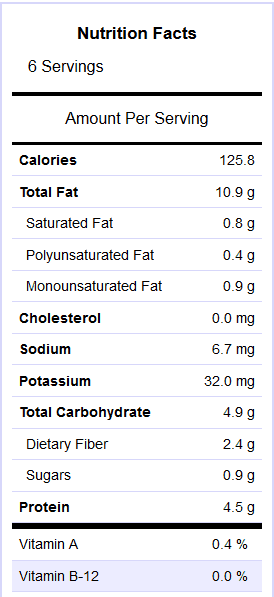 📖 Recipe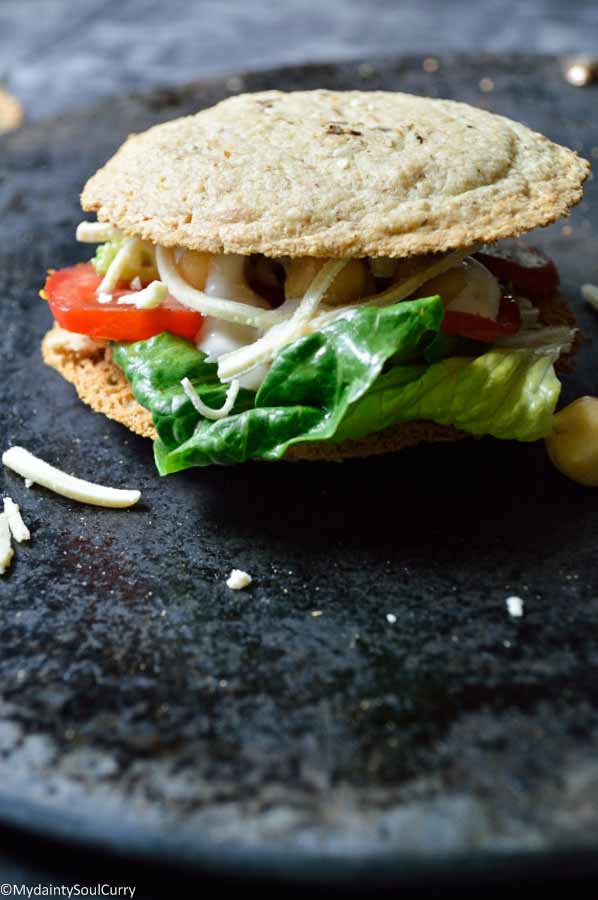 Vegan Cloud Bread
Enjoy this vegan cloud bread, which is just 53 calorie per bread with 2.1g total carb. And making these is super easy.

Print
Pin
Rate
Ingredients
Dry Ingredients
1

cup

blanched almond flour

1

teaspoon

nutritional yeast

,

(Optional)

1

teaspoon

garlic powder

¼

teaspoon

dried thyme

¼

teaspoon

baking powder

A pinch of baking soda

Salt to taste
Wet Ingredients
⅓

cup

almond milk

4

small slices of pickled jalapeno

,

(optional)

1

tablespoon

almond butter

½

teaspoon

Toasted or raw sesame seeds

2

cups

whipped aquafaba
Instructions
Vegan cloud bread
Preheat the oven to 350F.

Mix the dry ingredients well.

Blend the wet ingredients except aquafaba to make a smooth puree.

Add the liquid mixture to the dry ingredients and mix well.

Now fold in the whipped aquafaba slowly.

Scoop out the mixture onto a greased baking sheet.

Sprinkle some toasted or raw sesame seeds on each scooped bread.

Bake until the edges are brown.(10 minutes in my oven)


Turn off the oven. Let it stand it the oven for five more minutes.

Take the cloud breads out and allow them to cool on a rack.

Serve as a burger or as it is.Tastes best when fresh or slightly warm.

The recipe yield 14 cloud breads. (serve two per person)
To make the burger:
Add vegan ranch dressing to each cloud bread.

Top with sliced avocado, tomatoes, lettuce and chickpeas.

Add some vegan mozzarella cheese and serve.
Notes
If you don't want a savory bread, use some sweetener instead.
A teaspoon of coconut sugar works well.
If doing a sweet bread, skip the jalapeno, salt and nutritional yeast.
If the batter feels dry after adding the liquid, add 2 tablespoon of extra almond milk and mix thoroughly.
Almond meal doesn't work well for this recipe. Use blanched almond flour only.
NOTE: Use a cup of whipped aquafaba first and then fold in another cup. The consistency of the batter should feel airy and foamy, not liquidy. Add a few extra spoons of almond flour if required.
Nutrition
I used homemade almond butter for this recipe. You can use store brought too. If you want to make some almond butter at home, here is my recipe. Click on the image.
Try Amazon Prime 30-Day Free Trial