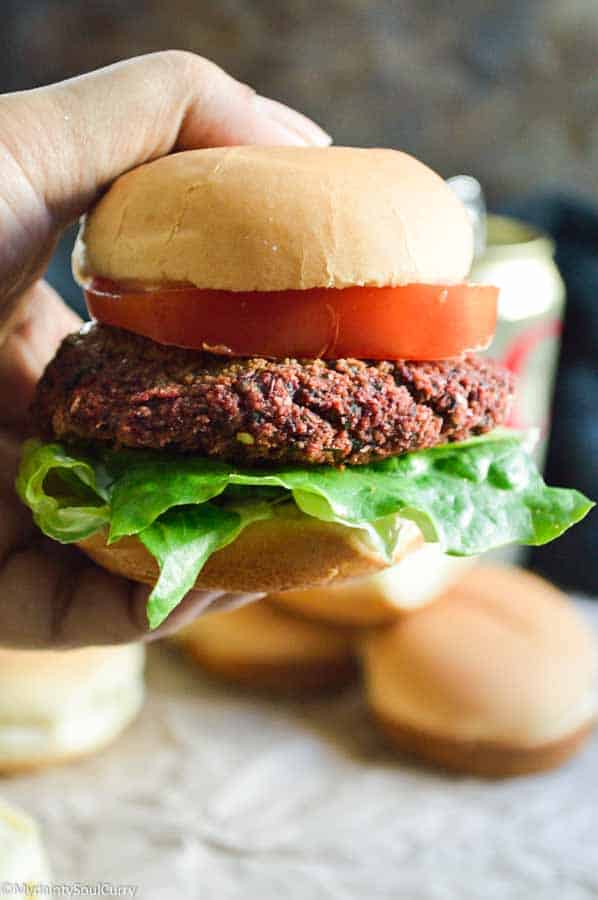 Thai lentil burger is another much loved baked lentil and veggie burger in my family. While I make the other lentil veggie burger with pickled veggie often, this was an experimental lentil burger that ended up being very palatable for each one of us.
Thai Lentil Burger: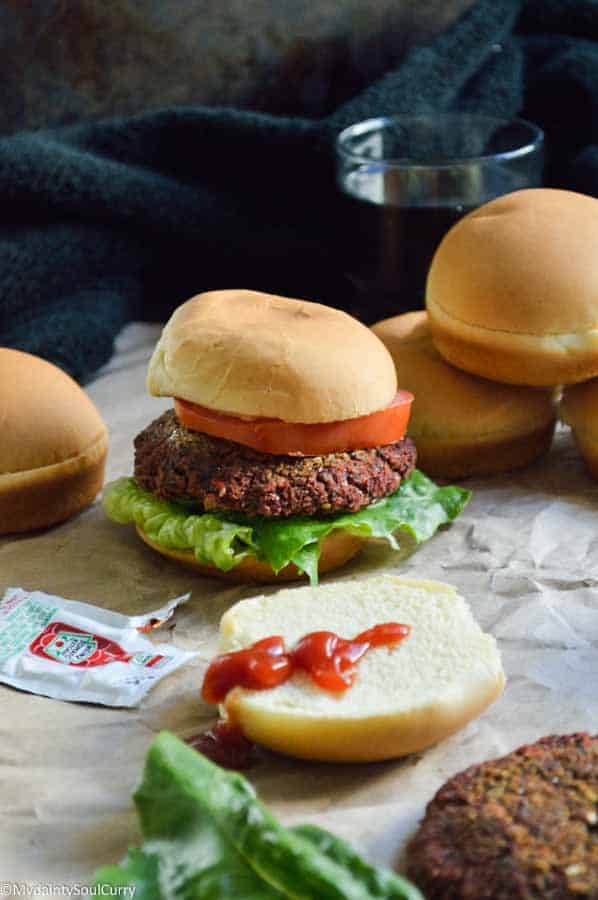 Yes, it will be your next favorite homemade veggie burger too. My Thai lentil burger is spicy(not explosively spicy), mildly curry flavored and full of those subtle Thai herb flavors and cooked to perfection. These burgers patties are best enjoyed with soft dinner rolls, on salads, in pita or with flat breads and even on lettuce leaves as a healthier burger.
Choose what best suits your palate and your diet. These soft, mildly spiced patties are juicy too. Thanks to the beet that not only adds the robust red hue but also gives this lentil burger a juiciness too. Even after baking it, these Thai spiced burgers are not dry and chewy.

So, what makes them Thai? Spices, herbs and the curry paste! Thai bird eye chili, fresh Thai basil, galangal, lemon grass and just a tablespoon of red curry paste.

I had red curry paste handy, so I used it. It's totally optional. You can add yellow, green or Massaman too. I would suggest not adding a lot of curry paste, because it may be overpowering for some. The whole idea is to give the raw lentil and veggies mixture a hint of some Thai flavors.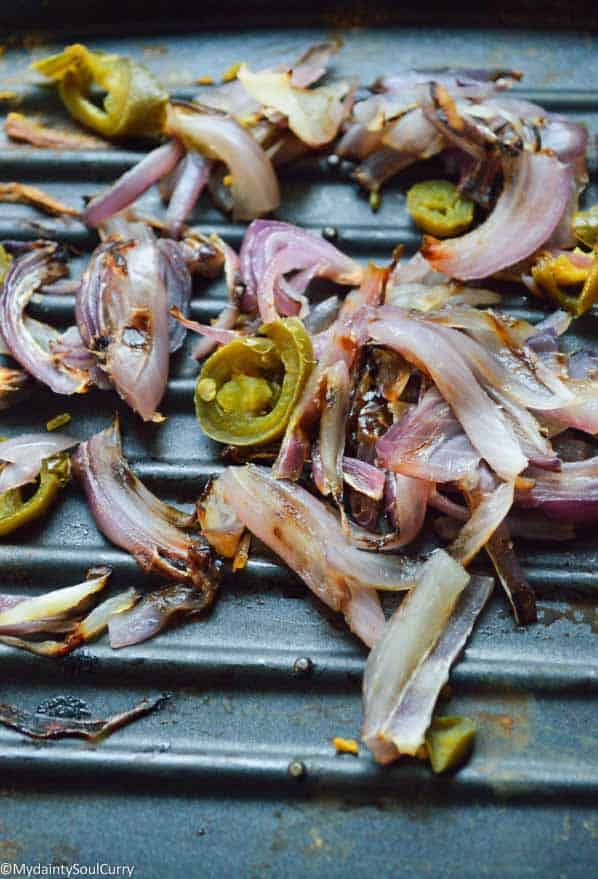 Other than the patty, I added some caramelized onions and jalapeños too. Why? Just to add another dimension of flavor to the burger. Is it optional too? Yes, skip it totally. Still the Thai lentil burger is going to be explosive on your palate.
Variations:
Add some mangoes of raw papaya salad on these cute and beautiful patties.
Chili lime grilled pineapple works best too on this spicy Thai lentil burger patties.
Tangy bean sprout salads with kimchi work very well with these burger patties by adding some crunch and tang.
Or use even my version of pickled red cabbage. You will love it! Recipe here.
I have tried each of these and loved each version. If you come up with any other topping idea, share with me. I would love to hear what works best for you.
Thai Lentil Burger Recipe Step-by-step Guide:
Step-1: Process lentils and veggies: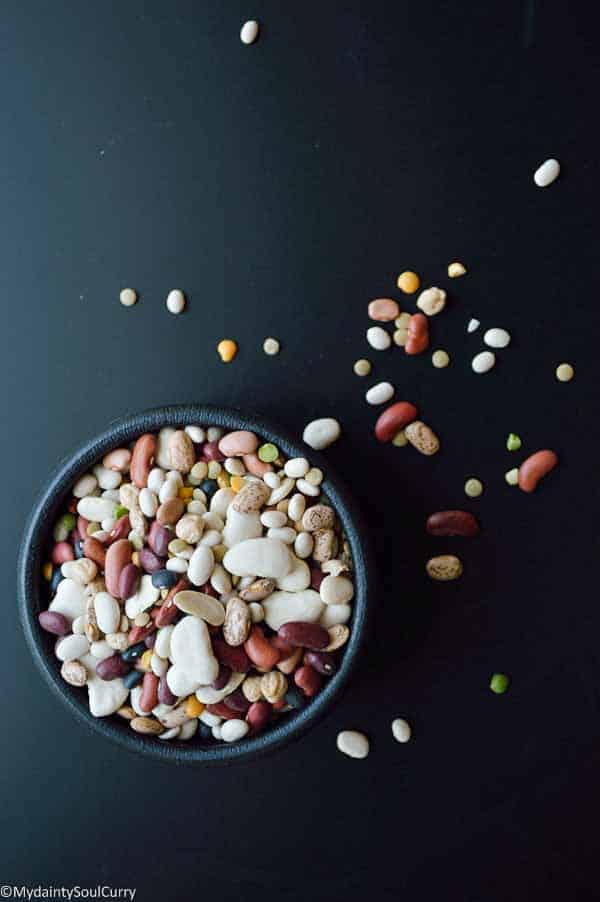 Lentils should be pre-soaked.
Overnight soaking works wonderfully!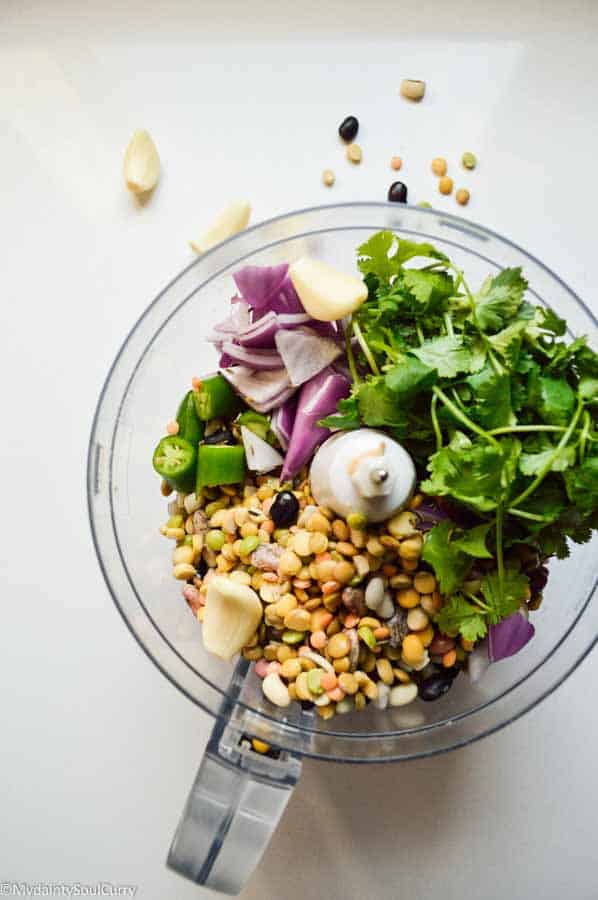 If you forget to soak it a night before, soak it it hot water for at least two hours and it still works fine.
Take the soaked lentils in a processor.
Add cilantro, red onions, serrano pepper and process until the ingredients are well combined.
Don't make the mixture fine. The lentil+veggie mixture should look grainy.
Step-3: Add Beet and Thai Herbs:
Now add the beet slices, herbs and minced herbs(galangal+lemongrass+kefir lime if using).
I prefer to mince the herbs separately so that they release their flavor while getting processed again with lentils.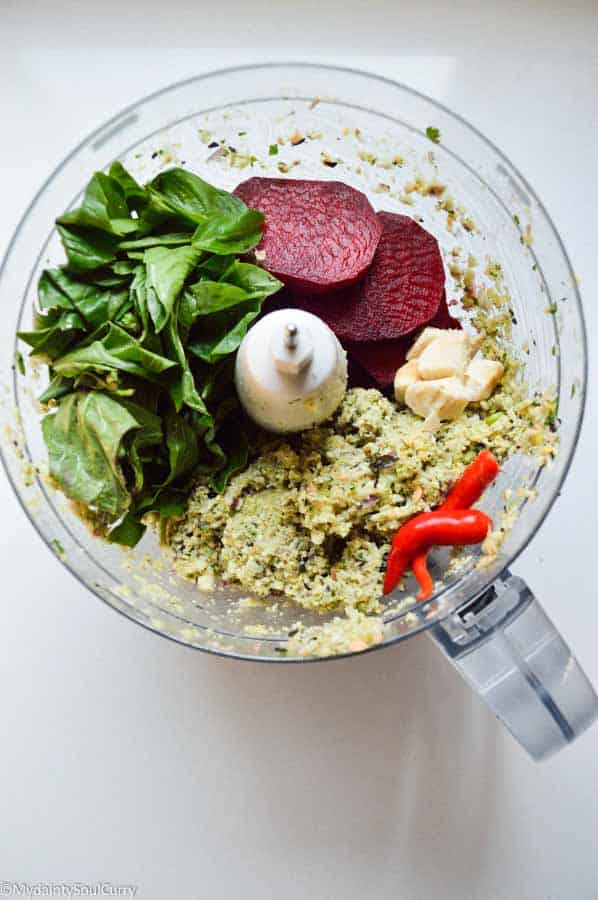 After processing it for a few minutes, the mixture will look like this.(grainy and well-combined)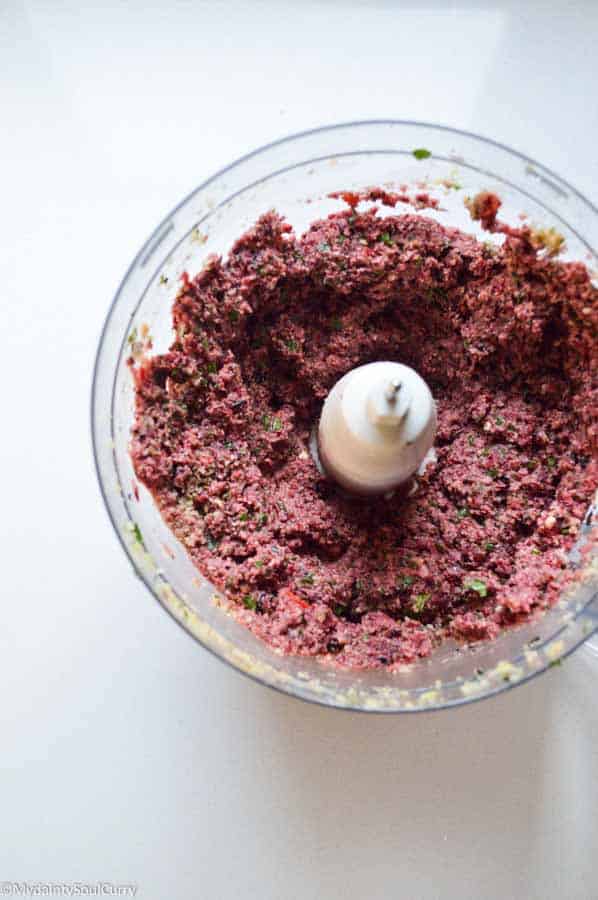 Step-4: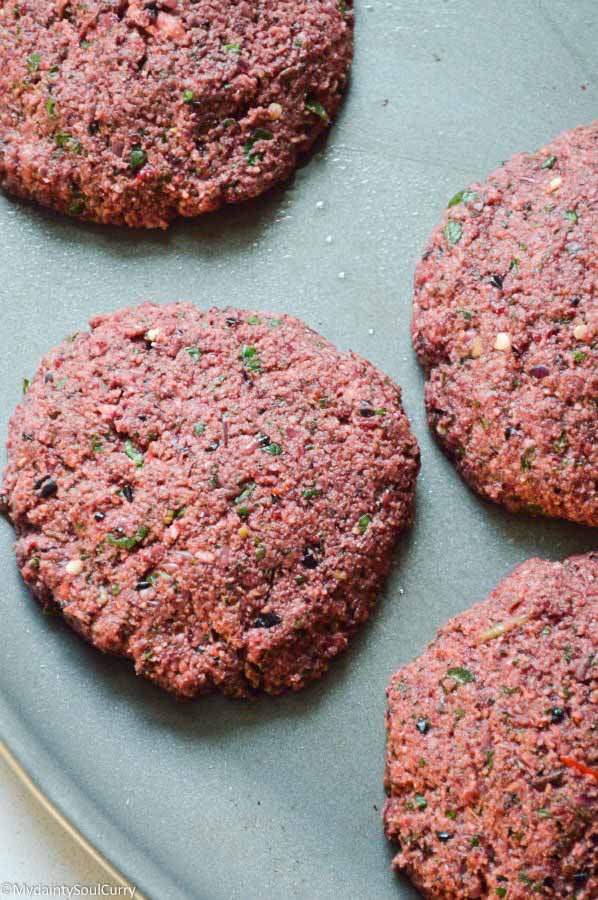 Make jumbo patties by taking a spoonful of mixture between your greased Palm and place them on a greased baking sheet.
Step-5: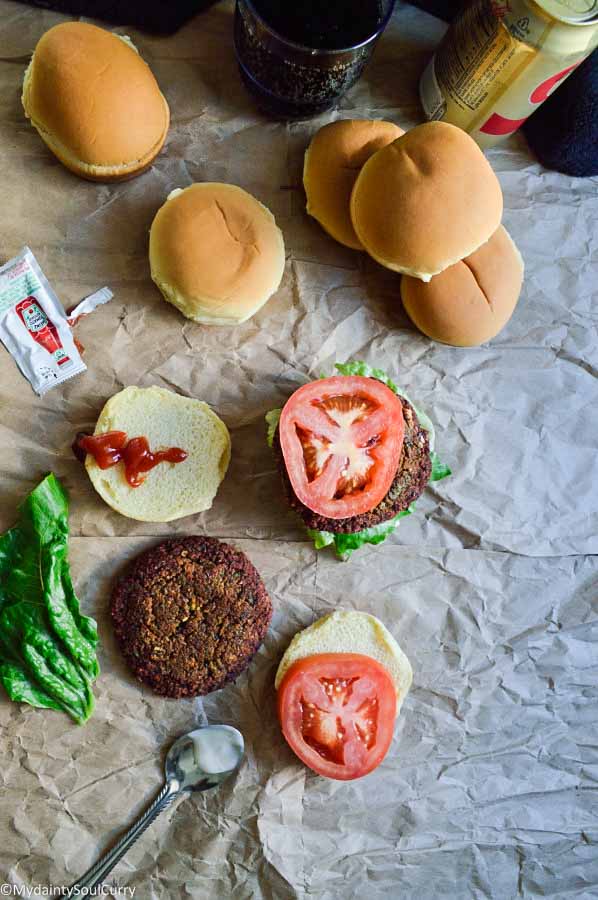 Cook until the patties are cooked from inside and starts to look crispy on the out.(10 minutes to 15 minutes in oven)
Nutrition Facts:
The calorie per patty is 94.7 cal with 17.7g carb and 5.1g protein.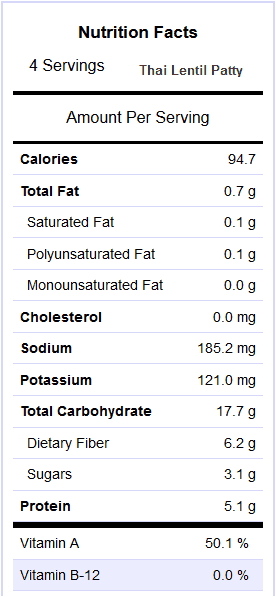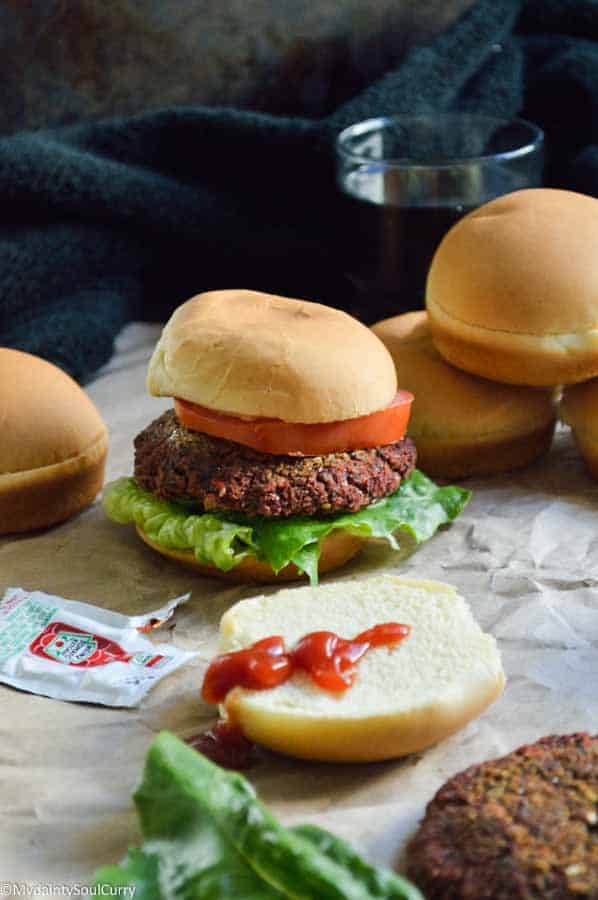 📖 Recipe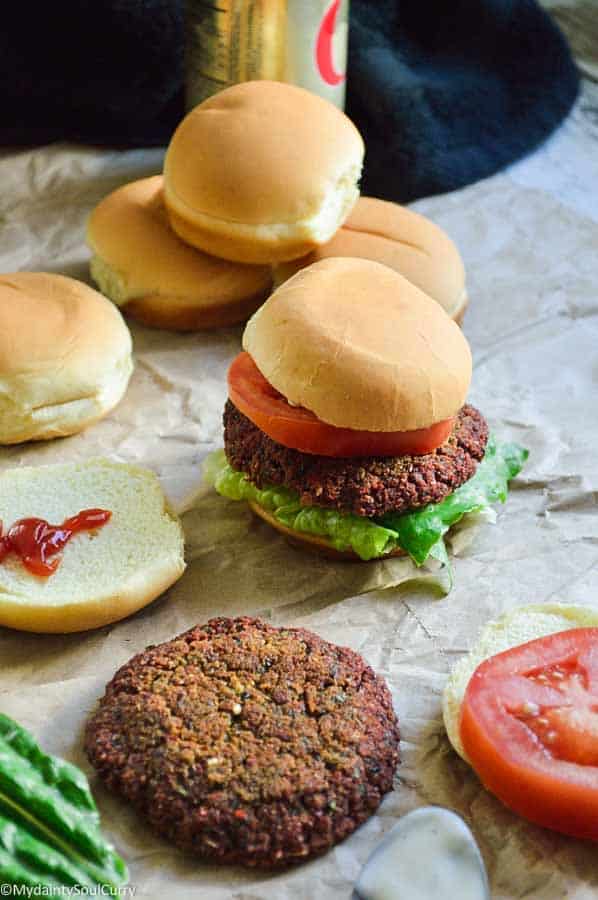 Thai Lentil Burger
Spicy, hearty and full of flavors: these lentil veggie burgers are made Thai style, and it is my favorite Thai lentil burger which is enticing for foodies of all ages.

Print
Pin
Rate
Ingredients
Thai Lentil Patty
½

cup

pre-soaked mixed lentil

3

cloves garlic

½

cup

cup cilantro

¼

cup

cup red onions

1

medium size beet

,

(peeled and sliced)

1

serrano pepper

2

Thai chili pepper

1

inch

ginger

½

cup

Thai basil

1

tsp-tbsp

red curry paste

,

(adjust the amount as per your taste)

1

tablespoon

minced galangal and lemongrass(green parts)

salt to taste
Instructions
Thai lentil Burger patty
Process the lentils, veggies, herbs and spices in a food processor until grainy and well combined.

Preheat oven to 350 F.

Grease your palm and make patties out of the lentil veggie mixture.

Once all the patties are ready, place them on a baking sheet.

Spray or brush with oil.

Bake for 10-15 minutes until the patties are uniformly cooked.(flip them after 5 minutes of cooking for both the sides to cook uniformly)

Allow these to cool on a cooling rack.

Assemble the burger with lettuce leaves, sliced tomatoes, vegan ranch and low-carb burger buns.


Serve mustard and ketchup.
Notes
Lentil patties may dry out if you cook them for a long.
You can store half cooked patties or cooked patties in refrigerator and even freeze them for a month.
These patties can be grilled too. If you choose to grill, consider adding ½ cup of breadcrumbs to make these more firm.
Add some sriracha, soy sauce and kefir lime leaves for a robust Thai flavor.
Nutrition
Some More Lentil based Recipes from the blog:
Click on the images to visit the recipe pages!
And, here is a Thai coconut zoodle soup that you will love.
Try Amazon Prime 30-Day Free Trial