Salty N Spicy Peanut Butter it is.
This salty n spicy peanut butter is really addictive.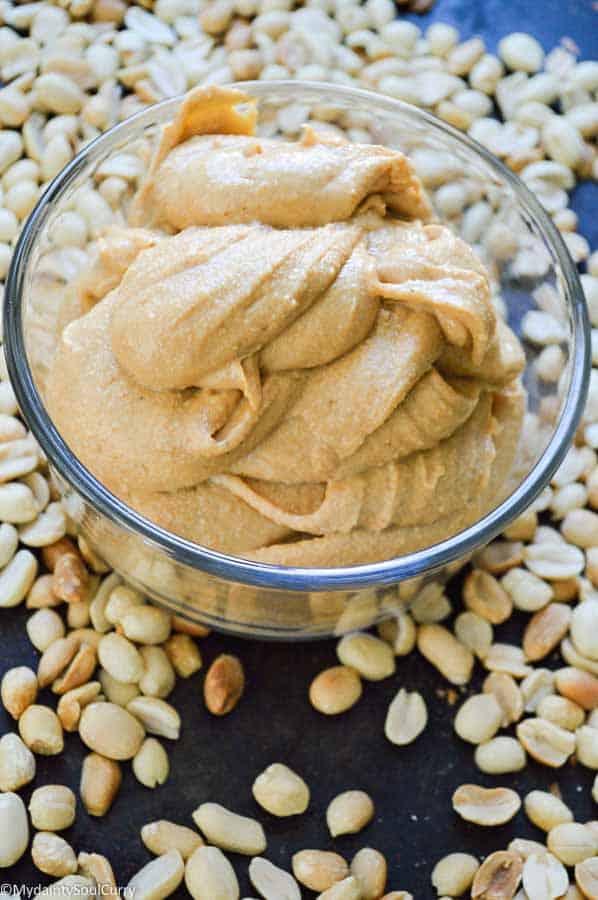 Even though the name Peanut has a nut, it's actually not a nut. It is a type of legume in real. However, I love peanut in all forms. And I love peanut butter. Truly, it's not just for those old-school peanut butter and jelly sandwiches. It's so so versatile that you will love to add it in many recipes. So go and make some of these homemade peanut butter and salty N spicy peanut butter. Making some peanut butter is easier than you think.

A few days ago, I made some almond butter and totally loved it. Now I have a peanut butter recipe, which is perfectly seasoned with pink salt and spiced with smoked paprika and cumin. Not a spice fan? Don't worry, the recipe yields simple plain peanut butter and is spiced only in the end. Now go and make some peanut butter by following my recipe.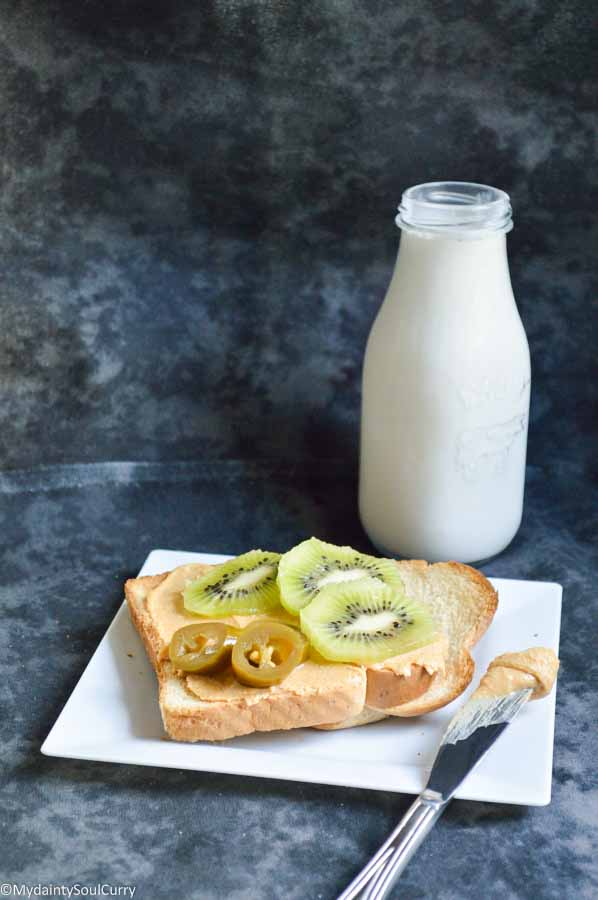 Salty N spicy peanut butter is salted and spiced. Of course, it has some salt and spice in it. I always keep half peanut butter as it is, and use the rest half to add some flavors. Most of the time, I love the sweetened one. This was the first time I tried something salty, savory and spicy. Totally, worth to try. It is great as a spread and perfect for sauces and even dressings.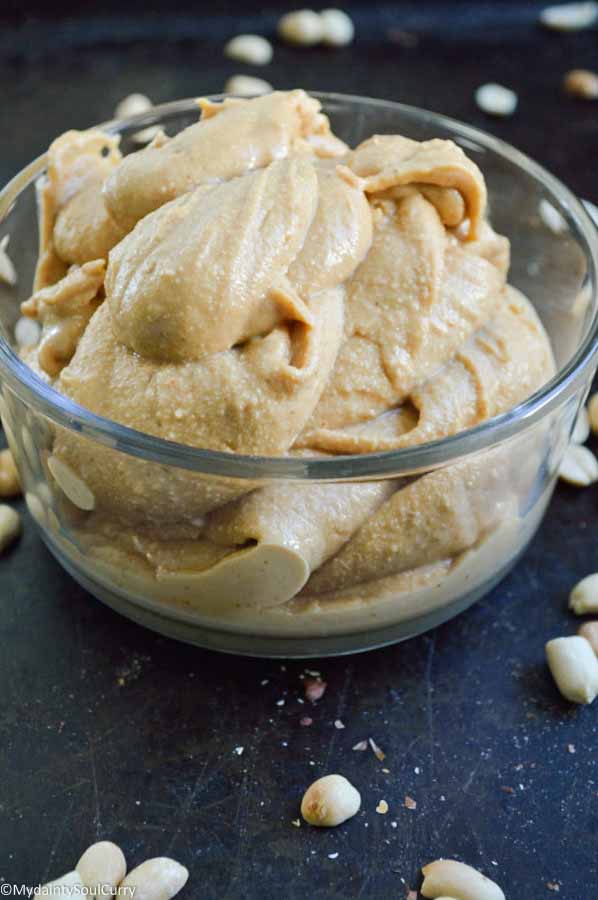 If you love baking, then use these salty N spicy peanut butter in baking too. You will be surprised how good they are.
Why should you eat Peanut Butter?
It has some tremendous health benefits. Peanut butter is a great hunger suppressant, which means you can include it in your diet if you are controlling your bad calorie intake. Simple eat this salty N spicy peanut butter with your favorite vegetables(yes, they taste great with celery, carrot and baby carrots) and avoid binge eating because it will keep you satiated for long.
Peanut butter is heart healthy. How great is that?
It does have some anti-cancer properties too.
And it provides some good amount of healthy fat. Those in a keto diet will totally love it.
Plus, this is packed with some good nutrition too.
Now the Recipe of Salty N Spicy Peanut Butter:
Select some good peanuts:
While buying peanuts for peanut butter, you should choose those shelled peanuts.
However, I used some raw peanuts with skins, then roasted them and removed the skin.
To avoid all these work, just buy the roasted and shelled peanuts.
Roast:
If you are using raw peanuts, then roast them in the oven first.
Roast at 250 F and for 10 minutes.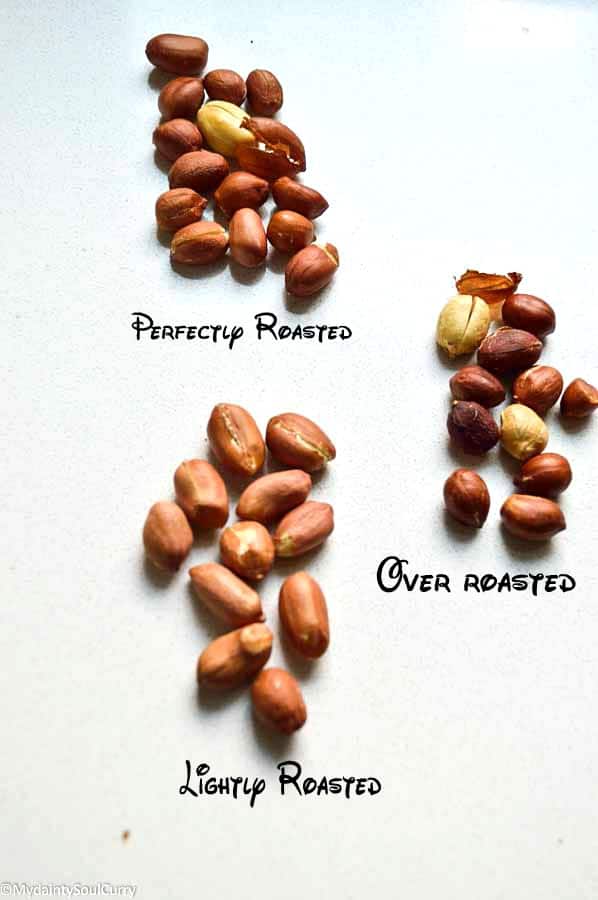 Remember that the peanuts shouldn't turn very dark and brown.
Check this image with three varieties of peanuts after roasting.
While the nearly raw ones look pinkish, the perfectly roasted ones look reddish and the over-roasted one look red-brownish.
Your aim is to get more reddish looking peanuts after roasting.
Well roasted peanuts are even easier to handle while husking.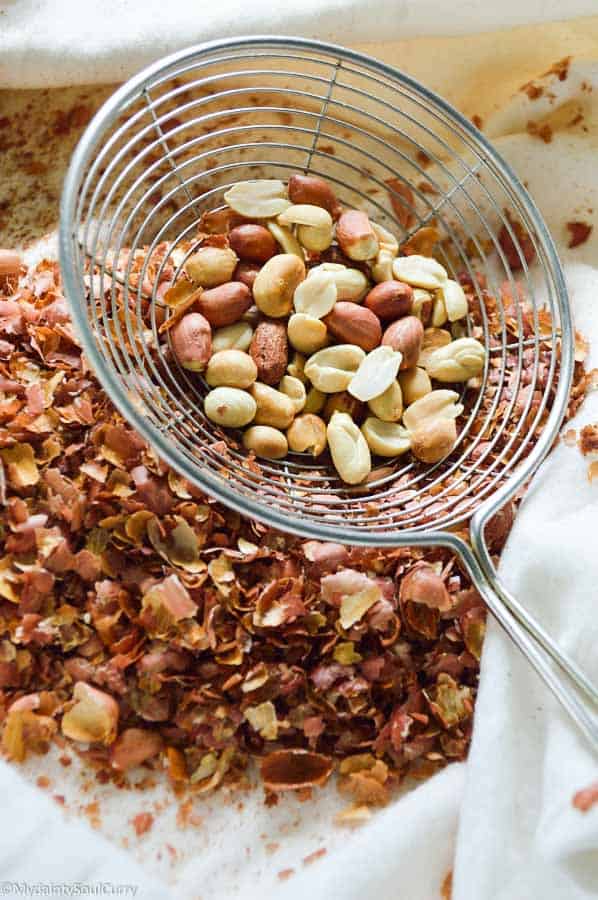 Remove skin:
Place the roasted peanuts in a cloth and rub them between your palms.
Now use a colander or a spatula with big holes to remove the shelled peanuts easily.
Shake off the lose skins and place the shelled and roasted peanuts in another tray.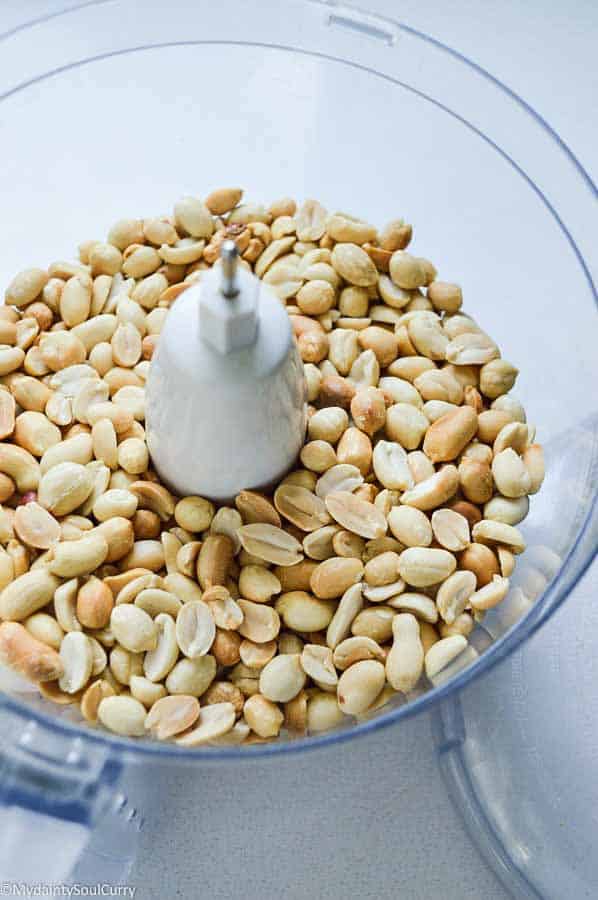 Process:
If using roasted and shelled peanuts, start with this step.
In a food processor, eight ounce of shelled peanuts.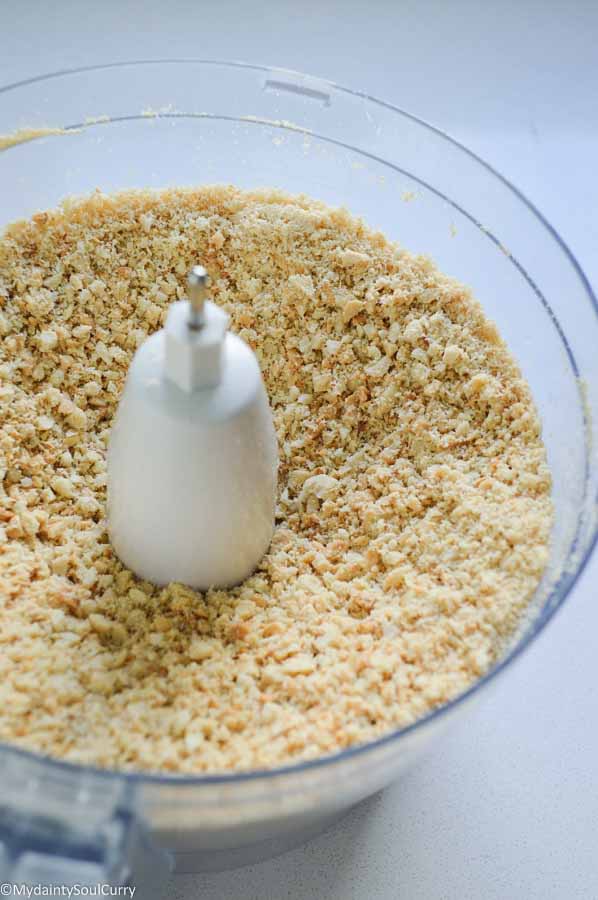 Process at a medium speed until they become coarse and grainy.
Stir and scrape from the edges and process again.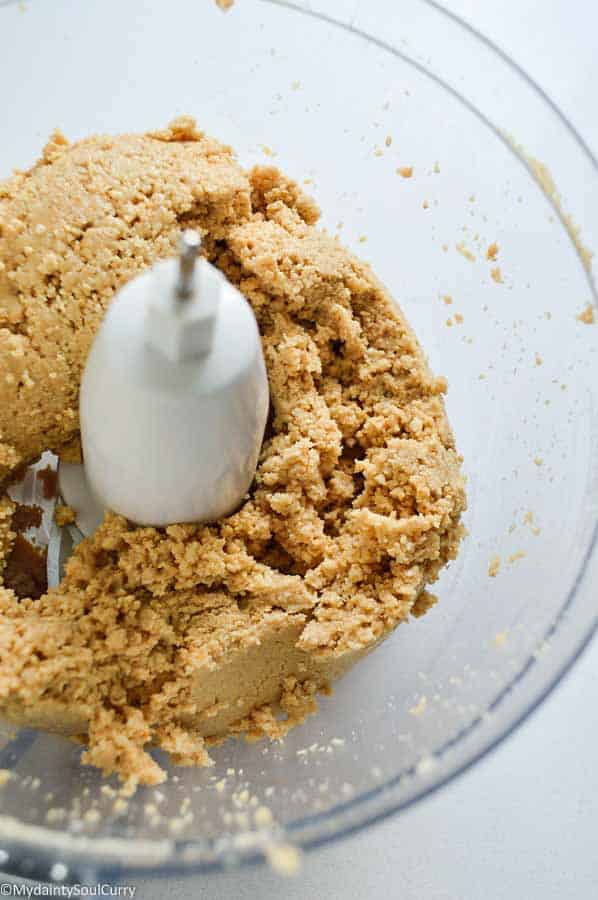 The mixture will turn doughy first, and then it will turn creamy and smooth.
It will take only 5-7 minutes to become creamy unlike the processing time of almond butter.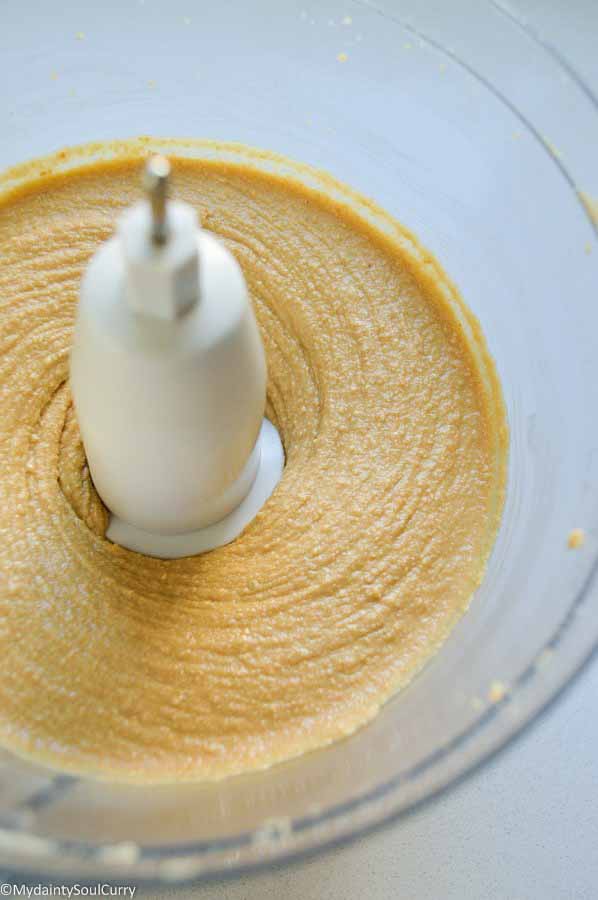 Add Flavor:
Now add Himalayan pink salt, smoked paprika, cayenne pepper, cumin powder and garlic powder.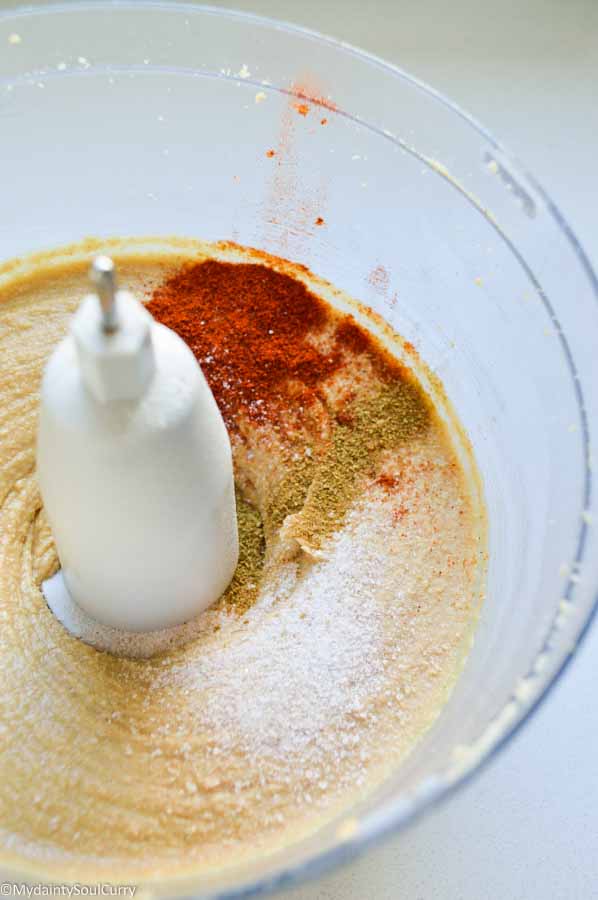 Process again so that the spice is well combined with the peanut butter.
Store in an air-tight container for months, preferably in a refrigerator.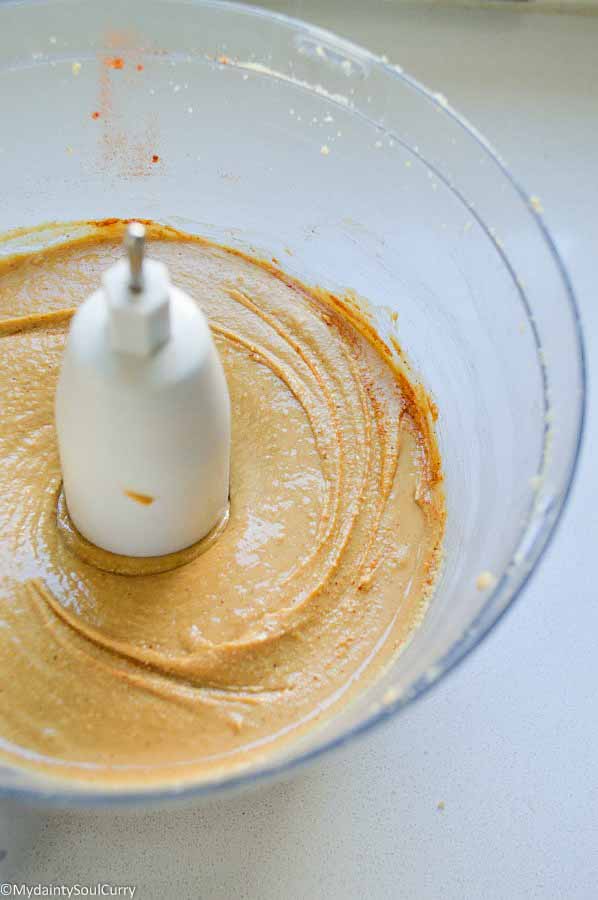 Nutrition Facts: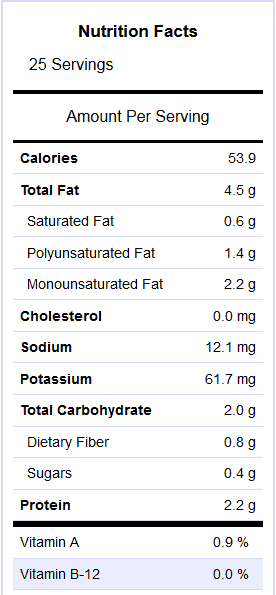 This recipe yields 25 servings when 1 tablespoon is the serving size.
📖 Recipe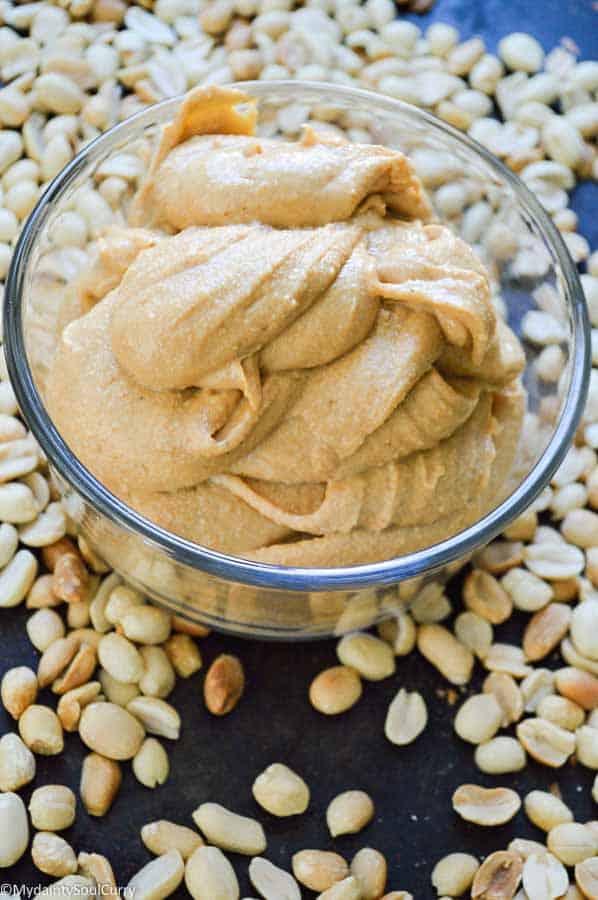 Salty N Spicy Peanut Butter
Make some homemade peanut butter today. The process takes just five minutes to prepare this smooth, creamy and salty N spicy peanut butter.

Print
Pin
Rate
Ingredients
8

oz

roasted peanuts

0.5

teaspoon

pink salt

0.5

teaspoon

smoked hot paprika

0.5

teaspoon

cumin powder

0.25

teaspoon

garlic powder

,

(optional)
Instructions
If using the raw peanuts with shells then roast the peanuts in a preheated oven at 250F for ten minutes and shell them.

If not, just use the roasted and shelled peanuts for this recipe.

Take peanuts in a food processor and process until the peanuts are broken and a coarse meal is formed.

Process again until a smooth and creamy peanut butter is formed.

You can add a tablespoon of peanut oil to accelerate the process.

Now add the salt and spices, and process again.

Your salty N spicy peanut butter is ready.
Notes
For chunky peanut butter, mix half smooth and creamy peanut butter with half chunky processed peanuts.(stop processing when the peanut mixture looks broken and doughy)
For chocolate peanut butter, add dark cocoa powder and stevia.
Cinnamon and pumpkin spices are other options to add flavor to this peanut butter.
Enjoy salty N spicy peanut butter with veggies, crackers, smoothies and on toasts.
Nutrition
Try Amazon Prime 30-Day Free Trial