Spicy Indian urad dal is a popular dish made with black lentils that have been cooked with a variety of spices. This dish is commonly found in North India and is typically served with rice, roti, or naan.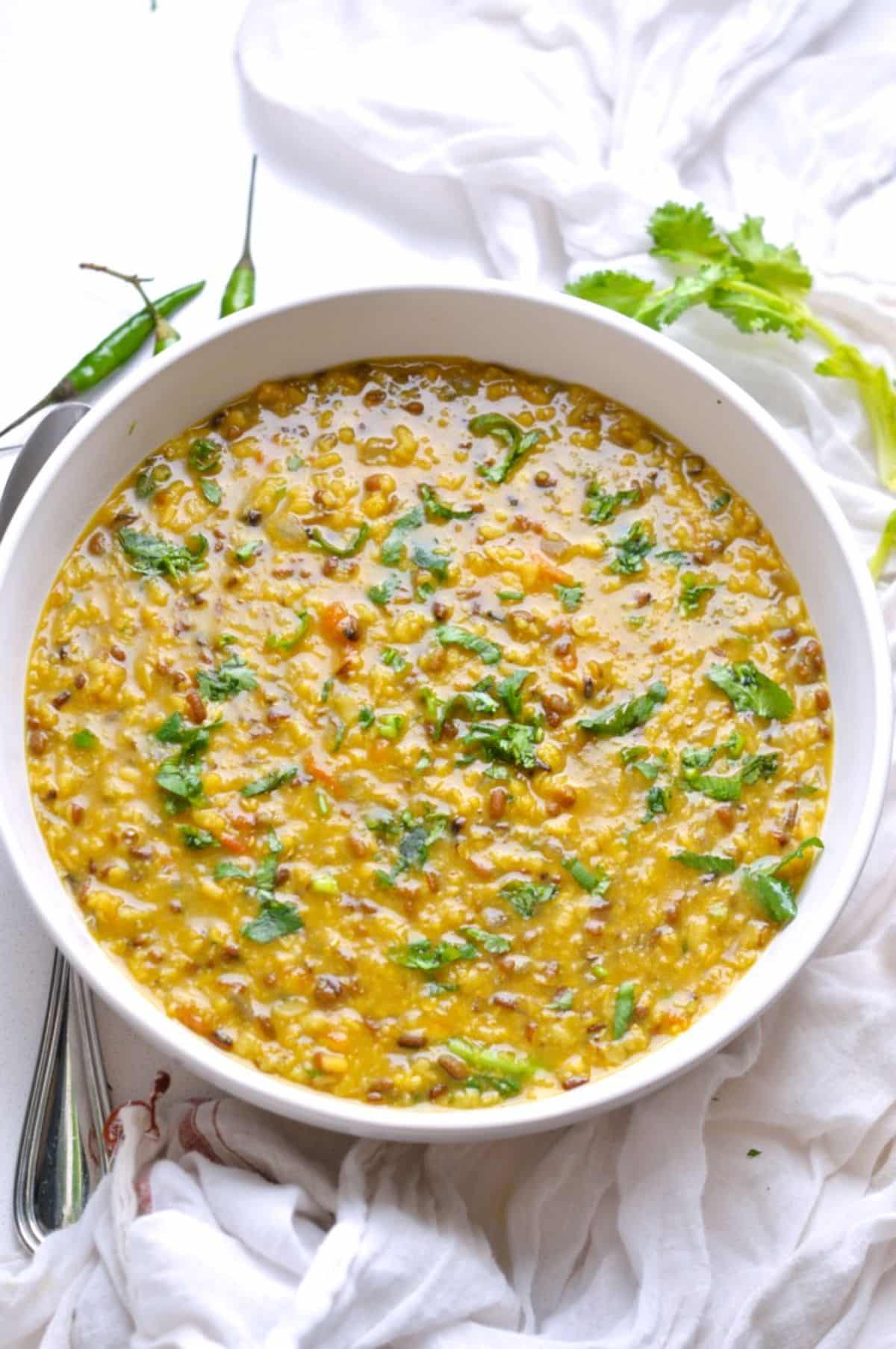 To make spicy Indian urad dal, black lentils are soaked overnight and then cooked until they are soft and tender. The lentils are then sautéed with a variety of spices, including cumin, coriander, turmeric, red chili powder, and garam masala. This dish is typically quite spicy, but the heat level can be adjusted to taste.
One of the main health benefits of spicy Indian urad dal is its high protein content. Black lentils are an excellent source of plant-based protein, making them a great option for vegetarians and vegans who may have a harder time meeting their daily protein needs. Protein is essential for building and repairing tissues in the body, and it can also help promote feelings of fullness and reduce cravings.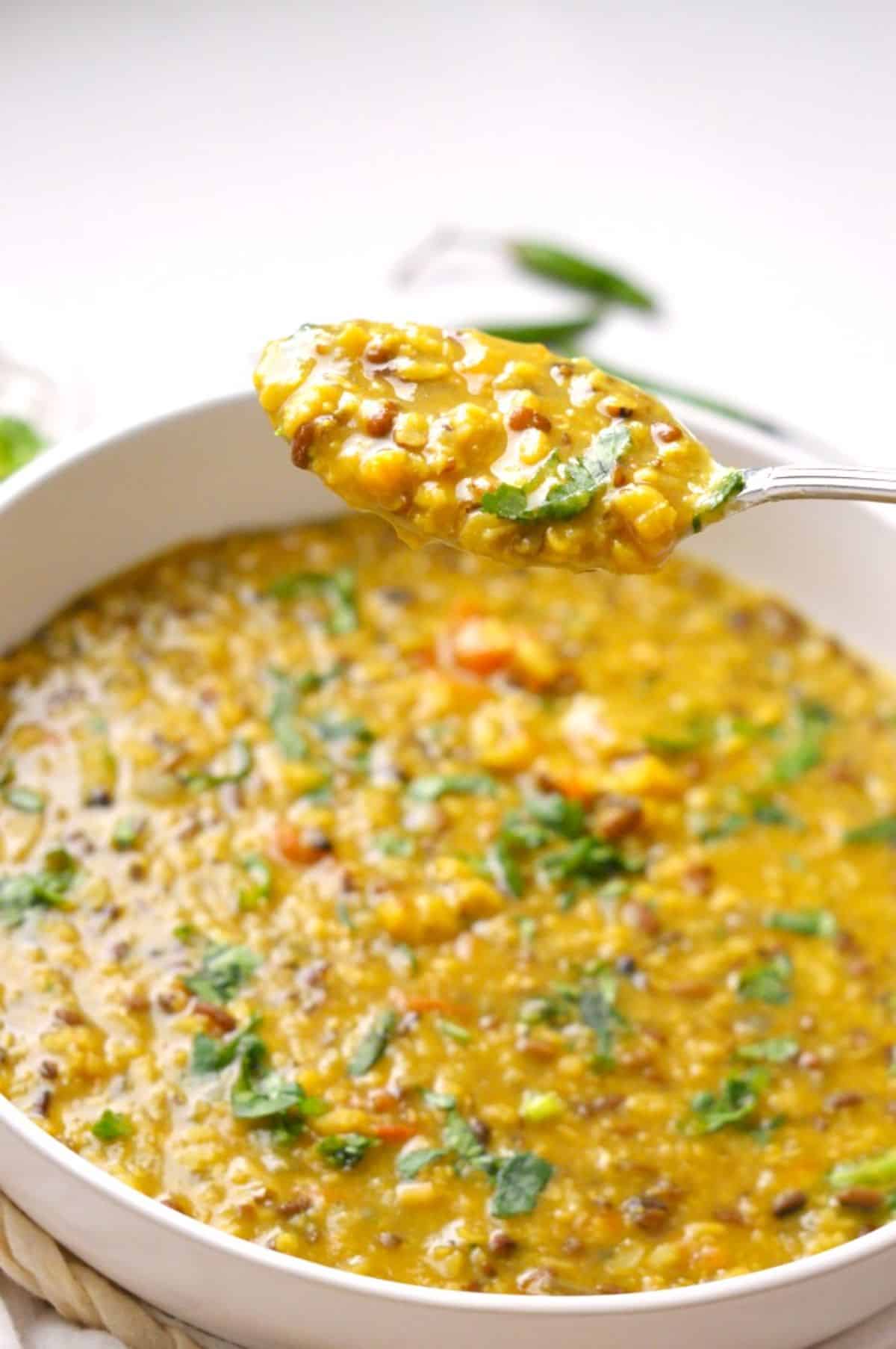 In addition to protein, spicy Indian urad dal is also high in fiber. Fiber is important for digestive health and can help regulate blood sugar levels and reduce the risk of heart disease. Black lentils are also a good source of vitamins and minerals, including folate, iron, magnesium, and potassium.
The spices used in spicy Indian urad dal also offer a range of health benefits. For example, turmeric is known for its anti-inflammatory properties, while cumin and coriander can help aid digestion.
Overall, spicy Indian urad dal is a nutritious and flavorful dish that offers a range of health benefits. It's a great way to incorporate more plant-based protein and fiber into your diet and can help support overall health and well-being.
Jump to:
Ingredients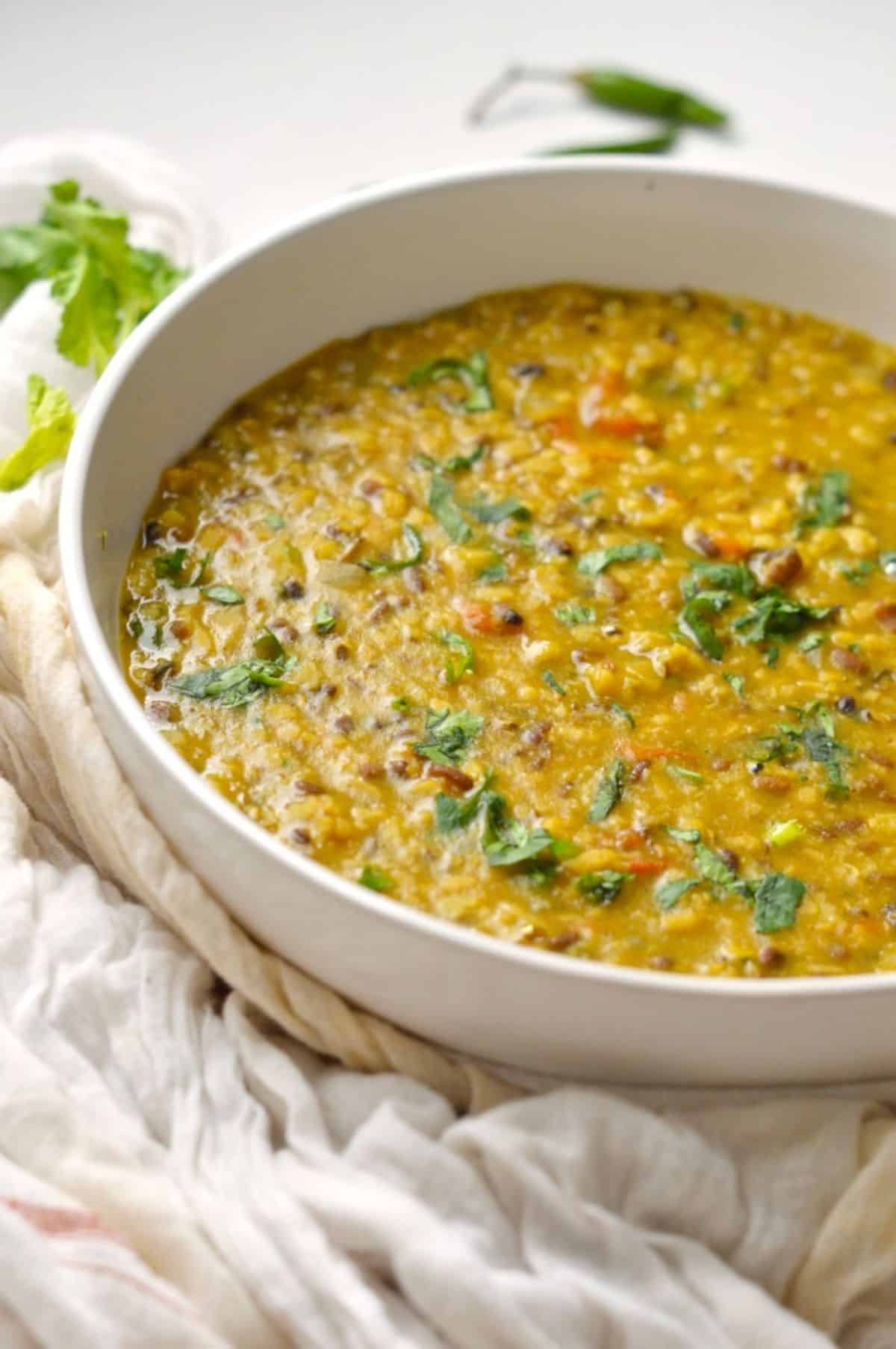 • 2 cups (400 g) whole urad dal, soaked for 6-8 hours, drained, and rinsed
• 6 cups water
• 2 teaspoon salt, or to taste
• 1 tbsp. coconut oil
• 1 large onion, small dice
• 4 cloves garlic, minced
• 2 tbsps. fresh ginger, minced
• 1-2 chiles, minced, seeded if desired
• 1 tbsp. curry powder
• 1 teaspoon garam masala
• 1 ½ cups diced tomatoes
• ¼ cup fresh squeezed lemon juice
• ½ cup cilantro, chopped
• basmati rice for serving
Instructions
1. Add soaked and rinsed lentils and 6 cups of water in a stockpot. Add 2 teaspoon of salt and bring to a boil. Simmer and cook partially covered on low heat for about 30 minutes.
2. Meanwhile, heat a large skillet over medium heat, and add coconut oil.
3. Once the coconut oil is melted and hot, add the dice onion and a pinch of salt to the skillet.
4. Sauté onions for about 6-8 minutes until the onions are soft and translucent.
5. Add the garlic, ginger, and chilies to the same pan and sauté for another 1-2 minutes.
6. Add the curry powder and garam masala and give them a good mix.
7. Remove from heat.
8. Once the lentils are tender, add the tomato, the onion, and the herb mixture to the pot. Bring to a simmer and cook another 5-10 minutes uncovered, until desired consistency.
9. Pour lemon juice over daal. Adjust seasoning according to desired taste. Add the cilantro to garnish, and serve hot with basmati rice.
Instant pot cooking time
Urad dal can be cooked in an instant pot with pressure in 15 minutes.
📖 Recipe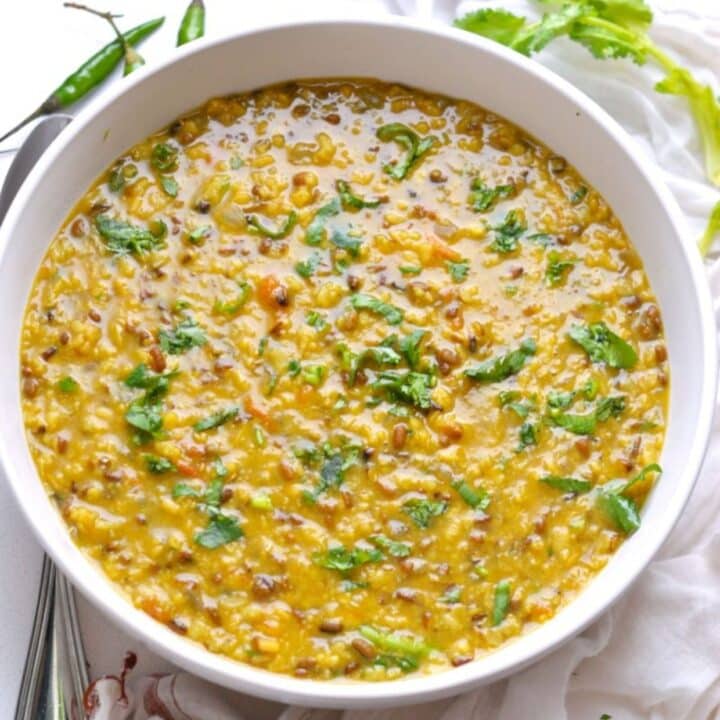 Spicy Indian Urad Dal Recipe
Get ready to try a delicious and spicy Indian Urad Dal recipe that will tantalize your taste buds. Follow this recipe for a perfect meal!
Print
Pin
Rate
Ingredients
2

cups

400 g whole urad dal, soaked 6-8 hours, drained and rinsed

6

cups

water

2

teaspoon

salt

,

or to taste

1

tbsp.

coconut oil

1

large onion

,

small dice

4

cloves

garlic

,

minced

2

tbsps.

fresh ginger

,

minced

1-2

chiles

,

minced, seeded if desired

1

tbsp.

curry powder

1

teaspoon

garam masala

1 ½

cups

diced tomatoes

¼

cup

fresh squeezed lemon juice

½

cup

cilantro

,

chopped

basmati rice

,

for serving
Instructions
Add soaked and rinsed lentils and 6 cups of water in a stockpot. Add 2 teaspoon of salt and bring to a boil. Simmer and cook partially covered on low heat for about 30 minutes.

2 cups 400 g whole urad dal, soaked 6-8 hours, drained and rinsed,

6 cups water,

2 teaspoon salt

Meanwhile, heat a large skillet over medium heat, and add coconut oil.

Once the coconut oil is melted and hot, add the dice onion and a pinch of salt to the skillet.

Sauté onions for about 6-8 minutes until the onions are soft and translucent.

Add the garlic, ginger, and chilies to the same pan and sauté for another 1-2 minutes.

4 cloves garlic,

2 tbsps. fresh ginger,

1-2 chiles

Add the curry powder and garam masala and give them a good mix.

1 tbsp. curry powder,

1 teaspoon garam masala

Remove from heat.

Once the lentils are tender, add the tomato, the onion, and the herb mixture to the pot. Bring to a simmer and cook another 5-10 minutes uncovered, until desired consistency.

Pour lemon juice over the dal. Adjust seasoning according to desired taste. Add the cilantro to garnish, and serve hot with basmati rice.

¼ cup fresh squeezed lemon juice,

½ cup cilantro,

basmati rice
Nutrition
Calories:
401
kcal
|
Carbohydrates:
63
g
|
Protein:
28
g
|
Fat:
5
g
|
Saturated Fat:
3
g
|
Polyunsaturated Fat:
0.3
g
|
Monounsaturated Fat:
0.5
g
|
Cholesterol:
4
mg
|
Sodium:
213
mg
|
Potassium:
407
mg
|
Fiber:
23
g
|
Sugar:
5
g
|
Vitamin A:
394
IU
|
Vitamin C:
39
mg
|
Calcium:
137
mg
|
Iron:
10
mg