Super refreshing, bursting with flavors and incredibly easy to put together, this crunchy raw mango salad recipe has everything for it to be your summer favorite. Enjoy it as a light mid-day or evening snack, or team it up with any of your meals.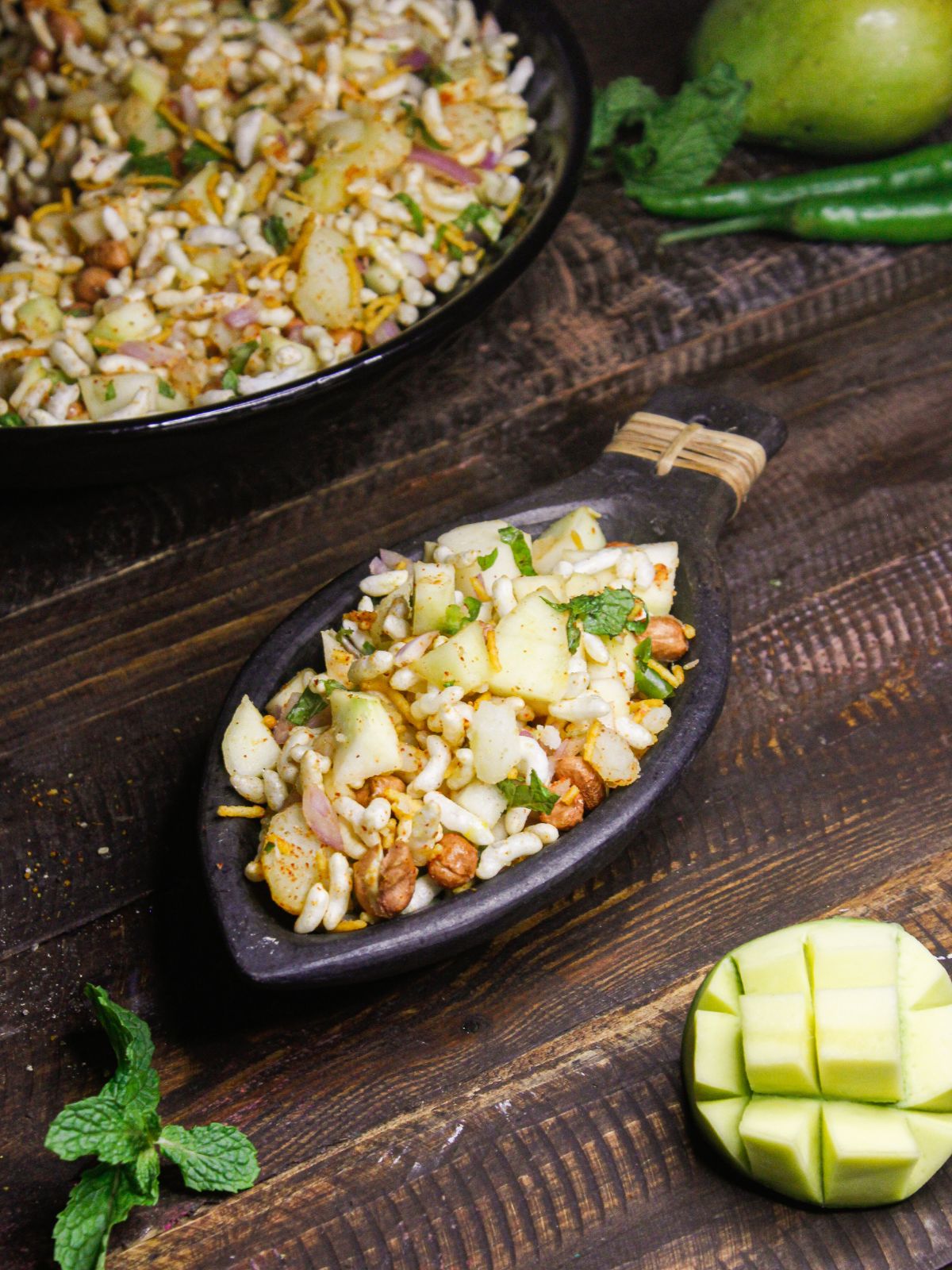 Excited enough to give the recipe a shot? Here's everything you need to know about it.
Jump to:
Ingredients For the Recipe
Got a raw mango? You'll need just a handful of other ingredients to put this crunchy raw mango salad together.
Raw mango (diced): 1 cup
Onions (chopped): ¼ cup
Potatoes (boiled and mashed): 1 cup
Peanuts (roasted): ¼ cup
Sev (optional): ⅛ cup
Green chilies (chopped): 1 tbsp
Mint leaves (chopped): 2 tbsps
Red chili powder: 2 tsps
Chaat masala: 1 tbsp
Black salt: 1 tsp
Puffed Rice: 1.5 cups
Mustard oil: 1 tbsp
How to Make the Crunchy Raw Mango Salad
Making this flavorful salad from scratch is super easy. Here's all you've got to do.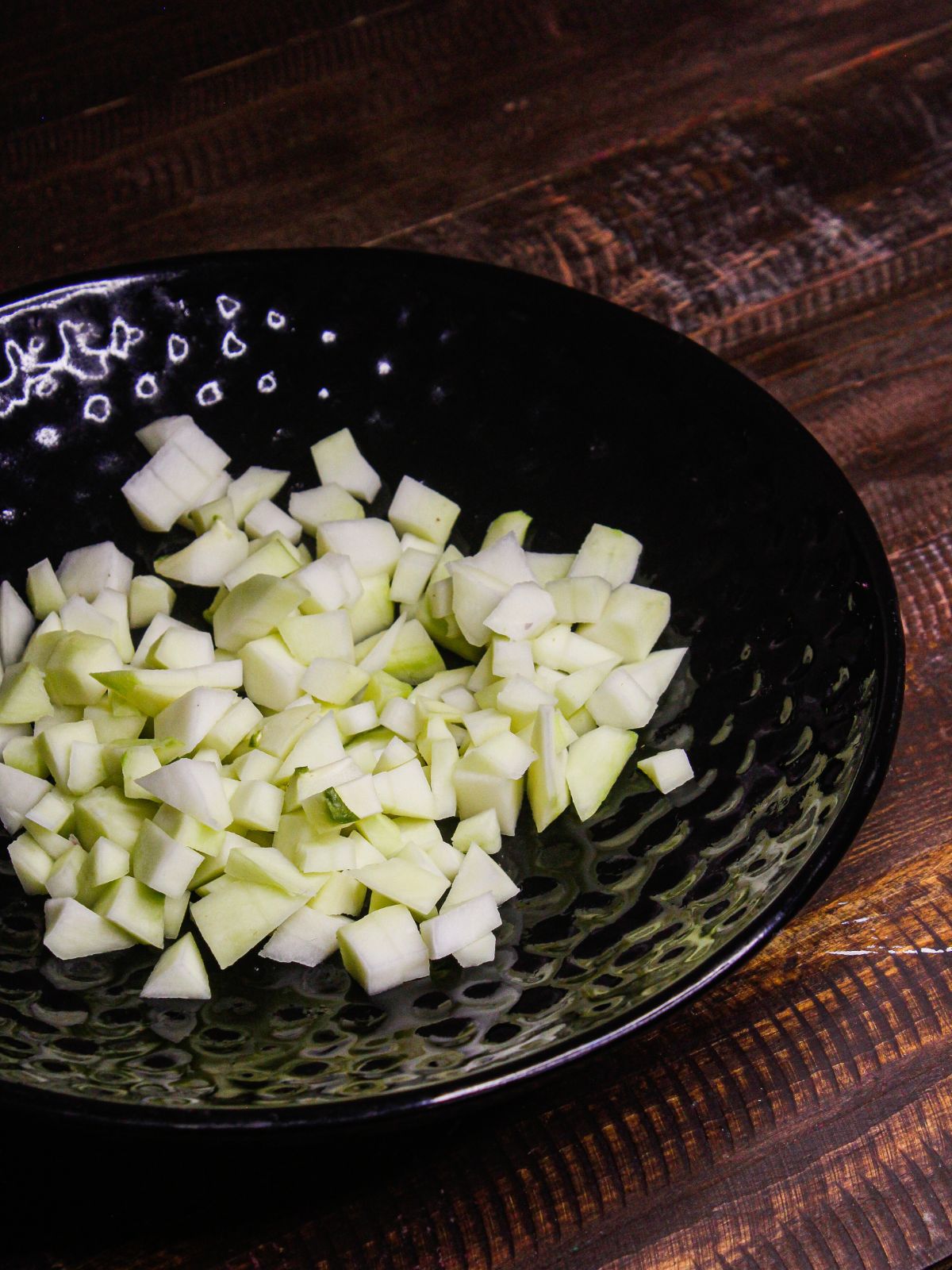 Take a mixing bowl. Add all the ingredients one by one. Mix them well.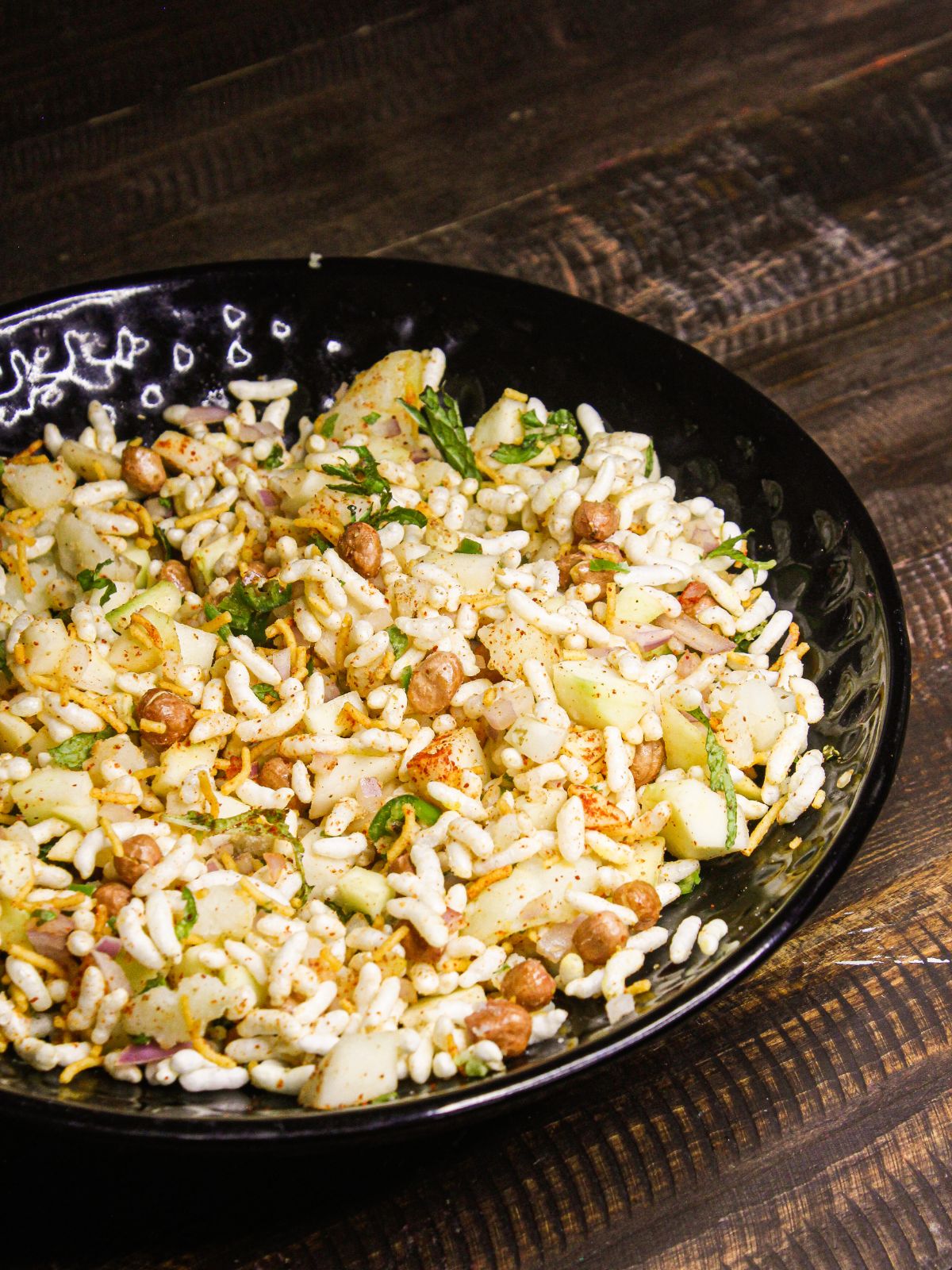 Serve with tea as a tangy and crunchy evening snack.
Frequently Asked Questions
What Else Can I Add to the Salad?
Apart from the hero ingredient- the raw mango, you can add a bunch of other salad veggies as well. Chopped up cucumbers, tomatoes, carrots, bell peppers, boiled corn, and any salad leaves like lettuce, cabbage and arugula can work wonderfully if added to this salad. 
To improve the nutritive value of the salad, you can also add some sprouts of your choice.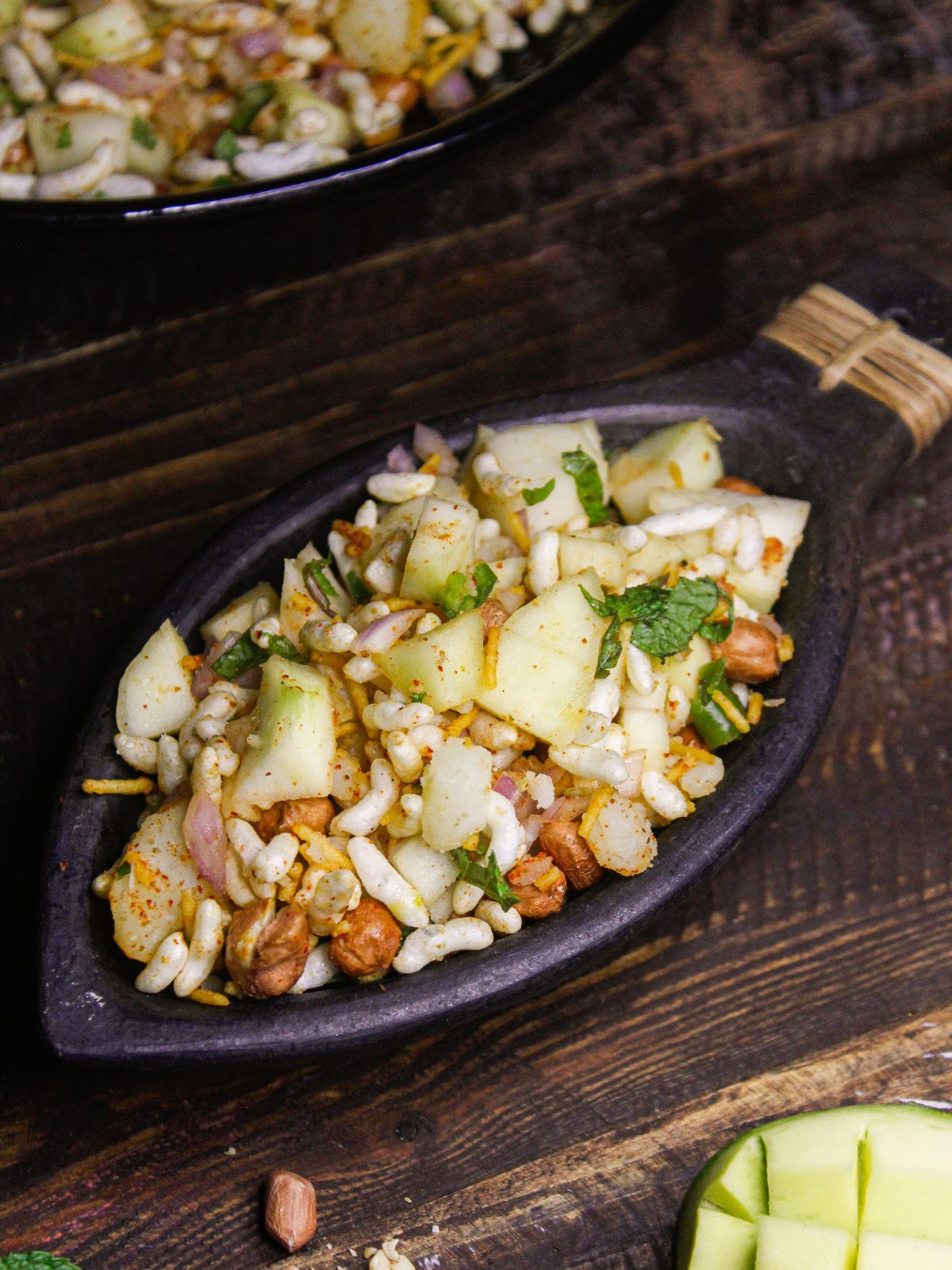 Can I Prep the Salad in Advance?
You can, but the thing about prepping salads is that veggies, when chopped up, don't hold their shape too well, and start to release water, eventually making the salad soggy and sad. If you really want to, you can boil the potatoes in advance and prepare the spice mix separately. 
Then, when you want to put the salad together, just chop up all the fresh ingredients and combine everything together.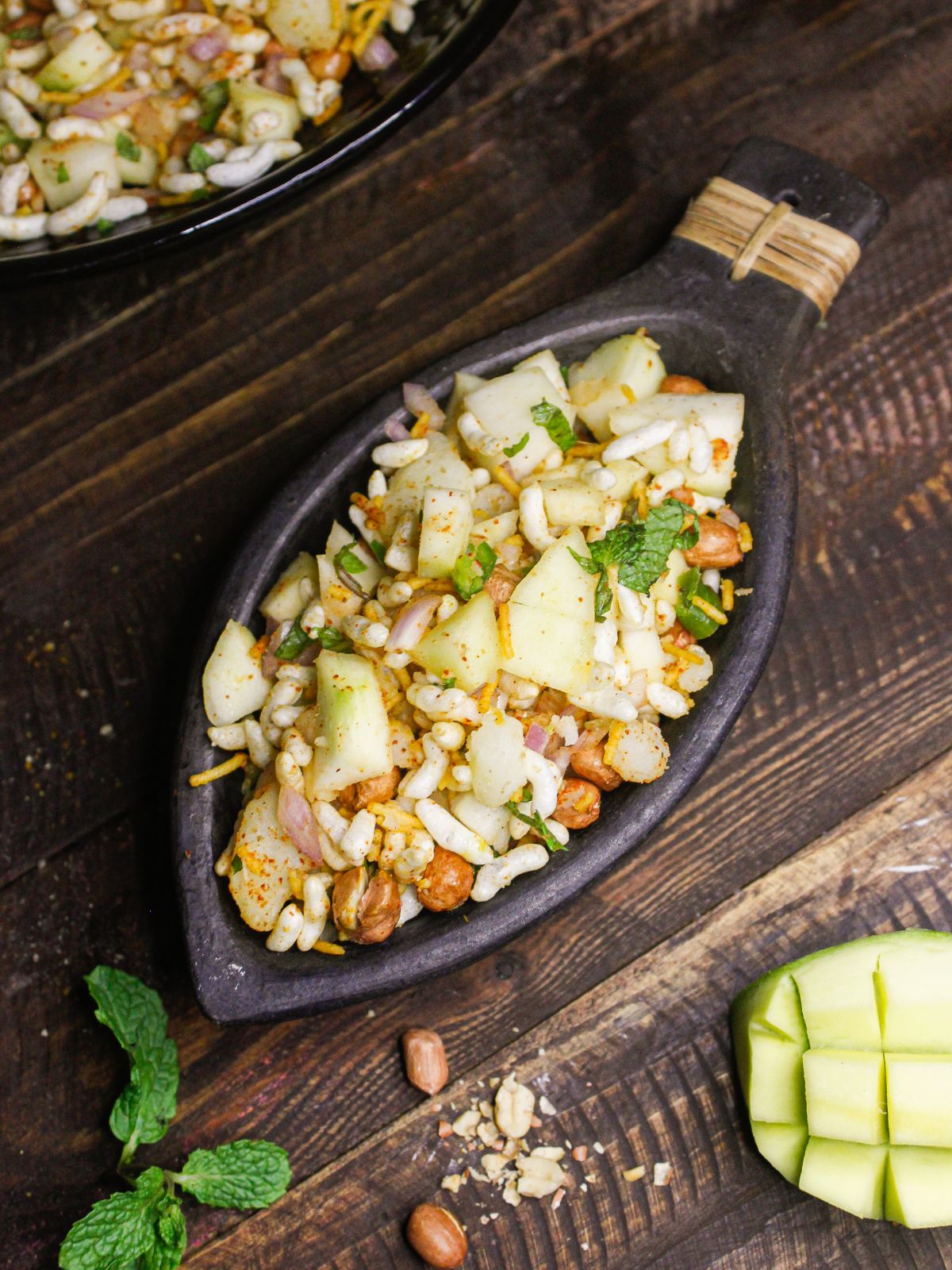 How Do I Store the Leftovers?
To store any leftover crunchy raw salad, all you need to do is transfer everything to an airtight container and refrigerate. The salad can stay good in there for upto a day, beyond which the veggies will start to lose their shape and crunchy texture.
The leftover salad can be added to your tacos, homemade sandwiches and wraps.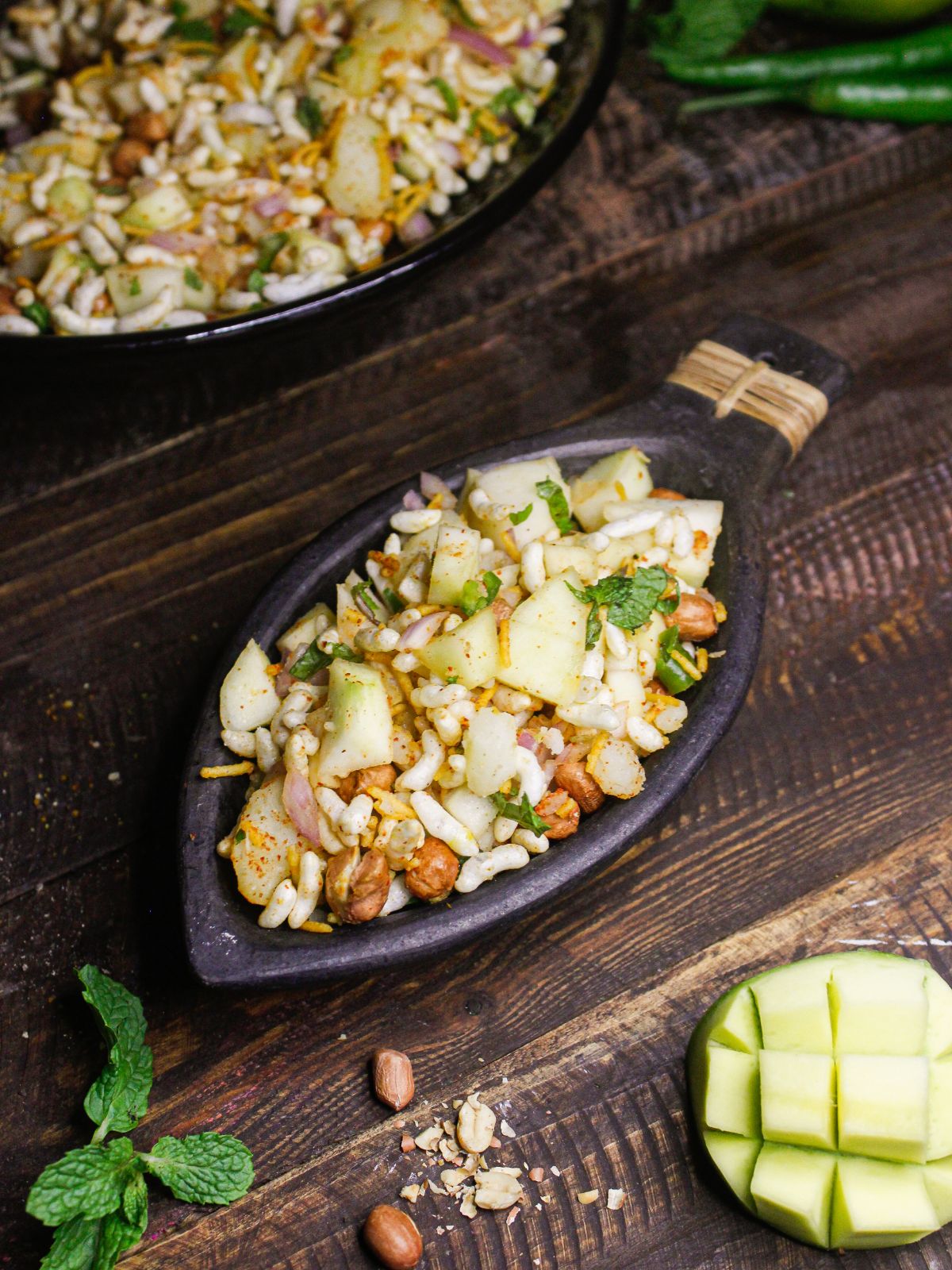 Tips & Tricks to Make the Crunchy Raw Mango Salad
Putting this flavorful salad together is super easy, but you might want to take note of these additional tips and tricks that help you get the flavors right.
Don't have mustard oil? A light drizzle of extra virgin olive oil instead can do the trick. Mustard oil lends the salad a nice earthy flavor, but if you don't have it, you can totally skip it too.
To make the salad look a bit different, you can julienne the raw mango instead of dicing it up.
Make sure you add the sev and peanuts to the salad towards the end, right before you serve. This will help keep them crunchy and crispy- exactly the way you need.
The best way to serve this salad is to allow it to sit in the refrigerator for 30 minutes to chill up just a bit- this extra time really helps all the ingredients imbibe all the flavors from the spices.
Don't forget to top the salad with a generous sprinkle of chopped coriander leaves for freshness- it makes all the difference.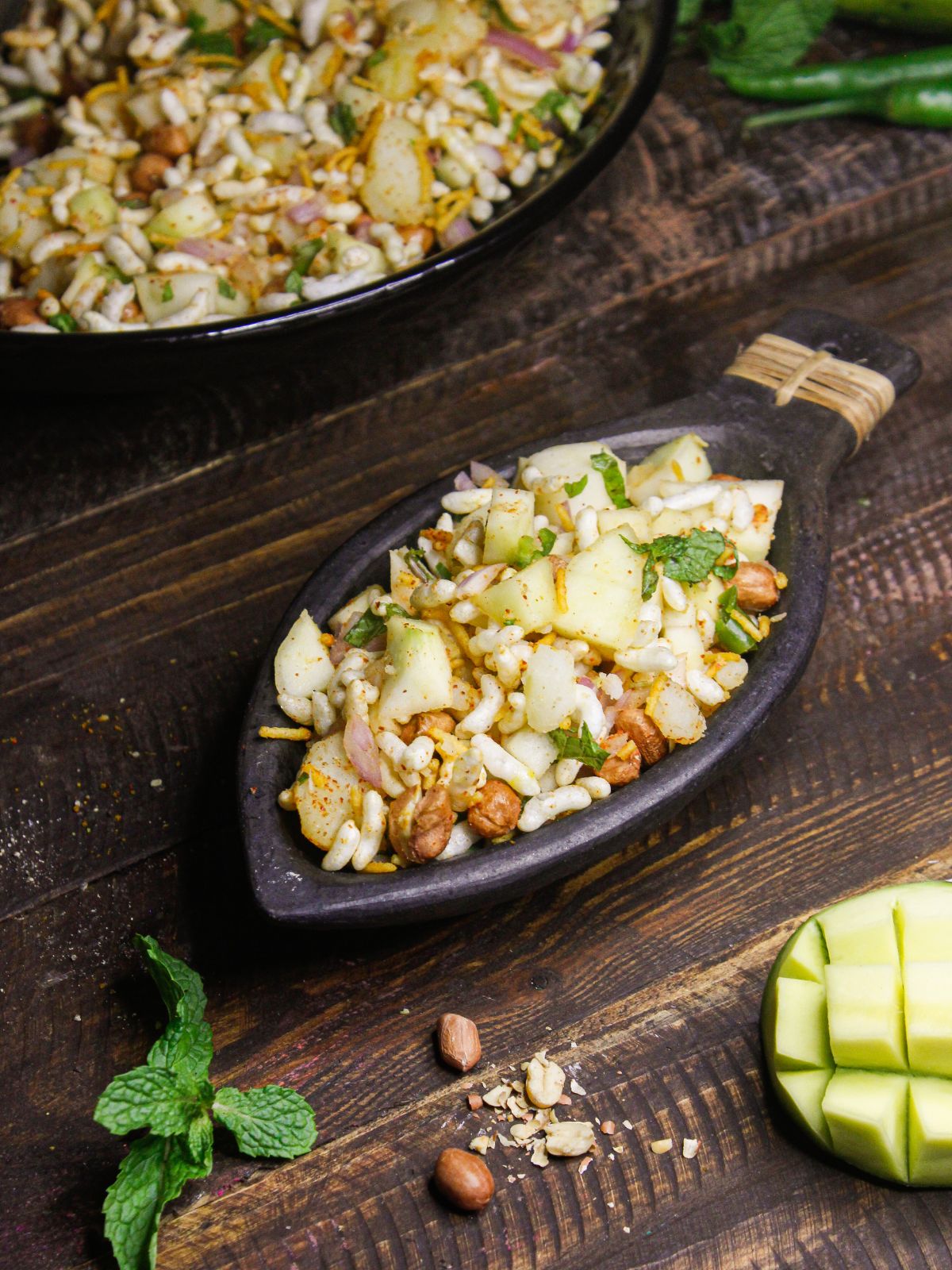 Serving Ideas & Suggestions
This crunchy raw mango salad tastes incredible all on its own, but if you're planning on serving it as a side for any main meal, consider pairing it with a nice Indian curry and rice (or roti) or some basic daal and naan. And of course, the salad can also make for a wonderful accompaniment for your meats, roasts and any other summer barbecue experiments.
Enjoyed recreating this flavorful and delicious salad in your kitchen? Interested in trying out some more such salads? Here are a few good ones you might want to check out.
📖 Recipe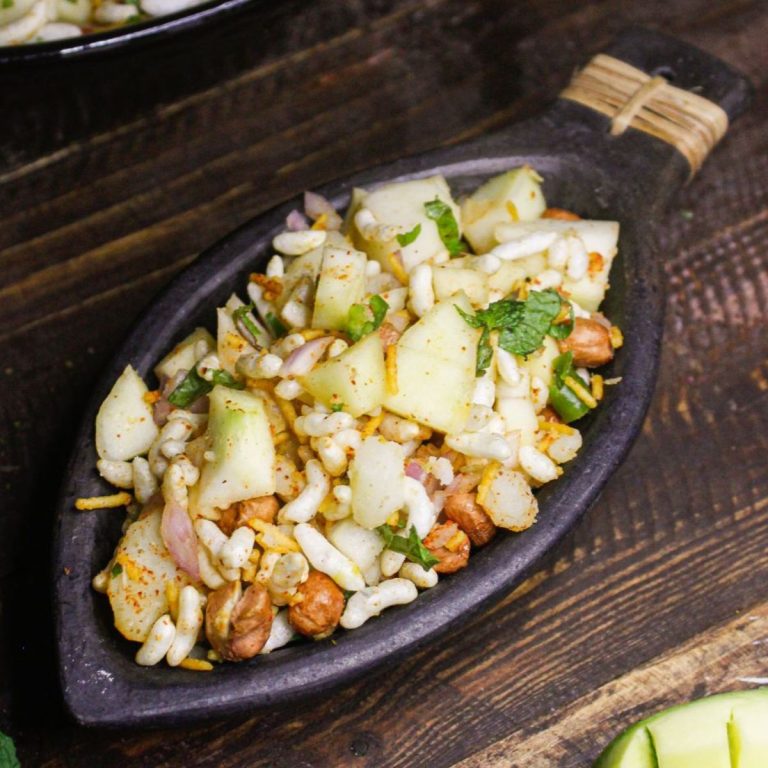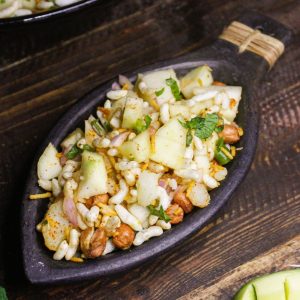 Crunchy Raw Mango Salad
Healthy, refreshing and bursting with flavor, this crunchy raw mango salad is sure to become your summer staple.
Print
Pin
Rate
Ingredients
1

cup

Raw mango

,

(diced)

¼

cup

Onions

,

(chopped)

1

cup

Potatoes

,

(boiled and mashed)

¼

cup

Peanuts

,

(roasted)

⅛

cup

Sev

,

(optional)

1

tablespoon

Green chilies

,

(chopped)

2

tablespoon

Mint leaves

,

(chopped)

2

teaspoon

Red chili powder

1

tablespoon

Chaat masala

1

teaspoon

Black salt

1.5

cup

Puffed Rice

1

tablespoon

Mustard oil
Instructions
Take a mixing bowl. Add all the ingredients one by one. Mix them well.

Serve with tea as a tangy and crunchy evening snack.
Nutrition
Serving:
2
Servings
|
Calories:
437
kcal
|
Carbohydrates:
47.9
g
|
Protein:
10.4
g
|
Fat:
25
g
|
Saturated Fat:
6.5
g
|
Sodium:
1334
mg
|
Potassium:
704
mg
|
Fiber:
8.2
g
|
Sugar:
15.1
g
|
Calcium:
62
mg
|
Iron:
4
mg