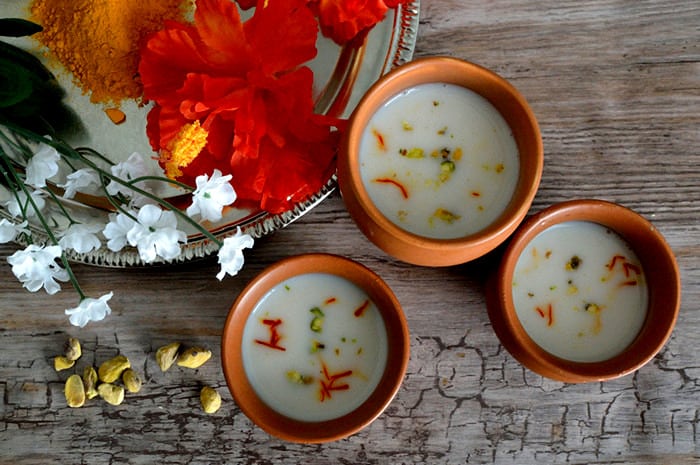 Holi is the festival of colors that brings families, friends, neighbors and their friends and every people around together. Celebrating life and welcoming spring is the main feature of this Indian festival. When the harsh winter fades away and the nation welcomes spring with fresh air, cool yet sunny days and colorful flowers, people in India gear up for some Holi celebration. Families and friends come together to celebrate this festive season by playing with colors, enjoying good food and celebrating new life.
Food, fun and colors:

Holi cannot be complete without some good food. While the festival is all about playing with colors and celebrating the joy of new and fresh life and harvest, it is accompanied by a good vibe that only foodies can understand. A typical Holi celebration includes many courses of food, including main dishes, desserts, snacks and fried food, and a quintessential festive drink: also known as Thandai. Because the celebration is all about fun with colors under the sun in outdoors, this festive drink is a must-have in every Holi menu.
Thandai:
The name is derived from a Hindi word "Thanda," which means cool. Unlike other summery drinks, this sweet and spicy drink is heavy on the stomach yet with a cooling effect that soothes you. The drink is rich, thanks to the copious amount of dry fruits used to make the recipe, yet features subtle medley of spicy and nutty flavors.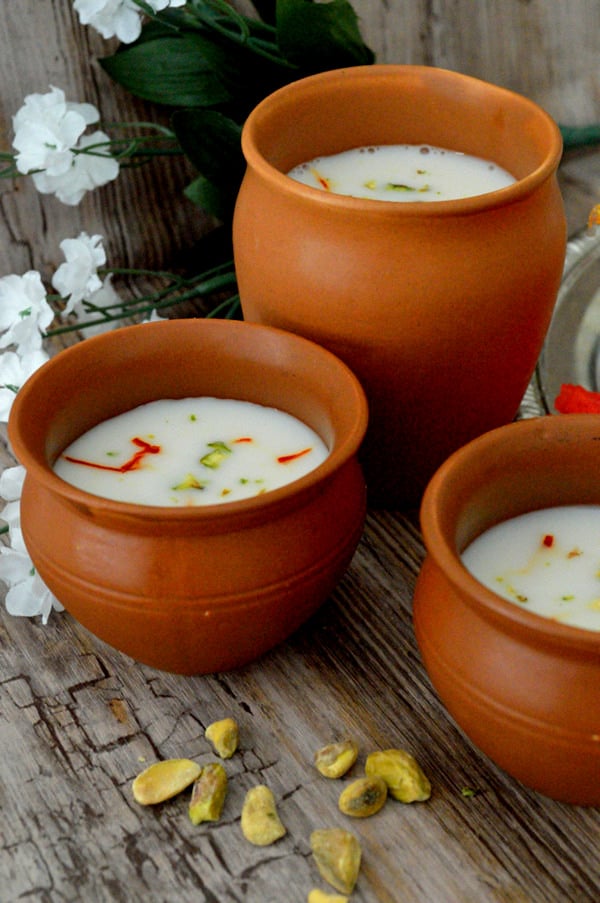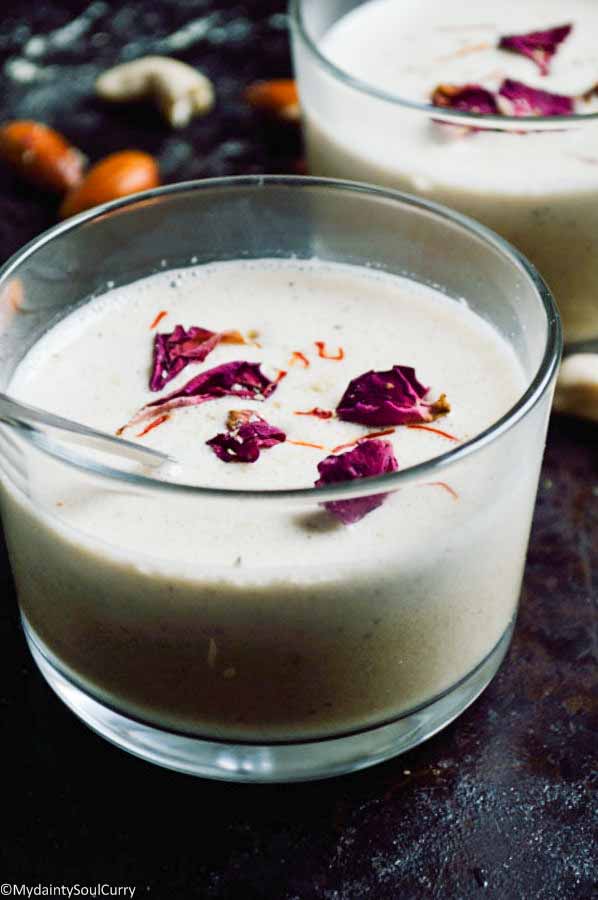 Traditionally, thandai is cooked with milk, sugar and the thandai paste or powder often mixed with Bhang. While most households skip the addition of bhang, it's a tradition to enjoy this anti-purgative herb in Holi, which is quite notorious for its intoxicating effects. My thandai recipe ditches the addition of sugar, milk and bhang. Instead, it is a very delicious yet healthy drink recipe that uses vegan milk, homemade thandai paste and some dry fruit toppings. Try it on Holi or anytime if you wish, and you will not be disappointed.
Update: I tried this recipe with homemade walnut milk, and loved it even more. Here is my step-by-step Walnut milk thandai recipe.
Thandai Masala:
Take all the nuts, seeds and spices in a spice grinder and make a fine powder. (Discard the skins of cardamom)
Tandai Paste: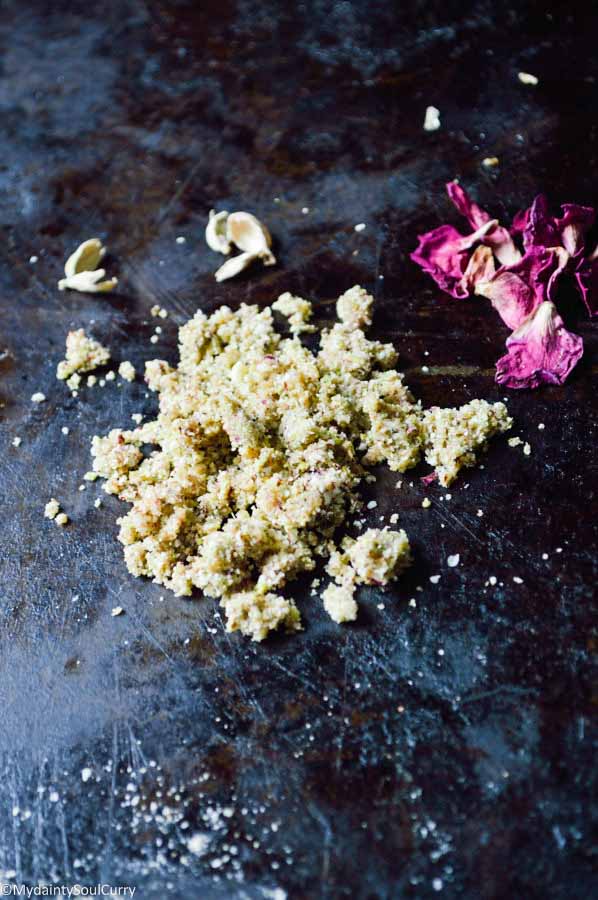 Add some rose water or rose extract and walnut milk to make a paste.
Thandai: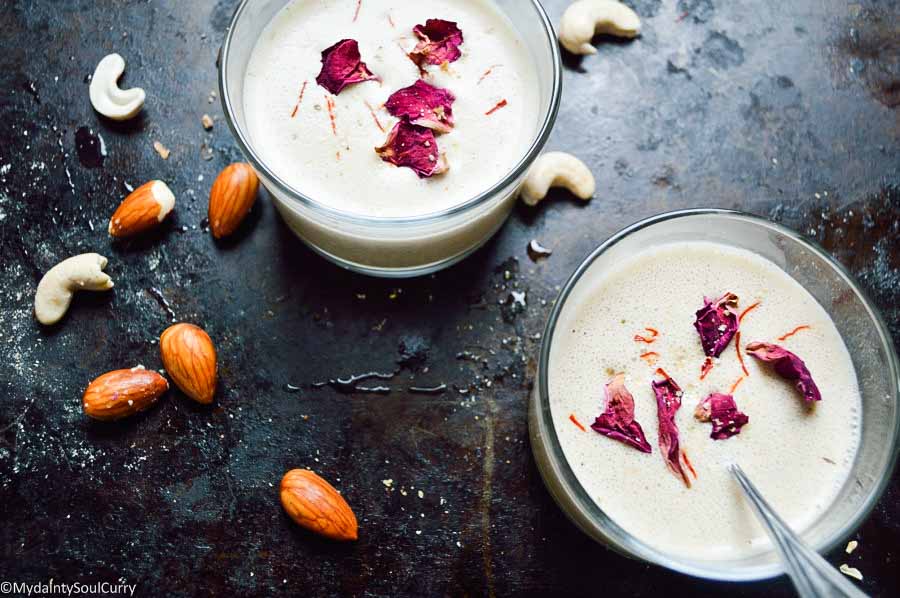 Add walnut milk and thandai paste, and blend until fine and no residues left.
Serve with dried rose petals, chopped nuts and saffron. You can also add some extra rose extract while serving too.
Nutritional Info: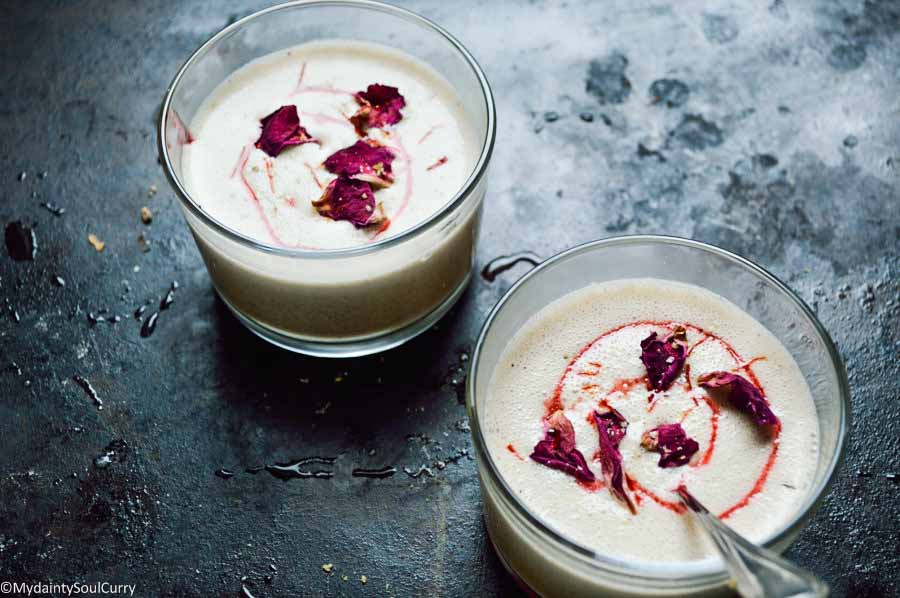 Considering the high amount of calories and carb in the traditional thandai(whopping 253 calories per serving with 55g carb), I have created this healthier version of the recipe. The recipes yields three servings, and each serving is just 140 calories with only 19 gms of carb. The drink is naturally sweetened with dates and maple syrup. I also love using sugar-free agave nectar and stevia for this recipe. If you want a sugar-free version of the drink, skip these two sweetening agents and add stevia or any zero calorie sweetener. Other options of low-carb sweetening agents include saccharin, sugar-free maple syrup and low glycemic sugar-free agave nectar.
Allergen information: Contains tree nuts

Possible nutrition claims: Saturated Fat Free, Cholesterol Free
So, what's your favorite thing about Holi? Share your thoughts on this recipe and your favorite memory in the comment section. And thank you very much for visiting my page.
Happy Holi..
📖 Recipe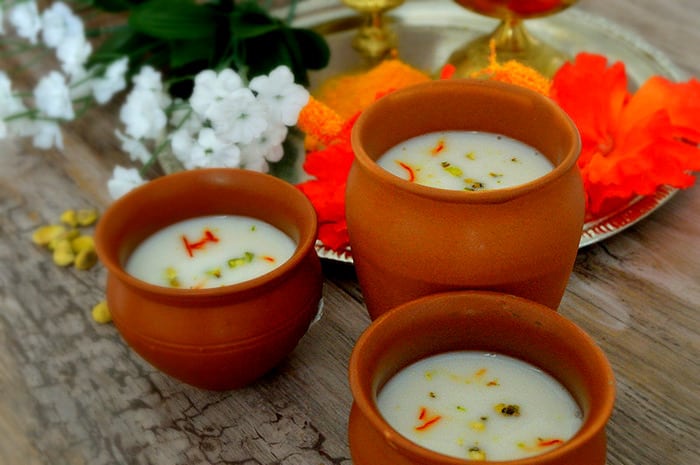 The Very Best Vegan Thandai and Happy Holi
This vegan thandai is made from almond milk, mixed with thandai paste and other natural flavoring agents to make a tasty and delicious festive drink. The drink is slightly thick because of the dry fruits used in the recipe. You can, however, make the drink thin by adding some more water. I like thandai moderately sweetened. If you want a sweeter thandai, consider adding another tablespoon of syrup or stevia as per your preference.
Print
Pin
Rate
Ingredients
Thandai paste
1

ounce

Nuts, cashew nuts, raw

1

ounce

Nuts, pistachio nuts, raw

1

ounce

Almonds, raw

0.5

teaspoon

Black Peppercorn(5-6)

,

crushed

1

tablespoon

Poppy Seeds

,

white

¼

teaspoon

Nutmeg, ground

1

teaspoon

Cardamom

,

take seeds only from 4-6 cardamom

1

teaspoon

Saffron

,

crushed

1

teaspoon

fennel seeds
Thandai drink
2

cups

Almond Milk/Walnut milk

2

tablespoon

Organic maple syrup or stevia

2

Medjool dates

,

pitted

½

cup

water

½

teaspoon

rose water or rose extract

1

teaspoon

chopped nuts and safforn

,

to garnish
Instructions
To make the thandai paste: Soak the nuts in half cup water for at least half an hour. It's better to soak the nuts to make a fine paste.

In a spice grinder, take poppy seeds and spices, and make a fine powder.

Add the spice powder, soaked nuts and half of the almond milk in a blender. Blend to make a smooth puree.

Add the rest almond milk and sweeteners or dates and syrup as mentioned in this recipe. Blend well till all the ingredients are well-combined and finely blended to a smooth drink.

Pour the drink in a glass to serve. Garnish the drink with chopped nuts and saffron. Enjoy!!

Best enjoyed when chilled.

Notes
Using homemade almond milk is optional. You can use your favorite store-bought almond milk.
Other vegan milk choices for this recipe include: flax milk, pecan milk, and soy milk, walnut milk and coconut milk.
I prefer not to use rice milk, considering its high carb amount.
If you are using a sweetened vegan milk for this recipe, adjust the sweetener amount as per your taste.
Some other drink recipes that you may like: