Also known as plantain chips, these spicy red hot banana chips are perfect as a teatime snack.
They're super crunchy, flavorful and come together very easily too. Once you make these chips at home, you'll never go back to store-bought or packaged ones, it is a promise!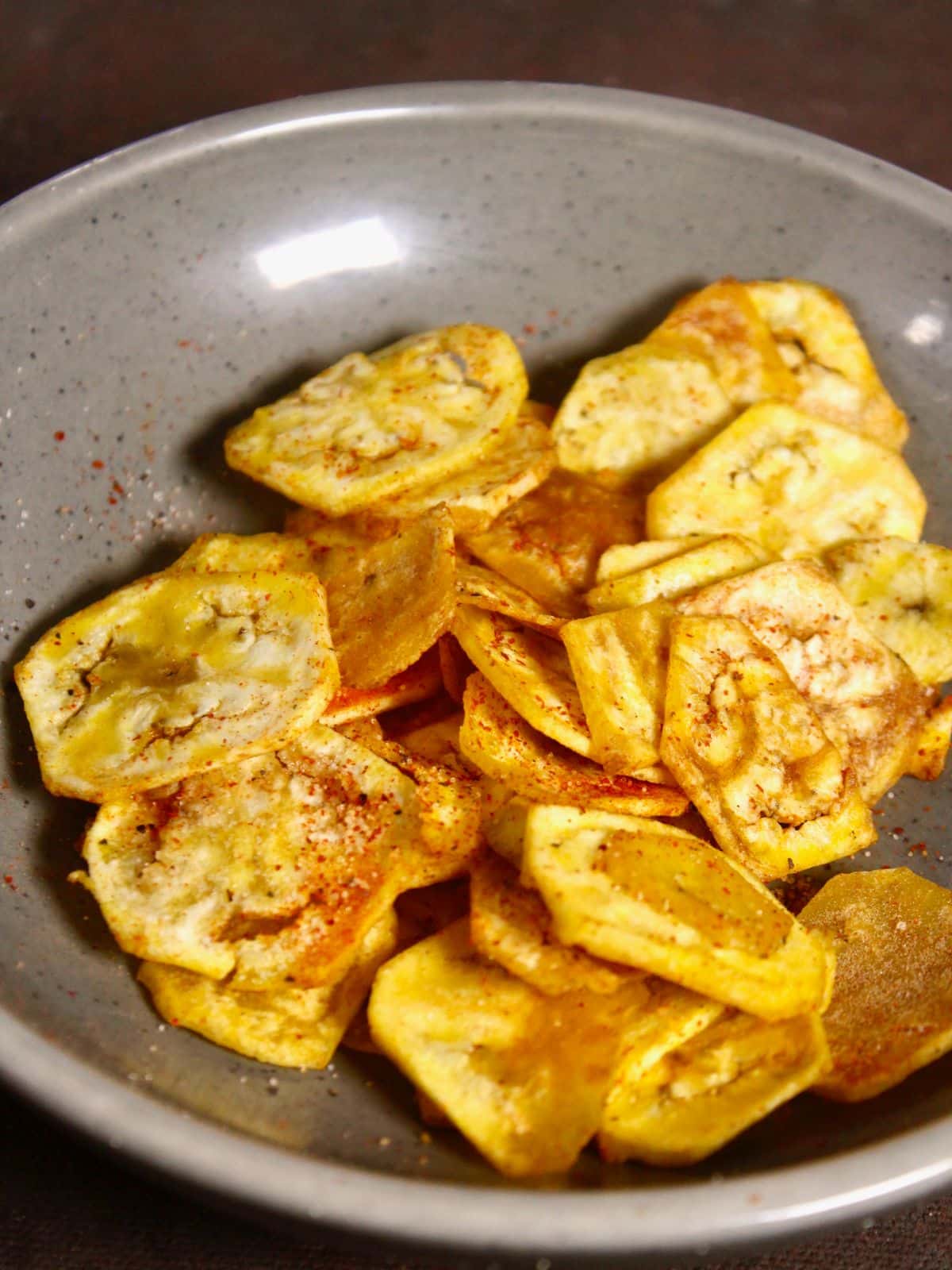 Scroll down to get a closer look at everything you need to know about making this recipe.
Jump to:
Ingredients For the Recipe
To make these spicy red hot banana chips, here are the only ingredients you'll need.
Raw banana (thinly sliced): 1 whole banana
Turmeric powder: A pinch
Water: 2 cups
Oil: For frying
Salt: ½ tbsp
Red chili powder: 1 tbsp
Chaat masala: ½ tbsp
How to Make the Spicy Red Hot Banana Chips
Once you have your ingredients ready, here's what you'll need to do to make these chips.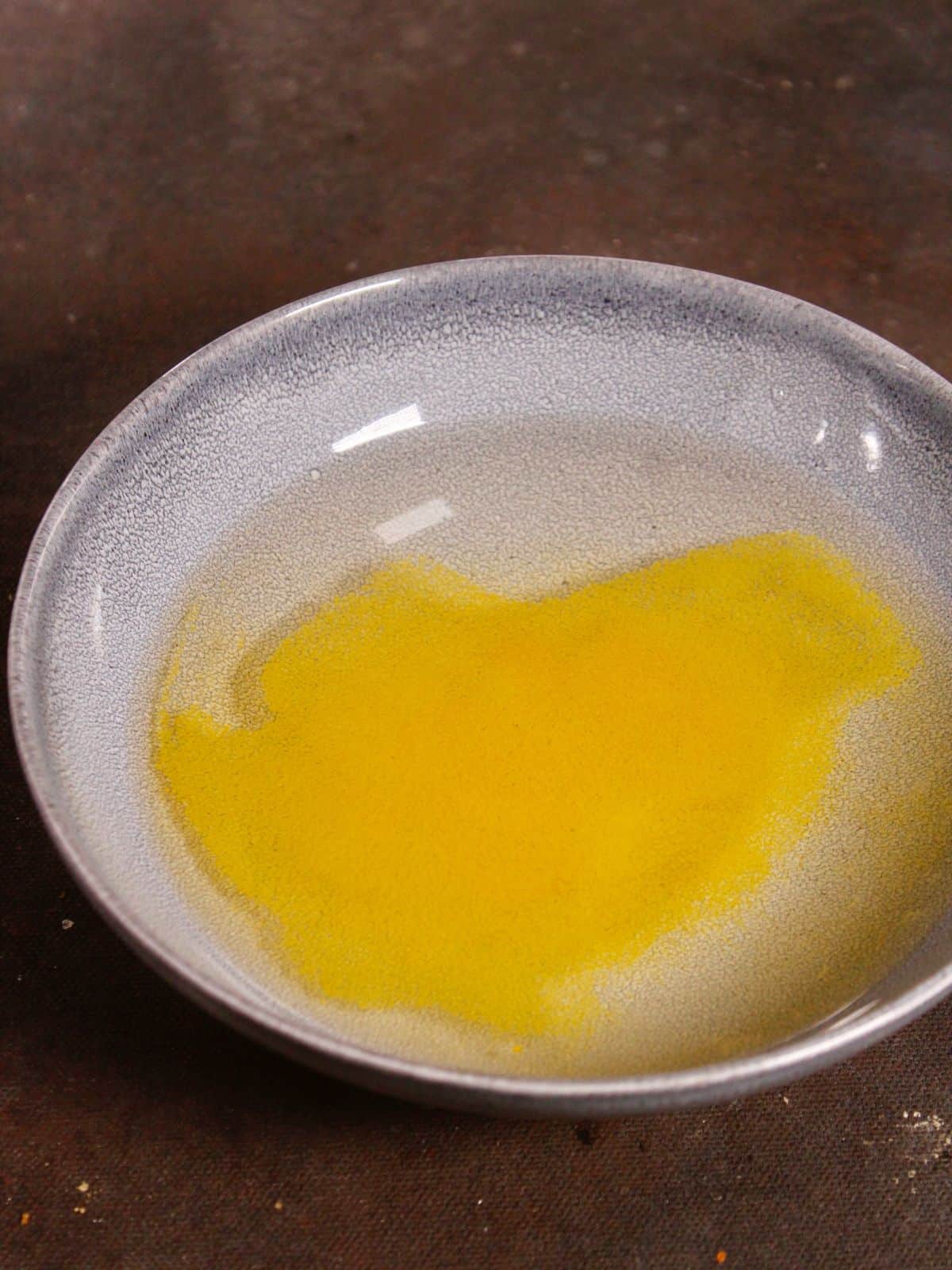 In a mixing bowl, take water and add the turmeric powder. Mix.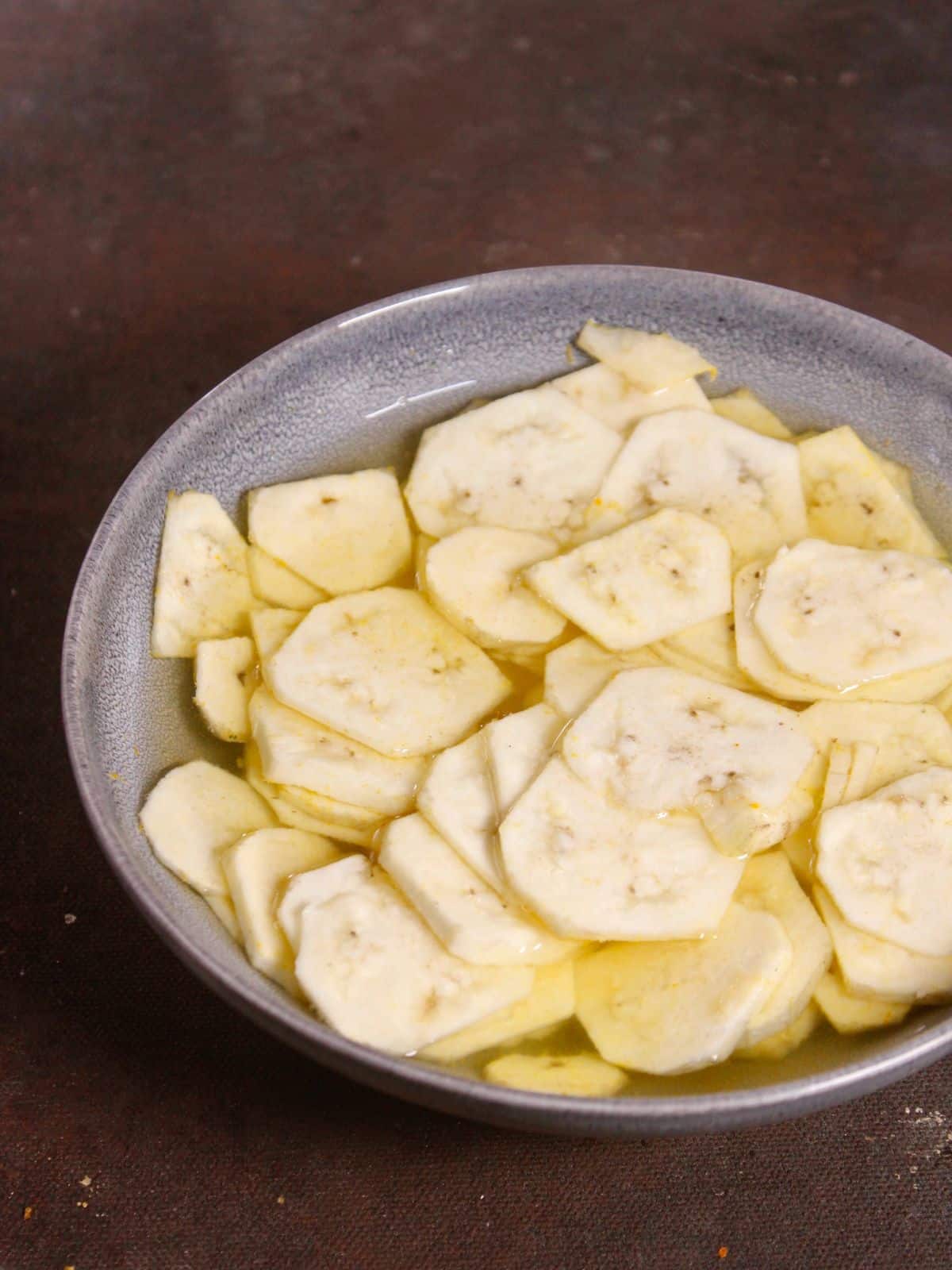 Transfer the banana slices to the turmeric water.
Next, heat oil for frying.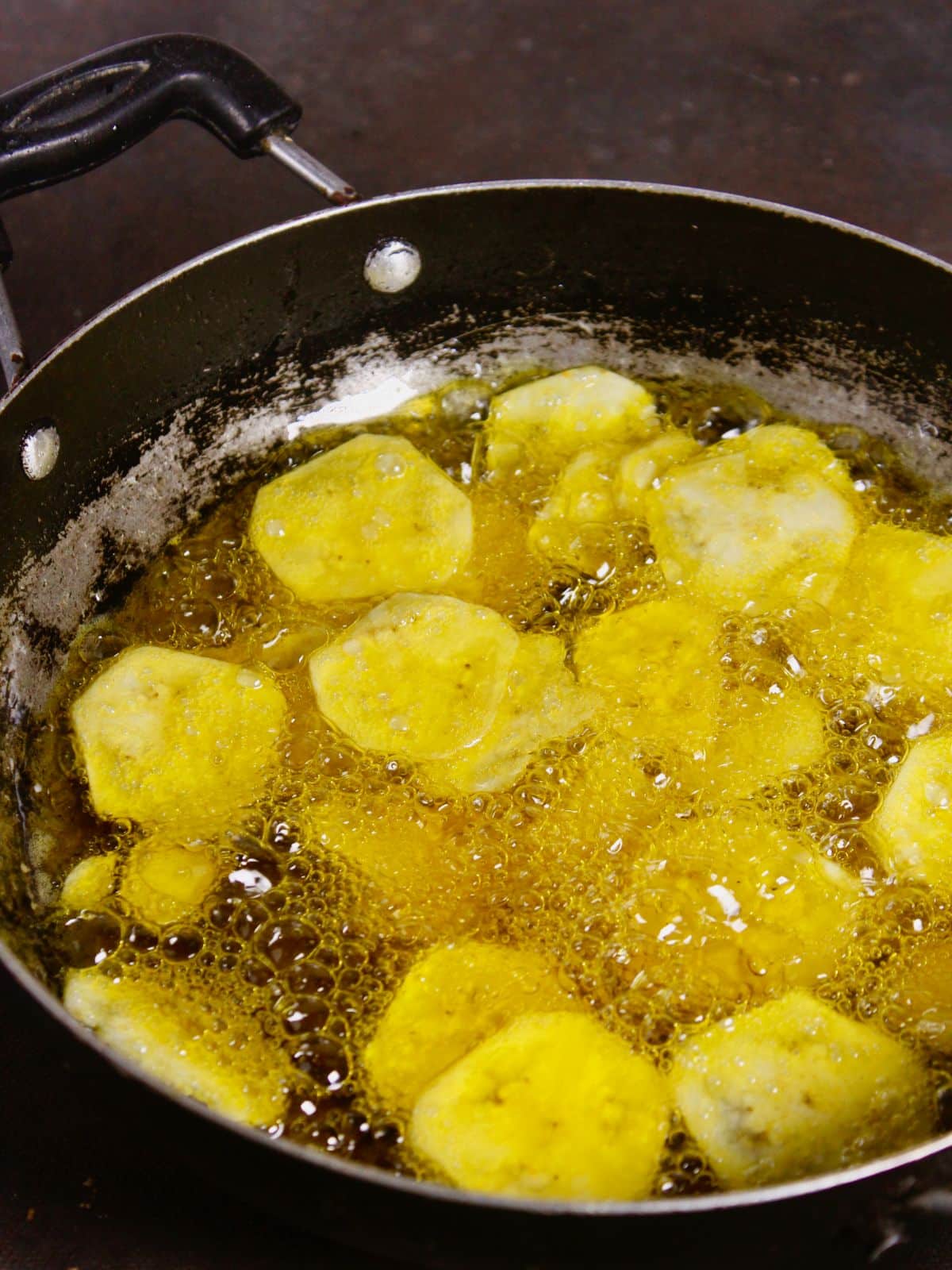 Once the oil is hot enough, start adding the sliced bananas to the hot oil. Make sure to drain the slices of any water. It takes about 7-10 minutes for the banana slices to fry and become crisp.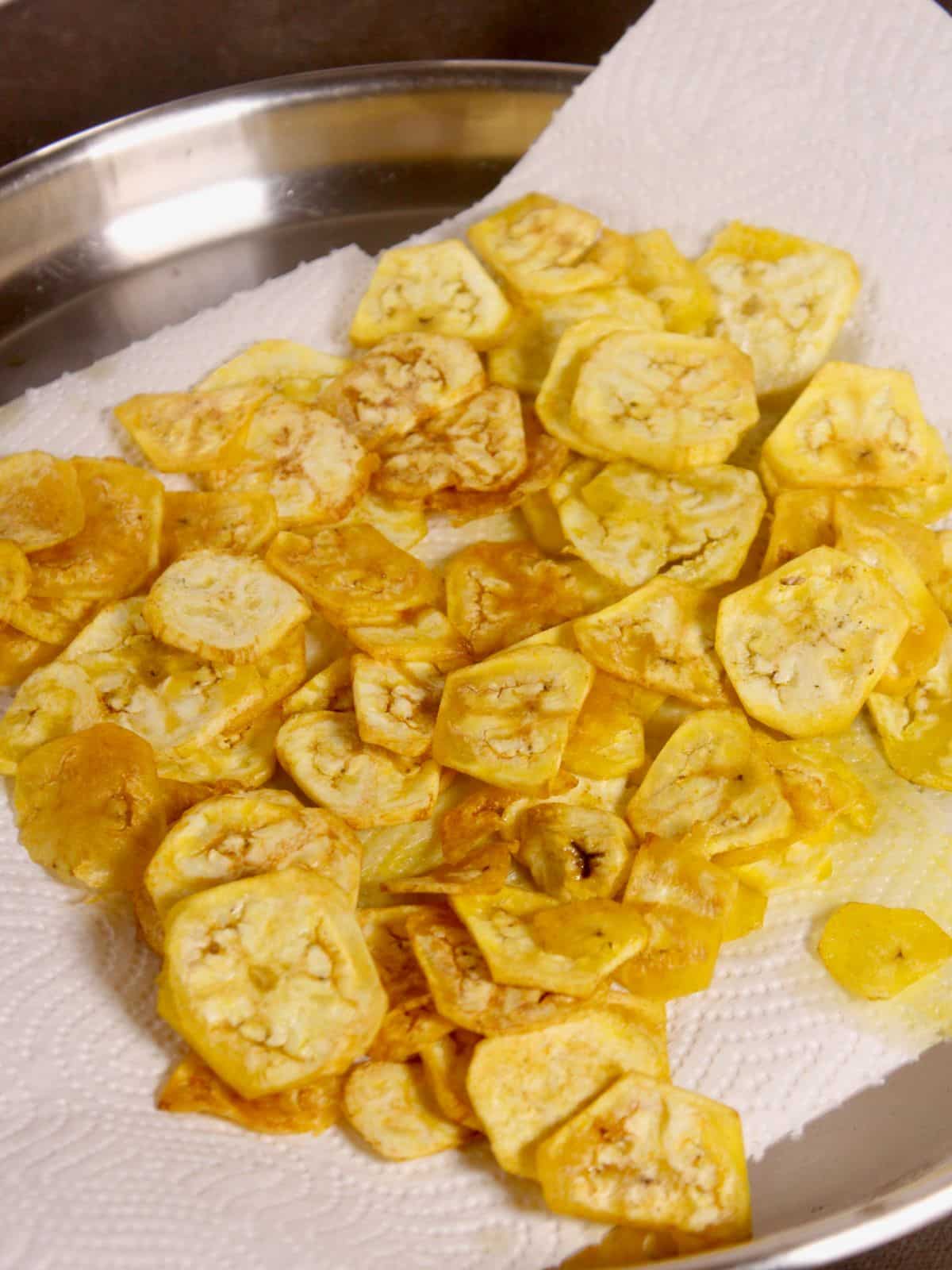 Once all the slices are fried, use a kitchen napkin to absorb extra oil.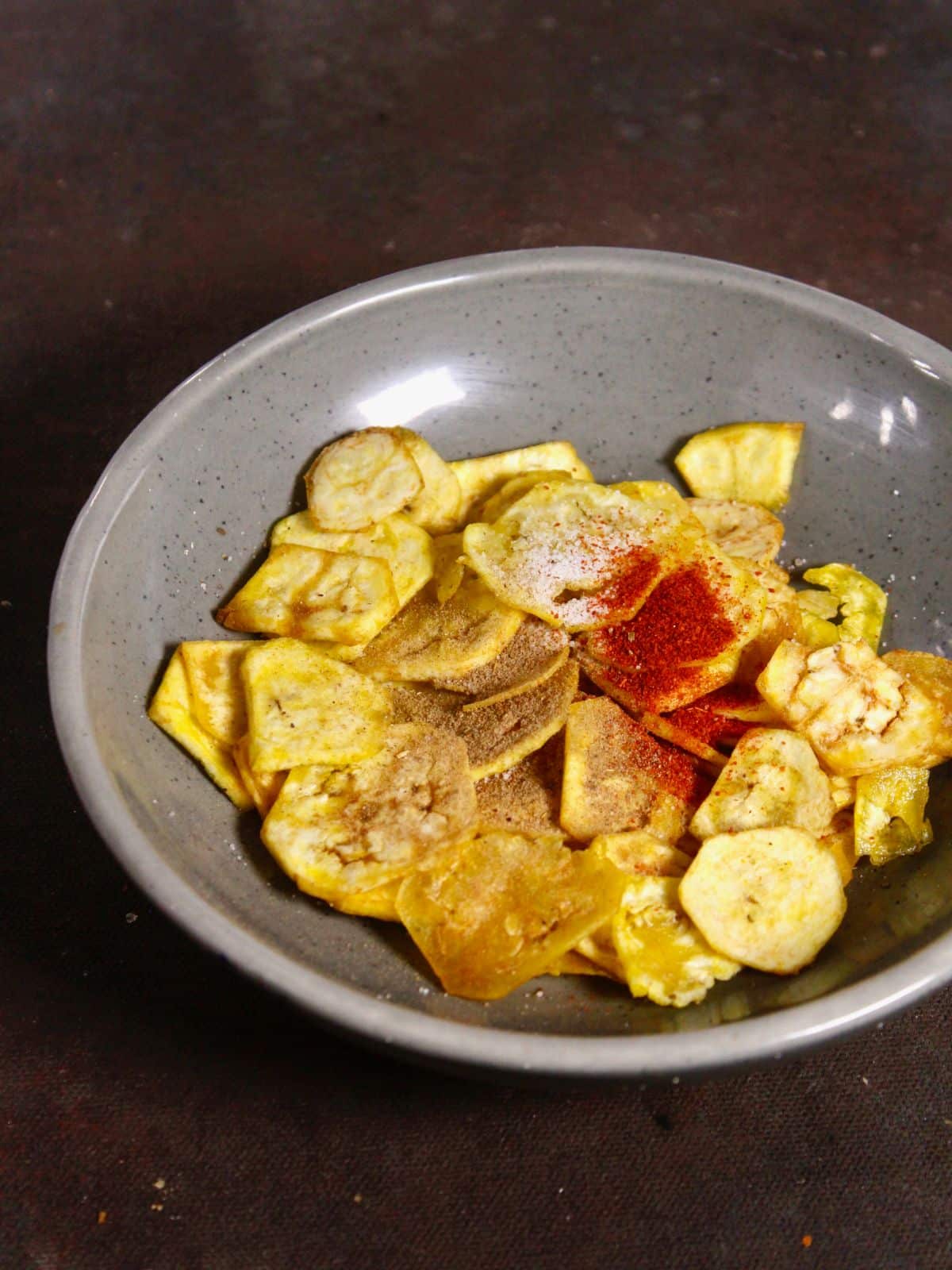 Transfer the fried banana slices to a mixing bowl. Add the salt, red chili powder, and chaat masala. Mix well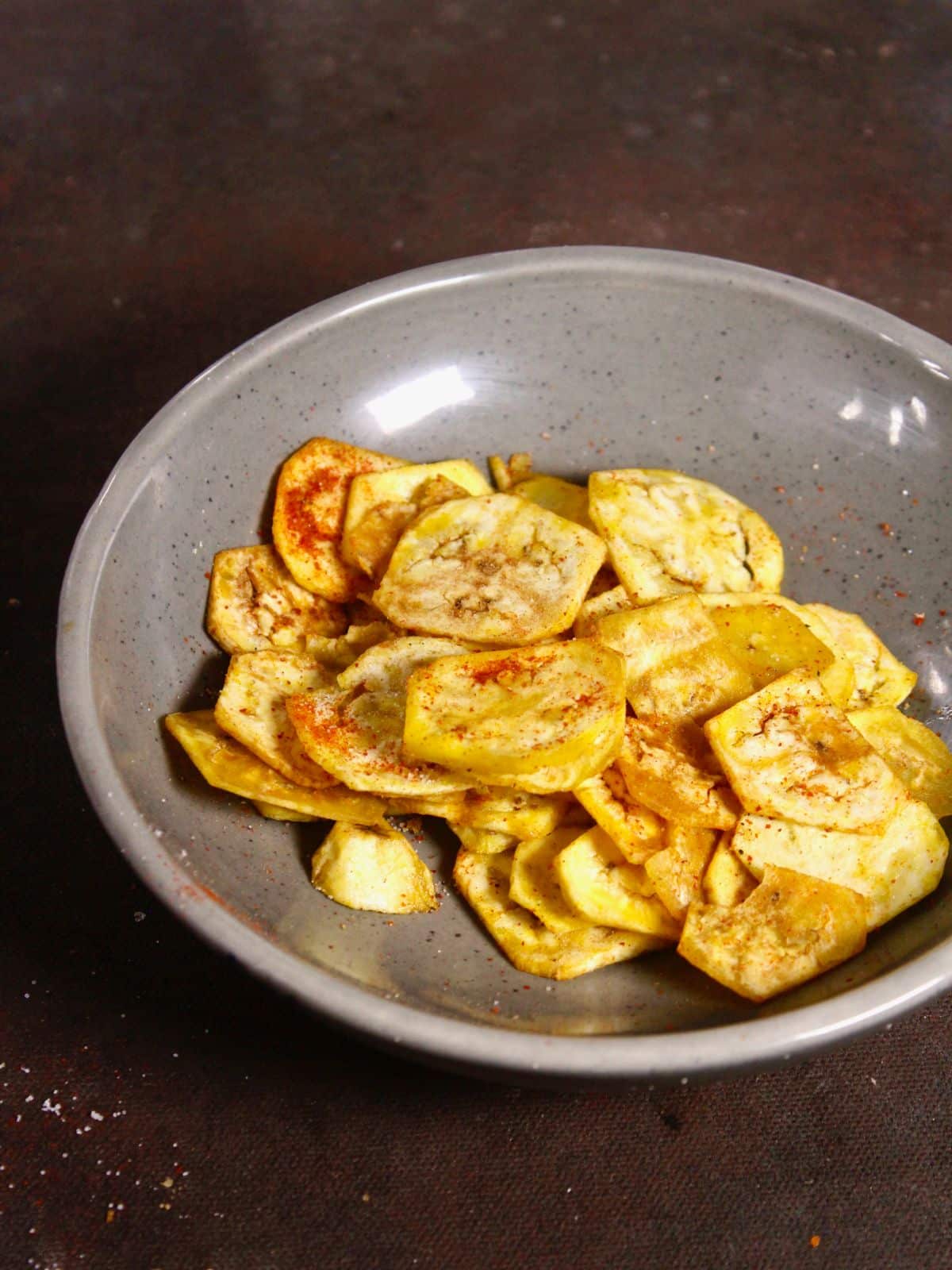 Enjoy with a cup of tea!
Frequently Asked Questions
What Else Can I Add to the Spicy Red Hot Banana Chips?
We've used a mix of chaat masala powder and red chili powder to season the chips. If you want, you can use any other seasoning mix of your choice. 
If you're concerned about the chips being extra spicy, you can use Kashmiri red chili powder instead of the regular red chili powder. Kashmiri chillies tend to be more subtle, so you'll get that bright red color, but without the chips being overly spicy.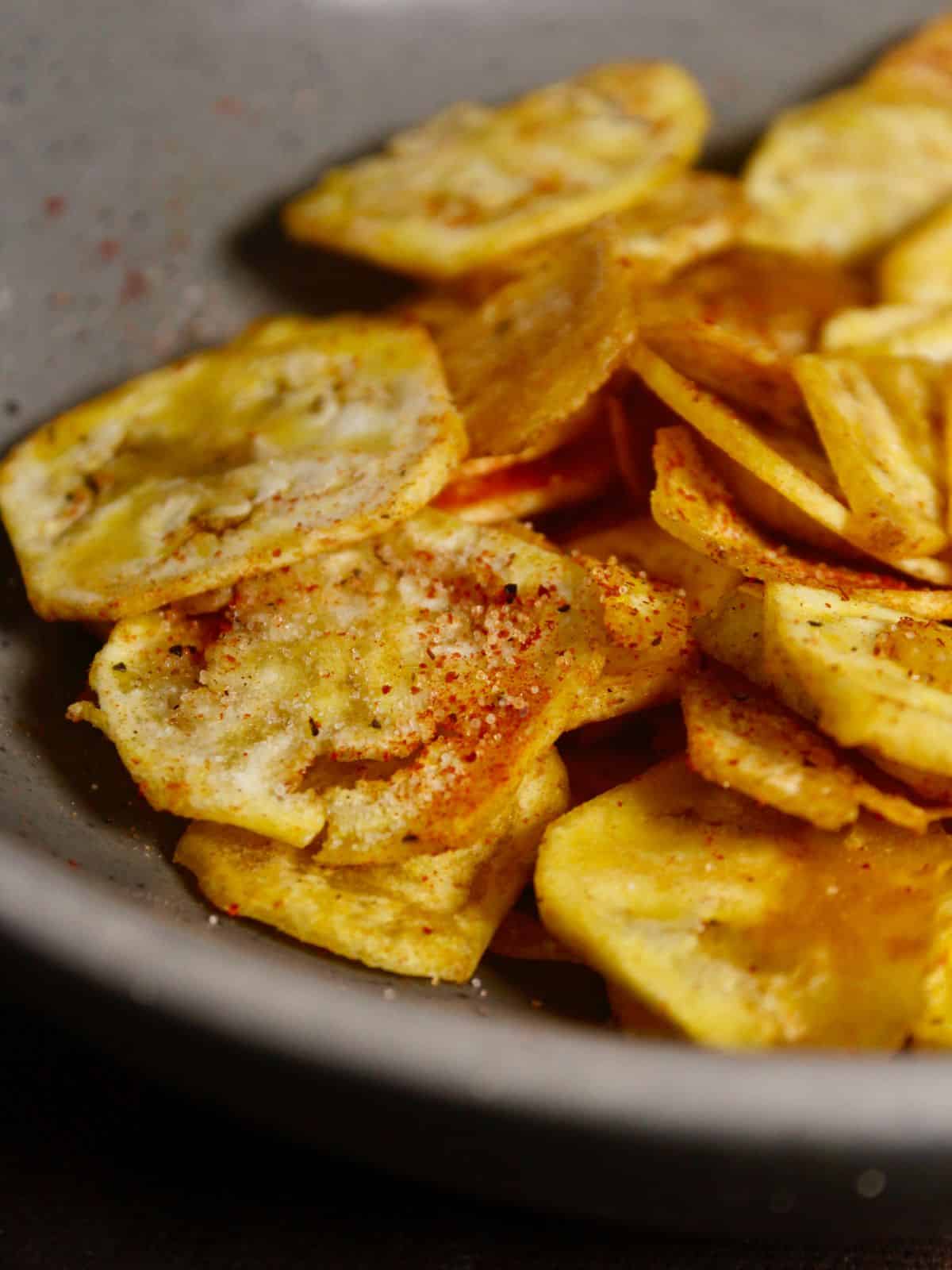 How Do I Store the Leftovers?
Your leftover banana chips can be stored in an airtight container at room temperature for 5-7 days, if not more. 
Just make sure you put the lid back on after you're done serving them to keep them nice and crunchy. 
If your banana chips have lost their crispness, you can pop them in the microwave for a few minutes and allow them to cool down before enjoying them again- they'll become crispy once again!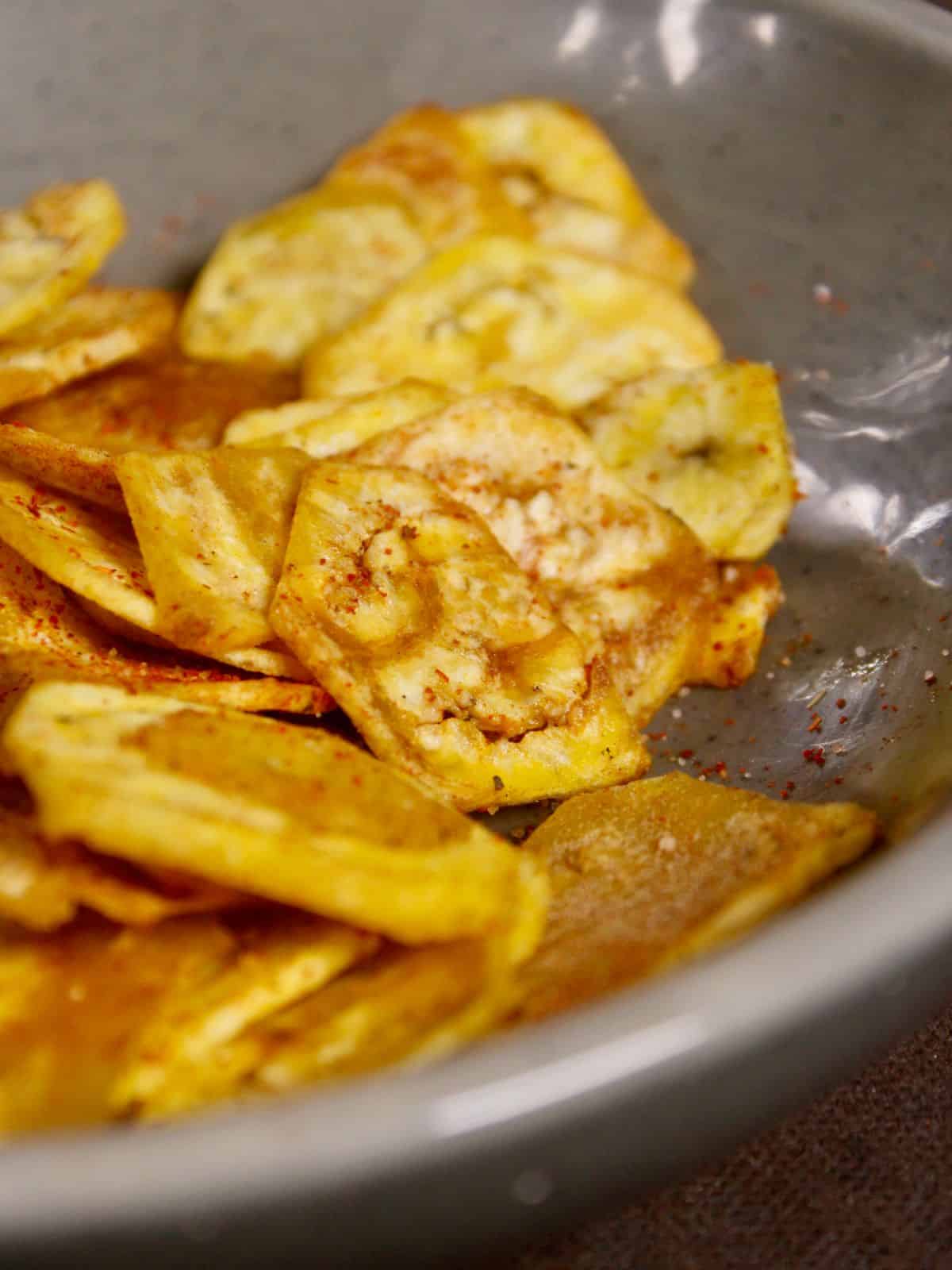 Tips & Tricks to Make the Spicy Red Hot Banana Chips
While making these banana chips is super easy, you might want to have these little tips and tricks handy.
Make sure you use firm and green plantains (unripe bananas) to make these banana chips. The bananas should be firm to the touch and have a uniform, green color.
A mandoline slicer is the best tool for slicing the bananas into thin and even rounds, which is crucial when it comes to keeping them crispy.
Soak the sliced bananas in the turmeric water for 10-15 minutes before frying. This will remove excess starch from the bananas and make them crispy.
Make sure you pat the banana slices dry with a clean towel. This will prevent oil splatters and also help make the chips crispier.
Fry the chips in small batches to ensure that they are evenly cooked, and don't end up sticking to each other.
Use a neutral oil with a high smoke point, such as vegetable oil or peanut oil, to fry the chips.
Toss the banana chips with the spice mix while they're still hot- ideally a minute or two after they're out of the oil. This will help the spices cling to the surface of the chips better.
You can also choose to bake or Air Fry the banana chips instead of deep frying them as this recipe needs you to. This will obviously be a healthier version, but you'll not be able to enjoy the same crunch factor- so keep that in mind.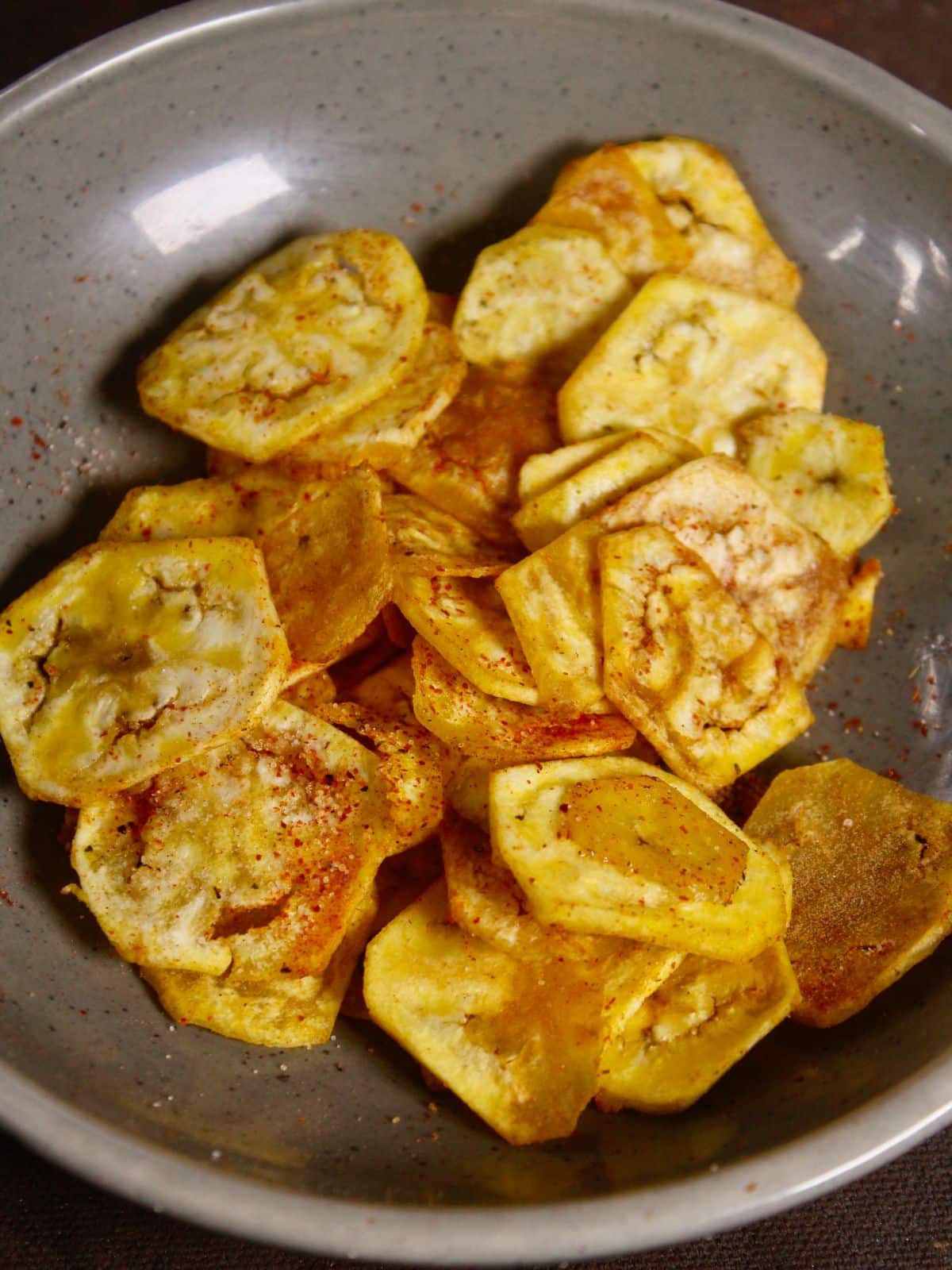 Serving Ideas & Suggestions
These easy to make spicy red hot banana chips are the perfect mid-day or tea time snack to enjoy with your entire family.
They are well seasoned and super versatile, so you can team them up with your cup of tea or coffee-no problem.
In fact, these chips can also be a great midnight treat to reach out for when you're craving for a salty and spicy snack.
If you enjoyed making this evening snack, and are inspired to try some more snack recipes that you can recreate in your kitchen, here are a few good recipes you might want to try out.
📖 Recipe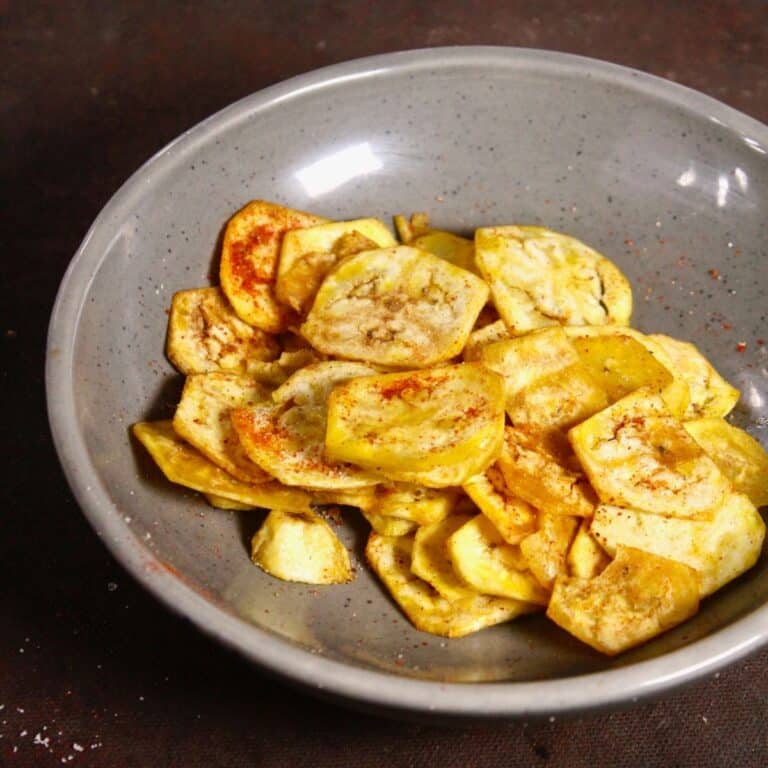 Spicy Red Hot Banana Chips
These spicy red hot banana chips are salty, spicy and crunchy, and are sure to become your next favorite evening snack to munch on.
Print
Pin
Rate
Ingredients
1

pcs

Raw banana

,

(thinly sliced)

1

pinch

Turmeric powder

2

cup

Water

1

cup

Oil

½

tablespoon

Salt

1

tablespoon

Red chili powder

½

tablespoon

Chaat masala
Instructions
In a mixing bowl, take water and add the turmeric powder. Mix.

Transfer the banana slices to the turmeric water.

Next, heat oil for frying.

Once the oil is hot enough, start adding the sliced bananas to the hot oil. Make sure to drain the slices of any water. It takes about 7-10 minutes for the banana slices to fry and become crisp.

Once all the slices are fried, use a kitchen napkin to absorb extra oil.

Transfer the fried banana slices to a mixing bowl. Add the salt, red chili powder, and chaat masala. Mix well
Nutrition
Serving:
2
Servings
|
Calories:
1018
kcal
|
Carbohydrates:
3
g
|
Protein:
3
g
|
Fat:
113
g
|
Saturated Fat:
8
g
|
Polyunsaturated Fat:
32
g
|
Monounsaturated Fat:
71
g
|
Trans Fat:
0.4
g
|
Cholesterol:
6
mg
|
Sodium:
338
mg
|
Potassium:
135
mg
|
Fiber:
2
g
|
Sugar:
0.3
g
|
Vitamin A:
1191
IU
|
Vitamin C:
0.2
mg
|
Calcium:
26
mg
|
Iron:
1
mg