Madras lentils is a popular Indian-inspired dish that has become a favorite among people around the world. The dish is made with lentils, tomatoes, and a blend of aromatic spices, resulting in a flavorful and comforting meal that is perfect for any occasion.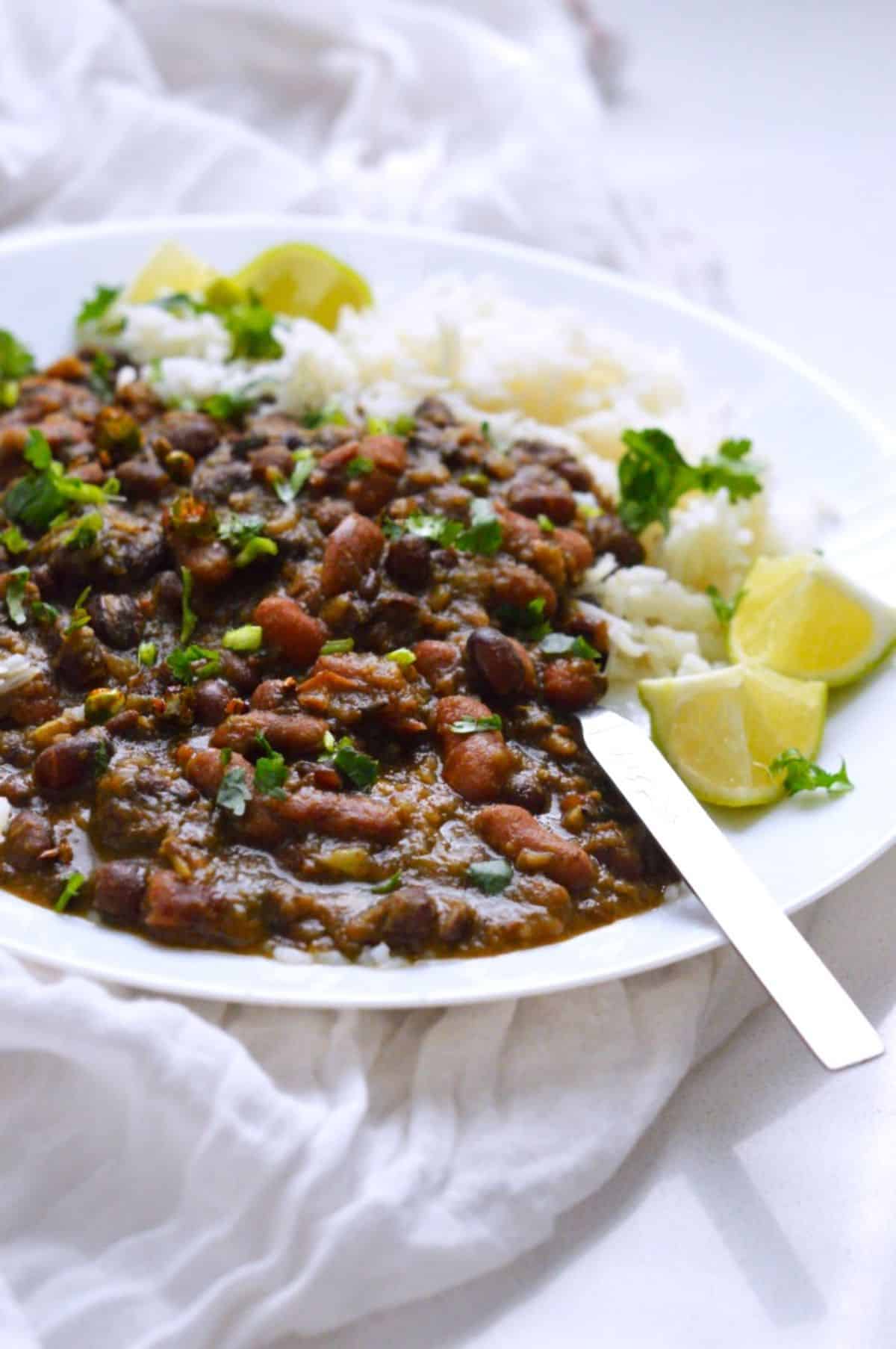 To make madras lentils, brown lentils are cooked until tender and then combined with a spicy tomato-based sauce made from ingredients like onions, garlic, ginger, and chili peppers. The dish is then simmered until the flavors meld together and is often served with rice or naan bread.
Do you know Madras lentils are not the same as dal makhani? While both Madras lentils and Dal Makhani are popular lentil-based dishes from India, they are not the same.
Madras lentils are made with brown lentils and a spicy tomato-based sauce with a blend of aromatic spices. It is typically served with rice or naan bread and is a popular vegan or vegetarian dish.
Dal Makhani, on the other hand, is made with black lentils and kidney beans that are cooked with butter, cream, and a variety of spices, resulting in a rich and creamy dish. It is typically served with rice or naan bread and is a popular non-vegetarian dish.
While both dishes are delicious and nutritious, they have different ingredients and preparation methods, resulting in distinct flavors and textures. So, while they may share some similarities, they are not the same dish.
Jump to:
Reasons to make Madras Lentils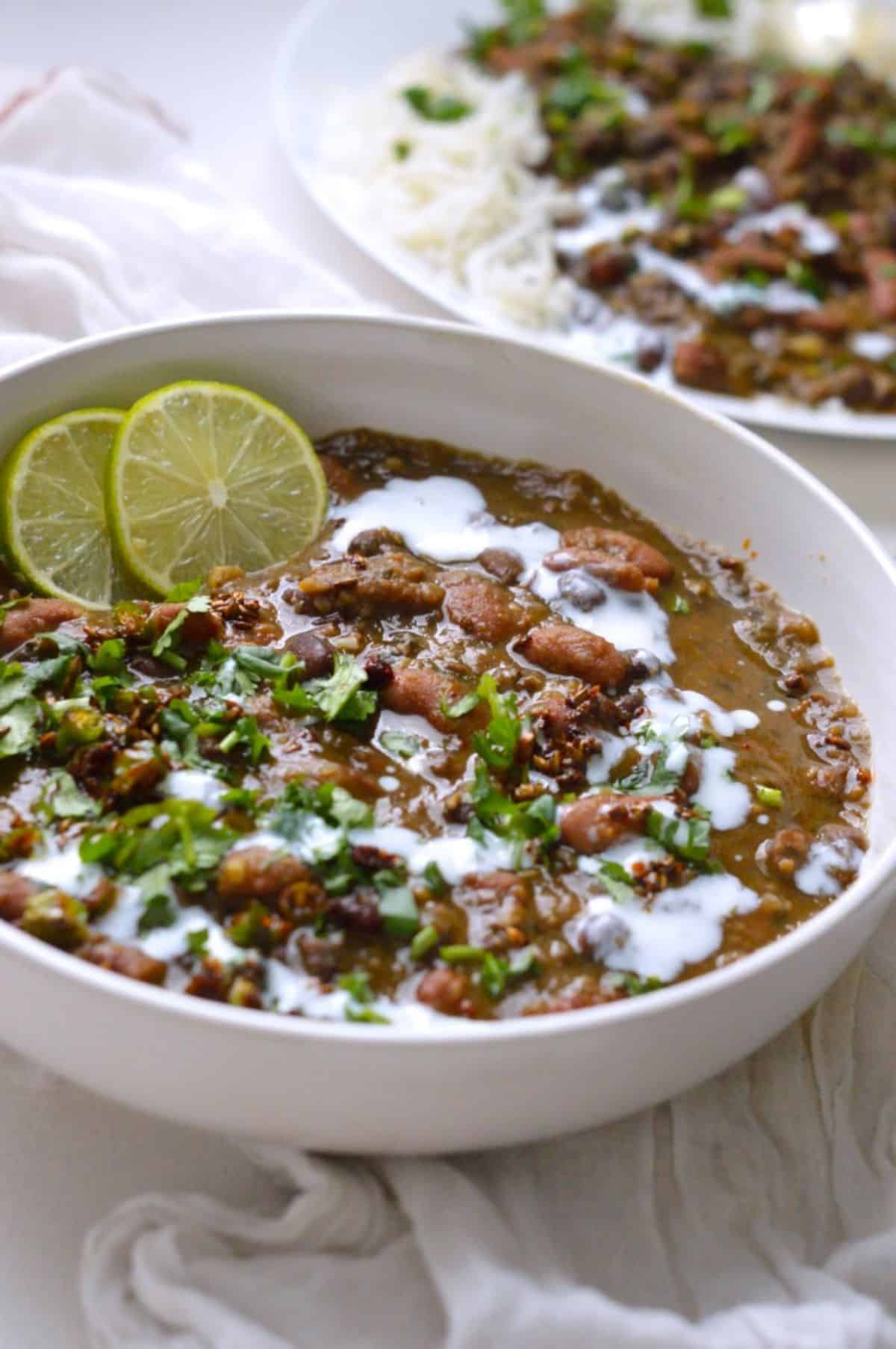 There are several health benefits to eating madras lentils:
High in Protein: Lentils are an excellent source of plant-based protein, which is essential for building and repairing tissues in the body.
Rich in Fiber: Lentils are also a good source of fiber, which is essential for healthy digestion and promoting a feeling of fullness.
Packed with Vitamins and Minerals: Lentils are a good source of essential vitamins and minerals, including folate, iron, and potassium.
Low in Fat: Madras lentils are typically low in fat, making them a great option for those looking to maintain a healthy weight and reduce their fat intake.
Anti-Inflammatory Properties: The spices used in madras lentils, like turmeric and cumin, contain compounds that may have anti-inflammatory properties. Consuming these spices regularly may help reduce inflammation in the body, which can be beneficial for those with conditions like arthritis or inflammatory bowel disease.
Overall, madras lentils are a nutritious and delicious dish that provides numerous health benefits. Whether you are following a vegetarian or vegan diet or simply looking for a flavorful and comforting meal, madras lentils are definitely worth a try.
Ingredients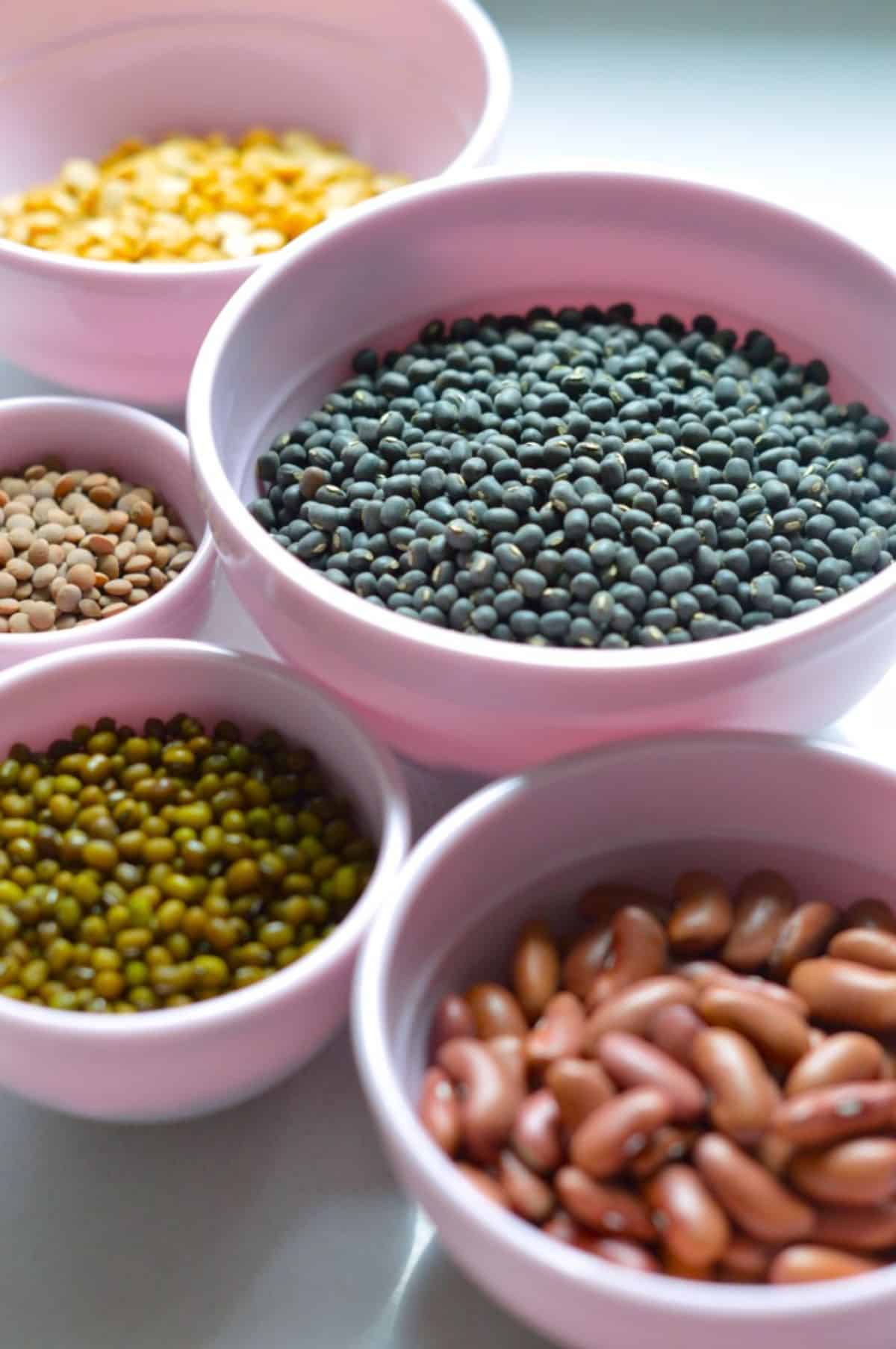 1 cup brown lentils or ½ cup brown lentils and ½ cup black urad dal
½ cup cooked red kidney beans (you may also add adzuki beans)
1 medium onion, finely chopped
2 cloves garlic, minced
1 medium tomato, chopped
1 teaspoon ginger paste
1 teaspoon cumin powder
1 teaspoon coriander powder
1 teaspoon turmeric powder
1 teaspoon chili powder
1 teaspoon garam masala
2 tablespoon oil
Salt to taste
2 cups of water
Fresh coriander leaves for garnish
Instructions
Rinse the lentils and dal and set them aside.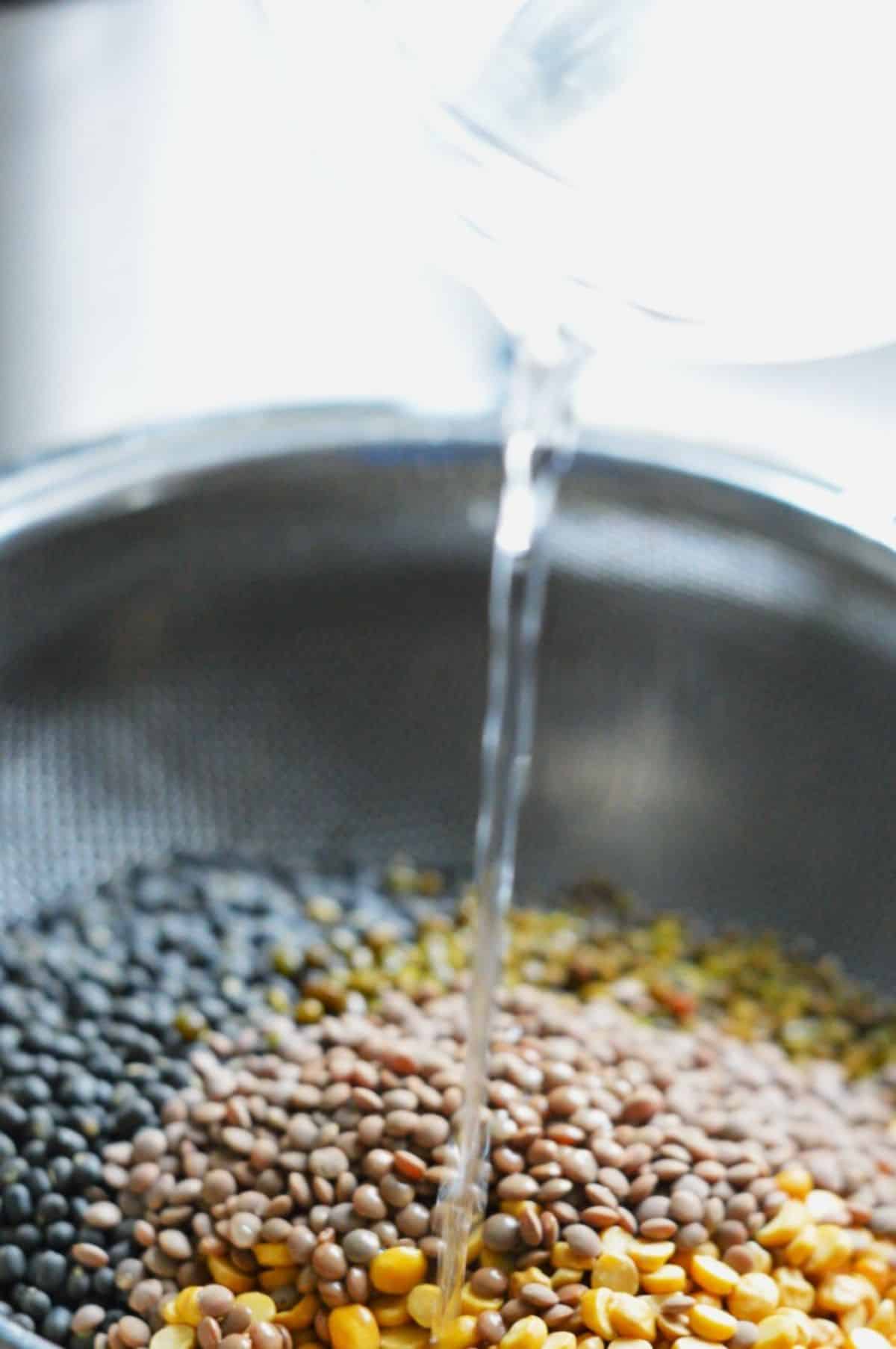 Turn on the Instant Pot and select the "saute" function.
Add oil and wait until hot.
Add the chopped onion and cook until translucent.
Add the minced garlic and cook for 1 minute.
Add the chopped tomato and cook until soft.
Add the ginger paste, cumin powder, coriander powder, turmeric powder, chili powder, and garam masala. Stir to combine.
Add the rinsed lentils, dal, and salt. Stir well.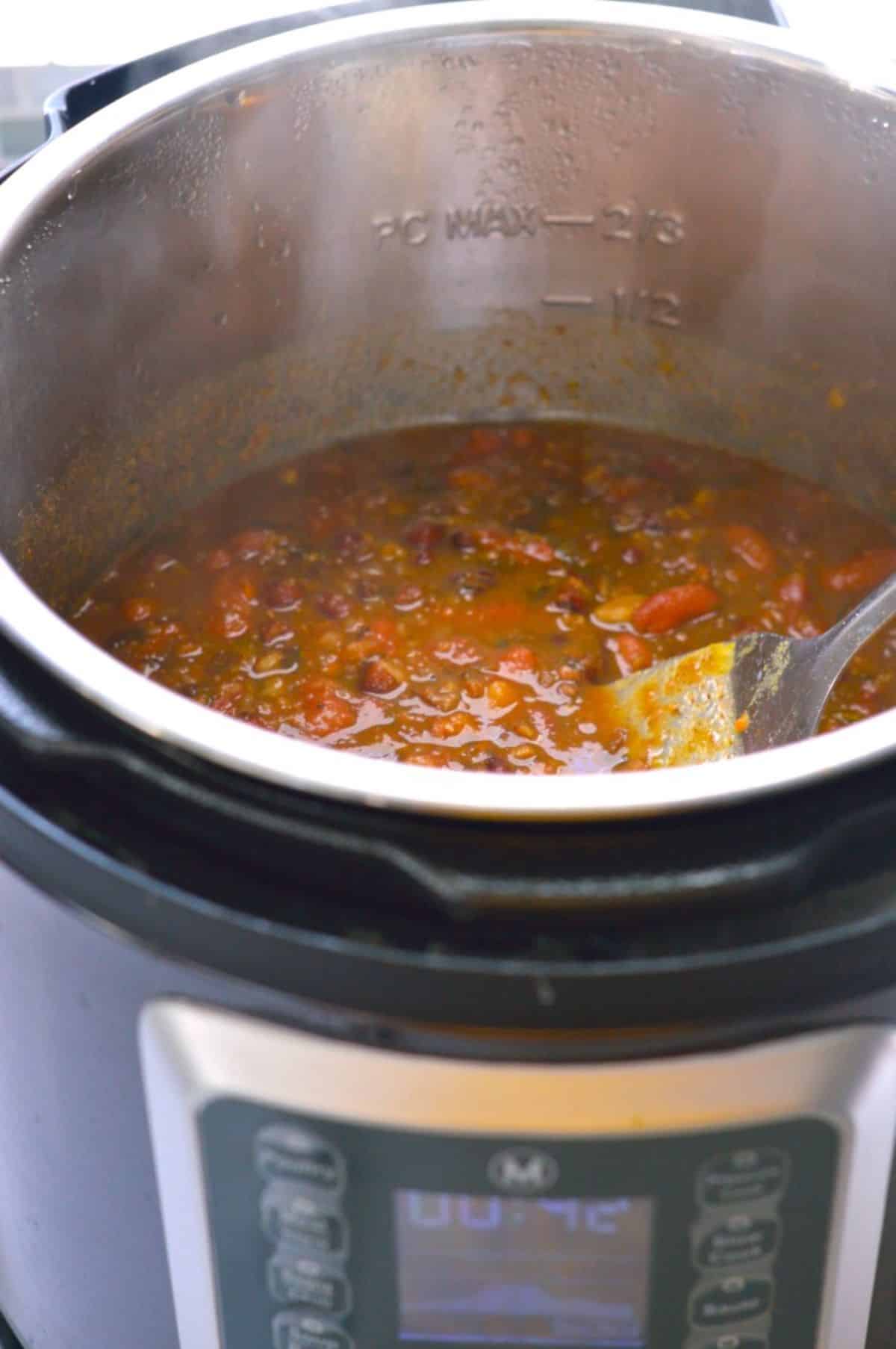 Add 2 cups of water, stir, and deglaze the pot.
Close the Instant Pot lid and set the valve to sealing.
Select the "pressure cook" function and set the timer for 8 minutes.
Once the cooking time is complete, allow the pressure to release naturally for 10 minutes, then do a quick release.
Open the Instant Pot and stir the lentils to make sure they are fully cooked. At this point, add cooked kidney beans. If needed, add a little water and continue to cook on "saute" for a few more minutes.
Serve hot with fresh coriander leaves as a garnish.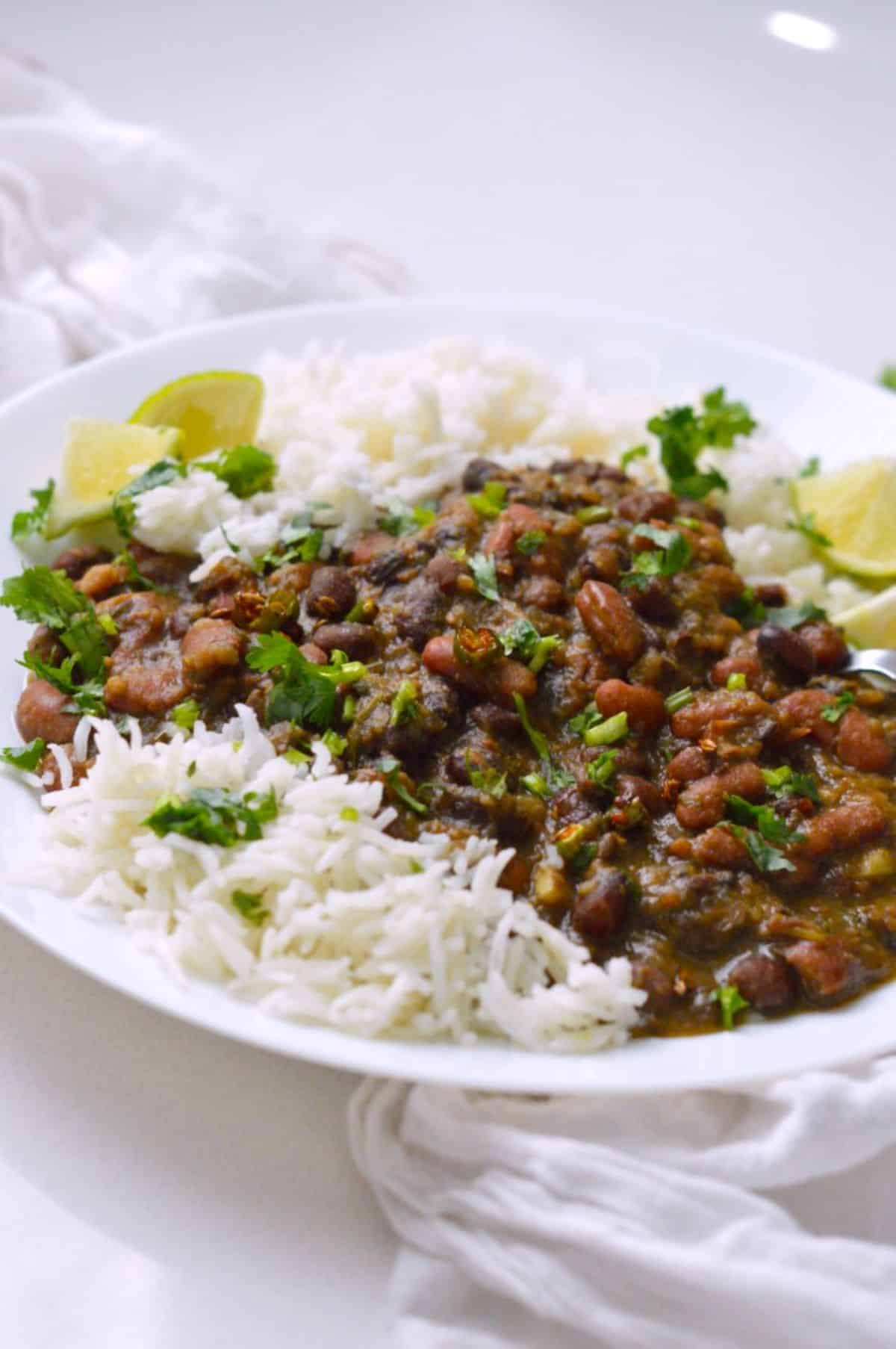 Enjoy your delicious Madras Lentils with naan, roti, or rice!
📖 Recipe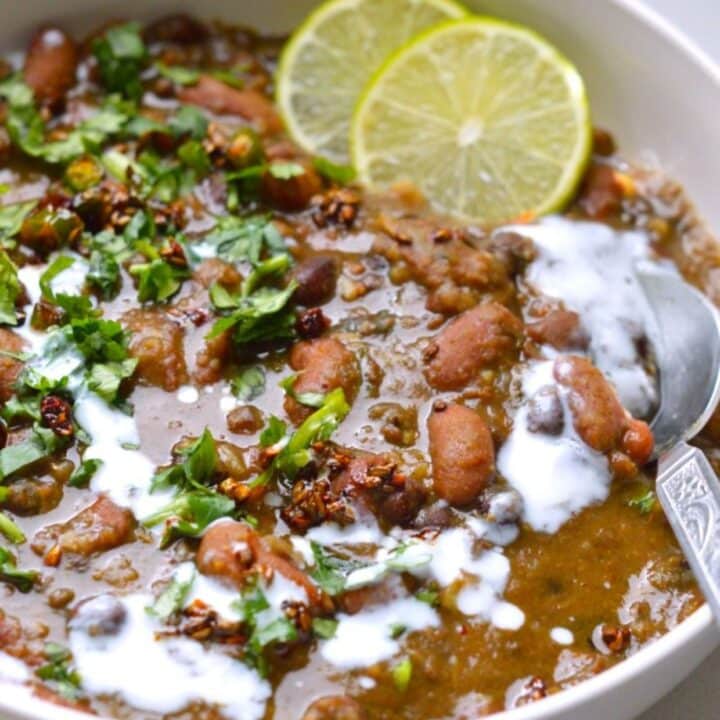 Madras Lentils Instant Pot Recipe
 Create a delicious dinner with this simple and easy Madras Lentils Instant Pot recipe. Enjoy a flavorful and protein-packed meal in no time!
Print
Pin
Rate
Ingredients
1

cup

brown lentils or ½ cup brown lentils and ½ cup black urad dal

½

cup

cooked red kidney beans

,

you may also add adzuki beans

1

medium onion

,

finely chopped

2

cloves

garlic

,

minced

1

medium tomato

,

chopped

1

teaspoon

ginger paste

1

teaspoon

cumin powder

1

teaspoon

coriander powder

1

teaspoon

turmeric powder

1

teaspoon

chili powder

1

teaspoon

garam masala

2

tablespoon

oil

Salt to taste

2

cups

of water

Fresh coriander leaves for garnish
Instructions
Rinse the lentils and dal and set aside.

1 cup brown lentils or ½ cup brown lentils and ½ cup black urad dal,

½ cup cooked red kidney beans

Turn on the Instant Pot and select the "saute" function.

Add oil and wait until hot.

Add the chopped onion and cook until translucent.

Add the minced garlic and cook for 1 minute.

Add the chopped tomato and cook until soft.

Add the ginger paste, cumin powder, coriander powder, turmeric powder, chili powder, and garam masala. Stir to combine.

1 teaspoon ginger paste,

1 teaspoon cumin powder,

1 teaspoon coriander powder,

1 teaspoon turmeric powder,

1 teaspoon chili powder,

1 teaspoon garam masala

Add the rinsed lentils, dal and salt. Stir well.

Add 2 cups of water, stir and deglaze the pot.

Close the Instant Pot lid and set the valve to sealing.

Select the "pressure cook" function and set the timer for 8 minutes.

Once the cooking time is complete, allow the pressure to release naturally for 10 minutes, then do a quick release.

Open the Instant Pot and stir the lentils to make sure they are fully cooked. At this point, add cooked kidney beans. If needed, add a little water and continue to cook on "saute" for a few more minutes.

Serve hot with fresh coriander leaves as a garnish.

Fresh coriander leaves for garnish
Nutrition
Calories:
288
kcal
|
Carbohydrates:
39
g
|
Protein:
15
g
|
Fat:
8
g
|
Saturated Fat:
1
g
|
Polyunsaturated Fat:
2
g
|
Monounsaturated Fat:
5
g
|
Trans Fat:
0.03
g
|
Sodium:
22
mg
|
Potassium:
704
mg
|
Fiber:
18
g
|
Sugar:
3
g
|
Vitamin A:
430
IU
|
Vitamin C:
9
mg
|
Calcium:
60
mg
|
Iron:
5
mg