Easy almond butter recipe, yes! This is the kind of nut butter recipe that you shouldn't restrict yourself from eating often. The truth is that all nut butters are healthy and full of healthy fat. However, I have a special bonding with this one because of all the tremendous almond butter benefits. Here is my version of almond butter recipe.
What Is Almond Butter?
Nut butter made with almonds is known as Almond butter. There are many variations when you choose to add some flavors, spices or just a dash of salt.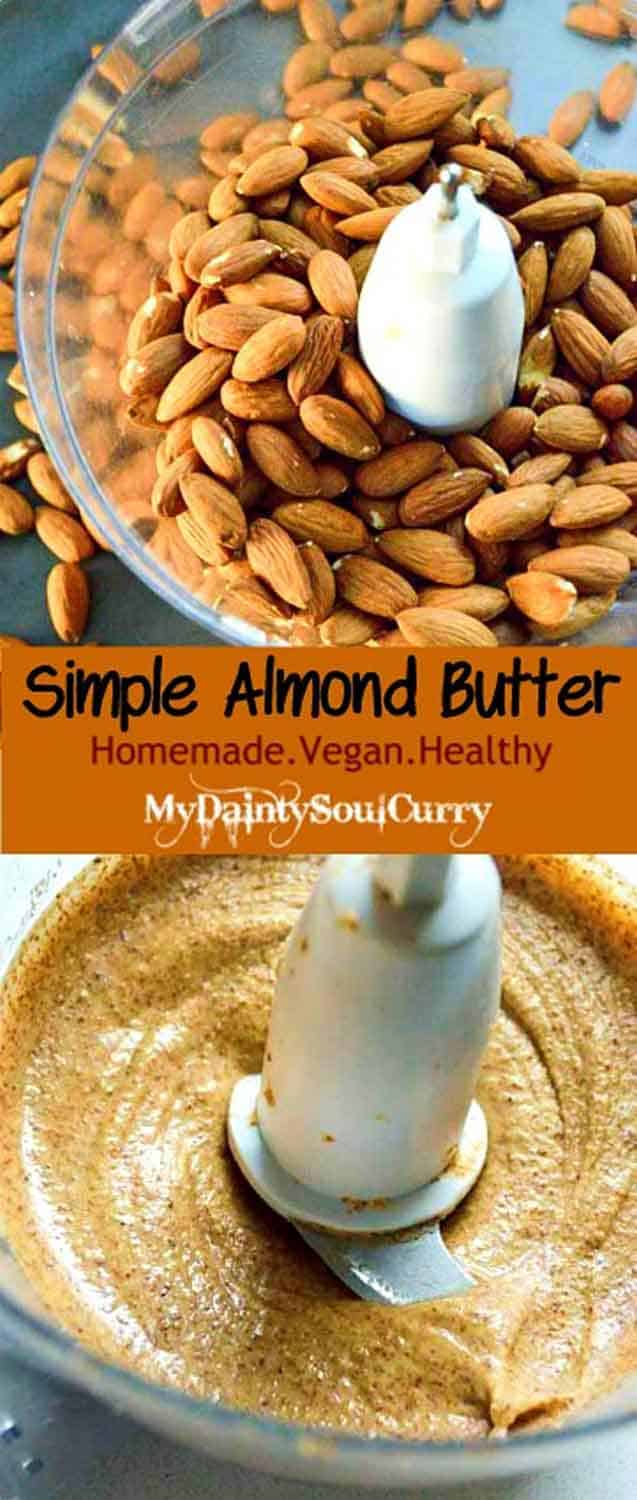 I always stock my pantry with these two nut butters proudly. While I love peanut butter way too much, Mr. Husband has a minor peanut allergy. That's why almond butter for him. I love almonds not just because of its tremendous health benefits but for its rustic nutty taste and its versatility in cooking. I use almond flour in baking and cooking, and while making some Indian desserts too. I drink almond milk every single day. And I use almond butter in baking, in dressings, shakes and even in cooking.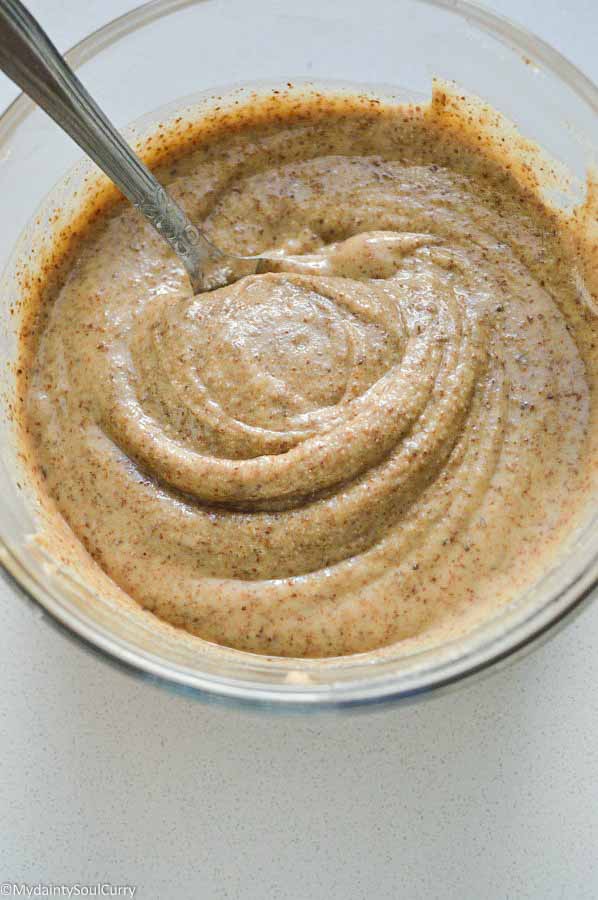 Almond Butter Recipe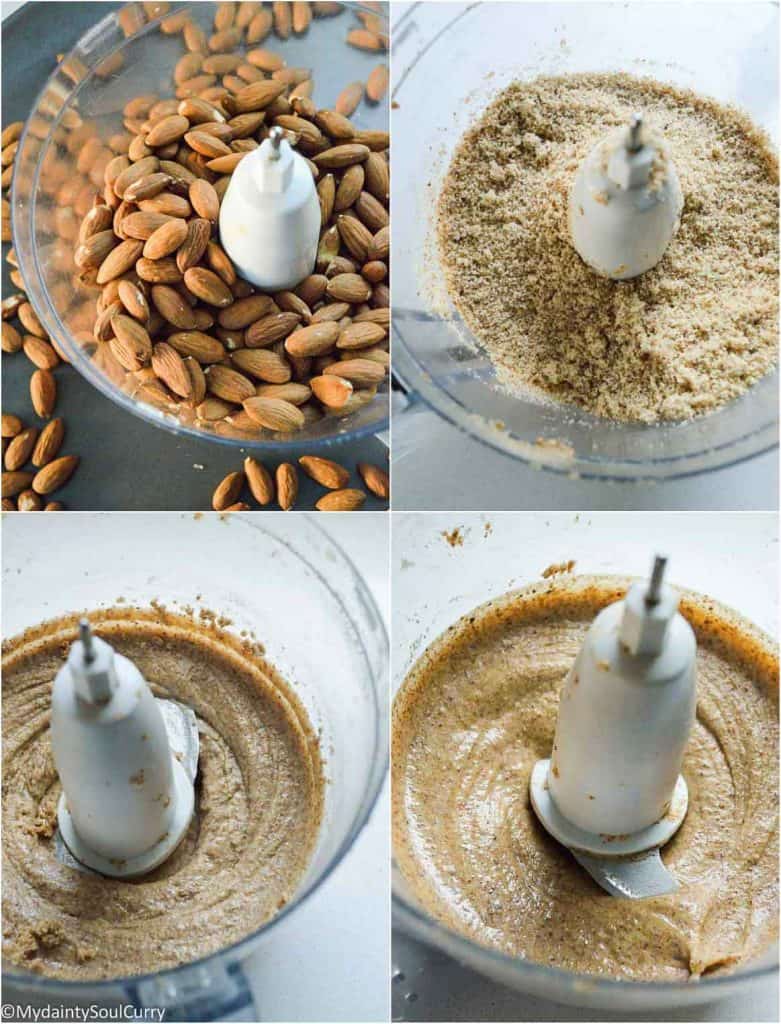 Nutty, yummy goodness packed in a jar - super simple and so easy to make - this is my version of the Easy Almond Butter and all you need is a good blender, grinder or a food processor and some almonds. And, add some flavors using any of the following options.
Love cinnamon? Add it to your almond butter.
Make your almond butter a smoky taste with smoked paprika and sea salt.
Or, just use smoked almonds for making the almond butter.
Chocoholics like me shouldn't shy away from adding a serving of raw cocoa to the almond butter.
There are hundreds of variations that you can make to your homemade almond butter. Now if you are ready to make some almond butter, which I think you should, read this step by step guide.
How to Make Almond Butter Recipe:
For the perfect almond butter recipe, start with the first step that is choosing the best quality almonds. I strongly suggest choosing the finest quality almonds for this almond butter recipe.
Tips for choosing the best almonds:
Choose whole almonds for this recipe.
Check for rancidity by cutting one almond and checking if it is yellow.
Aged almonds often turn yellowish inside with a rancid odor. Fresh and young almonds are white inside and appear less shrunk outside too.
If you buy almonds in bulk and don't want to make butter out of the entire batch, then store the almonds in sealed bag in a cool and dark place or in refrigerator.
The almond butter can be easily stored for a year in refrigerator. However, if you are adding any flavoring agent that contains liquid, consume the almond butter in three months.
Step 1: Roast Almonds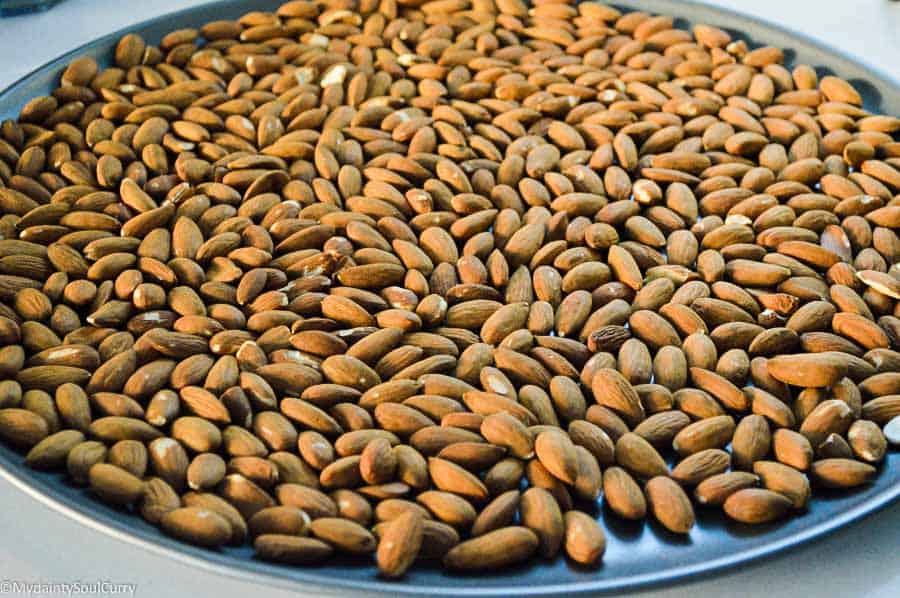 We all know that almonds have oil in them. When warm, these nuts easily release oil.
In a baking sheet, layer almonds and place them in oven for about 5-7 minutes. Keep the oven temperature at 250F.
Touch the almonds to see if they are warm. Remove from baking sheet and proceed with the next step.
Step 2: Process or Blend Almonds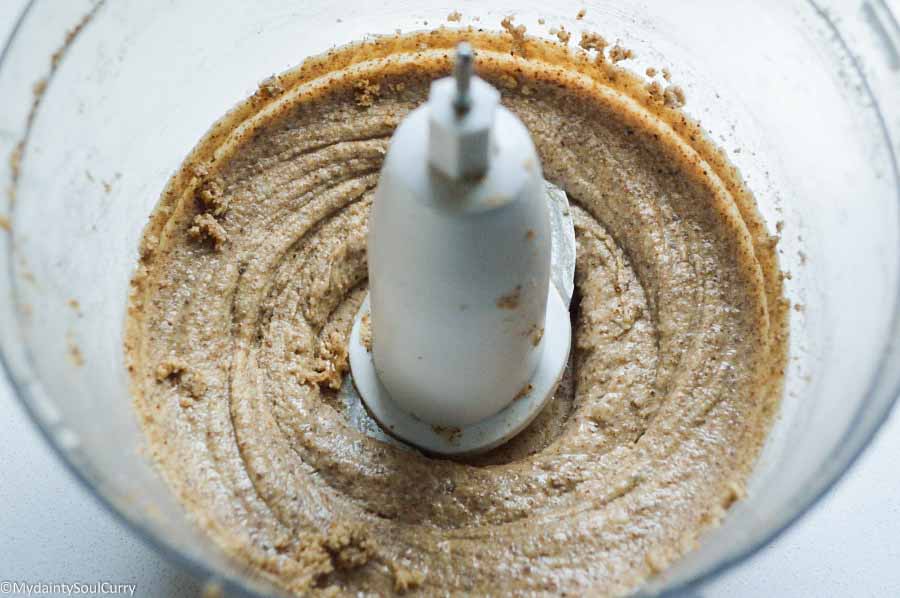 In a food processor or high-speed blender, add these almonds and process at a medium to high speed.(if your processor has a pulse function, use it at this step)
Scrape the edges and stir and continue with the process.
The almonds will first turn to a coarse meal, then to a fine meal.
Then the mixture will look lumpy as almonds start to release oil.
Process for few more minutes until the mixture looks creamy.
Stir well and scrape down the sides, and process again.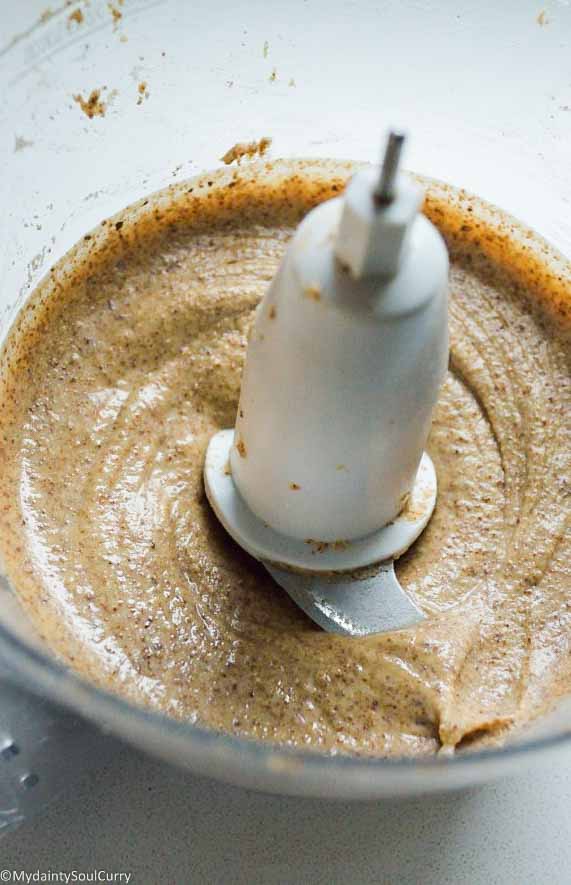 This time at high speed for few minutes and continuously.
Check if the mixture looks smooth, creamy and shiny with the oil released. You don't have to wait for the oil separation.
Add flavoring agents and process again for a few minutes.
Your simple almond butter is ready!
Step 3: Store Almond Butter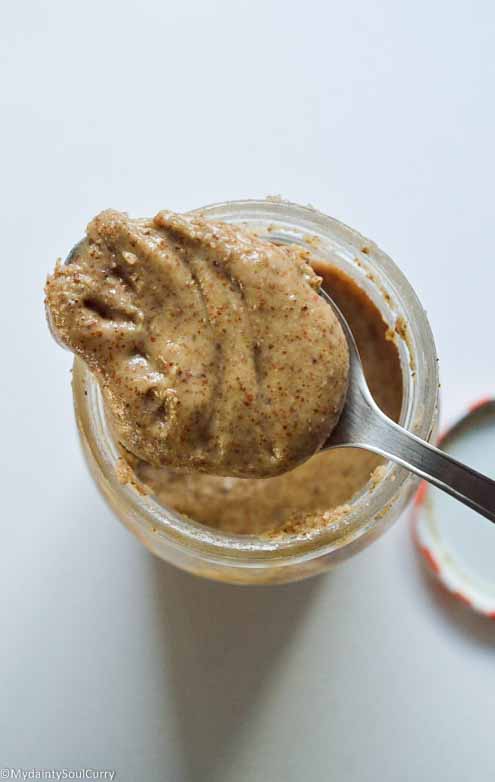 Store almond butter in a glass container or jar, and choose the ones with airtight lids. Almond butter can stay in refrigerator for more than six months and up to a year. And use a clean spoon every time you want some almond butter.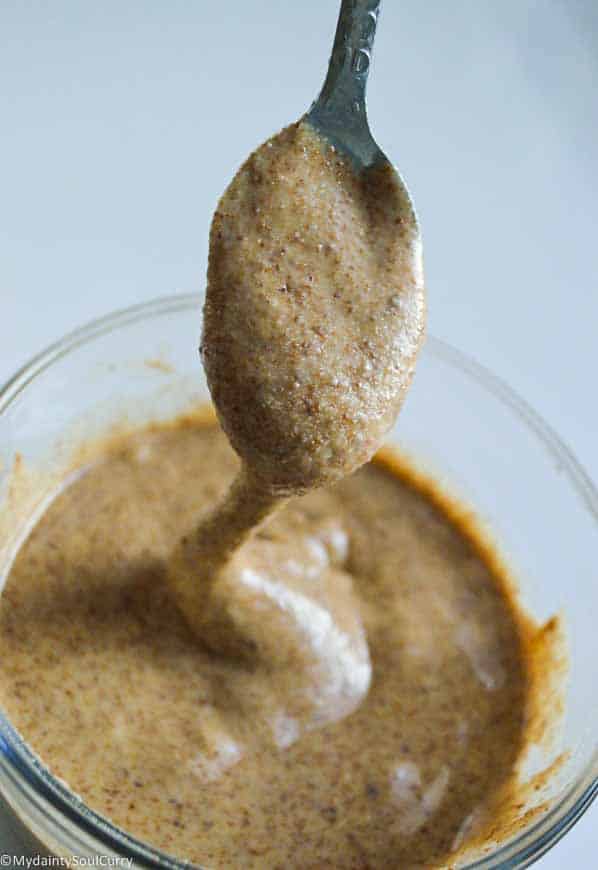 Nutrition Facts: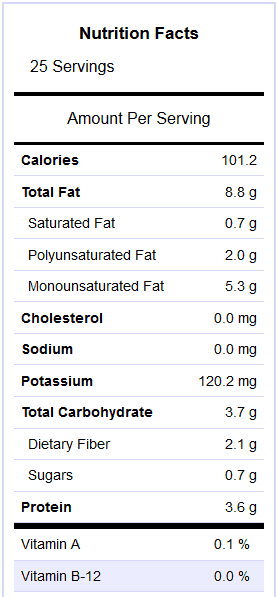 📖 Recipe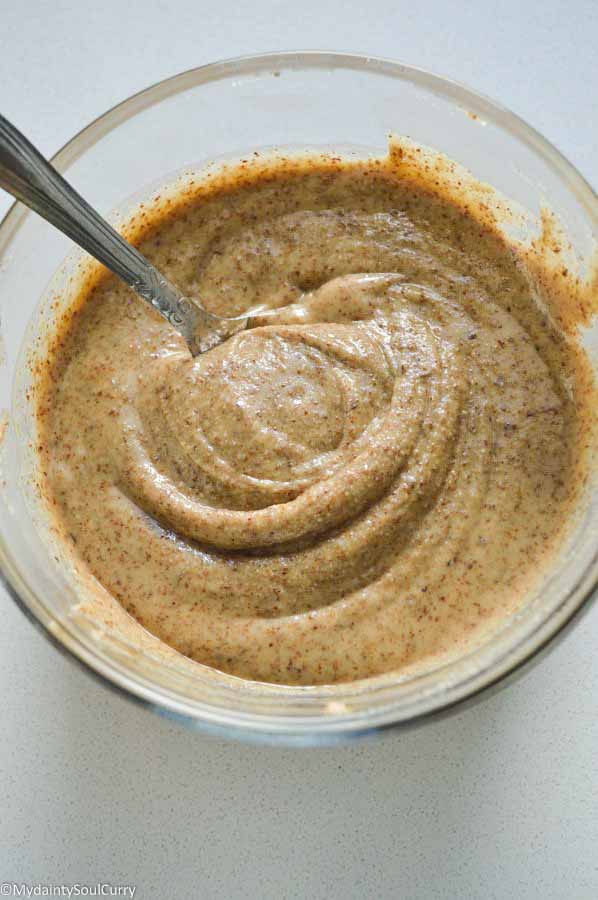 Easy Almond Butter
All you need is three cups of good-quality almonds for this awesome, nutty, creamy and smooth almond butter. Make it today and enjoy using this in dressings, baking, cooking or eat it just like that.

Print
Pin
Rate
Ingredients
3

cups

almonds

1

tablespoon

almond oil(optional)
Instructions
In a baking sheet, layer the almonds and place in the oven for five minutes.

The almonds should feel warm if you touch them after five minutes.

Now take the almonds in a food processor and process until a coarse meal is formed.

Stop and scrape down the sides and process again.

You need to repeat the scraping step many times during the process.

Once the mixture starts to look smooth, add the oil.

Process until the mixture is creamy and shiny because of the oil released from the almonds.

Your almond butter is ready unless you don't want to add any flavoring agent.

If you want to add any flavoring agents such as maple syrup, honey, spices or cocoa powder, add at this point.

Pulse again and your flavored almond butter is ready.
Notes
Adding flavoring agents will decrease the shelf life of the nut butter.
The entire process may take 15-25 minutes, depending on the type of food processor you are using.
You can also use a high-speed blender like Vitamix for this process.
Nutrition
And some recipes using almond butter are here. Click on the images to visit the recipe posts!