While this recipe is not very common in India, my mom made this quite a lot. The region I am from actually has several recipes where beans are cooked with fresh veggies, sprouts, and lots of spices and local herbs.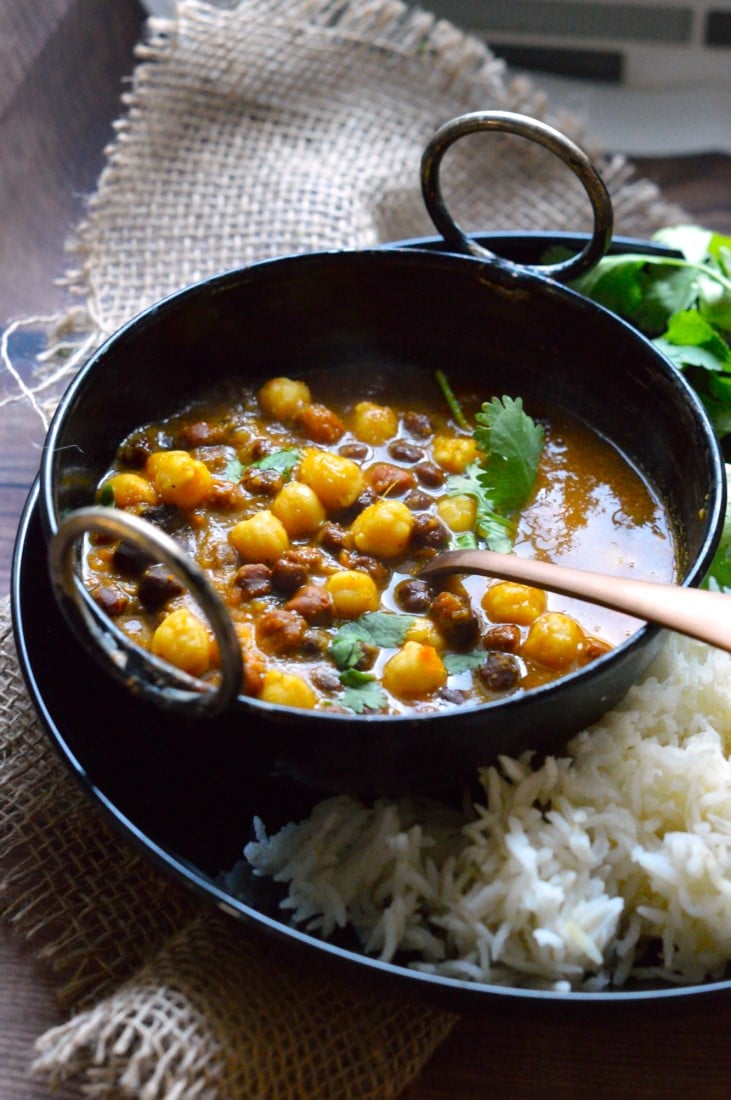 We mostly eat these during festivals. This version of mixed chickpeas curry uses only black chickpeas and white chickpeas. Trust me; you will not be disappointed. Try this amazing curry!
Jump to:
Health Benefits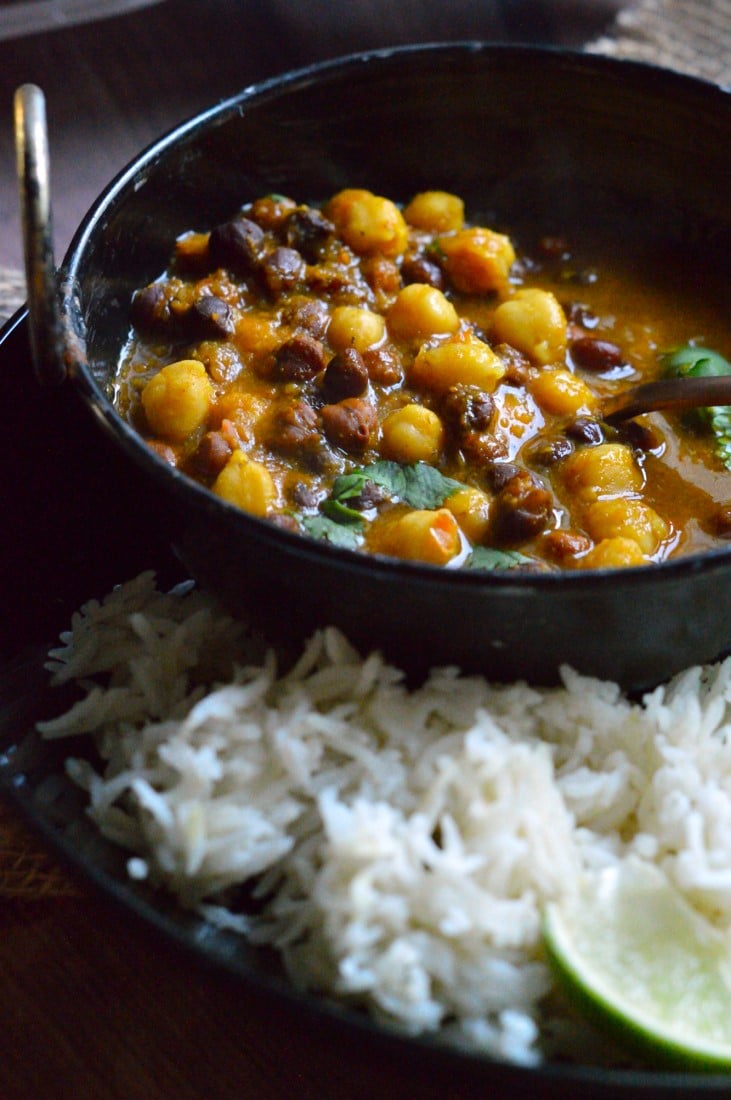 This kala chana and kabuli chana curry recipe is a nutritious and healthy dish that provides several health benefits:
Rich in Protein: Both kala chana and kabuli chana are high in protein, which helps to build and repair muscles, and is essential for maintaining healthy skin, hair, and nails.
High in Fiber: This dish is also high in fiber, which helps to promote healthy digestion, and can also help to regulate blood sugar levels, lower cholesterol, and reduce the risk of heart disease.
Good source of Iron: Kala chana and kabuli chana are also good sources of iron, which is essential for the production of red blood cells and the prevention of anemia.
Vitamins and Minerals: The spices and vegetables used in this recipe, such as ginger, garlic, onions, and tomatoes, provide essential vitamins and minerals, such as vitamin C, potassium, and magnesium.
Overall, this kala chana and kabuli chana curry is a healthy and nutritious meal that can be enjoyed as part of a balanced diet.
Here's a recipe for making kala chana (black chickpeas) and kabuli chana (white chickpeas) curry:
Ingredients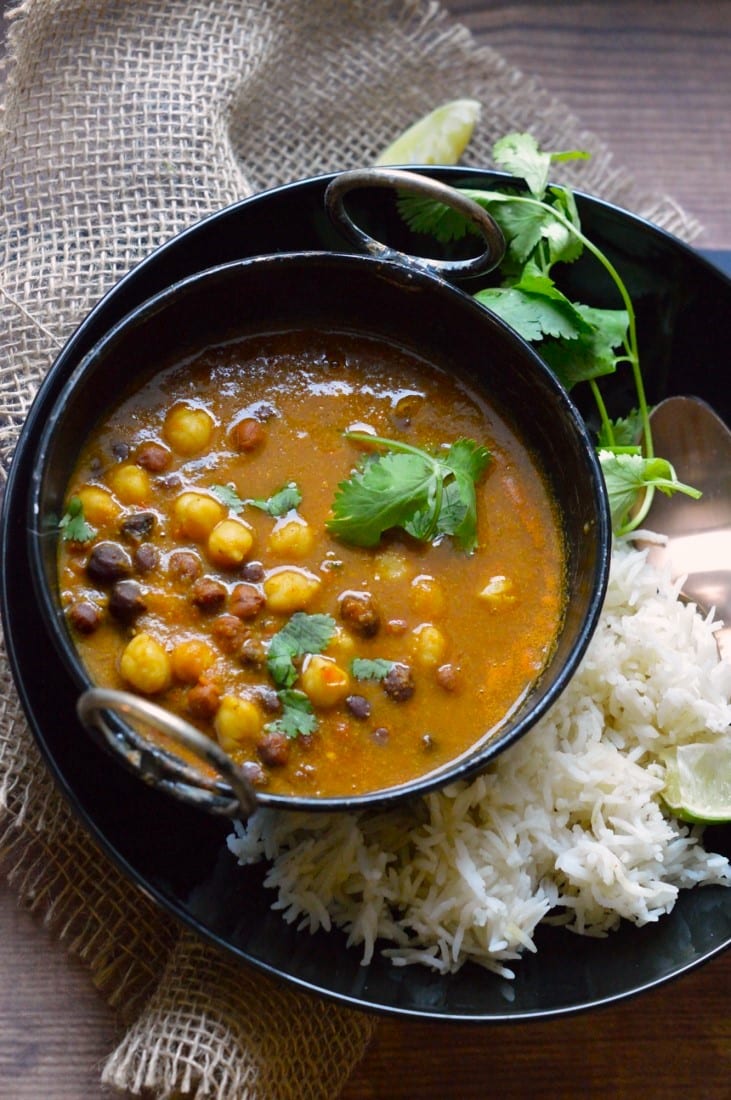 1 cup kala chana (black chickpeas), soaked overnight
1 cup kabuli chana (white chickpeas), soaked overnight
1 large onion, chopped
2 large tomatoes, chopped
1 tablespoon ginger garlic paste
1 teaspoon cumin seeds
1 teaspoon coriander powder
1 teaspoon garam masala
1 teaspoon red chili powder
½ teaspoon turmeric powder
Salt, to taste
3 tablespoon oil
Fresh cilantro for garnish
Instructions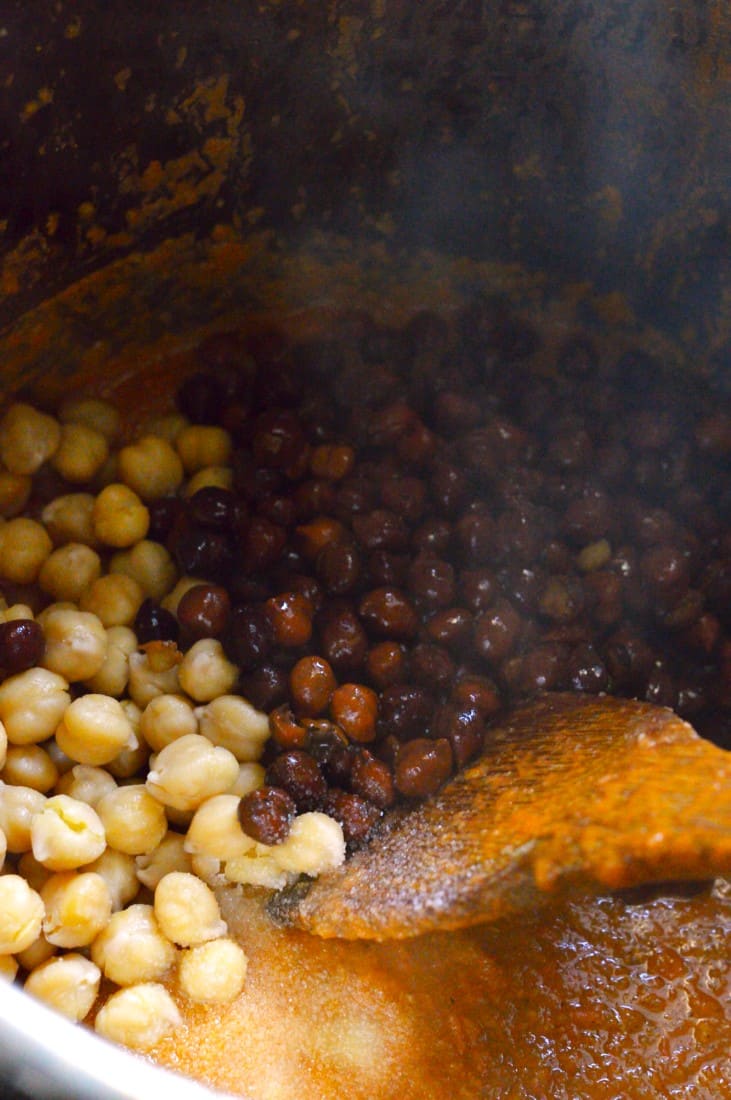 Rinse the soaked kala chana and kabuli chana and add them to a pressure cooker. Add enough water to cover the beans by about 2 inches. Cook for 20-25 minutes or until the beans are tender. Drain the beans and set aside.
Heat the oil in a pan over medium heat. Add the cumin seeds and fry for 30 seconds or until fragrant.
Add the chopped onion and sauté for 3-4 minutes or until it turns golden brown.
Add the ginger garlic paste and sauté for 1-2 minutes or until the raw smell goes away.
Add the chopped tomatoes and cook for 5-6 minutes or until they turn soft and mushy.
Add the coriander powder, garam masala, red chili powder, turmeric powder, and salt. Mix well and cook for another 2-3 minutes.
Add the cooked kala chana and kabuli chana to the pan and stir to combine. Add 1-2 cups of water, depending on how thick you want the curry to be.
Cover the pan and let the curry simmer for 15-20 minutes or until it thickens and the flavors meld together.
Garnish with fresh cilantro and serve hot with rice, naan, or roti.
Note: You can adjust the spices and seasoning to your taste. If you don't have a pressure cooker, you can also cook the beans on the stove by boiling them in a pot of water until they are tender.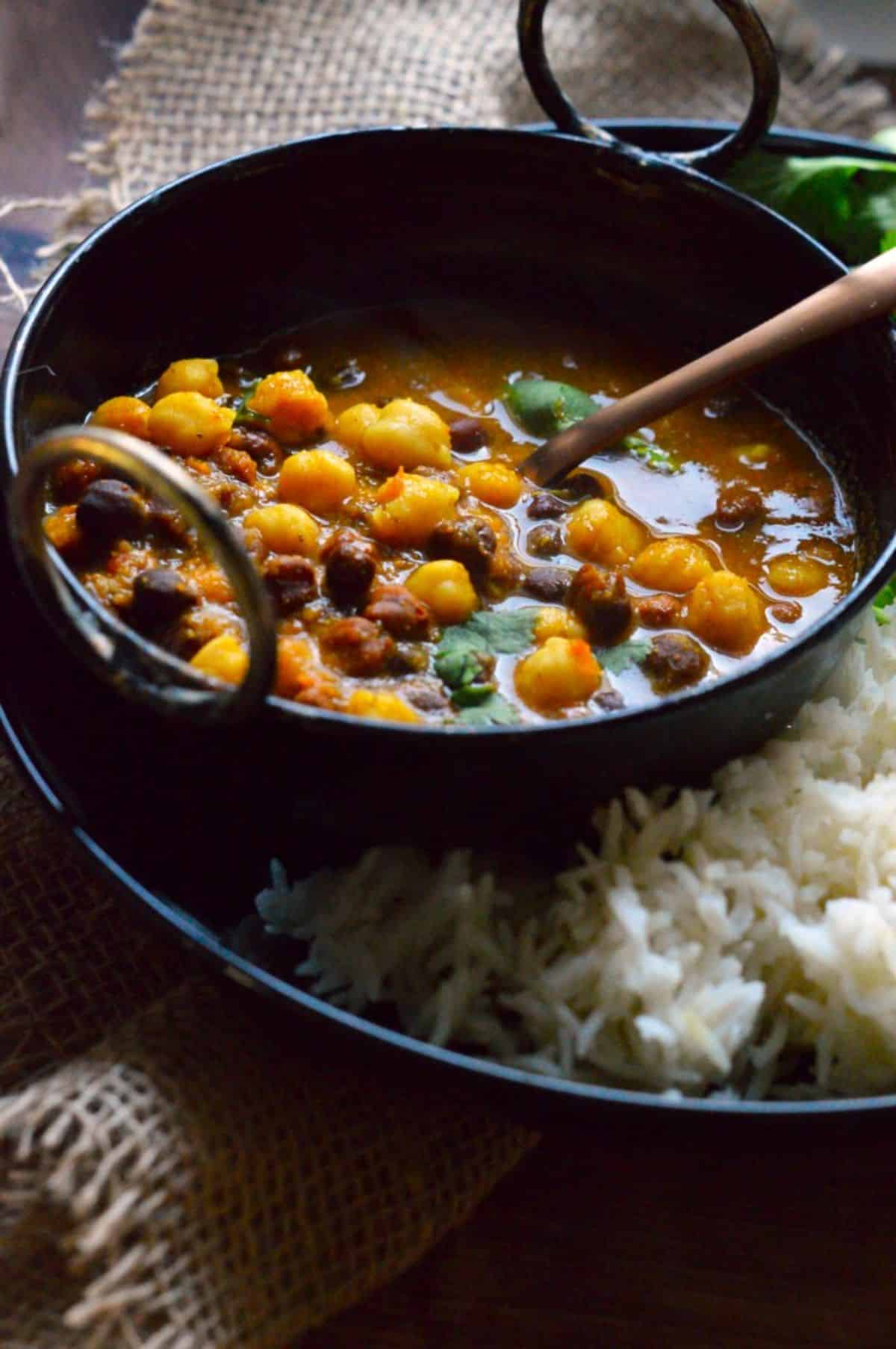 📖 Recipe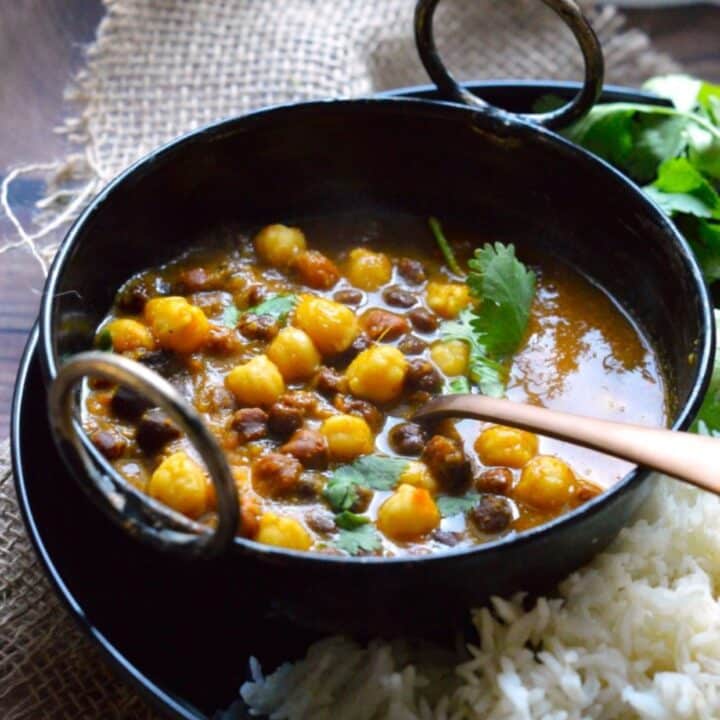 Mixed Chickpeas Curry Recipe
This mixed chickpeas curry recipe combines the flavors of Kala Chana and Kabuli Chana for a delicious and nutritious meal. Try it out today!
Print
Pin
Rate
Ingredients
1

cup

kala chana

,

black chickpeas, soaked overnight

1

cup

kabuli chana

,

white chickpeas, soaked overnight

1

large onion

,

chopped

2

large tomatoes

,

chopped

1

tablespoon

ginger garlic paste

1

teaspoon

cumin seeds

1

teaspoon

coriander powder

1

teaspoon

garam masala

1

teaspoon

red chili powder

½

teaspoon

turmeric powder

Salt

,

to taste

3

tablespoon

oil

Fresh cilantro for garnish
Instructions
Rinse the soaked kala chana and kabuli chana and add them to a pressure cooker. Add enough water to cover the beans by about 2 inches. Cook for 20-25 minutes or until the beans are tender. Drain the beans and set aside.

1 cup kala chana,

1 cup kabuli chana

Heat the oil in a pan over medium heat. Add the cumin seeds and fry for 30 seconds or until fragrant.

3 tablespoon oil,

1 teaspoon cumin seeds

Add the chopped onion and sauté for 3-4 minutes or until it turns golden brown.

Add the ginger garlic paste and sauté for 1-2 minutes or until the raw smell goes away.

1 tablespoon ginger garlic paste

Add the chopped tomatoes and cook for 5-6 minutes or until they turn soft and mushy.

Add the coriander powder, garam masala, red chili powder, turmeric powder, and salt. Mix well and cook for another 2-3 minutes.

1 teaspoon coriander powder,

1 teaspoon garam masala,

1 teaspoon red chili powder,

½ teaspoon turmeric powder,

Salt

Add the cooked kala chana and kabuli chana to the pan and stir to combine. Add 1-2 cups of water, depending on how thick you want the curry to be.

Cover the pan and let the curry simmer for 15-20 minutes or until it thickens and the flavors meld together.

Garnish with fresh cilantro and serve hot with rice, naan, or roti.

Fresh cilantro for garnish
Nutrition
Calories:
260
kcal
|
Carbohydrates:
29
g
|
Protein:
8
g
|
Fat:
13
g
|
Saturated Fat:
1
g
|
Polyunsaturated Fat:
4
g
|
Monounsaturated Fat:
7
g
|
Trans Fat:
0.04
g
|
Sodium:
21
mg
|
Potassium:
456
mg
|
Fiber:
8
g
|
Sugar:
7
g
|
Vitamin A:
690
IU
|
Vitamin C:
12
mg
|
Calcium:
63
mg
|
Iron:
3
mg