A pav bhaji without potatoes? Yes, that's possible. Make my version of the keto cauliflower pav bhaji and enjoy it with your keto bread.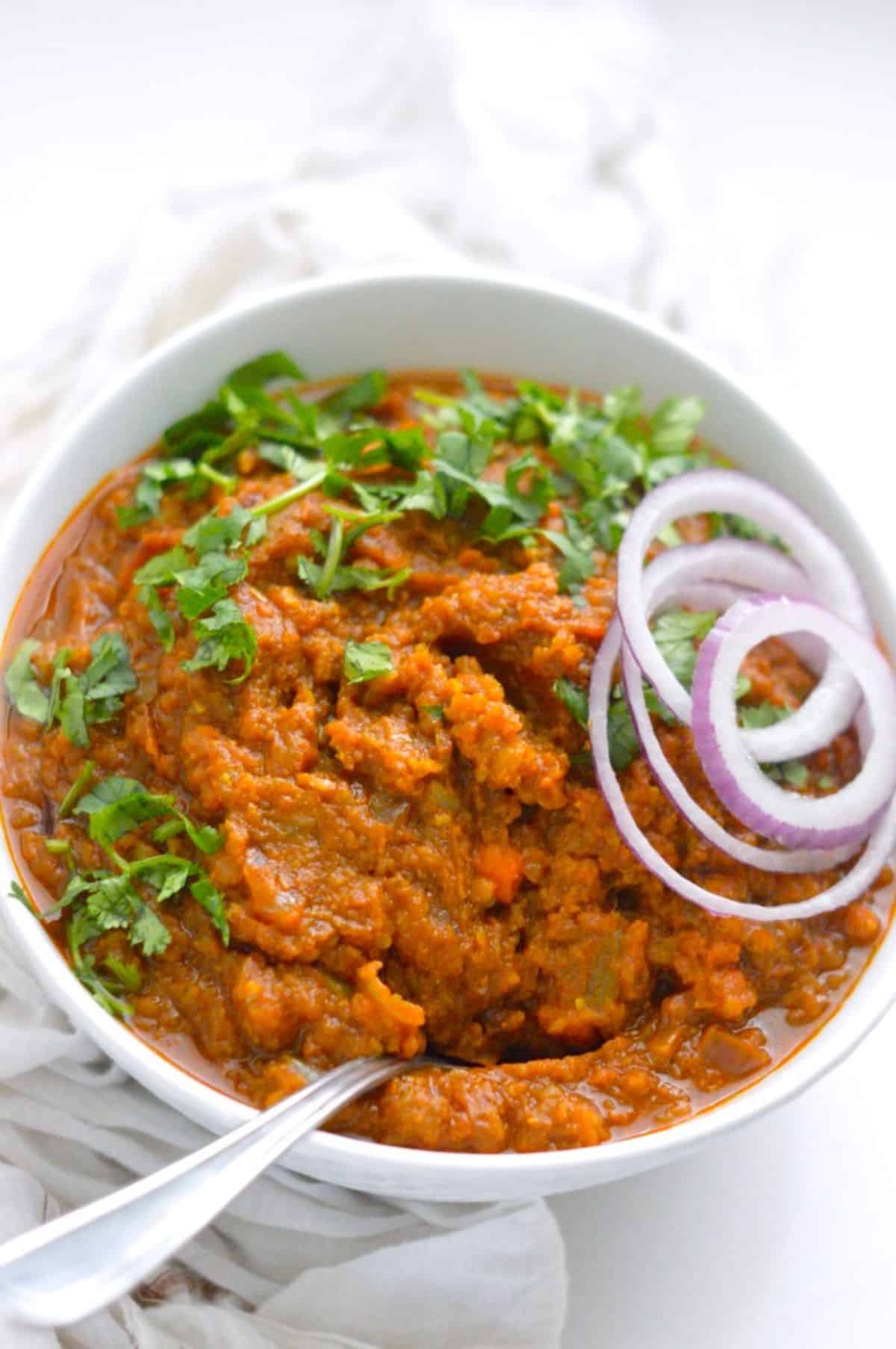 Keto cauliflower bhaji is a delicious and healthy Indian-inspired dish that is low in carbohydrates and high in healthy fats. It's perfect for those following a ketogenic or low-carb diet, but anyone can enjoy its tasty flavors and health benefits.
Jump to:
Tips and Tricks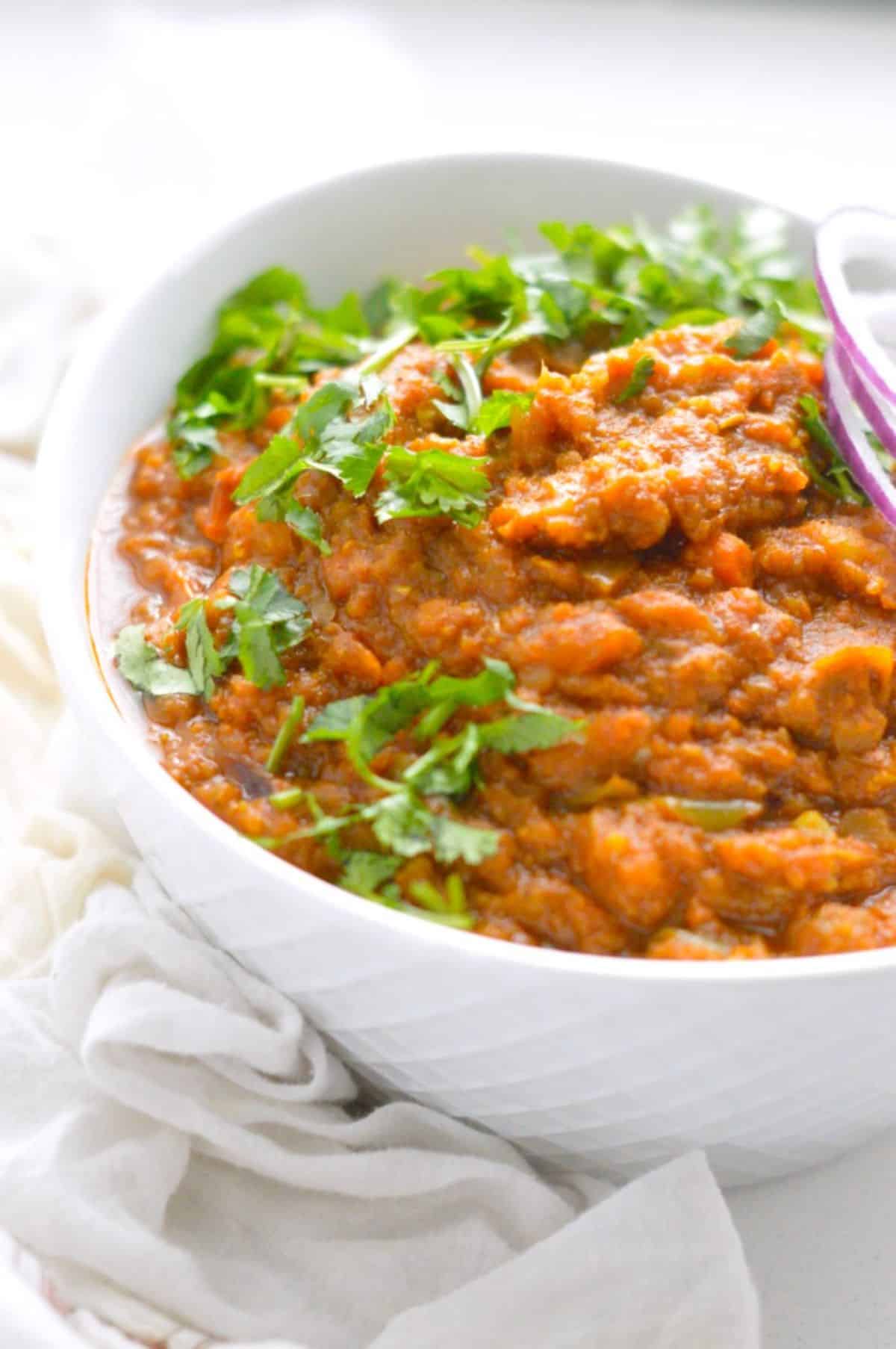 To make keto cauliflower bhaji, you'll need to start by preparing the cauliflower. Cut it into small florets and roast them in the oven with a bit of oil and spices until they are tender and slightly crispy.
While the cauliflower is roasting, you can prepare the bhaji sauce, which is made with a variety of spices, such as cumin, coriander, turmeric, and ginger, along with ghee or white butter. The special aroma lies in the spice mix. Make sure to use a good and fresh pav bhaji masala while making this.
Once the sauce is ready, you can add the cooked cauliflower to it and stir until everything is well combined. Garnish with fresh cilantro, and enjoy your delicious keto cauliflower bhaji.
Health benefits of Keto Cauliflower Pav Bhaji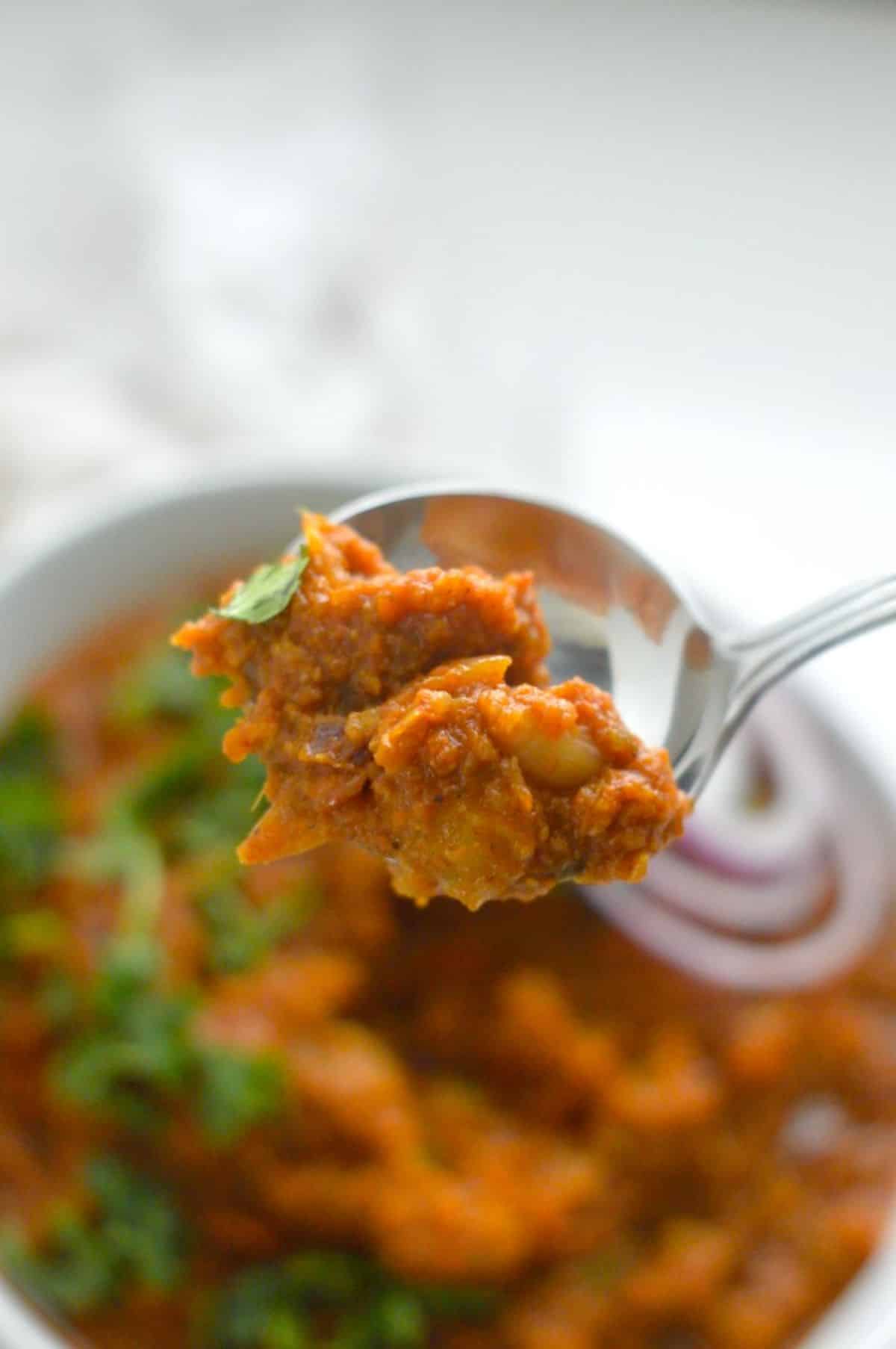 One of the main benefits of this dish is that it's low in carbohydrates and high in healthy fats, which makes it perfect for those following a ketogenic diet. The cauliflower provides a good source of fiber, vitamins, and minerals, while the spices and ghee offer anti-inflammatory and antioxidant properties.
In addition, the spices used in this dish have been shown to have numerous health benefits, such as reducing inflammation, improving digestion, and boosting immunity. Plus, the dish is flavorful and satisfying, making it a great option for anyone looking for a healthy and delicious meal.
Overall, keto cauliflower bhaji is a great way to enjoy the flavors of Indian cuisine while staying true to a low-carb or ketogenic diet. It's easy to make, packed with nutrients, and bursting with delicious flavors and spices that will keep your taste buds satisfied.
Ingredients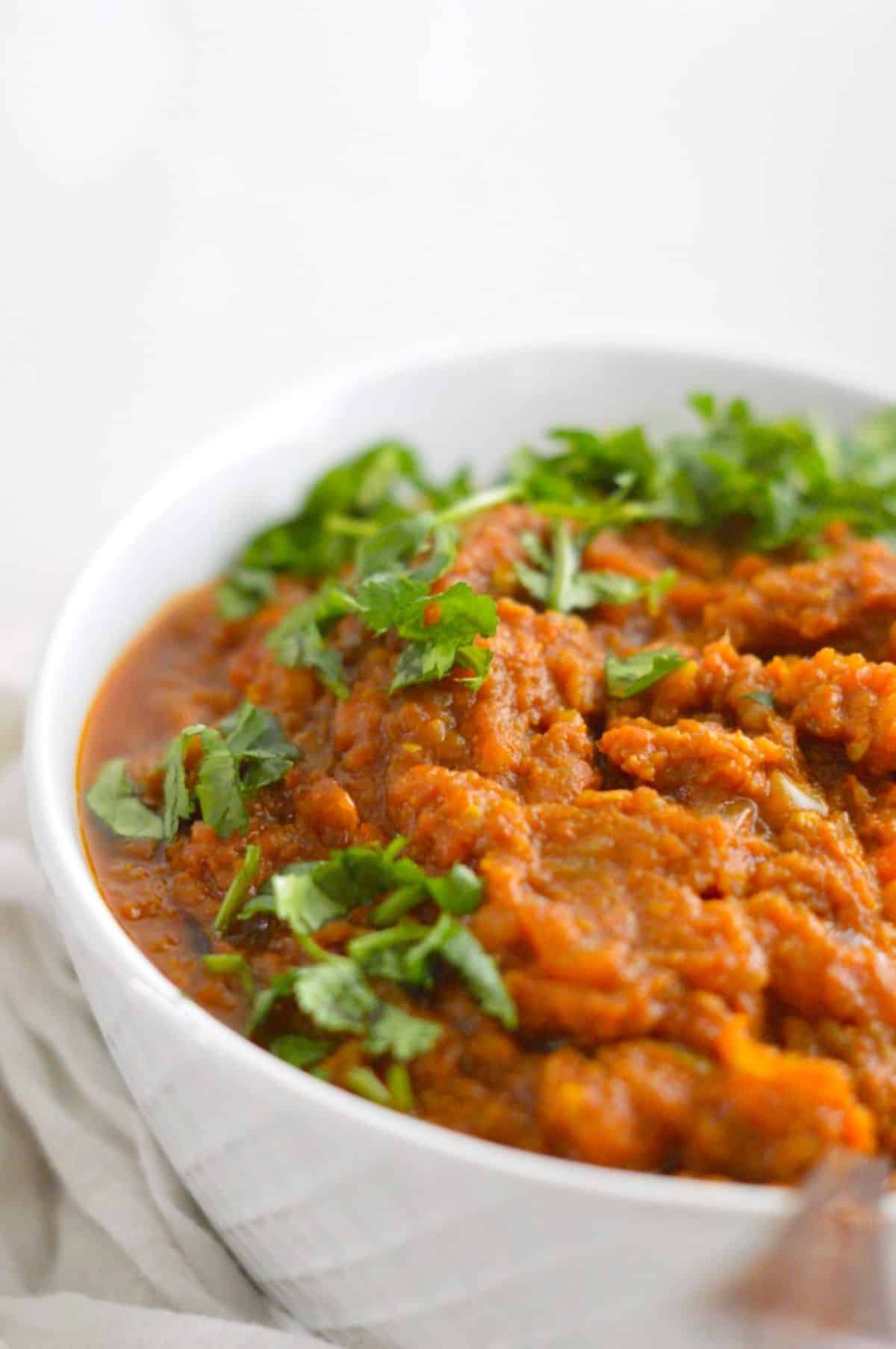 1 medium head of cauliflower, cut into small florets
2 tablespoons of butter or oil
1 teaspoon of cumin seeds
1 teaspoon of coriander powder
½ teaspoon of turmeric powder
1 teaspoon of ginger garlic paste
¼ teaspoon of red chili powder (optional)
2 tablespoons of ghee
½ cup tomato puree
1 tablespoon pav bhaji masala
Salt to taste
Fresh cilantro for garnish
Instructions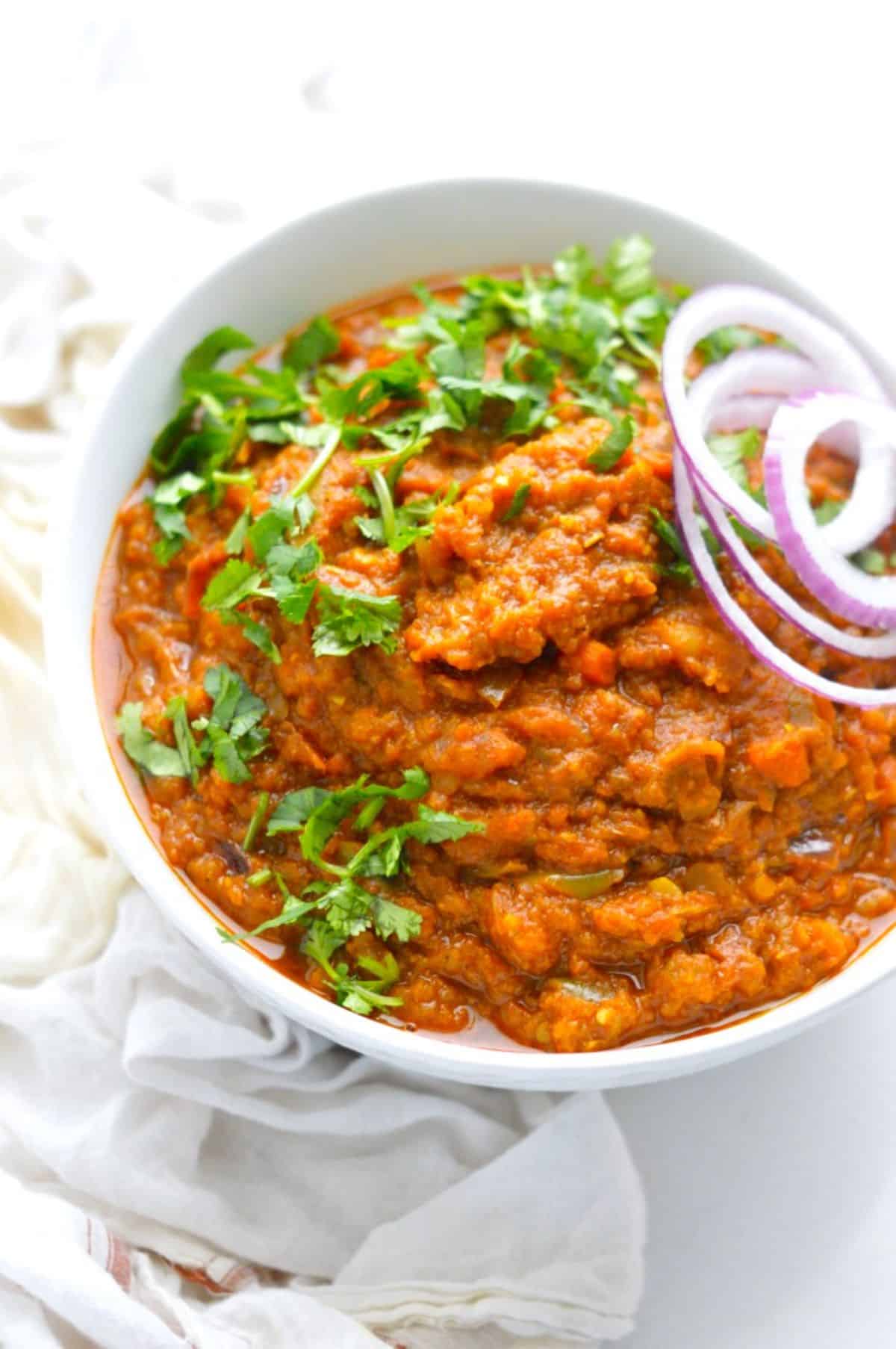 Preheat the oven to 400°F (200°C).
Place the cauliflower florets on a baking sheet and drizzle with 1 tablespoon of coconut oil. Season with salt and toss to coat evenly.
Roast the cauliflower for 20-25 minutes or until it is tender and slightly crispy.
While the cauliflower is roasting, prepare the bhaji sauce. In a small bowl, mix the cumin seeds, coriander powder, turmeric powder, ginger garlic paste, and red chili powder (if using) with 1 tablespoon of butter to make a paste.
Heat the ghee in a skillet over medium heat. Add pav bhaji masala and mix it real quick. This enhances the flavor of the bhaji. Add the spice paste now and cook for 1-2 minutes, stirring constantly. Now add the tomato puree and cook till the mixture thickens and the rawness of the tomatoes is gone.
Add the roasted cauliflower to the skillet and toss to coat evenly with the sauce. Cook for 2-3 minutes, stirring occasionally, until the cauliflower is heated through and the flavors are well combined. Use a potato masher to mash the vegetables and make the consistency just like a semi-thick curry.
Garnish with fresh cilantro and serve hot.
Enjoy your delicious Keto Cauliflower Bhaji!
NOTE: If your cauliflower is not soft enough, process it in a food processor. This makes the pav bhaji texture very similar to the regular pav bhaji. Serve the bhaji with chopped onions and lime wedges.
📖 Recipe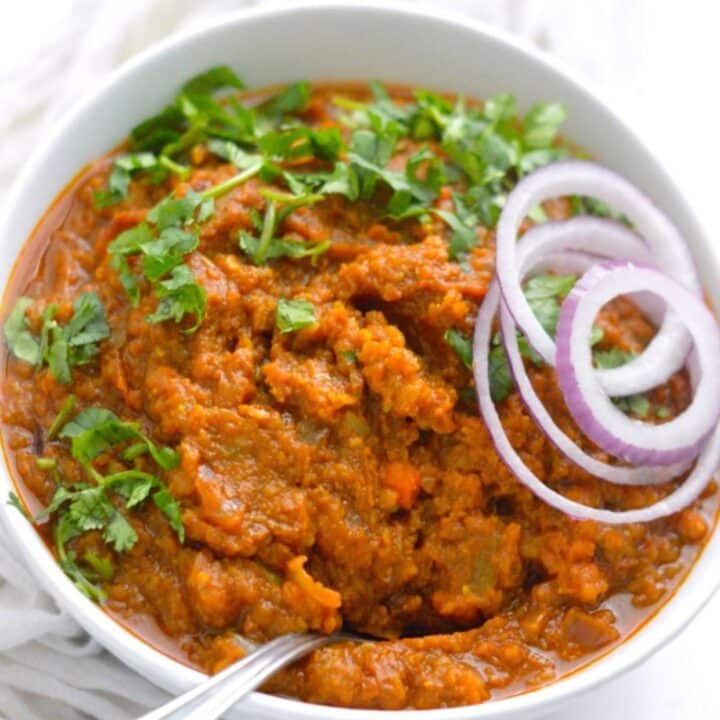 Keto Cauliflower Pav Bhaji Recipe
Looking for a delicious and healthy keto recipe? Try this cauliflower pav bhaji recipe that's low-carb and full of flavor!
Print
Pin
Rate
Ingredients
1

medium head of cauliflower

,

cut into small florets

2

tablespoons

of butter or oil

1

teaspoon

of cumin seeds

1

teaspoon

of coriander powder

½

teaspoon

of turmeric powder

1

teaspoon

of ginger garlic paste

¼

teaspoon

of red chili powder

,

optional

2

tablespoons

of ghee

½

cup

tomato puree

1

tablespoon

pav bhaji masala

Salt to taste

Fresh cilantro for garnish
Instructions
Preheat the oven to 400°F (200°C).

Place the cauliflower florets on a baking sheet and drizzle with 1 tablespoon of coconut oil. Season with salt and toss to coat evenly.

1 medium head of cauliflower,

2 tablespoons of butter or oil,

Salt to taste

Roast the cauliflower for 20-25 minutes or until it is tender and slightly crispy.

While the cauliflower is roasting, prepare the bhaji sauce. In a small bowl, mix the cumin seeds, coriander powder, turmeric powder, ginger garlic paste, and red chili powder (if using) with 1 tablespoon of butter to make a paste.

1 teaspoon of cumin seeds,

1 teaspoon of coriander powder,

½ teaspoon of turmeric powder,

1 teaspoon of ginger garlic paste,

¼ teaspoon of red chili powder

Heat the ghee in a skillet over medium heat. Add pav bhaji masala and mix it real quick. This enhances the flavor of the bhaji. Add the spice paste now and cook for 1-2 minutes, stirring constantly. Now add the tomato puree and cook till the mixture thickens and the rawness of the tomatoes is gone.

2 tablespoons of ghee,

½ cup tomato puree,

1 tablespoon pav bhaji masala

Add the roasted cauliflower to the skillet and toss to coat evenly with the sauce. Cook for 2-3 minutes, stirring occasionally, until the cauliflower is heated through and the flavors are well combined. Use a potato masher to mash the vegetables and make the consistency just like a semi-thick curry.

Garnish with fresh cilantro and serve hot.

Fresh cilantro for garnish
Nutrition
Calories:
175
kcal
|
Carbohydrates:
11
g
|
Protein:
4
g
|
Fat:
14
g
|
Saturated Fat:
8
g
|
Polyunsaturated Fat:
1
g
|
Monounsaturated Fat:
4
g
|
Trans Fat:
0.2
g
|
Cholesterol:
34
mg
|
Sodium:
102
mg
|
Potassium:
599
mg
|
Fiber:
4
g
|
Sugar:
4
g
|
Vitamin A:
385
IU
|
Vitamin C:
73
mg
|
Calcium:
48
mg
|
Iron:
2
mg