Sushi anyone?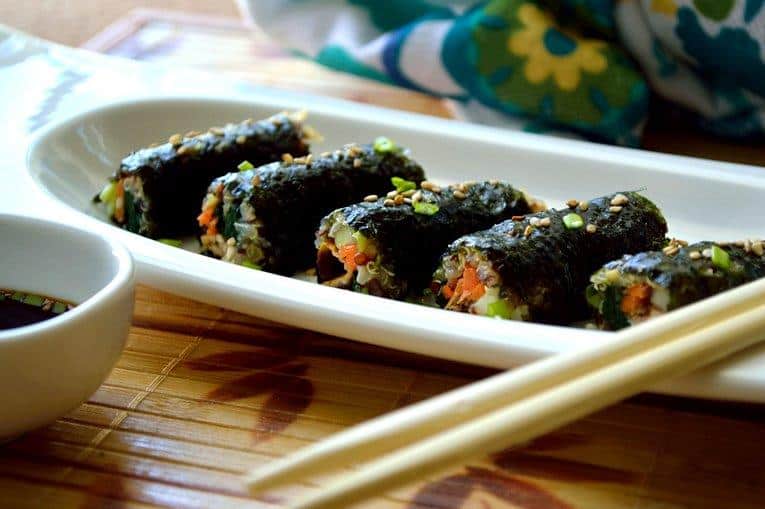 There are two kinds of people: sushi lovers and sushi haters. If you ask me, I, kind of fall in the midway between these two categories. I only eat the cooked sushi varieties, because I am still not brave enough to try those raw ones. I savor the lingering taste of spicy wasabi, mild soy and sometime the miso-glaze and my favorite Aeolis with my sushi. This sushi roll is, however, prepared with quinoa.
My Quinoa Sushi:
Quinoa sushi rolls are a healthier alternative to the traditional rice based sushi rolls. Quinoa, if you know, is one of the healthiest grains with high fiber, iron, calcium and protein content. Usually, the recipe for sushi calls for short grain Jasmine rice. However, using quinoa is a great choice and alternative option to make your favorite sushi from a nutritional perspective. Plus, these sesame oil and Chinese five spice powder flavored quinoa complements the pungent and distinctive taste of nori sheets.
I have used a mix of easy picked veggies and Sriracha omelet as a filling of these quinoa sushi rolls. You can use any veggie of your choice, seafood and meat with these sushi rolls to create your favorite Japanese at-home sushi delicacy. Unlike the traditional sushi rolls, these quinoa sushi rolls are mini rolls individually wrapped in a small nori sheet. Serving these rolls with Aeolis, miso dressings or just tamari are some of the popular choices.
If you don't know what Nori is, then you should read more about it here. These are edible seaweed leaves that are extensively used in Oriental cuisine. I love the flavor of the nori sheets and nori snacks. These sheets have a distinct fish-like taste that can be well combined in alternative seafood vegetarian and vegan recipes.

#Feeding a Broken Heart:
Well, if you follow the popular food blog PinchofYum, then you must know what does #Feeding a Broken Heart means. Losing someone close is very difficult, and one of the darkest phases in someone's life. When I came to know about #Feeding a Broken Heart drive on Instagram, the thought of one of my besties came to my mind.
A bit of her story:
Recently, she went through a very hard phase in her life. Her world went upside down in a matter of seconds and all the happiness and excitement she had for her trip to home country after six long years dissolved like water bubbles. When we spoke over the phone, she was all excited about going home, meeting her parents, friends and extended family. Everything around her changed suddenly when she received the news of her dad's demise due to sudden cardiac arrest. Her ordeal just didn't end there. The worst thing actually happened after that. Because her 4yr old was not granted an emergency VISA, she couldn't board the flight to be physically present in her dad's funeral ceremony. Healing after that did take a long time. Whenever we met, I could see the pain in her eyes. And I know that deep within her, she has that grief because she missed to bid farewell to her daddy who she was not able to meet in the past six years.
When I thought to cook something to make her broken heart feel better, the thought of sushi came to my mind. She is an ardent sushi eater, and a healthy food lover. The idea of quinoa sushi roll, thus, is a perfect choice for her.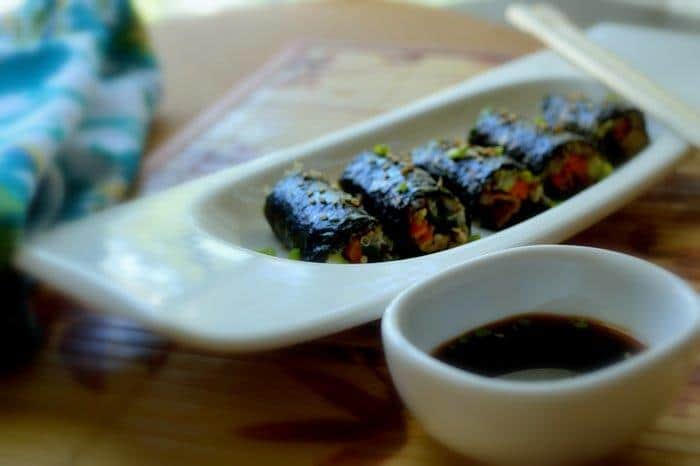 Dear bestie, if you are reading this post today, I just want to let you know that you are always in my thoughts and prayers, and I hope that you will love eating these quinoa sushi rolls with me.
Nutrition Facts:

📖 Recipe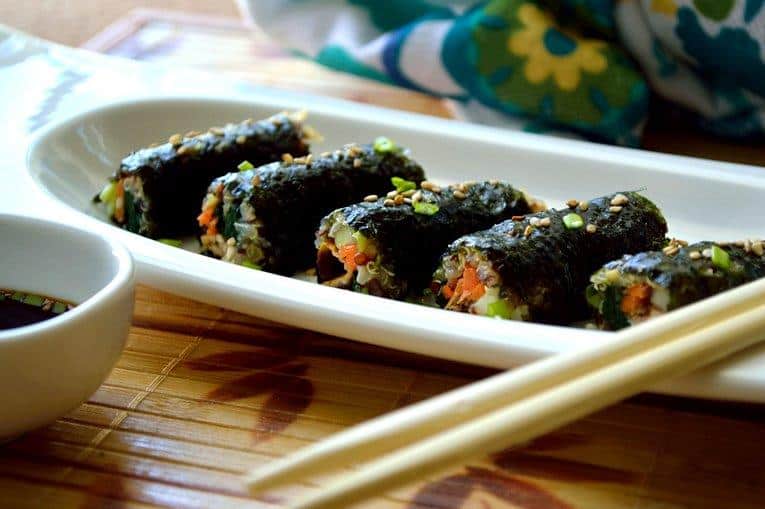 Qunioa Sushi Mini Rolls
Make these amazing mini sushi rolls at home, share it with friends and family and have a good time without worrying much about calories and nutrition facts. After all, each bite of these sushi rolls will provide you the goodness of quinoa, vegetable and a scrumptious taste that will linger on your palate.

Print
Pin
Rate
Ingredients
1

Cup

cooked quinoa

,

(⅓ cup raw quinoa)

1

tablespoon

ginger

,

ground

¼

teaspoon

five spice powder

1

tablespoon

rice vinegar

1

teaspoon

sesame oil

½

cucumber

,

cut into juliennes

½

cup

baby carrots

,

cut into juliennes

½

cup

blanched spinach

,

optional

1

tablespoon

tamari

,

low sodium variety

4

nori sheets(unroasted)

,

I used the small varieties

¼

teaspoon

sea salt

2

tablespoon

lime juice

,

optional
Sriracha omelette
1

tablespoon

sriracha sauce

½

teaspoon

salt + pepper

2

eggs

,

beaten (for vegan use Chickpea flour omelette)

1

teaspoon

canola oil
Equipments and other ingredients
Instructions
In a pressure cooker or instant pot, add washed and rinsed 1 cup raw quinoa, ginger, Chinese five spice powder, a pinch of salt and 1 and ½ cups of water. I prefer to do a pot in pot style while cooking my grains.

Close the lid and cook in manual for 2-minutes and wait for natural pressure release after the beep. It usually takes around ten minutes for the instant pot valve to return to normal.

Allow the quinoa to cool down. Take only a cup of cooked quinoa and add the sesame oil and rice vinegar and combine well.

While quinoa mixture sits and cooling, prepare the vegetables by cutting them into thin julienne. Now blanch a cup of spinach leaves in microwave until tender. (around 1 minute in high)

In a small bowl, place the julienne carrots and add the lime juice with salt. Let it rest for a few minutes.(I prefer to leave the carrots in refrigerator for half an hour so that they soak the salt and lime juice well. The tangy carrots complement the mellow flavored spinach and gingery quinoa quite well)


Prepare the Sriracha omelette in skillet by mixing the sauce in lightly beaten seasoned eggs. Allow it to cool before cutting thin strips out of it. Adjust the sauce and coat the strips with more sauce if you like.

Place one nori sheet on the sushi mat.


For an easy spreading, wet the tips of your fingers and gently press the quinoa into a thin layer on the nori sheet. Start working towards the edges while leaving about an inch on the other end or the edge farthest from you.

Spread a layer of quinoa evenly on it. Add carrots, cucumber and spinach in rows.


Now add the egg omelette strips next to the veggies. Gently roll the sushi mat to form a roll.


Cut the roll in desirable size. I wanted to cut the sushi roll in to mini cigar-shaped rolls. Hence, I added a thin layer of quinoa and veggies.


Serve with tamari, wasabi and pickled ginger or with miso sauce if you like.

Notes
Cooking quinoa until soft is the key.
While mixing the quinoa with sesame oil, make sure to mash it gently for a mushy rice-like texture.
If you don't have sesame oil, add a teaspoon of sesame seeds to hot canola oil and allow the seeds to splutter.
This process allows the sesame flavor to infuse quite well in the oil.
For the vegan version, avoid the egg layer and add a layer of avocado or romaine lettuce.
Nutrition
Serving:
100
g
|
Calories:
118
kcal